Young Joon Kwak's "Spartan Ruin"
By Jennifer S. Li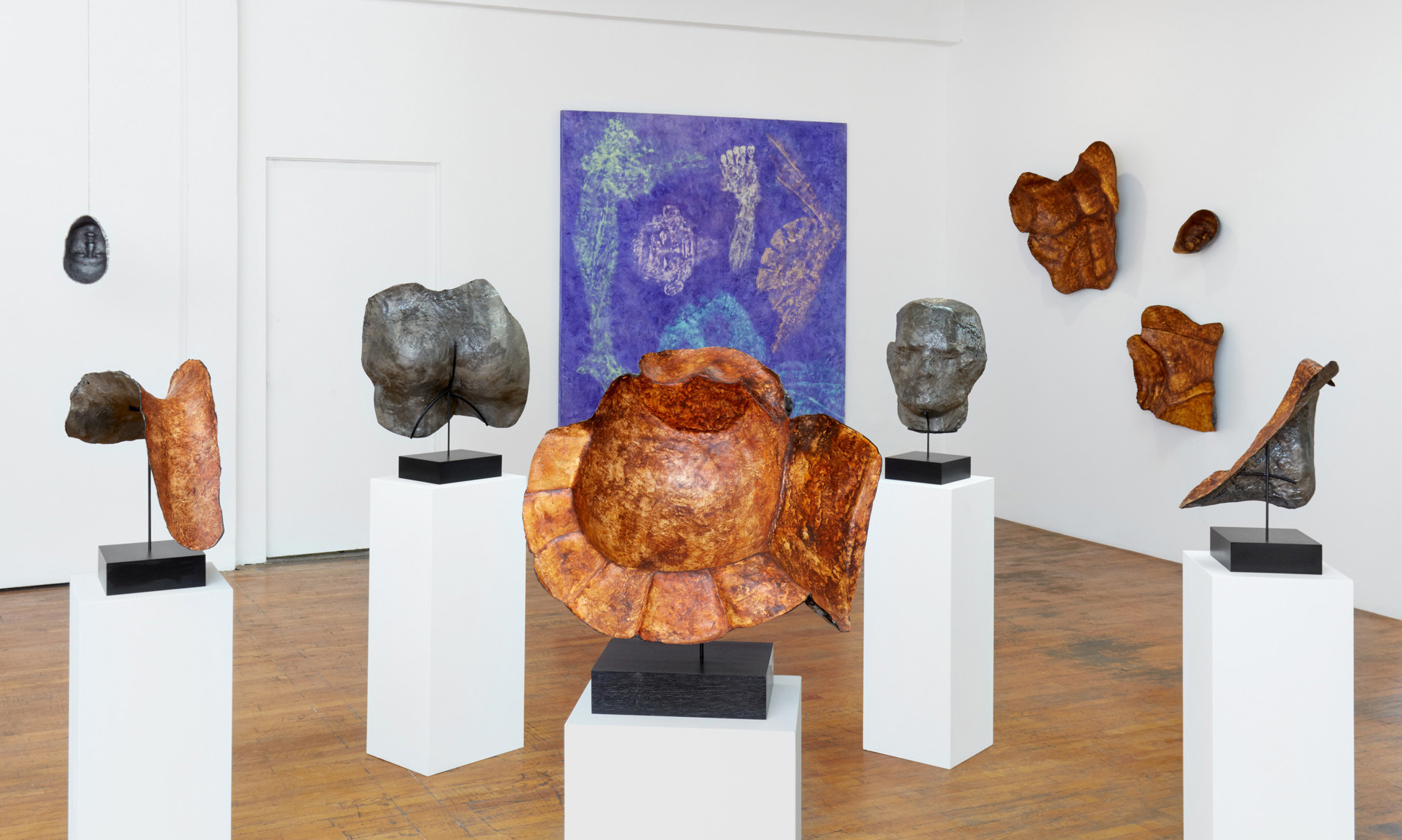 Precipitated by the police killing of George Floyd on May 25, 2020, against the backdrop of a crippling pandemic, protests swept across the United States as citizens grappled with the continued specter of racial and social injustice in the late summer of 2020. Action and engagement came in many forms—personal education and reading, online and in-person activism—but perhaps the most visible manifestation of the moment was the toppling of dozens of monuments of confederate leaders and slaveowners. Figures like Confederate generals Robert E. Lee and Thomas "Stonewall" Jackson to a liberal, progressive contingent represent the continued grip of White supremacy in the US, a country founded on the supposed principles of equality, opportunity, and pluralism.
During this historical moment, Los Angeles artist Young Joon Kwak was in the midst of their teaching appointment and artist residency in critical race studies at Michigan State University, culminating in a recent exhibition at Commonwealth and Council that paralleled the larger scope of current events. Walking around the MSU campus, Kwak noticed the colossal presence—both literal and figural—of The Spartan, a bronze sculpture of a classically rendered male nude with Art Deco influences, cast in 2005 from the 1945 terracotta original, that, when set upon its pedestal, looms over four meters tall. No graduation is complete without a photo with the famous MSU monument. Sparty's foot is rubbed for good luck, and members of the student body fiercely guard the statue for weeks leading up to a big game or tournament.
For Kwak, a non-binary, trans, femme person of Korean descent—and an interloper of sorts at MSU, new to the campus and not inducted into its customs—the sculpture read not as a symbol of school pride and tradition, but of White hegemony and power. In an enlightening reader accompanying the exhibition, Kwak details these sentiments: "To me, Sparty symbolizes Whiteness . . . Western civilization has become a euphemism for White civilization . . . It excludes the experiences of many trans, disabled, and non-normative bodies."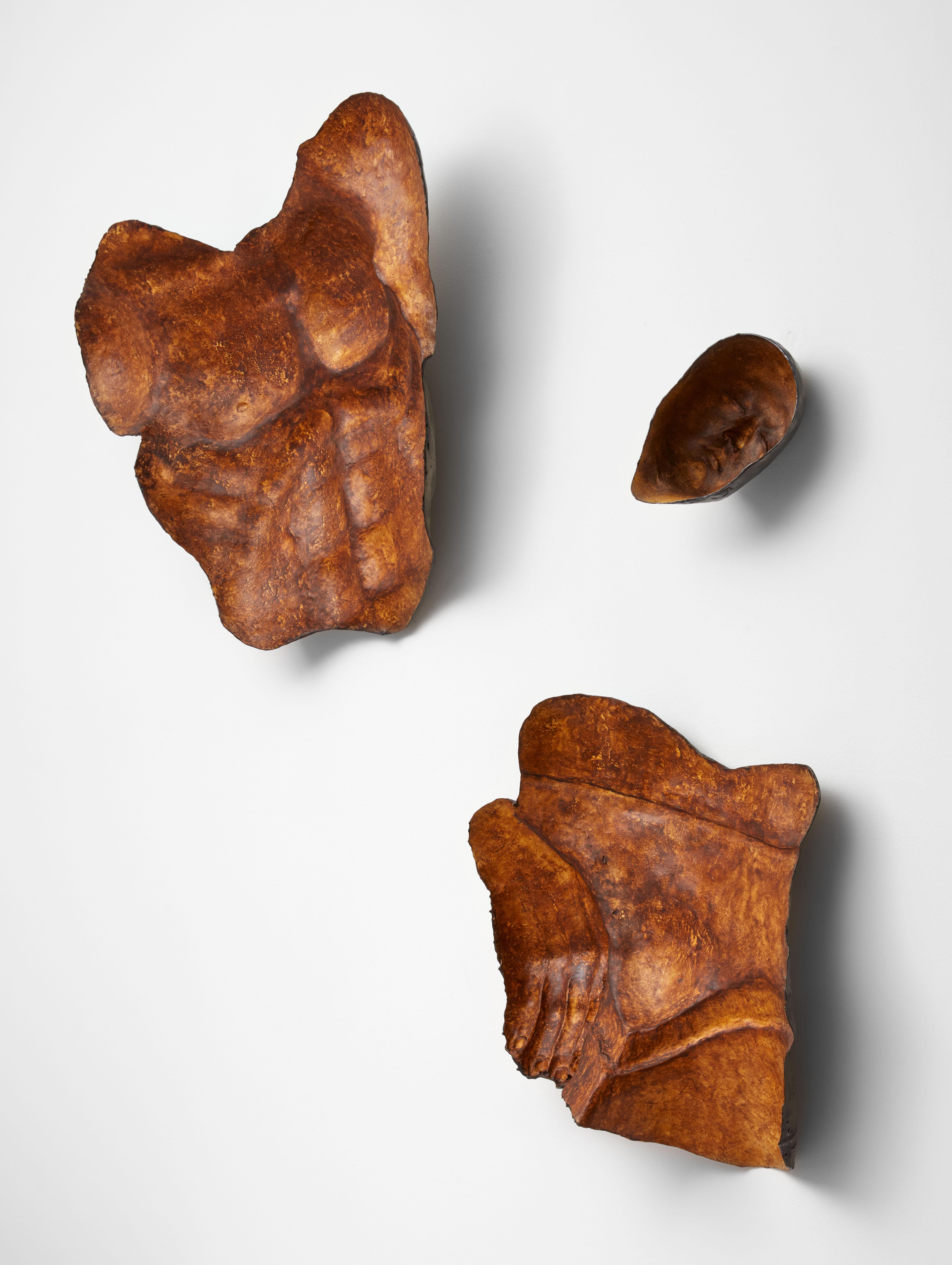 Instead of a desire to destroy, denude, or shroud the statue, however, the artist was fascinated by the polarity between their own non-binary, soft, multicultural body and fluid identity with Sparty's fixed one: a totem standing for White-Western hegemony and classical standards of beauty, unchanged (and unchallenged) for centuries. Kwak sought to understand this difference by creating intimate casts, sculptures, and prints combining their own body and Sparty's, effectively queering this potent symbol of masculinity and authority.
Installed on pedestals reminiscent of museological displays of antiquities and mirroring (or mocking) the tacit authority of the Western museum, nickel-silver casts of Sparty in a series titled Spartan Skin (all works 2021) brought down and broke up the oversized monument to human-scale pieces. In this form, Sparty no longer appears as a towering authority, but as fragments bespeaking vulnerability or even intimacy: a cast of Sparty's hand cupped gently next to its groin; Sparty's face, with its almost sweet, closed eyes; Sparty's butt, now tiny, comically gripped in the cleft of the buttocks by the pincer of the metal mount and pedestal.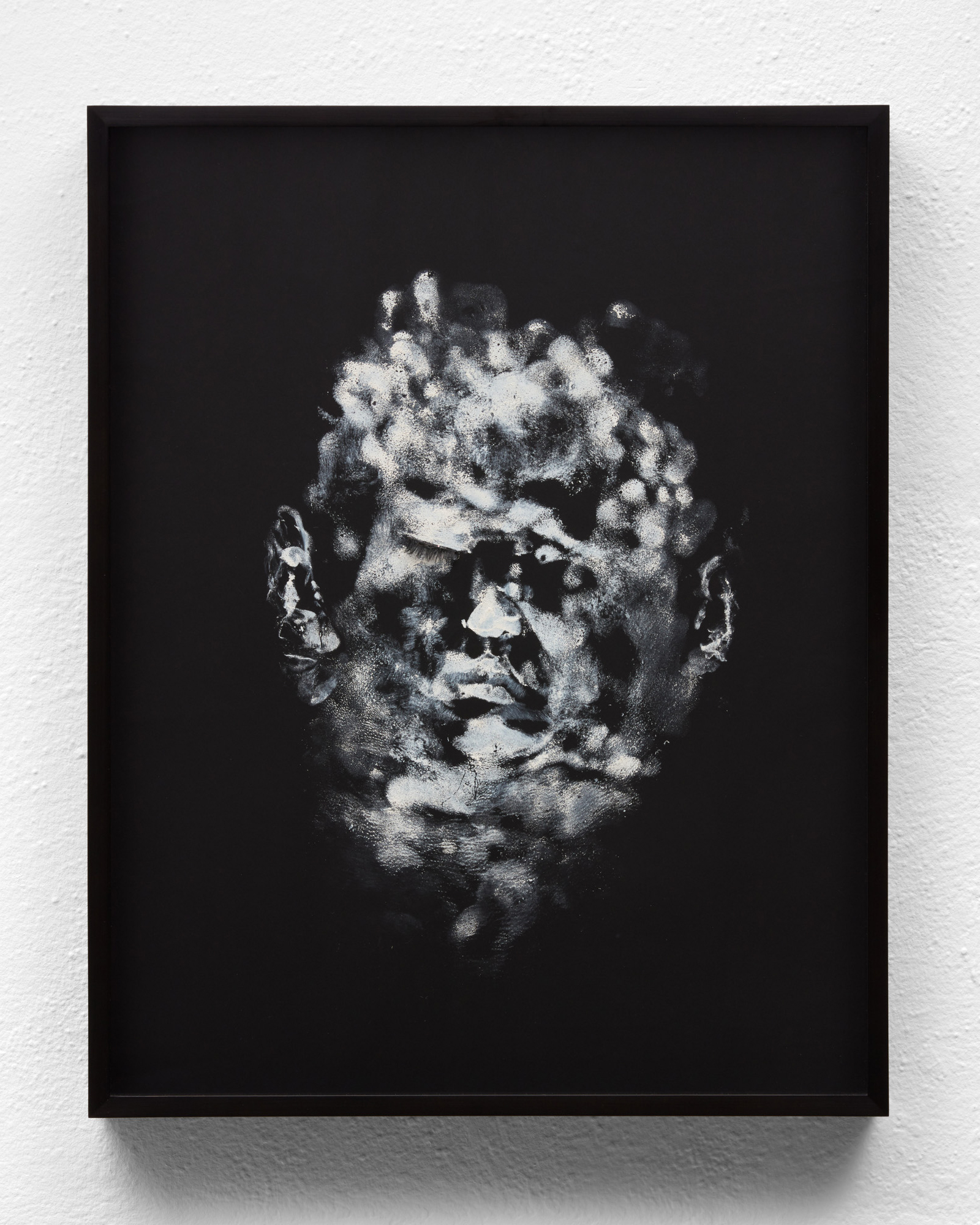 There is something performative and even flirtatious about Kwak's work—and what is performance if not a form of invitation extended to the viewer? Buxom Sparty Breastplate, a bustier cast in the shape of Sparty's muscular torso, is augmented with a pair of ultra perky breasts and impregnated with rhinestones. In Divine Ruin (My Face), Kwak fabulously remixes and quotes themself—the upside-down cast of Kwak's own face now, instead of Sparty's, encrusted with rhinestones and dangling from the ceiling like a disco ball. A David Hammons-like rubbing, My White Face, appears somber as a death mask, except for the intercession of a used glittery false eyelash, previously used in Kwak's other identity as the drag performer Xina Xurner.
Kwak's "Spartan Ruin" was thoughtful and rigorous, but it ultimately proposed not just an opportunity for a clichéd "seat at the table" or trite "inclusion," but to join, to really be a part of the party, and to bring the house down.
Young Joon Kwak's "Spartan Ruin" was on view at Commonwealth and Council, Los Angeles, from September 11 to October 23, 2021.