Yeung Tong Lung & Sze Yuen's "Solo · Exhibition · Twice II: Of Seeing"
By Alex Yiu
"Solo · Exhibition · Twice II: Of Seeing"
Yeung Tong Lung & Sze Yuen
Blindspot Gallery, Hong Kong
Sep 12–Nov 4
Twenty-eight years after their first joint exhibition held at the Hong Kong Art Centre, Blindspot Gallery mounted a dual presentation of long-time painters Yeung Tong Lung and Janice Sze Yuen in "Solo • Exhibition • Twice II: Of Seeing." The Cantonese exhibition subtitle 《橫睇掂睇》 translates to "looking horizontally, looking vertically," a phrase that conveys action or afterthought from thorough observation, also depicts the literal forms of their canvas—Yeung's vivid depiction of urban Hong Kong scenery with hybrid perspectives throughout his large-scale vertical canvas versus Sze's meditative, ombré, and flatten perspective of the city's skyline, avenues, and metro carriages on horizontally expended canvas.
Yeung's interest in scale and unorthodox perspectives is prevalent in Tattoo House (2023), a 3.5-by-1.5-meter diptych, with the right panel depicting a half-naked man, stands against a blue wall while a tattoo artist works on a piece from a top-down perspective, and the left panel with almost abstract greenery without a discernible perspective. There are three color blocks in the right panel: porcelain white walls with miniatures of Yeung's reference to tattoo art contrasting with azure walls and wooden floor tiles; on the left panel, a deep green, almost abstract scenery of Rock Hill Street in Kennedy Town. Behind the right panel are extra painted tattoos on different body parts, including emblems of the colonial government of Hong Kong and the Lion Rock under a Bauhinia flower, wittily providing a two-sided perspective apart from the usually single-sided wall-hanged painting.
Compared to his exhibition in 2021 at the same gallery, Yeung's aerial perspective became even more prevalent with Ching Lin Terrace (2022), showing a man and baby lying atop a window-adjacent bed, as well as outdoors, including the flat below's tiled roof and a brick-floored terrace; divided by the painting's indoor-outdoor perspective. The painted room, slightly tiled, subtly creates an illusory distance. Similar warping could be seen from the almost-flat adjacent manholes in Whitty Street Fo Jeng (Gas Tank) Huo Jing (2023) and the almost-bird's-eye-view of road signs in Indonesia Building (2022). Such distortion of space and perspectives serves as a form of playful experimentation in Yeung's painting practice.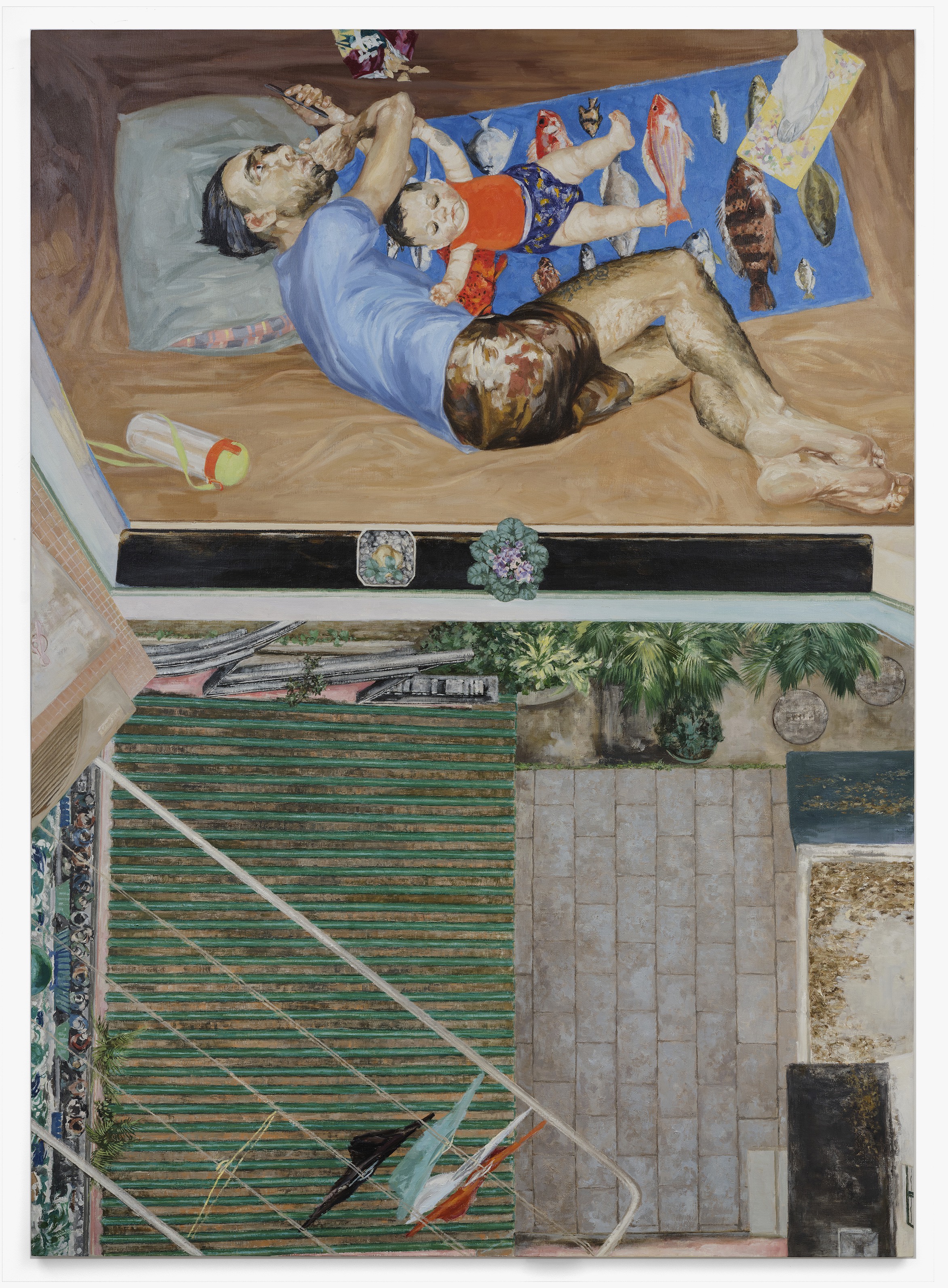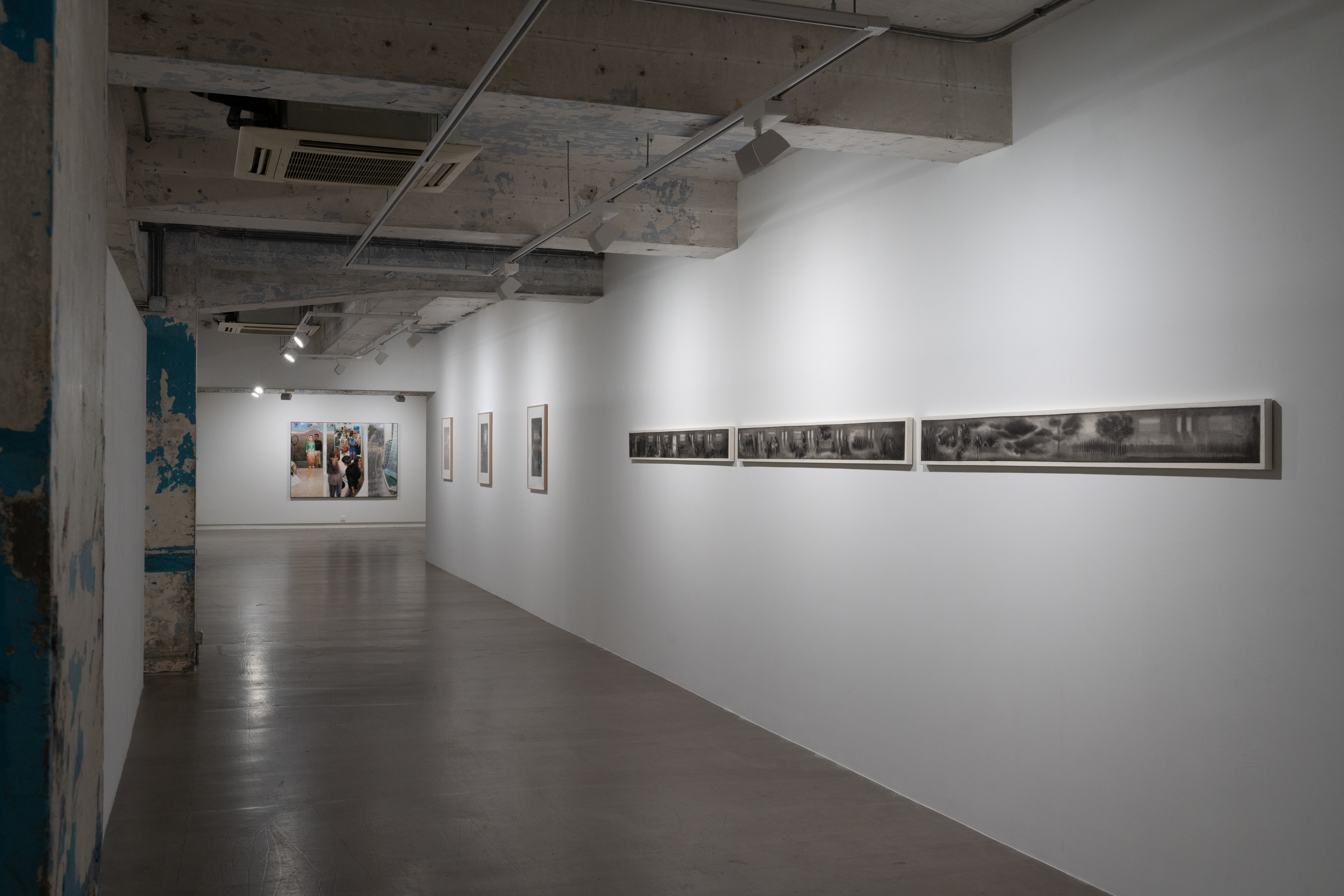 In contrast, Sze also explored different possibilities on how time and space can be represented with paintings but in a more somber and inward-looking manner. Sze's Trip I: Journey (2021), a monochrome triptych of charcoal on paper, with each piece measuring an astonishing 1.8 meters, portrays metro carriages with gloomy passengers in different postures riddled with biblical symbolism in a serene and mystical atmosphere. The introspective scenery, including hazy passengers who appear to be suffering and references to the Revelation (symbols such as the Virgin Mary, lions, goats, and lambs), resembles a quasi-religious pilgrimage. The far left depicts a Virgin Mary-like figure surrounded by passengers, while the opposite sees a wooden wall seemingly burning in front of the metro carriage. Between them, fog engulfed hooded passengers in various postures, such as floating and collapsing on the floor, hinting at a protest-related incident during the 2019 Hong Kong civil unrest, vastly in contrast to Yeung's sympathetic depiction of minority's livelihoods in Hong Kong.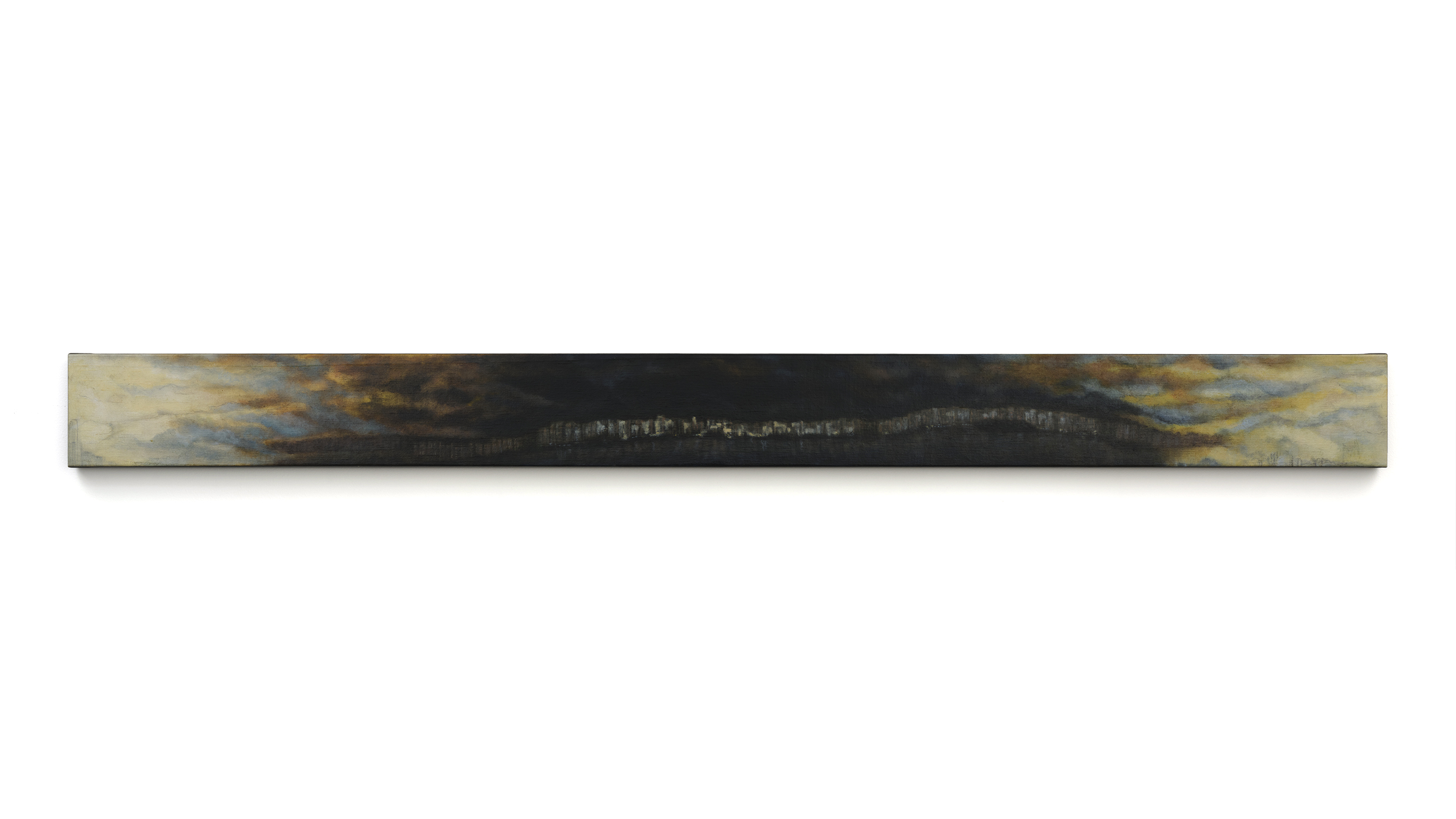 Static and meditative, Sze's City View II-IV series showcases her precision with oil colors by illustrating the subtlety of cloud textures and nature throughout the change of time. In City View II: View Horizontally (2020), the borders of the canvas depict the sunset and sunrise, while the center portrays the Hong Kong skyline in the darkness of the night. As such, the long, thin pieces of canvas represent not only the horizontal line of a city view but also the cycle of time, as daybreak and nightfall repeat inevitably. However, such treatment of time wasn't apparent in all of Sze's works. Instead, a series of five charcoal-on-paper works in a more traditional rectangle format, including To Kwa Wan Skyscape (2013), Glass (2019), View From 6th Floor (2019), Life · Goes On (2020), and Wandering (2020), were painted from a cycling plate, leaving a very faint, circular shadow within the rectangular paper, hinting at Sze's hidden exploration of perspective.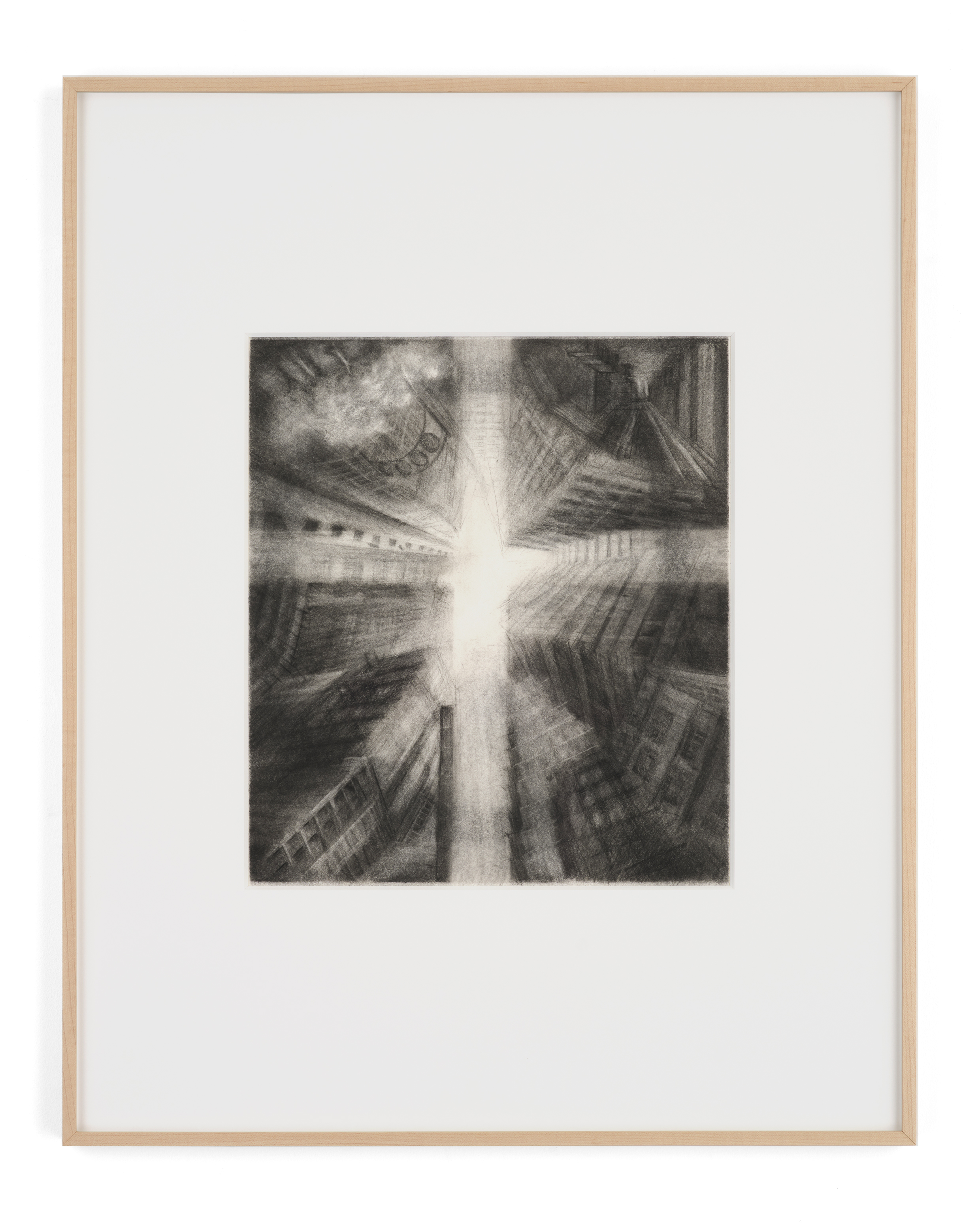 For instance, beyond the vivid color and lively urban scenes that contributed to Yeung's recent popularity in the city's cultural scene, one must not mistake his practice as merely a nostalgic depiction of everyday life and its "Hong Kongness." It is almost too easy to miss the artists' inventiveness if one solely focuses on the artworks' subject matter. Instead, Yeung's solid painting technique, unique perspectives, and vivid compositions are the prime vehicles to drive viewers' attention beyond the cliché. Sze's works showcased a similar, albeit divergent, approach to experimenting with perspective and time in painting by subverting traditional canvas shapes. Both artists use their canvas as a heterotopic space to condense time and space, an impossible state considering all the possibilities of things that can happen in and out of the city.
Alex Yiu is ArtAsiaPacific's associate editor.
Subscribe to ArtAsiaPacific's free weekly newsletter with all the latest news, reviews, and perspectives, directly to your inbox each Monday.