"The Couple Show"
By Michael Young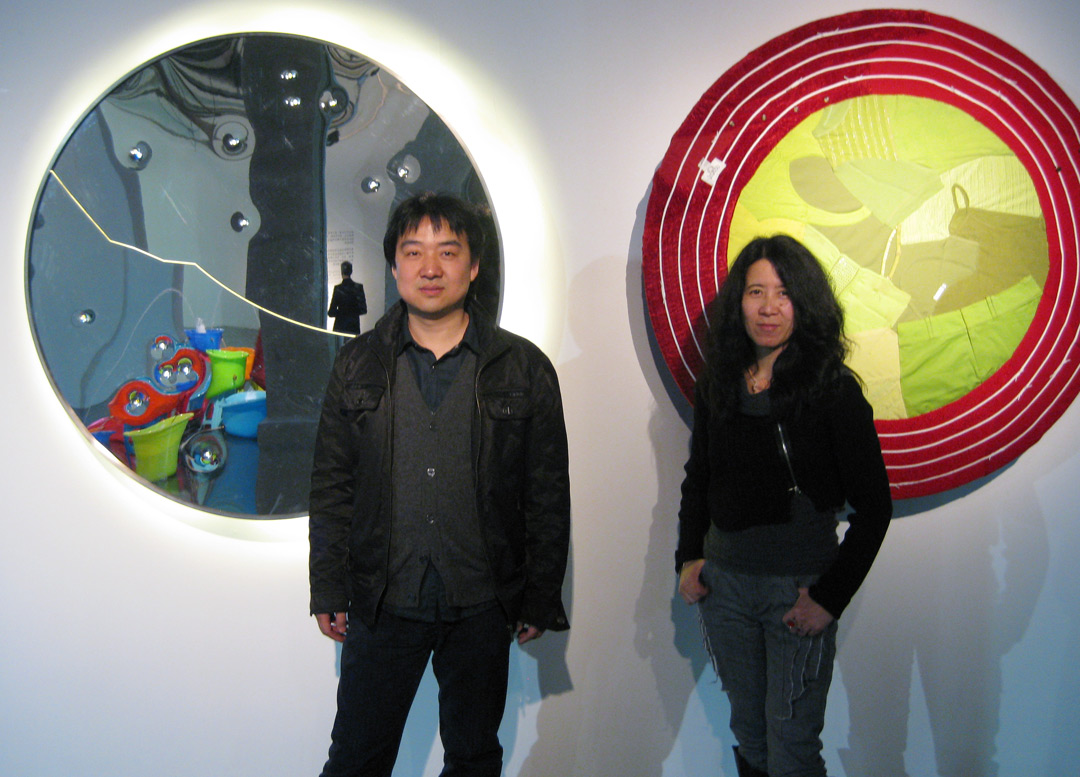 "The Couple Show," the first solo project of Shanghai Gallery of Art director Mathieu Borysevicz, opened in early March with a rocky start. The prize exhibits, Huang Yongping's Dog Skin Paste (1995) and Shen Yuan's Elixia (2011), had failed to arrive to the gallery, due to problems at Chinese customs. In the empty space a small apologetic photograph was pinned to the wall in place of the installation.
Despite the setback, the show is an intriguing and fascinating insight into the minds of ten artist couples either married to or living with one another. "The Couples Show," as explained by Borysevicz, "explores relationships through collaboration . . . and what we can learn about parenting, power, domesticity, sex and competition."
"Art for the featured couples is like a third wheel in the relationship," Borysevicz maintains, and the third wheel has produced some engaging work, by exploring shared themes or simply juxtaposing pieces created within the working environment that the partners must share daily.
In an untitled audio installation from 2009, Qiu Xiaofei and Hu Xiaoyuan, the youngest couple in the exhibition, contemplate on the differences of their sleeping experiences: Qui dreams adventurously while Hu is an insomniac. The installation, one assumes, is a statement of the constant and unspoken struggle for independence within a relationship.
For World: Cross-section of Chopsticks (2006), Song Dong and Yin Xiuzhen each created an installation under the theme of chopsticks. Both artists used the cross section of chopsticks, enlarged to one meter in diameter, to create wall sculptures. Song's is made from a mirror-like metal with watery distorted reflections and a fault line fracturing the undulating surface, while Yin's is rendered in her signature secondhand fabrics to create a beautifully soft femininity contained within concentric circles. World, which also marks the couple's ten years of marriage, shows how minds come graciously together with the passage of time. Neither artist knew what the other was doing until the individual work was finished."When working with a partner for long enough," says Song Dong, "it becomes like holding your own hand."
Zhuang Hui and Dan Er invert the commercialization of emotion and sex through found images reprinted onto unexpected surfaces. Their Wall Mural in Mosaic (2011), a large-scale photograph of a young Chinese couple posing in heroic fashion, assumes an artistic monumentality and a curious sexless allure.
The least successful pairing is that of Colin Chinnery's untitled mixed-media installation of bones, bullets and wagging animal tails, and Liang Wei's black-and-white silent video Gesture 1 (both 2009). In Gesture I, Wei explores the body language of a group of businessmen as they argue and pontificate on a subject that is never explained to the viewers. Chinnery's installation fails in its attempt to create symbiotic echoes with Gesture I and the two works exist within their own predetermined artistic framework. One hopes that such a dislocation is nothing more than an artistic difference.
"The Couple Show" demonstrates how love and commitment between two people need not lead to artistic emasculation.