Tadasu Takamine's "Too Far to See"
By Kenneth Masaki Shima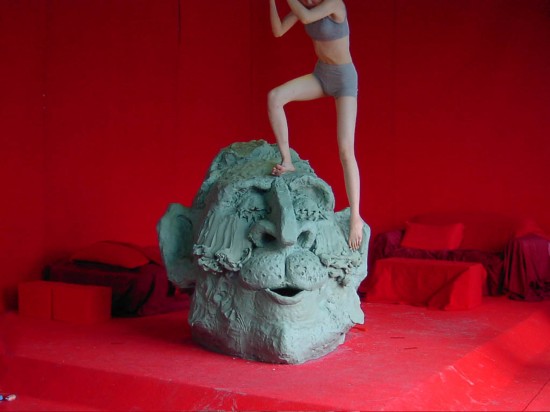 Across the cavernous central hall of the Yokohama Museum of Art, a moan emanates from a voluminous, undulating beige curtain. Concealing the opening to the right wing of the museum, hanging fabric of Tadasu Takamine's Wilderness Within appears to be just a textile filling our gaze, shivering and bulging from an unseen force. Moans reverberate as the fabric swells outward in a combination of ghostly longing and cooing comfort.
The mixed sensation between familiarity and uncertainty recurs throughout this heterogeneous collection of Takamine's work—a familiar tactile response, a foreboding proximity to texture, darkness, the written word, social scene and commercial product—that in their arrangement manifest a provocative entreaty to our sense of safety. As Takamine writes in the exhibition catalog, he tries to find a space bridging the passive comfort of "swallowing" an idea whole and the stubborn reality of an "incessant feeling that only one part of the whole is visible."
This diverse solo exhibition showcases the breadth of Takamine's critical outlook on contemporary politics and consumerism. Among well-known works from the past decade is the stop-motion animation God Bless America (2002), in which Takamine and his female assistant frenetically wrestle with a two-ton mound of clay into a caricature of George W. Bush, making it sing to the US national anthem. Elsewhere, the museum's darkened rooms are adorned with woven and embroidered "blankets" and "needlepoint" works, such as War (2011)—a red panel with three white plus signs on it—that draw out vague memories, a sense of déjà-vû of generic product packaging.
The new video-installation And Take Your Revenge is a freestanding screen where towering silhouettes commingle over a forest of "trees"—phallic protrusions sprouting out of the floor—which they fellate while grazing cows are projected onto them. Takamine is interested in the idea of fellatio not as subjugation of the giver, but as an act in which one is "wholeheartedly sucking onto the world and always pondering the opportunity to chew it up."
In The Big Blow-Job (2004), the viewer stands in a darkened room atop a platform. One glimpses a scattering of sand and scrap as spotlights fly about the room, briefly revealing text and objects, but the totality remains ungraspable. For Takamine, these are "objects that aren't visible to the eye, but the indication of their presence is felt. I think that has a large influence on how the whole piece is perceived."