Subodh Gupta's "A Glass of Water"
By Hanae Ko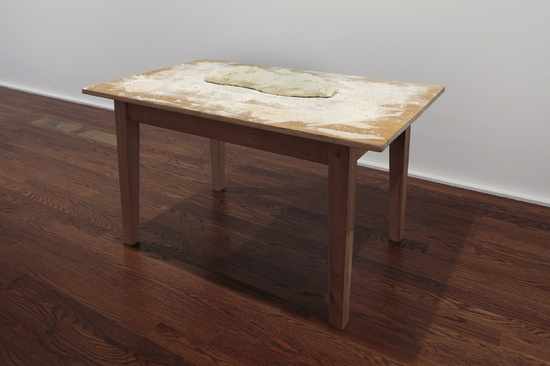 "A Glass of Water" is Subodh Gupta's first solo show at Hauser & Wirth's New York gallery. Featuring eight recent sculptures and paintings, the exhibition presents the latest stage in the artist's ongoing investigation of the significance, power and often-overlooked value of everyday objects and activities.
Situated on the ground level of the two-story gallery space is A Glass of Water (2011), a discreet, wooden table topped with a simple, metal cup filled with water. The brimming cup, which according to the artist signifies the Indian custom of offering drinking water to guests, is placed towards the corner of the table. This slightly precarious set-up is perhaps slightly more worrying than it is hospitable. The juxtaposition of composure and uncertainty, serves as a metaphor for the coexisting states of luxury and poverty, and development and deprivation, which have come to be part of rapidly globalized regions such as India.
Upon entering the second floor, one finds Atta ("Flour") (2010), a found wooden table laden with a mound of dough that the artist kneaded using real flour, which was then cast in bronze and colored with paint. In capturing the cooking process as a sculptural installation Gupta, who grew up watching his mother make Indian roti bread almost every day, memorializes the rote chore of making bread as a necessary staple of daily life.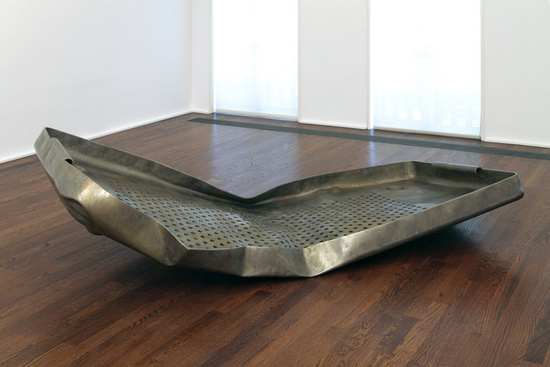 After Atta, the floor opens to another room—flanked on one side by a wall of ceiling-high windows—that houses Repose (2011), a large-scale, stainless-steel rendering of a well-worn sieve, bent slightly inward. The elegantly stark sculpture, with its unabashedly rendered dents and imperfections, effectively embodies its role as a monument to domestic tools whose essential contributions to daily life are often taken for granted.
Gupta's sculptures assert that every object and experience possesses the possibility of having a cultural or spiritual meaning, and, simultaneously, the possibility of having none. Evocative of both half-full and half-empty perceptions of life, "A Glass of Water" explores the implications of this dichotomy in an era of diaspora and globalization.