Shows to See in Shanghai, November 2023
By The Editors
Following last year's draconian lockdown, the 14th Shanghai Biennale will commence alongside two major art fairs, West Bund Art & Design and Art021, in a fierce return of the city's art scene. Titled "Cosmic Cinema," the 14th Shanghai Biennale (November 9–March 31, 2024) will feature more than 80 artists at the Power Station of Art. Curated by artist and e-flux journal founder Anton Vidokle, the Biennale investigates various relationships between life, earth, and the universe through ancient philosophy and cosmology. Concurrently, the 10th West Bund Art & Design art fair (November 9–12) will bring a staggering 171 galleries to the West Bund Artistic Center, while Art021 Shanghai will host 165 exhibitors and seven public artworks at the Shanghai Exhibition Center during the same period. As Shanghai declares its full recovery while trying to overcome lingering economic uncertainty, our editors compiled a list of exhibitions to check out citywide.
OCT 12–JAN 6, 2024
Yu Ji, Dong Longyue, and Wang Xiaofu: We the singular in multiple ghosts. I the multiple as parts of whole. Another Knowledge Is Possible III
ICA at NYU Shanghai
Yu Ji presents "We the singular in multiple ghosts. I the multiple as parts of whole" at ICA Shanghai, exploring the limits of how we assume knowledge. Video, text, and installations come together in this exhibition to form a fluid, overlapping collection simultaneously devoid of intention and open for interpretation. Yu questions the definition of meaning through her art, each piece creating a holistic experience for the viewer. Guests Dong Longyue and Wang Xiaofu will perform live on November 11 as part of the exhibition, exploring the parallax of perspective and viewpoint. The performance is free and open for registration.
OCT 27–MAR 31, 2024
Zhang Ding & Teppei Kaneuji: Two Clubs
How Art Museum
Zhang Ding and Teppei Kaneuji collaborated to bring over 100 representative works to How Art Museum in their dual exhibition "Two Clubs," featuring painting, sculpture, installation, and video alongside other media. Both born in the era of commercialism, they presented their respective interpretations of "clubs," with Zhang's CON TROL CLUB label drawing inspiration from music and performance art, and Kaneuji's sculpture series Teenage Fan Club based on his childhood experience of collecting anime figurines. The relationship between humans, culture, and space becomes the focus of the exhibition, inviting visitors to explore the contrasting dichotomies of underlying public perception and personal imagination; plan and chance; completion and unfinishedness.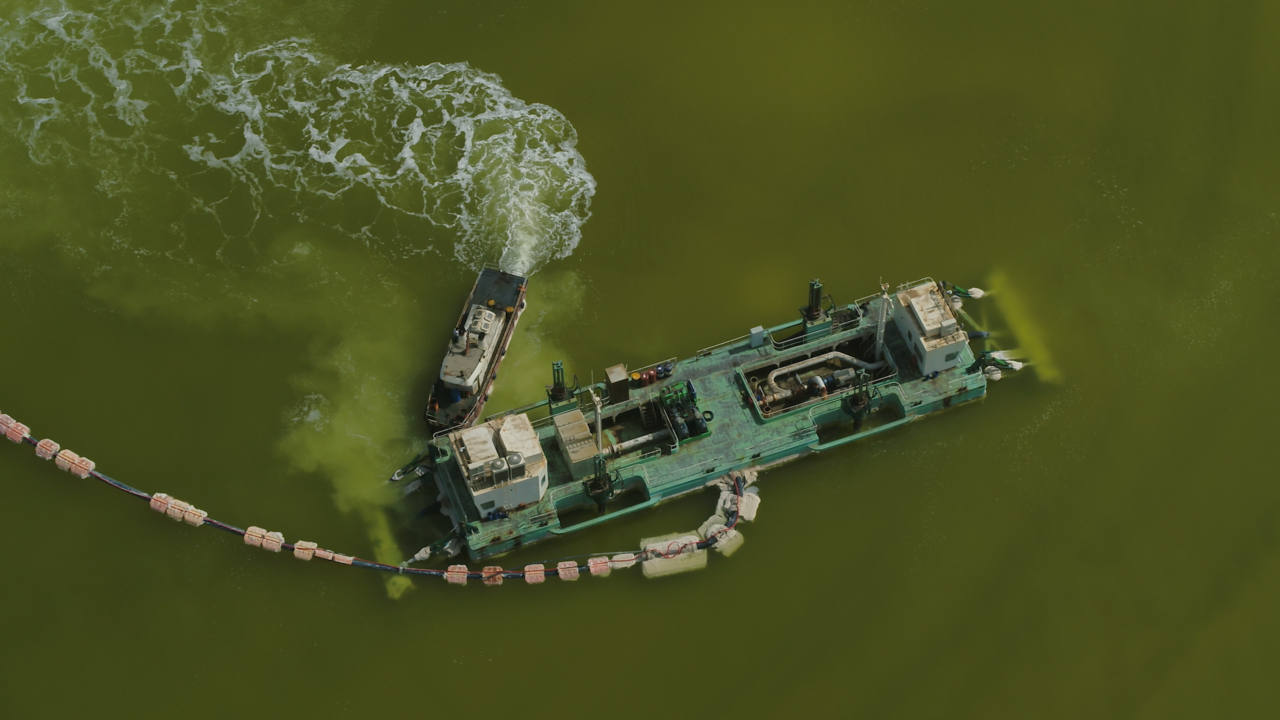 NOV 4–DEC 30
Liu Chuang: Lithium Lake and Island of Polyphony
Antenna Space

Artist Liu Chuang's new film Lithium Lake and Island of Polyphony (2023) makes it premiere at Antenna Space. Liu combines the story of "sophons," 11-dimensional supercomputers from science fiction writer Liu Cixin's The Three-Body Problem (2008), and audio from the Golden Record, a phonographic compilation of human sounds and images sent into space in 1977. In Liu's work, a narrative emerges from the two sci-fi concepts, where the margins of globalization unfold through the geological resonance of the present lithium boom and the silver economy of centuries past. Liu's polyphonic works create a multithreaded story that weaves together reality and philosophy, transforming theories, stories, elements, and the physical into a cohesive symphony.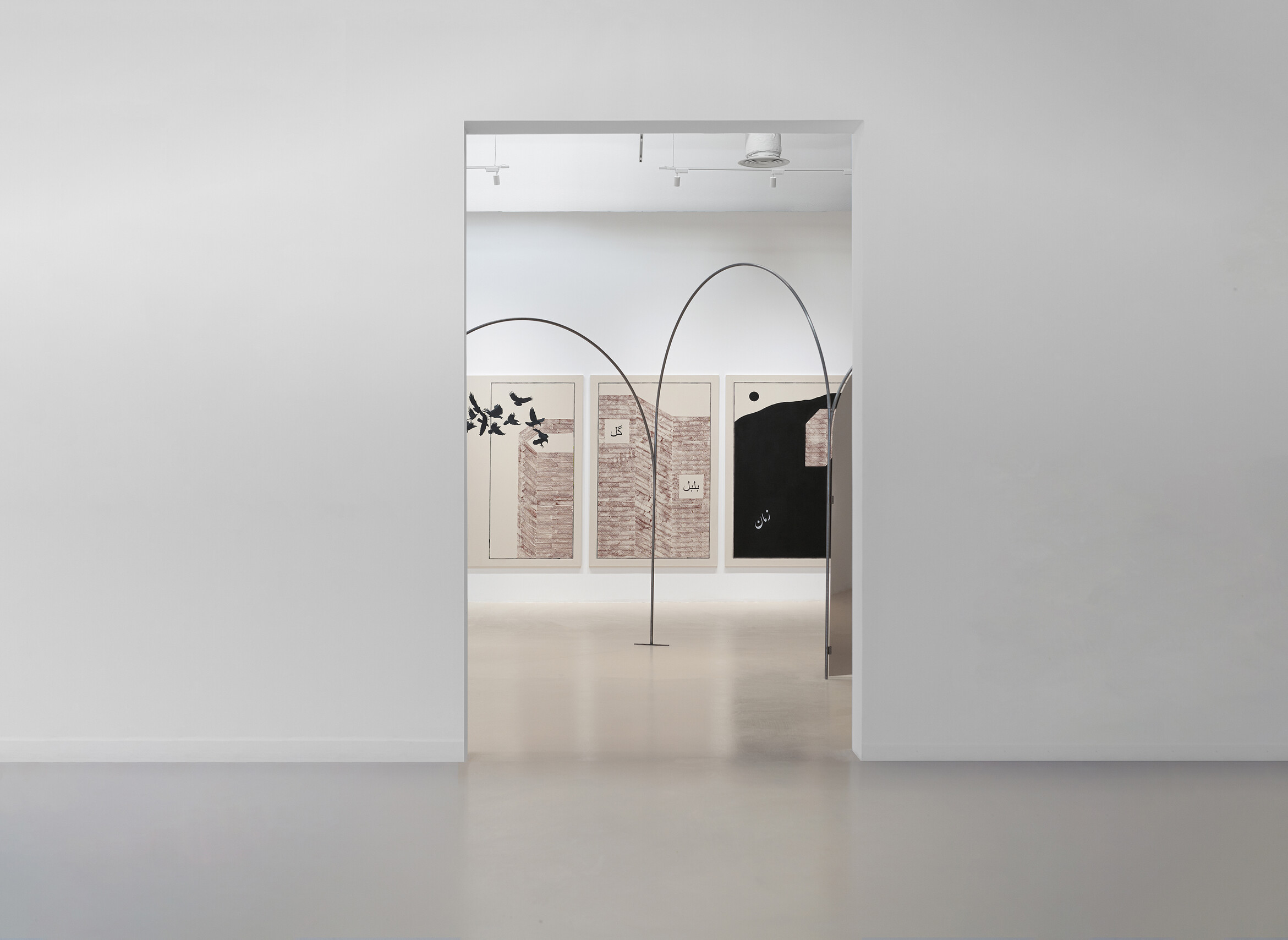 NOV 5–JAN 7, 2024
Han Mengyun: The Unending Rose
ShanghArt
Borrowing its title from Jorge Luis Borges's eponymous poem, Han Mengyun's "The Unending Rose" showcases a collection of her newest paintings, works on paper, and architectural and video installations as she blurs the lines between symbol and signifier. Inspired by Borges's belief in the potential for infinity, as represented by the rose, the exhibition will center itself around a "mirror pavilion" based on Nizami Ganjavi's retelling of "The competition between Chinese and Rum artists." As such, she renders the classic tale into an abstract and poetic portrayal of different conceptions of symbols between cultures. Han's work mixes cultures, drawing from various influences and amalgamating them into a rich, visual hybrid.
NOV 7–FEB 29, 2024
Crossing the River by Feeling the Collectors
IAG, C-Park Haisu
Collector David Chau, one of the cofounders of Art021 and the CC Foundation, showcases his collection of more than 100 artworks in a show curated by philosopher Lu Xinghua. Titled "Crossing the River by Feeling the Collectors," the exhibition focuses primarily on 21st-century art in the Asia-Pacific region, including the works of video artist Cao Fei, performance artist Chen Tianzhuo, painter Firenze Lai, Pakistani-American sculptor Huma Bhabha, Asian American digital artist Ian Cheng, and writer-artist Kenneth Tam, among others. The exhibition will take place at the IAG (Immersive Art Gallery) in C-Park Haisu, a new hybrid space of art and commerce established by Chau in September.
NOV 7–DEC 20
Ellen Pau: Inauspicious Symbol
Totalab
Kiang Malingue gallery is presenting a solo exhibition of Hong Kong media-art pioneer Ellen Pau in Shanghai for the first time. Titled "Inauspicious Symbol," the exhibition will showcase Pau's latest video installations of the Speculative Flora series, such as Speculative Generations of Flora 0 (2023), a research-based work on the flower species bauhinia x blakeana, also known as the floral emblem of Hong Kong. In addition, the exhibition will also present new iterations of Pau's older works, such as the video installations Vogue (1991) and Pledge (1995), which were shown at the 1995 edition of Gwangju Biennale "InfoART," curated by Nam June Paik and Kim Honghee.
NOV 8–FEB 25, 2024
Shubigi Rao: These Petrified Paths
Rockbund Art Museum
Shubigi Rao, who previously represented Singapore at the 2022 Venice Biennale, will present her newly commissioned film These Petrified Paths (2023) at the Rockbund Art Museum, in a presentation curated by the museum's artistic director X Zhu-Nowell. A poetic rendition of Armenia's culture, war, and fragmented literature, the film was shot in September 2022, during the outbreak of armed conflict with neighboring Azerbaijan over contested territory. The video features subtle stories that reveal the journeys of female library conservators and chroniclers, who conserve and restore their cultural legacy in a moment of crisis. The show is unfolded into four sections: the "subterranean," "sacred space," "margins," and "action," and Rao will also present a 12-meter-high installation, an energy pylon that stands like a tree at the heart of the exhibition.
Subscribe to ArtAsiaPacific's free weekly newsletter with all the latest news, reviews, and perspectives, directly to your inbox each Monday.