Shows to See in London, October 2023
By The Editors
The 20th-anniversary edition of Frieze London and Frieze Masters 2023 will take place from October 11–15 in the Regent's Park. Alongside openings and exhibitions at major institutions like Institute of Contemporary Art, Royal Academy of Arts, Whitechapel Gallery, and Tate Modern, London's smaller institutions and galleries have just as much to offer. Aside from the usual stop to Big Ben, here is a list of must-see shows from AAP's editors.
Sep 28–Dec 17
Trevor Yeung: Soft ground
Gasworks
Trevor Yeung presents "Soft Ground," marking the Hong Kong-based artist's first solo exhibition in the UK, where he expands his exploration of social relations through botanic ecology, horticulture, photography, and installation. The show is centered around a life-sized recreation of Hampstead Heath's famous "fuck tree," cast in soap and imbued with mossy scents that result in an earthy, moist aroma. Yeung delves into the social dynamics and interspecies relationships in London's gay cruising areas, as a composition of light and scent to create a fluid interplay between the dichotomies of day and night, as well as public and private life.
Oct 4–Nov 11
Farah Al Qasimi: Abort, Retry, Fail
Delfina Foundation
Taking the name from a computer error message that flashed up on her now-defunct family computer, Farah Al Qasimi's "Abort, Try, Fail" attempts to transcend or deny the natural world through a collection of photographs and vinyl wallpaper works, accompanied by a video. Playing with fictional and natural realities, her works capture glimpses of mundane landscapes that highlight human's alienated relationship with the natural world. Images of seemingly whimsical apricots and sunsets derail into uncanny detail as Al Qasimi toys with the ideas of the entangled relationship between material culture and globalized societies.
Oct 6–Mar 31, 2024
Ranjani Shettar: Cloud songs on the horizon
Conservatory at the Barbican
Indian sculptor Ranjani Shettar brings five new large-scale sculptures to the Barbican's Conservatory in her first major institutional exhibition in Europe, "Cloud songs on the horizon." Shettar's plant- and petal-shaped works, suspended throughout the Conservatory's 2,137 square-meter space, are made to be looked at from multiple perspectives, encouraging visitors to slow down and appreciate the lush foliage and tranquil ponds at their own pace. Adapting traditional Indian techniques and crafts, Shettar carves wood and binds stainless-steel bases in cloth, questioning the imperceptible and innumerable processes of change and metamorphosis that unfold through time in nature.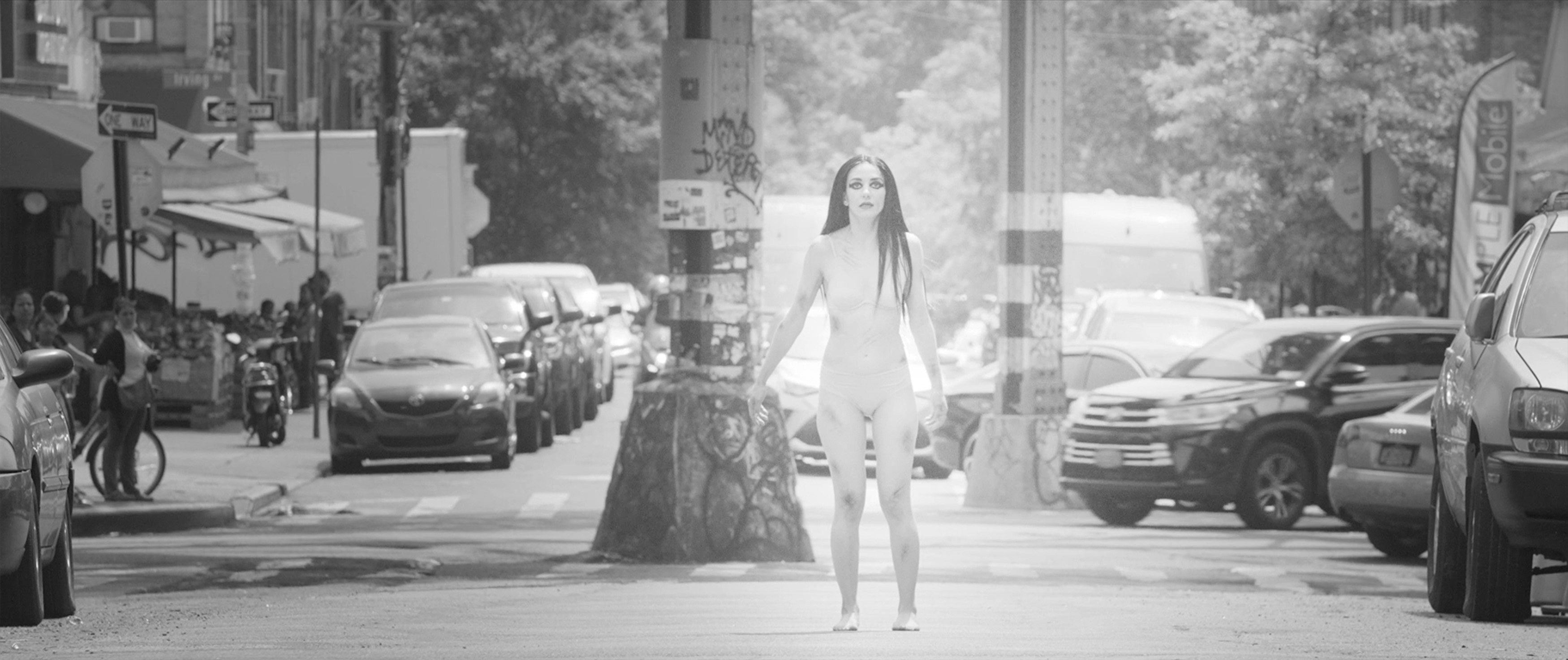 Oct 7–Nov 8
Shirin Neshat: The Fury
Goodman Gallery
The New York-based artist and filmmaker Shirin Neshat will present her film, The Fury (2022), at Goodman Gallery. Marked by her sustained portrayal of women's power and suppression, this new work continues Neshat's examination of the female body, with reminiscences on her 1990s photographic series Women of Allah (1994–97), where the artist took cues from the 1979 Iranian Revolution, diving into the paradox of conviction, submission, and violence through the symbolic veil. In The Fury, pain is shown yet again through the protagonist's silent scream as the fury against power.
Oct 6–Feb 11
Daido Moriyama: A Retrospective
The Photographers' Gallery
The Photographers' Gallery in Oxford Circus presents a retrospective of the acclaimed Japanese photographer Daido Moriyama, showcasing his early works during the American occupation and his engagement with photorealism. The second part will delve into his self-reflexive works during the '80s and '90s, and later, into exploring reality, memory, and cities through endless documentation and experimentation with photographic formats. The exhibition will bring together more than 200 works and large-scale installations, including some of his rare photo books and magazines, for the first time in the UK. A gallery floor will be transformed into a reading room dedicated to a detailed look at his publications.
Oct 11–15, 1pm
Candice Lin: Daily Kite Flying Activations at Frieze London 2023
The Regent's Park (51°31'52.4"N, 0°08'54.0"W)
Drawing from the kite-making traditions in Asia, Los Angeles-based artist Candice Lin, collaborating with kitemaker Yaeun Stevie Choi, will debut a commissioned work in the form of indigo-dyed kites titled Feline Messages to the Human World (2023) at the fair, which will be released into the air daily at 1 pm by performers in Regent's Park. The artist reminds us and reflects upon the explorations of aerial devices in history. The decoration found on the naturally dyed kites is animal imagery inspired by the historical representations of eunuchs at the Imperial Chinese Court.
Subscribe to ArtAsiaPacific's free weekly newsletter with all the latest news, reviews, and perspectives, directly to your inbox each Monday.