Shows to See in Dubai, March 2023
By The Editors
The long-running anchor of Dubai's commercial art calendar, the Art Dubai art fair is taking place from March 1 to 5 at the beach-fronting Madinat Jumeirah resort. Now in its 16th year, the fair features more than 100 galleries from 44 countries offering a range of contemporary art from across the MENASA (Middle East-North Africa-South Asia) region as well as sections devoted to modern, emerging, and digital art. Elsewhere in Dubai, more than a dozen galleries along Alserkal Avenue will participate in Alserkal Art Week; whereas nearby galleries within the industrial area of Al Quoz, along with others in the Dubai International Financial Centre (DIFC) will hold exhibitions and events concurrently. Here are some of the exhibition highlights in Dubai this month.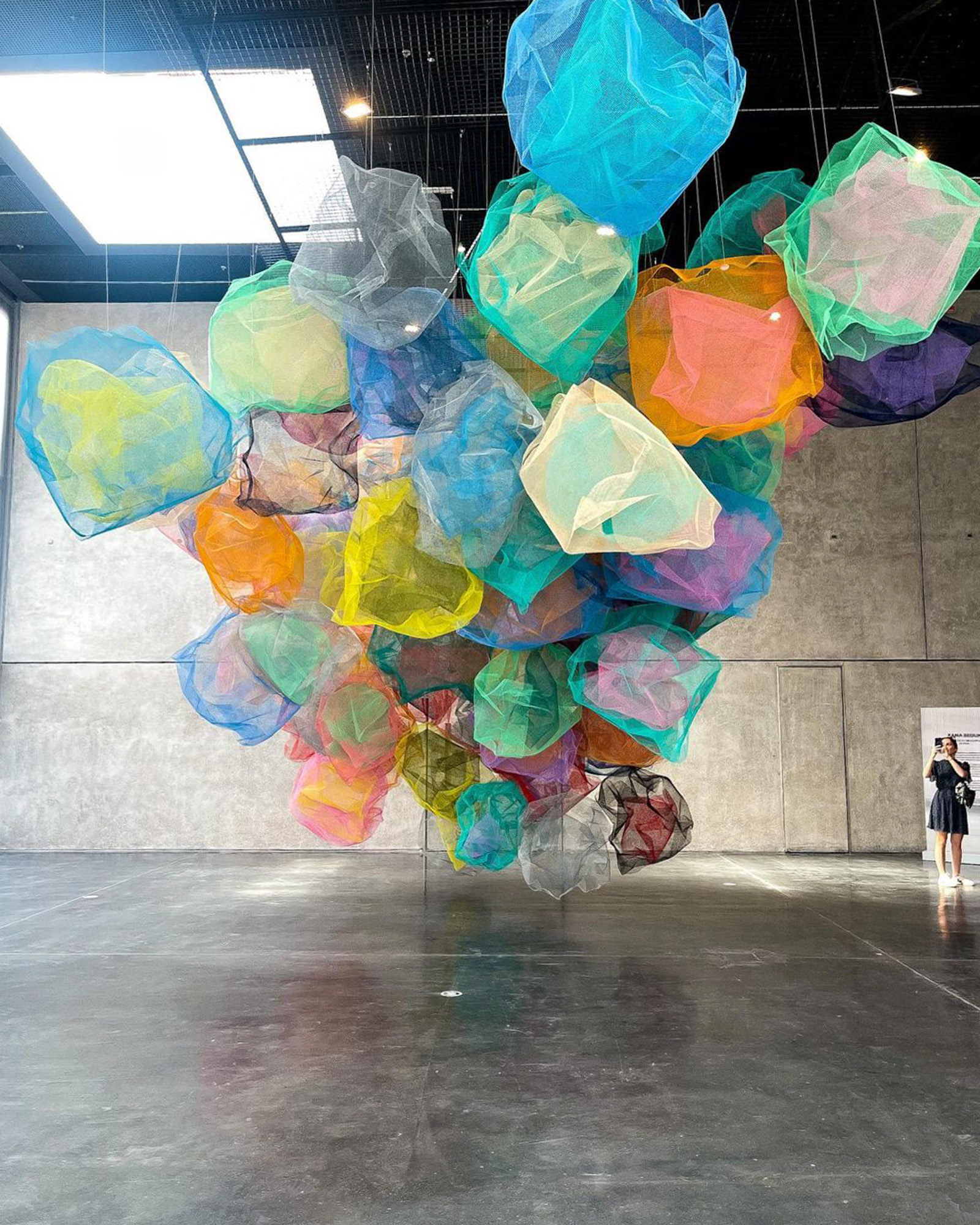 Feb 26–Mar 22
Rana Begum: "Dappled Light"
Concrete
London-based artist Rana Begum is celebrated for her sculptures that investigate the formal interplay of colors and light in space. At Concrete, the OMA-designed multidisciplinary space within the Alserkal Avenue complex, Begum's exhibition "Dappled Light," is curated by Cliff Lauson, who brings together large-scale installations such as No. 1228 Mesh (2023) of colorful "clouds," the ten-meter-long No. 1079 Painting Large (MG) (2021), and No. 1080 Forest (MG) (2021), a video study of light falling through the forest canopy.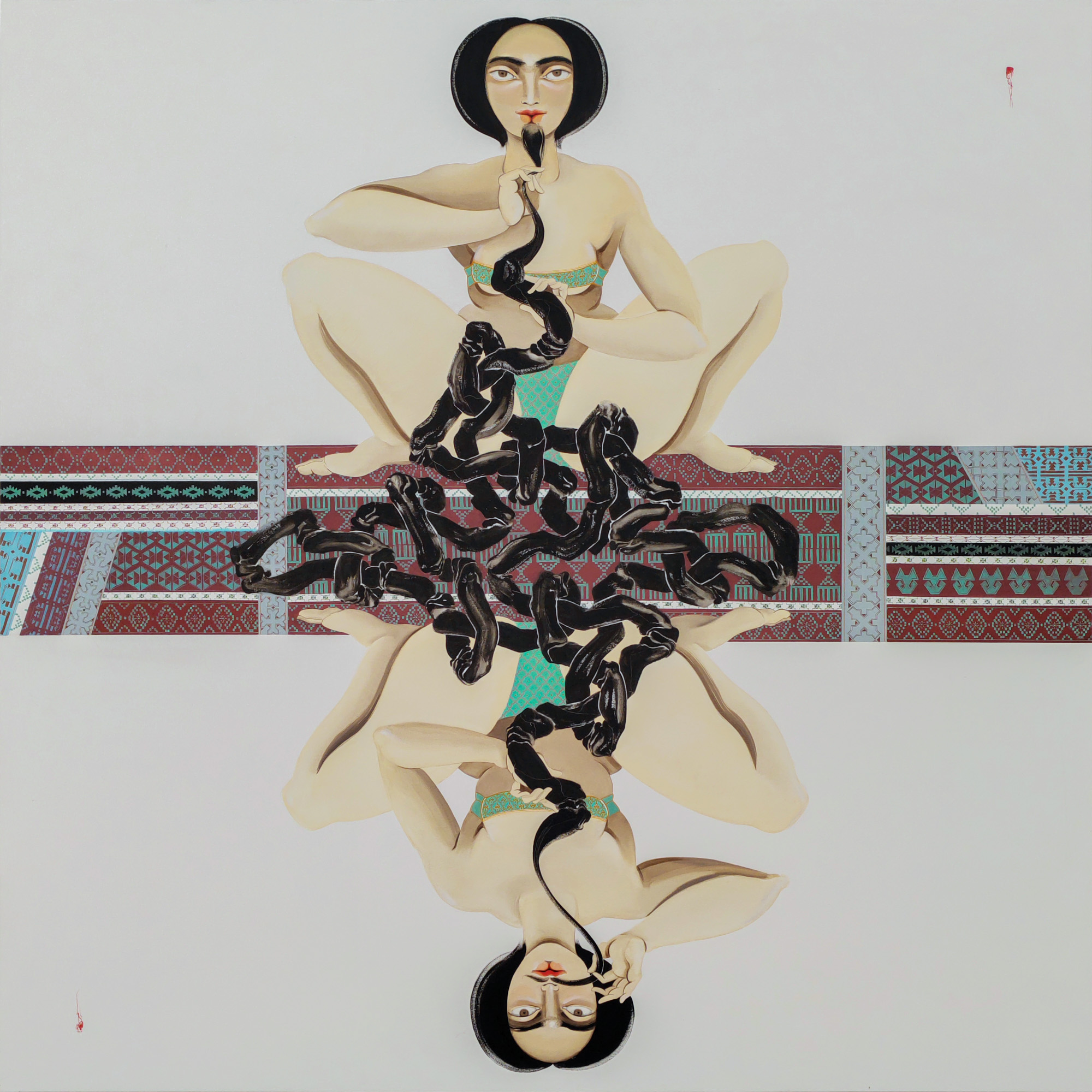 6 Feb–Mar 24
Hayv Kahraman: "Gut Feelings: Part II"
The Third Line
Born in Baghdad but having fled to Sweden during the Gulf War (1990–91), artist Hayv Kahraman produces works capturing experiences of displacement, trauma, and healing, alongside addressing issues of gender and body politics. Inspired by neuroscientific theories of the gut functioning as the body's "second brain," her solo exhibition "Gut Feelings: Part II" explores corporeal trauma and the role of the gut in the healing process in a dozen new paintings and drawings portraying exposed, tangled digestive organs and twisted female bodies.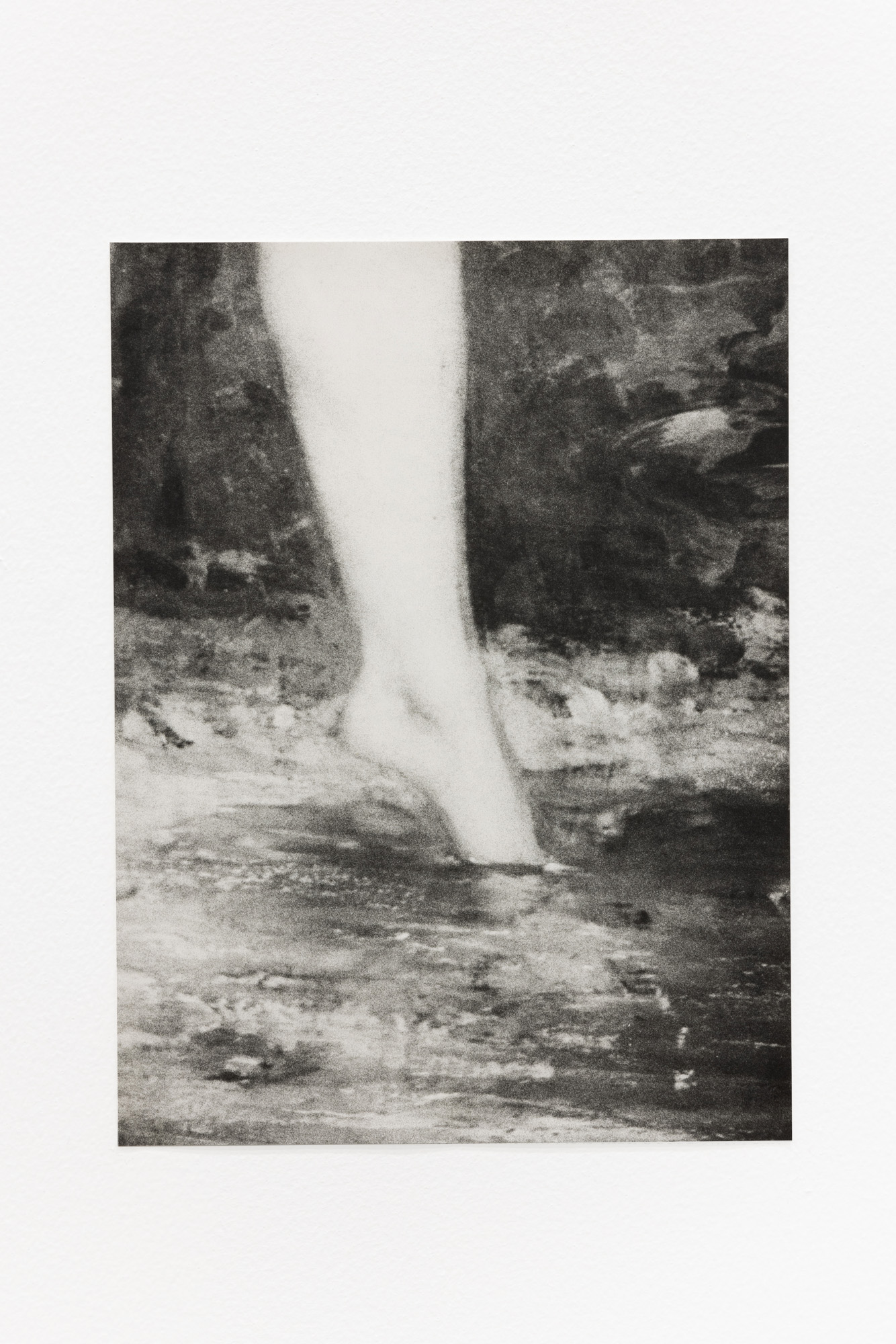 Jan 11–Mar 31
Jochen Lempert: "Natural Sources"
Grey Noise
With a background in biology, German artist Jochen Lempert is known for his black-and-white photographs of the natural world and the urban environment. "Natural Sources," the artist's first solo exhibition in the United Arab Emirates, will feature photographs that reflect on the dynamic relationships between humans and other creatures. Curated by the artist himself, the unframed, analog, and handprinted images depict high contrast compositions of pigeons, falcons, and flowers, among other nonhuman beings.
Sep 22, 2022–Apr 2
"An Ocean in Every Drop"
Jameel Arts Centre
The group exhibition "An Ocean in Every Drop" explores how water shaped human civilizations, while reflecting on today's water crisis and recent events of droughts and floods. Sixteen regional and international artists from 14 countries are presenting works, including Jerusalem-based artist Jumana Emil Abboud's paintings of bodies of water in Gradient Springs (2009–20), Lebanese artist Hussein Nassereddine's 2021 limestone installation A Few Decent Ways to Drown, and Vietnamese artist Thảo Nguyên-Phan's watercolor series depicting a threatened ecology, Perpetual Brightness (2019).
Feb 28–Apr 28
Timo Nasseri: "All Borrow Their Light"
Lawrie Shabibi
Berlin-based painter and sculptor Timo Nasseri's visual language draws on geometric patterns in religious imagery. His first solo exhibition at Lawrie Shabibi, "All Borrow Their Light," focuses on his new four-meter-long painting Atlas (2023) and earlier painting series I Am a Sky Where Spirits Live (2022–23), which both resemble kaleidoscopic patterns, and several sculptures made of steel, clay, and walnut respectively. Referencing camouflage patterns used by the United States and British Navies in World Wars I and II, Muqarnas ornamentation in Islamic architecture, and Cubist elements, Nasseri's works are contemplations on form and rhythm.
Feb 28–Apr 29
Hera Büyüktaşcıyan and Seher Shah: "A Line of Foreign Verses"
Green Art Gallery

"A Line of Foreign Verses" brings together the multidisciplinary practices of Istanbul-based Hera Büyüktaşcıyan and Karachi-born Seher Shah to create a dialogue about the importance of memory and the experience of occupying turbulent landscapes. Among the works on view is Büyüktaşcıyan's film The Labyrinth of the World, Paradise of the Heart (2021–22), which dives into Prague's colonial history and evokes discussions about cultural purity and contamination, and Shah's screen-print series Notes from a City Unknown (2014–21), which comprises of geometric abstractions that contemplate the architectural, social, and political histories of New Delhi.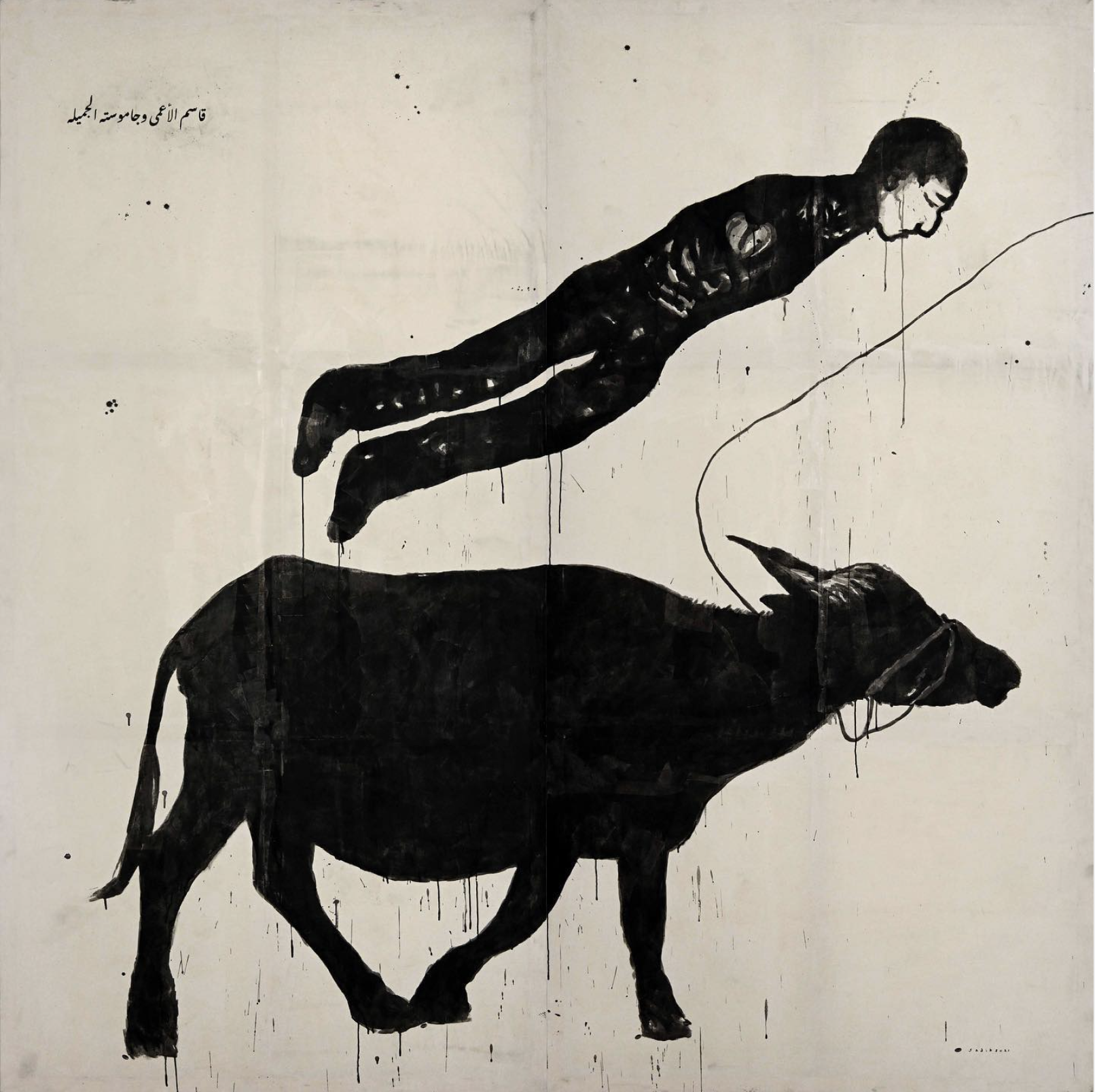 Feb 28–May 1
Sadik Kwaish Alfraji: "Those Houses Behind the Army Canal"
Ayyam Gallery
Baghdad-born and Amersfoort-based multimedia artist Sadik Kwaish Alfraji grew up amid political turbulence during a period marked by numerous coups in Iraq. "Those Houses Behind the Army Canal" is the second chapter in Alfraji's three-part project Books of Passage (2019– ), which details three generations of migration within his family. With the first iteration beginning with his grandfather's tale in The River That Was in the South (2019), Alfraji now shifts his focus to his father's generation who sought refuge in the slums of Baghdad. Sketchbooks, animations, and etchings, among other materials, capture the precarious living situation of residents in the Madinat al-Thawra neighborhood (also known as Revolution City) after Abd al-Karim Qasim's coup in 1958.
Jan 18–May 20
"Notations on Time"
Ishara Art Foundation
Curators Sandhini Poddar and Sabih Ahmed from the Guggenheim Abu Dhabi Project and Ishara Art Foundation in Dubai, respectively, bring together 20 contemporary artists from South Asia and its diaspora in an experiment of alternative methods of reading time. Drawing from archaeological evidence, aural traditions, myth, and astronomy, the artists challenge Western-capitalist conventions of measurement oft-associated with linearity and progress. Participating artists include Indian photographer Soumya Sankar Bose, Sri Lankan artist-activist Chandraguptha Thenuwara, and multidisciplinary London-born artist Shezad Dawood.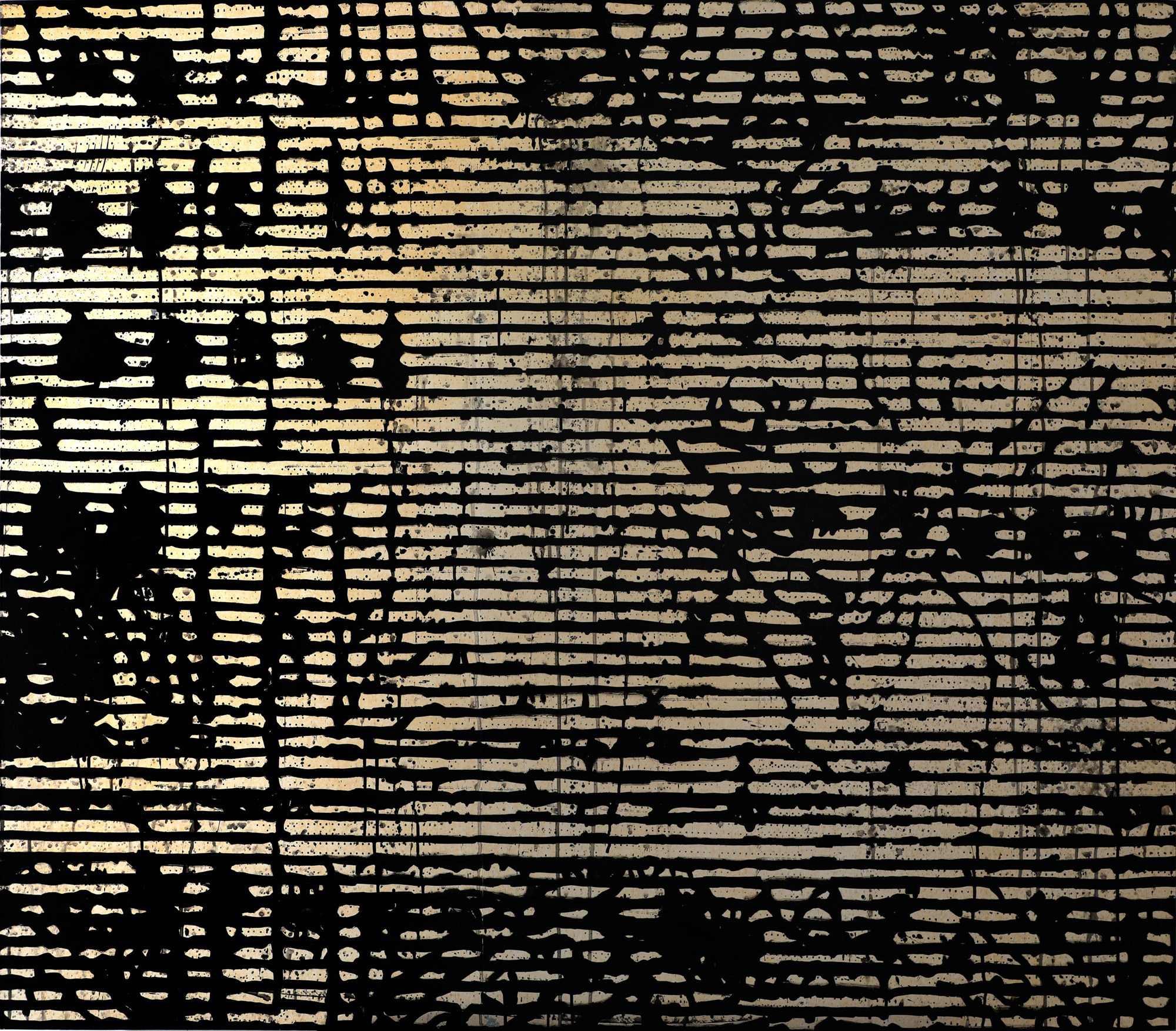 Feb 28–May 30
Mahmoud Obaidi: "Mosquito Effects"
Meem Gallery
Iraqi conceptual artist Mahmoud Obaidi presents a new series of mixed-media canvases looking at history through a highly filtered and abstracted lens in "Mosquito Effects." Primarily using black paint and the recurring motif of horizontal slats—as if looking at the world through blinds or on an old televisions screen—Obaidi hints at the themes of colonization and genocide through series titles such as The Purification of American Land, Whatever Happened to the American Dream, and paintings bearing the Starbucks logo, The Pursuit of White Excellence (all 2022), marking the continuation of cycles of exploitation into the 21st century.
Subscribe to ArtAsiaPacific's free weekly newsletter with all the latest news, reviews, and perspectives, directly to your inbox each Monday.