SeMA Youth 2012: 12 Events for 12 Rooms
By Hye Young Kim
This year's SeMA Youth exhibition, titled "12 Events for 12 Rooms," held by the Seoul Museum of Art (SeMA), reflected on how people have been living in Korea and where they are going. The exhibition consisted of works by 11 young Korean artists—Kira Kim, Sangdon Kim, Young-Sup Kim, Kim Yongkwan, Roh Jinah, Hungmin Moon, Ung-Pil Byen, Jinjoon Lee, Kijong Zin, Ha Tae-Bum, Kyung Woo Han; and one collective, Part-time Suite.
Held every two years since 2004, SeMA Youth seeks to introduce young Korean artists to a wider audience. This year's iteration gave each of the participants, who work in a variety of media, the same sized exhibition room (approximately 100-square-meters) as a creative laboratory. The arrangement of the exhibition aimed to portray 12 separate narratives representative of the diversity of contemporary Korean art now. Some artists successfully revealed key characteristics of Korean culture and society at present, while others attempted to touch on more issues global.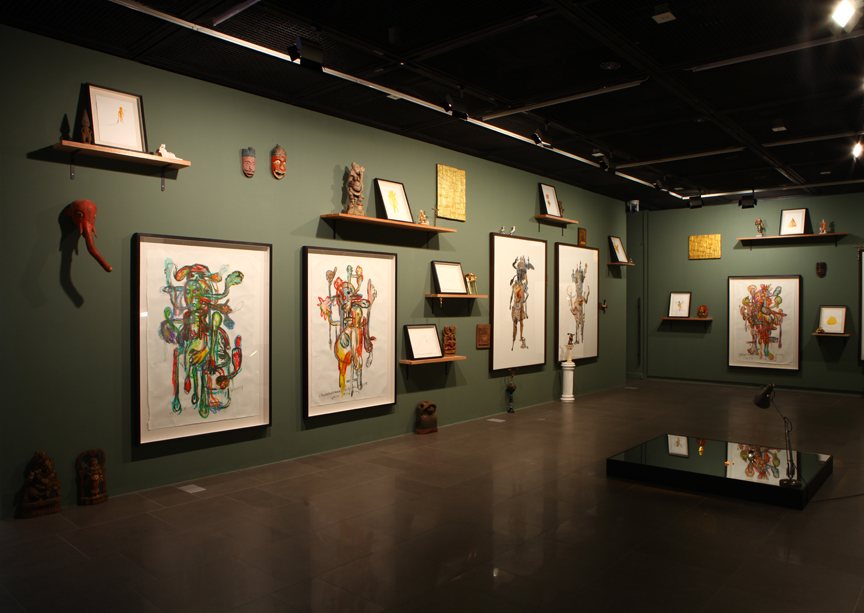 In the first room on the second floor was Hyungmin Moon's By Numbers: Seoul Museum of Art 2000-2011 (2012), presented bold colors applied to the wal in diagonal lines. These simple colors derived from previous SeMA exhibition catalogs from the past decade. The viewer thus accessed a historical space within which were condensed a selection of past memories. This site-specific installation also suggested the role of an art museum, namely to project a certain story of art onto society.
In another room, Kira Kim's Common Good_Climb Every Mountain! (2012), was an installation of antique statues and paintings from all over the world. This too can be viewed as a museum in itself. Viewers may have felt uncomfortable to see collages made from different parts of sacred images, deriving from over 500 books the artist collected regarding diverse religions and beliefs including Buddhism, Taoism and Christianity. Kim created a body from eclectic fragments including the head of a Greek goddess, the leg of a cow, the hand of Mahadeva (recognized in both Hinduism and Buddhism), and so on. Through this collection of religious iconography, Kim's work seems to suggest that our gods are man-made creatures, and yet the images' undignified appearance may also reflect people's greed and excesses.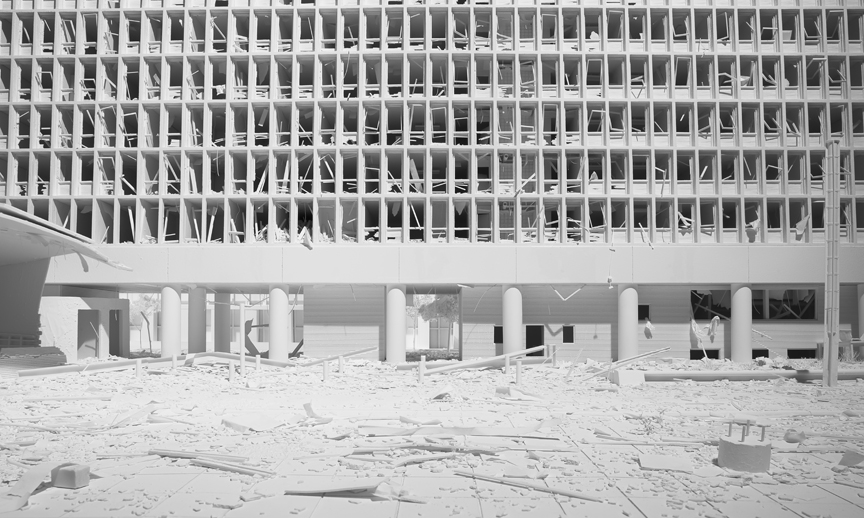 Similarly, Ha Tae-Bum's room seemed to highlight another aspect of human fickleness: large wall-mounted photographs of meticulous white architectural models (also made by Ha) at first appear calm and serene, however the works' titles are not at all peaceful. Images such as Earthquake Haiti (2010) and Norway Attacks (2011), for example, reveal these images to be based on recent cataclysmic instances of natural and man-made disaster. A colorless "model" interior is actually the site of a threatening disaster, creating a dramatic visual effect. Ha's video Dance on the City (2011) particularly emphasizes the sadness of environmental destruction. A slow piece of classical music is played while a dancer, in white, gradually destroys a delicately made cityscape of white paper buildings on the floor, with her beautiful dance steps. Both Kim and Ha's installations seem to signal a neglect of the environment while society greedily pursues other gains.
On the third floor, Kyung Woo Han's uncanny installation, Green House (2009), allowed people to experience the limits of sight. From the entrance, due to the blue coloring on the walls, chairs hanging from the ceiling appeared to be floating in water. In an adjacent room, Kim Yong Kwan created a different kind of illusionary space using black-and-white Op Art-inspired linear graphics. As the viewer moved through the space, according to the angle from which they viewing, the images on the wall, looking like three-dimensional industrial constructions, visually distort—conveying the experience of the visual world as not absolute, but subjective. Han and Kim's installations allow viewers to realize that the outward appearance of society can become its lived reality, if we lack the experience to differentiate fact from fiction.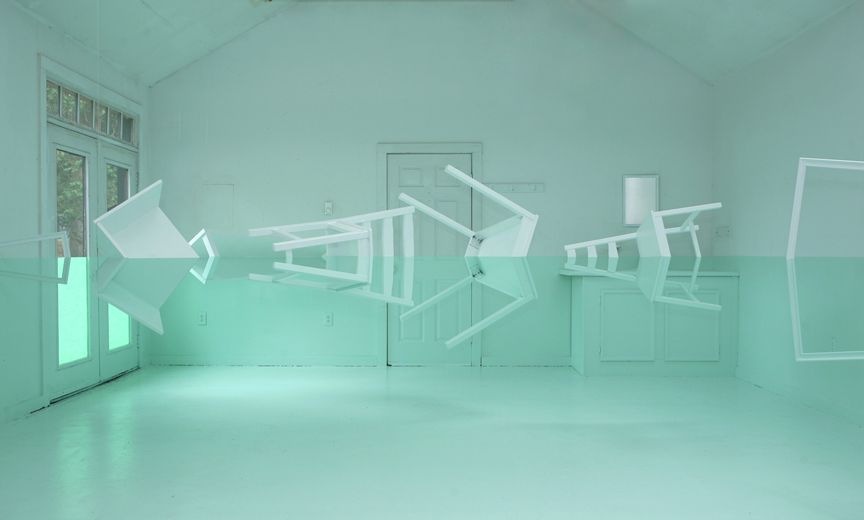 "12 Events for 12 Rooms" might best be described as a bittersweet document, obliquely reflecting on a host of current issues. In recent years, SeMA has tended to program blockbuster exhibitions, such as Bernar Venet and Yann Arthus-Bertrand. However, "12 Events for 12 Rooms" marks the first exhibition developed under new museum director, Honghee Kim, who has said the institution will move away from a focus on big solo shows for established artists—often created by outside companies, to also concentrate on emerging and local artists. This exhibition hence played an important role toward Kim's goal of encouraging public discussion through the interaction of a wider group of artists with Seoul audiences, around critical social issues.