Seeking Solace in a Garden: Interview with William Lim
By Elaine W. Ng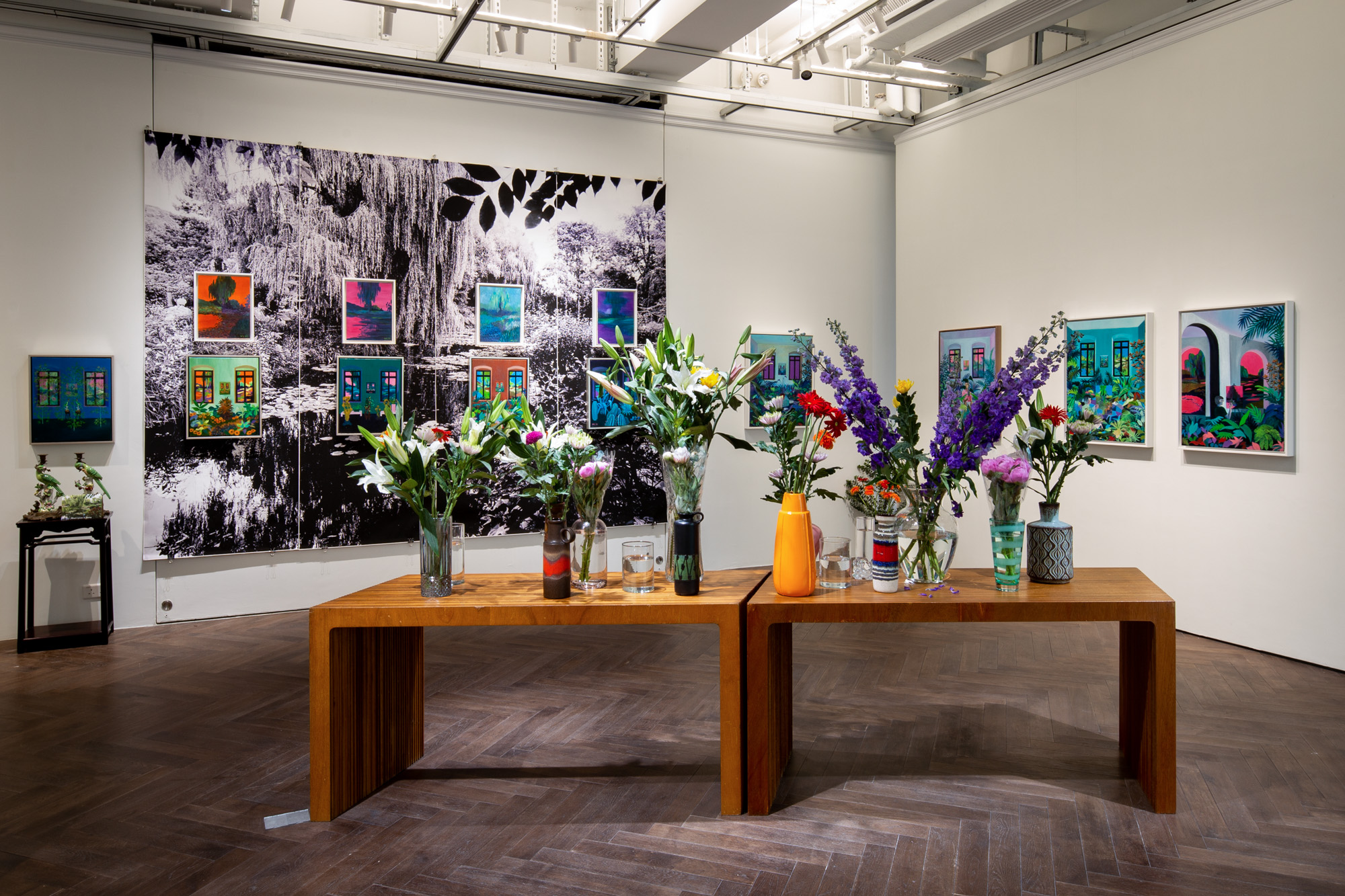 William Lim is an instantly recognizable figure in Hong Kong's art community. He is an acclaimed architect whose projects can be seen across Asia, including Marina Bay Sands in Singapore, Bangkok's Gaysorn II Plaza, and Millennium Mitsui Garden Hotel in Tokyo. Lim is also deeply committed to supporting artists, particularly from Hong Kong, and he and his wife, Lavina, recently gifted a significant portion of their art collection to M+ in 2020. When the Covid-19 pandemic began surging around the world, Lim began an earnest painting practice to help him both record and comprehend what was happening around him. I sat with him recently to discuss his latest exhibition, "Willows Dark Flowers Bright," which opened on May 21.
The current series of paintings on view at H Queens is radically different from your exhibit last year at Grotto. You moved away from diaristic paintings of your life during Covid, which often captured your wife, your children and grandchildren, or deeply personal spaces in your home, whereas the main focus in these recent works are lush floral landscapes or still life paintings. I understand this move to paint nature was inspired by a Song dynasty poem titled Touring the Village West of the Mountain (遊山西村). Could you tell us more about the poem?
The two verses from the poem are my all-time favorites in terms of self-encouragement. They translate to: "When times are most desperate and hopeless, you may turn the corner and find a whole new opportunity." This perfectly describes the situation we are facing in Hong Kong and in the world. The verses describe "dark willows" and "bright flowers" that lead to another village. The exhibition title came to me after I started to paint Claude Monet's garden in Giverny, with its huge willows and many flowers.
As this body of work was inspired by a classical Chinese poem, did you consider creating these paintings in brush and ink?
I am always interested in blending East and West in my thinking, my architecture and my paintings. Oil is my medium, but I reference Chinese paintings with empty space and brush techniques when depicting plants and flowers. I also favor Chinese elements such as bamboo, chrysanthemums, peonies, vases and furniture. And I appreciate the philosophical and cultural differences of the two mediums. In ink paintings, making corrections is difficult, so one attempts to paint the perfect stroke. In oil, layers can cover up mistakes and allow a painter to change his mind. Both approaches are valid, and I prefer to take a neutral stance: I want my strokes to look like they are entirely controlled, but I also cherish the freedom to change my mind and paint over something. Sometimes the color of a sky changes entirely as I develop a painting.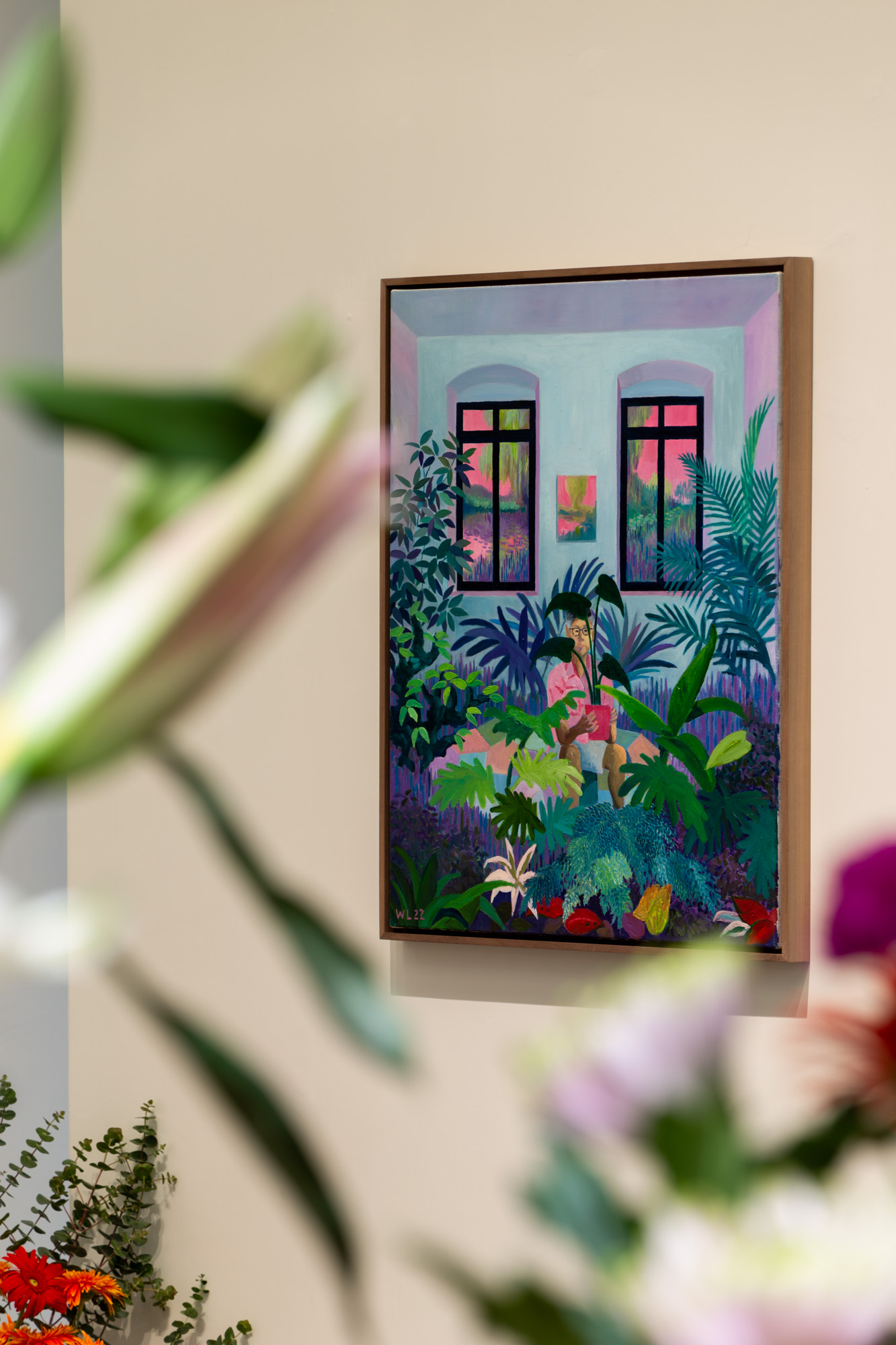 This is the second series of paintings that you created during this long, ongoing pandemic. Can you describe your daily routine during the fifth Hong Kong wave? Did you paint every day? Did you have a goal in mind when embarking on these paintings?
The fifth wave began in early January this year. I freaked out when a visitor to my office tested positive, and we sanitized the entire office. Then a relative of a staff member, and then a staff member, and then Covid became unavoidable. So, I actually worked from home in isolation from January to late March. I went to sleep early and woke up around 6:30 am. I was painting in my studio before then, but I moved everything back home. I ordered two new easels and brought two from my studio. I was painting almost eight hours a day, except for an occasional Zoom meeting, and breaking for lunch. I only paint in daylight. Every afternoon at 4:30 pm, the government would announce the number of cases that day, and I would stop around that time and listen to the disheartening report on the death tally that day.
I found solace during this period by buying fresh cut flowers from a local florist. Flowers are important in our lives as we gift them for love, sorrow, deaths and births. Artists have painted them since the beginning of art, but I feel this practice will persist as long as a painter wants to tell her own story. I started to paint flowers with no agenda, and eventually painted gardens.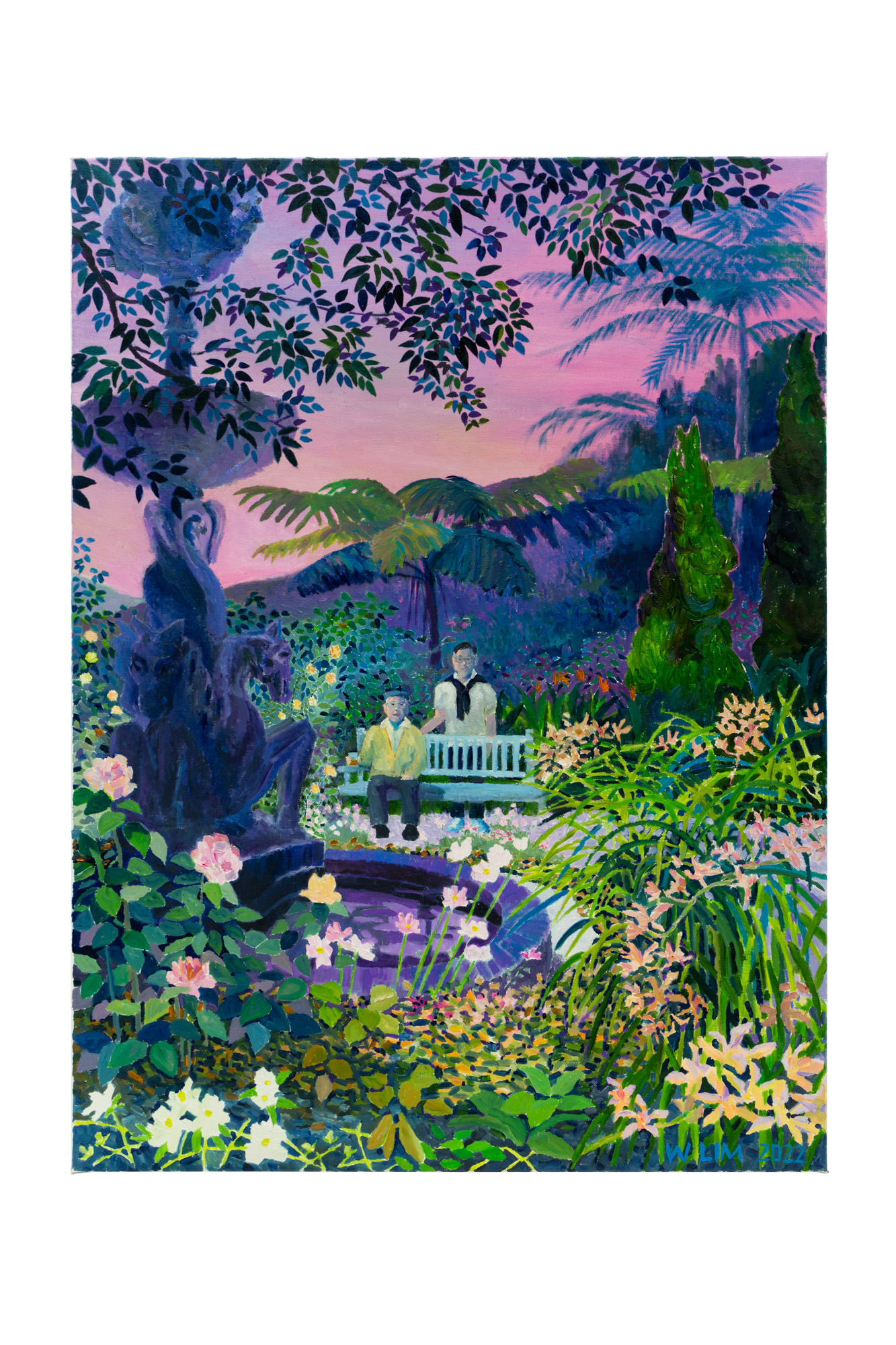 Was painting during the various lockdowns therapeutic for you? Looking back, did the act of painting function in the same way between the two series?
Painting is thoroughly therapeutic for me. I did the first series shortly after my mother passed away and started painting in her bedroom; it was like continuing a dialogue with her. My mother was a very strong person, full of energy. She loved color, and by using her room as a subject I discovered how she surrounded herself with family photos and motifs of flowers, animals and butterflies. It was her world that I painted. When I had the exhibition at Grotto a year ago people were very touched; some even cried at the exhibition. I am happy that my paintings can move people emotionally. Now, I feel my mourning period is over, and I want to express something else. The comfort I get from painting still exists; it is a way for me to release my emotions. I recalled some childhood memories, my early days in university. I painted my father in our gardens. I do feel my command of the brush is stronger now and I am more confident with my technique. I feel freer now as I am no longer trying to prove that I can paint.
I have only been to your studio, and never to your home, so excuse me for asking: Are the gardens in your paintings real or imaginary? What about the flowers, did you regularly go to the flower market to buy fresh blooms for your paintings or are these also from your imagination?
I have a terrace at home, and I started painting it with the plants there in my first series. I continued to paint the terrace with the second series. Before the fifth wave I did a commission work for a friend, and I painted his garden. My wife Lavina and I also went for walks on the Peak. I incorporated these in my imaginary garden. With my first series, it was important to convey accurately what I saw, as those paintings were recordings of a very special time in my life, so they were like a diary. With the present series I have greater license to flex my imagination. I use plants and flowers to frame a view, to compose a story. I want the plants to look real enough, but not on a scientific level as that has no interest for me. I do buy fresh cut flowers from the market for my paintings. I feel flowers convey certain personalities, so I need to look at them to paint them, like portraits.
One of my favorite gardens is Monet's in Giverny. I took photos of the garden on my visit there three years ago, and I started to paint from those photos. As I painted, I realized that the lines, planes and dots in the composition almost formed an impressionist painting on its own. I started to wonder if that is the way Monet arrived at his style. Inspired by that, I wanted to be more expressive with my own paintings. I started to push my imagination by inventing various color combinations, similar to my design work. That group sparked my imagination to the extent that it was a turning point for me.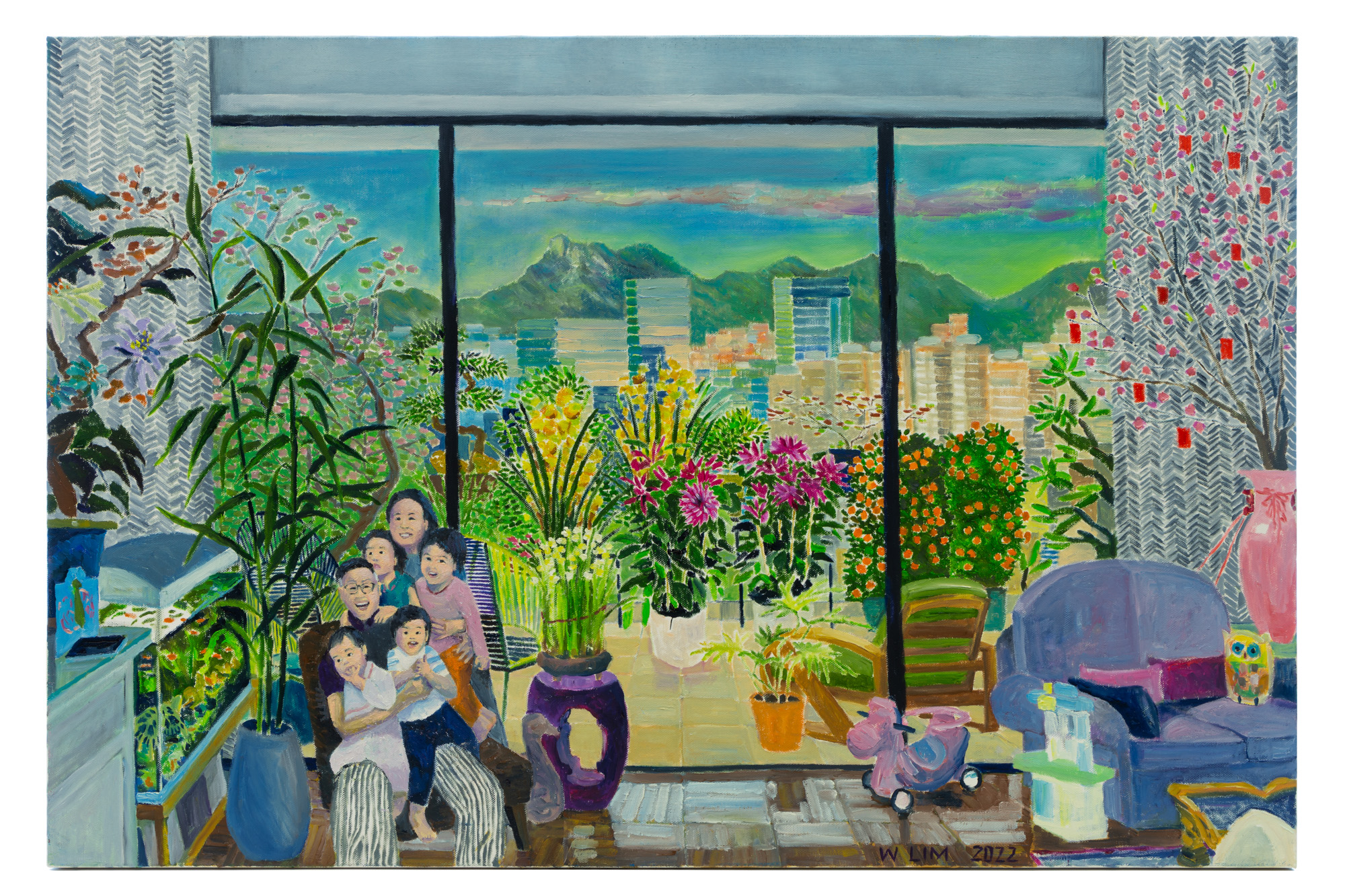 What does the garden symbolize to you?
The Garden of Eden represents the perfect garden, but that is also where humankind falls from grace. Everyone has a secret garden within that may only be shared with a few others or by no one. One of my favorite film scenes is the opening of Blue Velvet (1986) by David Lynch. In less than three minutes he captured a bizarre world and a garden scene, not unlike the world we live in now.
And the colors—the palette in this new work is saturated, almost psychedelic. Without the long tableful of actual flowers that you have placed in the center of your exhibition, I would say the colors in your canvases are exaggerated. However, I was reminded that flowers really do produce wildly intense pigments that span the entire color spectrum. Was there a reason you gravitated towards these kinds of colors when the fifth wave seemed a very dark moment in Hong Kong?
When I was painting my friend's garden, I first perceived a cluster of green plants, but when I started to paint, I began to see yellow, brilliant red, purple, and all the colors in between. That taught me to be more observant, and not to rely entirely on first impressions, as they may not always be accurate. I feel positivity in the resilience that plants display. They can be in the harshest environment, like in a desert, but they adapt and survive. Maybe the strong colors helped me get through the sadness of the fifth wave. The helplessness of that period is not expressed through the flowers but through the darkness of the skies, and the security grills when we were confined and could only look out the window. The fifth wave started easing by end of March. I remember visiting a gallery on March 31, and my skies started to brighten up.
Now that Hong Kong has relaxed many of the harshest Covid restrictions, are you still painting every day?
I still paint every day, some days only a short time. I have been invited to exhibit with a gallerist in London, so I am preparing for that. I am a late bloomer and want to catch up as much as I can.
I understand these paintings to you represent a vision for Hong Kong's future. How do you see things unfolding for us here after many challenging years?
I can't predict the future but what I hope for can be found in the last painting in the present exhibition, Party Till Dawn (2022). This is what I long for. When you live to my age (64) you encounter many ups and downs. If you think positively, you will be happier. I like Liza Minnelli's song in the movie Cabaret (1972): "What good is sitting alone in your room? Come hear the music play."
And finally, why do you invite visitors to bring their own flowers to the exhibition?
I want people to be part of the exhibition. I think a vase with only one kind of flower is uninteresting. I want my vases to display all kinds of flowers, to make the world a better place. In a world so divided, we need to see that all flowers are equally beautiful, not just the ones in your own garden.
William Lim's "Willows Dark Flowers Bright" is on view at H Queen's, Hong Kong, from May 21 to May 29, 2022.