Scotty So's "Baak3 Mei6 Saang1"
By Sharon Lee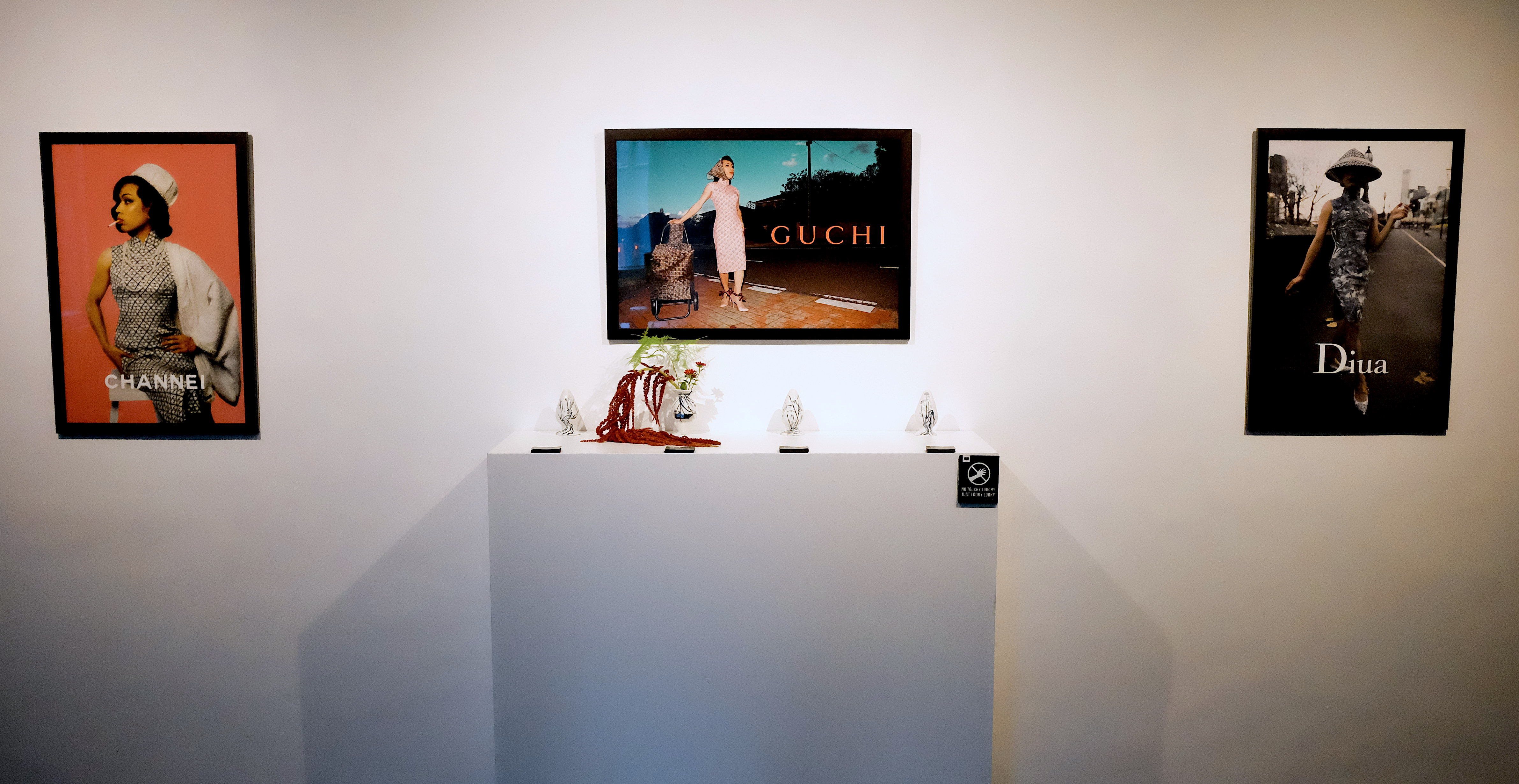 Scotty So: Baak3 Mei6 Saang1
Vain Projects, Hong Kong
Sep 21–Oct 15

Melbourne-based Scotty So returned to Hong Kong for his latest solo exhibition, "Baak3 Mei6 Saang1,'' with a collection of paintings, photographs, sculptures, and installations. Taking its name from a line in the classic Tang Dynasty poem "Song of Immortal Regret" (長恨歌), baak mei saang (百媚生), which roughly translates to "one hundred charms bloom[ing]," captured the timeless and effervescent allure of a strong-minded, beautiful woman. Across vibrant, camp-inspired works at Vain Projects, So created a whimsical arena in which the concept of beauty transcended conventional boundaries.
So's artwork boldly challenges the Western gaze by displaying a stereotypical, even offensive, interpretation of Asian culture as seen through foreign eyes. In an installation evocative of window shopping, videos featuring different performances of So moving sensually in drag (as Scarlett So, his drag persona) were projected behind a display case. By provocatively stripping off layer upon layer of a traditional cheongsam, So reflected how Asian women have often been sexualized and idealized in Western media. So did not miss the chance to imbue the work with his signature satirical touch. In one particularly humorous video he dresses up as Japanese pop culture icon Hatsune Miku in You Can Call Me Miku (2022) and dances around frivolously. Yet amid the holographic projections of Scarlett, an eerie and slightly unsettling aura emerged—an uncannily performative joy immortalized into a ghostly image that continued to entertain as watching eyes fixed on her dancing visage.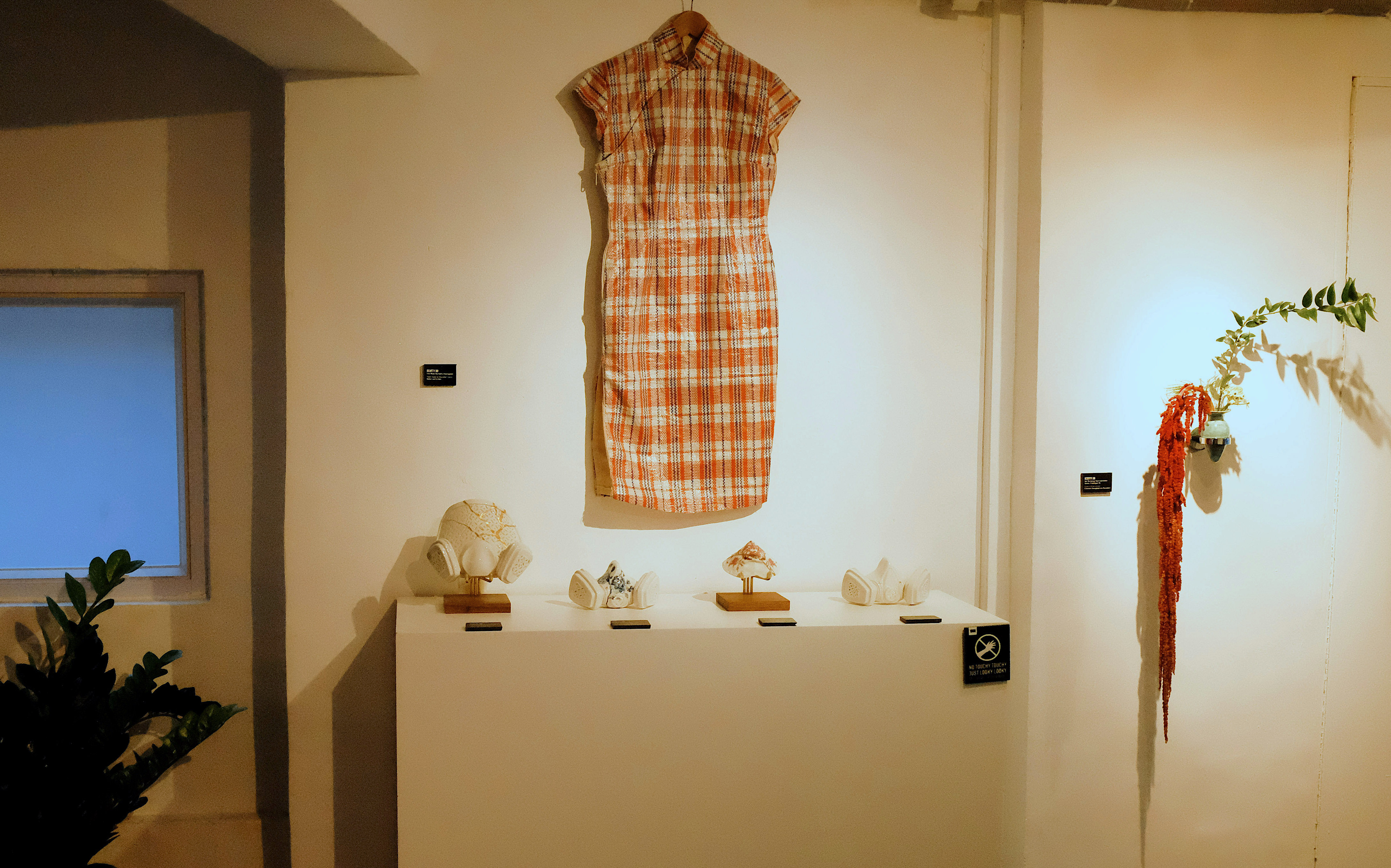 It is not only the foreign line of sight that is called into question through So's whimsical works, as the same gaze turns toward problems closer to home. Selected pieces from So's photography series Hai KotTou, But Make It Fashion (2021) adorned the walls, each a parody of luxury product advertisements as So dressed in fake cheongsams embossed with the logos of well-known brands. Posing in elaborate, traditional get-ups with accompanying shopping trolleys, So explored how Asians, particularly Hong Kongers, often fetishize themselves through a self-important sense of vanity, obsessing over branded items in order to achieve the illusion of an ideal self. Even trips to the wet market become glamorized, as the elderly dress in ripoffs of luxury goods, hoping to outshine each other. Their very titles—Guchi (2021), Channei (2021), Diua (2021)—reference the way in which brand names are often pronounced locally, playing on the accented konglish many in this city speak.
Drawing on his Chinese roots, So closed with a series of vases, inconspicuously but undeniably shaped like sex toys. Aptly titled Not Buttplug/Non-standable Vase, Four Gentlemen (2020), each vase is adorned with a plant symbolizing the four Confucian virtues, each cast in white-and-blue porcelain. Of the four, Plum Blossom, representing perseverance, stood upright with the help of a metal stand, garnished with a fresh floral arrangement that burst out of the "vase" and spilled across the countertop. So's cheeky interpretation of the elegant porcelain vase juxtaposes the old with the new, sparking a satirical debate on whether or not these values are relevant today.
Where does one draw the line between appropriation and appreciation? Scotty So's work attempts to answer this by reinventing traditional elements within a contemporary context, deftly maneuvering around notions of fetishization and individual vanity. But regardless of where you stand on the matter, the camp delight of "Baak3 Mei6 Saang1" was sure to amuse. I couldn't help but smile as I walked out, stealing one last glance of Scarlett in her window display, her hand outstretched as if bidding farewell—still dancing, always dancing.
Sharon Lee is an editorial intern at ArtAsiaPacific.
Subscribe to ArtAsiaPacific's free weekly newsletter with all the latest news, reviews, and perspectives, directly to your inbox each Monday.