Ragini Bhow's "Second Wind"
By Judy Chiu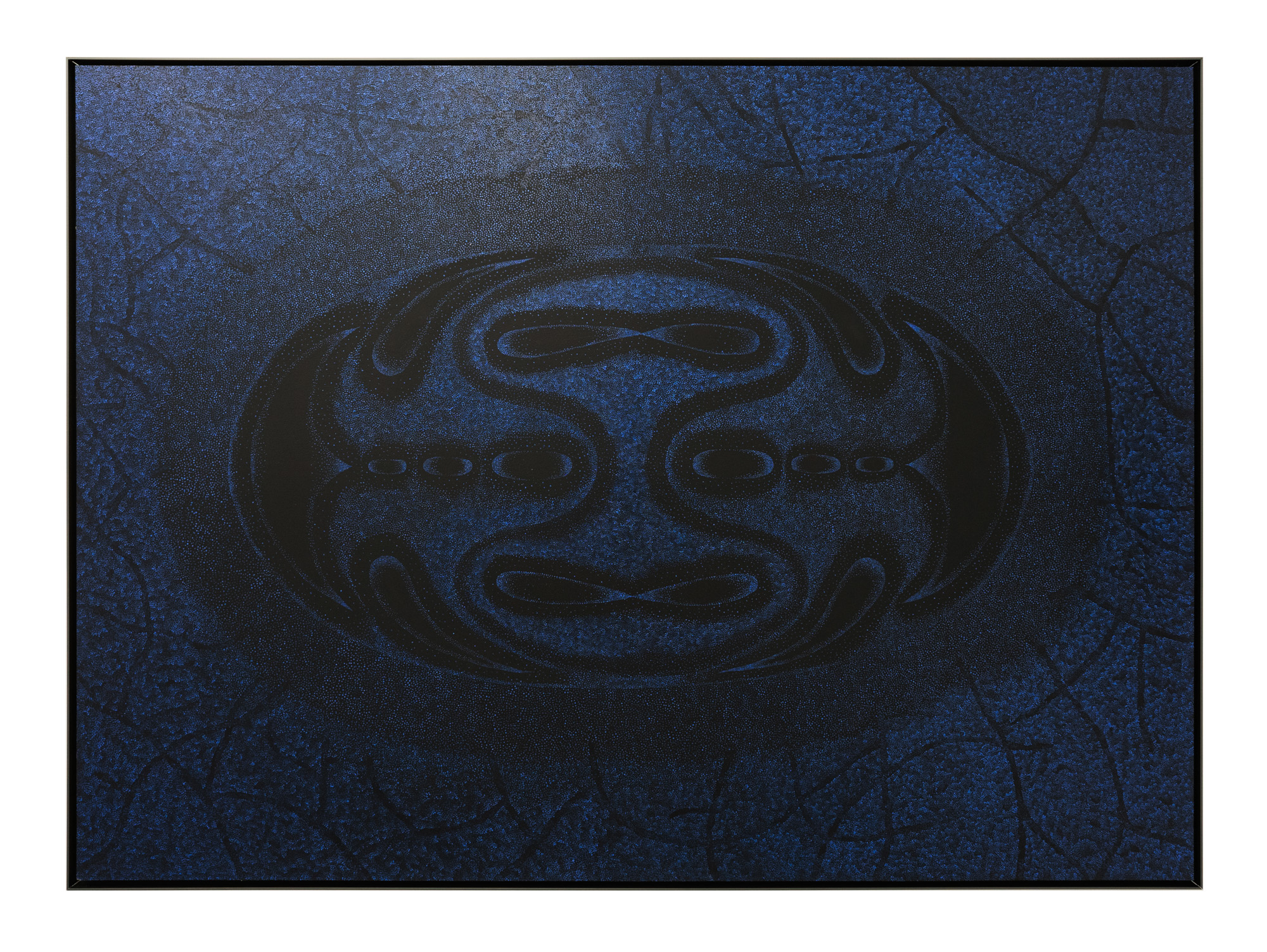 Inspired by her time in the Thar Desert, Indian artist Ragini Bhow's solo exhibition "Second Wind" alluded to sand dunes, constellations, and primordial symbols that situate viewers in a space beyond the reaches of time.
Coupled with the Rubber Factory's tin floors, the cool tones and metallic textures of her works greeted visitors with a futuristic austerity. Painstakingly dotted by hand, a series of blue-and-black paintings lined the walls like beacons in the night sky. Amorphous forms manifest themselves against the black backgrounds of the paintings, contoured by shiny blue dots. While the dark backgrounds swallow surrounding light, the blue spots glisten and reflect light. At once absorbing and emitting, these paintings engender a mystifying depth that entices the viewer's gaze.
Some of these paintings feature symmetrical compositions. In Twin flame (2022), silvery-blue dots emerge from the black background to constitute a circular pattern enclosed by webbed lines, recalling a cobalt beetle lying on cracked earth. Fluid forms morph in and out of one another, pushing and pulling in a mirroring effect. As suggested by its title, these shapes seem to stem from a single origin, like two physical beings split from the same soul. For the other paintings, instead of following a symmetrical pattern, abstract forms weave around each other as if their coalescence was mere happenstance. In Night Bloom (2021), abstract figures surface from a sea of blue specks. Deciphering its shapes—a three-pronged leaf, a small star, and a thin hook—is similar to reading tea leaves as a means of divination. Their nebulous forms are defined by the negative spaces around them. The black background, peeking through the blue, suspends the abstractions while suggesting a possibility of transfiguration. Following her intuition, Bhow completed these paintings using pigment she made with crushed crystal. She worked in a state of meditative consciousness, which allowed her dreams to transmute into cryptic symbols on the canvas—a language of another world.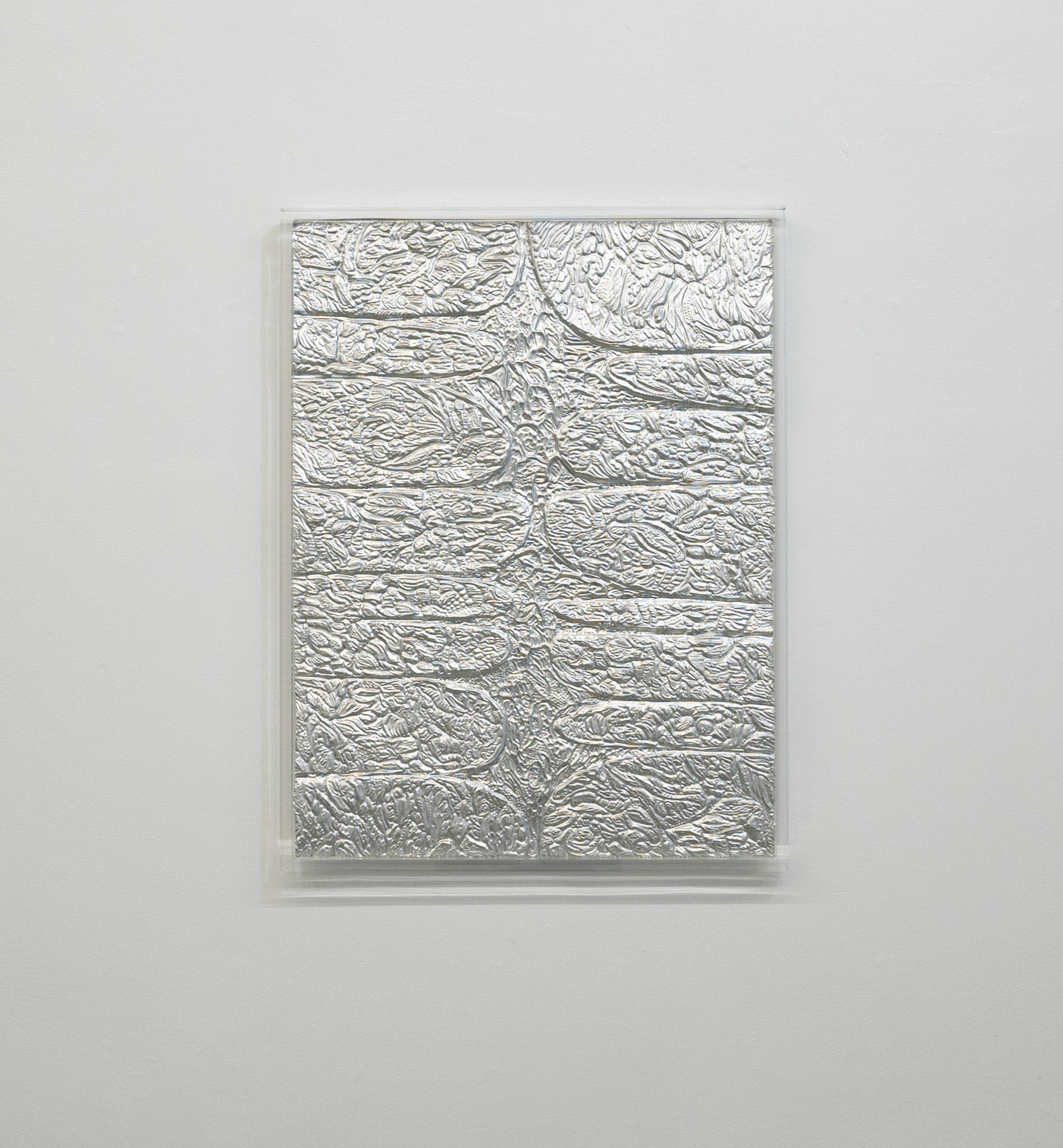 Ambiguous ciphers are also found in aluminum carvings, such as Primordial seeds, Scrying skin, and Womb alchemy II (all 2022), which interspersed the cobalt paintings. In these works, intricate patterns appear to be carved from both sides of the metal, evoking ridges and valleys of archeological sites. Amoebic forms scatter throughout the piece like fossils of another time. Scrying skin, in particular, is embossed with a ribcage-like pattern, within which organic shapes emerge and build off of each other. Familiar shapes become unfamiliar upon closer inspection, as if the work is resisting attempts to decrypt its meaning. Using aluminum, a metal both suggestive of sci-fi worlds and found abundantly in the Earth's crust, Bhow collapses time. At once, the past embodies both the present and the future.
The centerpiece of the show, Bhow's installation The secret inside the womb (2022), is a carcass from the future. Clear, polyurethane bones form a ribcage, while similar stones are lined through its middle like a makeshift spine. The polyurethane structure rests on a pile of wood ash—a subtle reminder of our impermanence within the cosmic scale of the universe. Remains of another cremation are preserved in The weight of shadow I and II (2022). Spider and cedar ash are embalmed in resin pyramids and shaped as black dunes encapsulating a former life. Made for her mother, Mother (urn) (2019) is a dark, clay container created to store a different type of ash and decorated with pictographic symbols. The urn's uneven lips and slightly lopsided body emphasize its handmade quality, which demonstrates Bhow's love for her mother and bravery in confronting death through her preparation for the inevitable farewell. While the different iterations of ash displayed in other sculptures highlight the universality of death, Mother (urn) reminds us of grief, an intimate, individualized ritual to transcend death by acceptance. Reflecting both aspects of death, Bhow's sculptures navigate between cosmic and personal truths.
Bhow is a true alchemist. Dreams, crystals, and ashes are transformed into time-traveling relics under her meticulous hands. I left the show feeling touched and healed, as if I was let in on the secrets of the universe. After experiencing the mysterious energy radiating from Bhow's work, I was imbued with a second wind I didn't know I needed.
Ragini Bhow's "Second Wind" was on view at Rubber Factory, New York, from May 14 to June 14, 2022.