proppaNOW: "OCCURENT AFFAIR"
By Hilary Thurlow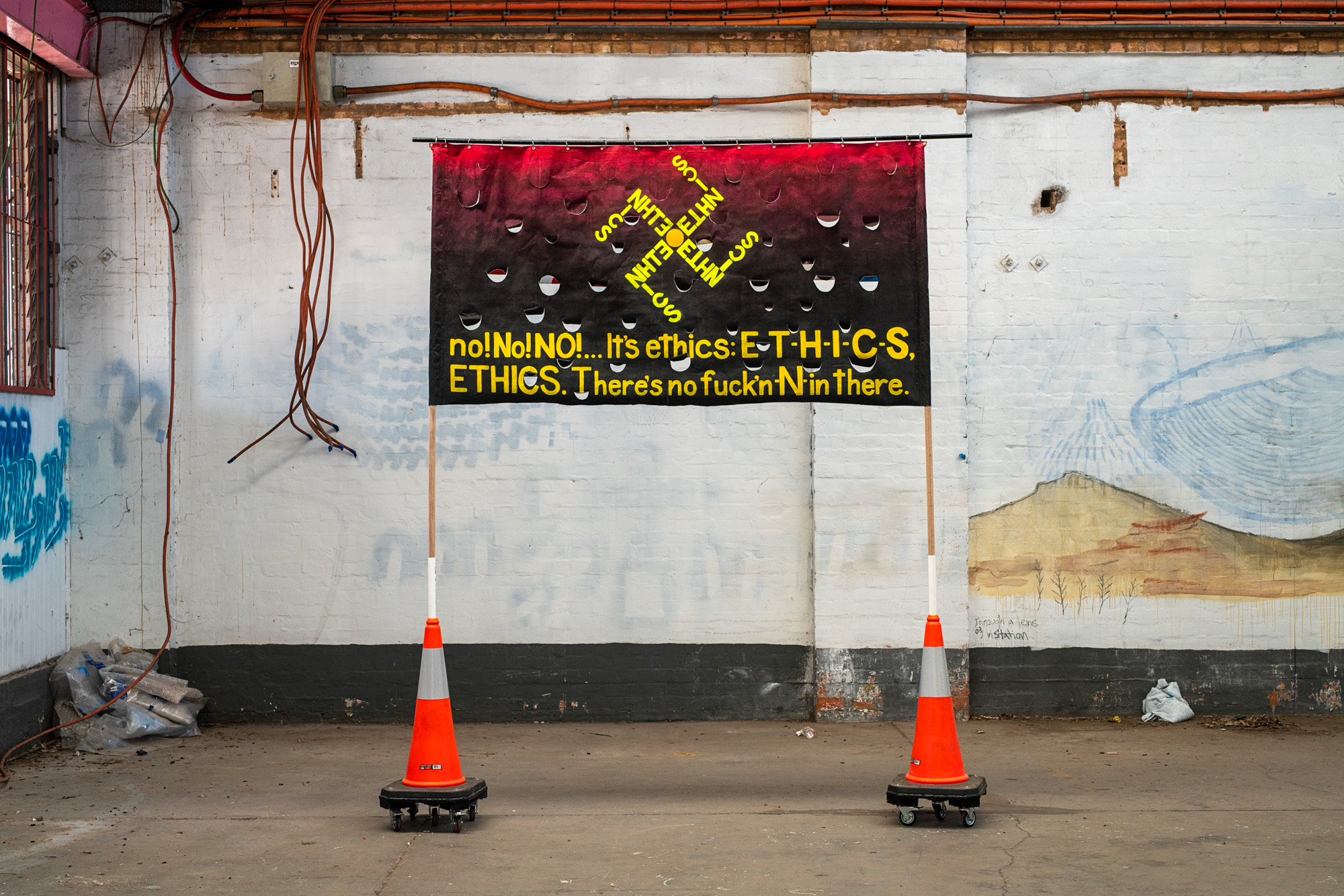 To be "proppa" is to do things the right way; to follow and respect cultural protocols. Since their founding in 2003, being "proppa" has been a layered and complicated affair for predominately Queensland-based Aboriginal collective proppaNOW. Initially comprising artists Richard Bell, Jennifer Herd, and Vernon Ah Kee, the now seven-member intergenerational collective, including Tony Albert, Megan Cope, Gordon Hookey, and Laurie Nilsen, has always sought to place Aboriginal art at the fore of contemporary artistic practice. In the early years, this constituted a rejection of the understanding that Australian Aboriginal art was only a product of remote "traditional" art centers, staking a claim instead for urban practices that were overlooked by Australian art's overwhelmingly White establishment as "not Aboriginal enough."
Curated by Amanda Hayman and Troy Casey of Indigenous arts initiative Blaklash Projects, "OCCURRENT AFFAIR," at the University of Queensland Art Museum, came after a five-year hiatus from proppaNOW exhibiting collectively. While previous exhibitions were typically organized around a central theme, this survey aimed instead to encompass the myriad topics and eras explored in the individual practices of the collective's present members. The show's intent was also its undoing: the excessively broad remit made it difficult to build a clear dialogue between artworks, resulting in siloed presentations that undermined the artists' collectivity.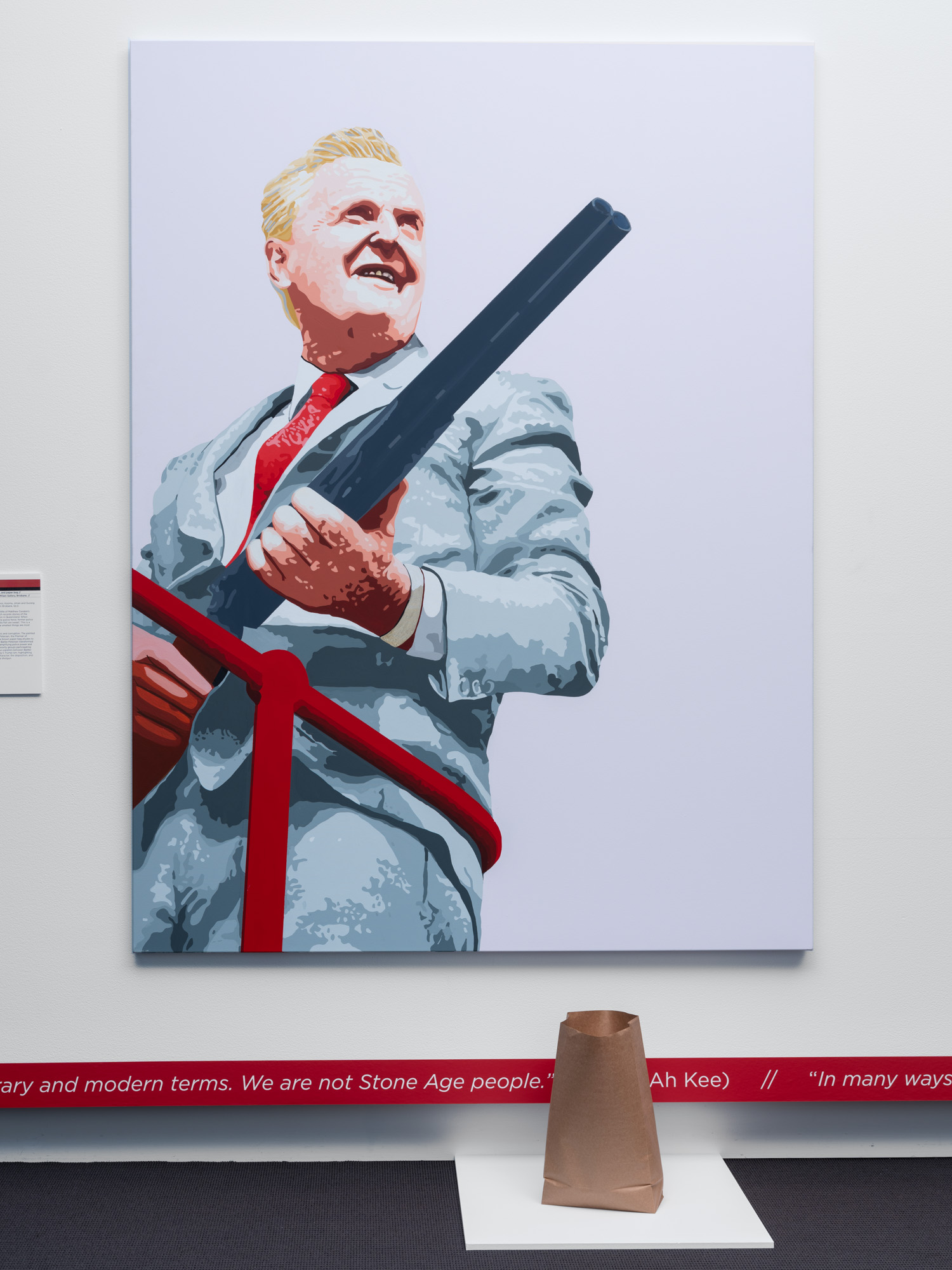 One of the more nuanced works in the show was Richard Bell's portrait Little fish are sweet (2021), which revisits the marred legacy of former Queensland Premier Joh Bjelke-Petersen. Holding office from 1968 to 1987, the politician's oppressive government had a reputation for unyielding conservative politics, police brutality, and corruption. Bell resurrects the figure of a shotgun-wielding Bjelke-Petersen, with a hairstyle and red tie recalling the appearance of US former president Donald J. Trump. The portrait thus connects the oppression of Aboriginal communities in Australia to the aggravated racism of the Trump era, pointing out the lasting, entrenched nature of White supremacy across political systems.
Speaking to ongoing resistance, Gordon Hookey's text-based protest banners Austika/Austrailya, WAM/Ethics, and Solidarity/You Are Here (all 2021)—conceived for the Invasion Day marches on January 26, 2021—coalesce dry humor and political provocation. Awash with gaudy color, each banner employs Hookey's distinct blend of Murri history painting and pictorial conceptualism. Austika—a pun on "swastika"—resembles an Australian flag complete with a Union Jack and the Southern Cross, a constellation of symbols now synonymous with Australian far-right nationalists and their propaganda.
Among the exhibits by the late Laurie Nilsen, a pre-eminent figure of urban Aboriginal art, his final body of work, Dollar Dilemma (2020), offers a simple yet effective reminder of current conflict within the Aboriginal community. The mixed-media depiction of a modified Aboriginal flag references the recent controversy over the Aboriginal flag's copyright. Belonging to Aboriginal man Harold Thomas, who designed the flag in 1971, the symbol of Aboriginal sovereignty has been subject to public scrutiny since a licensing deal was struck with the White-owned business WAM Clothing, who demanded Aboriginal businesses either pay for or stop using the design on their products. In Nilsen's work, the flag's sun is replaced by a coin, gesturing to the commodification of Aboriginality, a central issue in proppaNOW's collective exhibiting.
Moving away from present-day debates and taking a more archival approach, Jennifer Herd's In defence I, II and III (2017) is a delicate yet striking form of minimalism. Composed of hundreds of pinpricks following the shield patterns of her ancestors of the Mbar-barrum peoples of North Queensland, the works on paper are a gentle and unnerving reminder of the gunfire inflicted upon Elders by settler counterparts. These subtle registers of violence, however, form a pattern of resistance in the form of shields, denying the attempted effacement of Aboriginal culture in Australia.
While collating strong works by some of Australia's most notable artists, "OCCURRENT AFFAIR" failed to make meaningful connections between them—even those sharing close themes. Although each artist is important in their own right, the curatorial slippages in establishing pertinent dialogues lose the sense of necessity upon which proppaNOW was founded.
proppaNOW's "OCCURRENT AFFAIR" is on view at the University of Queensland Art Museum, Brisbane, until June 19, 2021.
To read more of ArtAsiaPacific's articles, visit our Digital Library.