Previews: National Participations at the 59th Venice Biennale
By The Editors
A look at what countries from across Asia-Pacific are presenting at the upcoming edition.
The Venice Biennale is back in action after a pandemic year's delay, with 80 nations joining the art world's longest running mega-festival. The 59th International Art Exhibition of La Biennale di Venezia, as it is officially called, will take place from April 23 to November 27, 2022, primarily among the many buildings of the former ship-building Arsenale complex and the leafy Giardini park, but the Biennale's many programs and affiliated events extend across the island-city. Here's an overview of the pavilions from across Asia and the Pacific region with all the information available to date.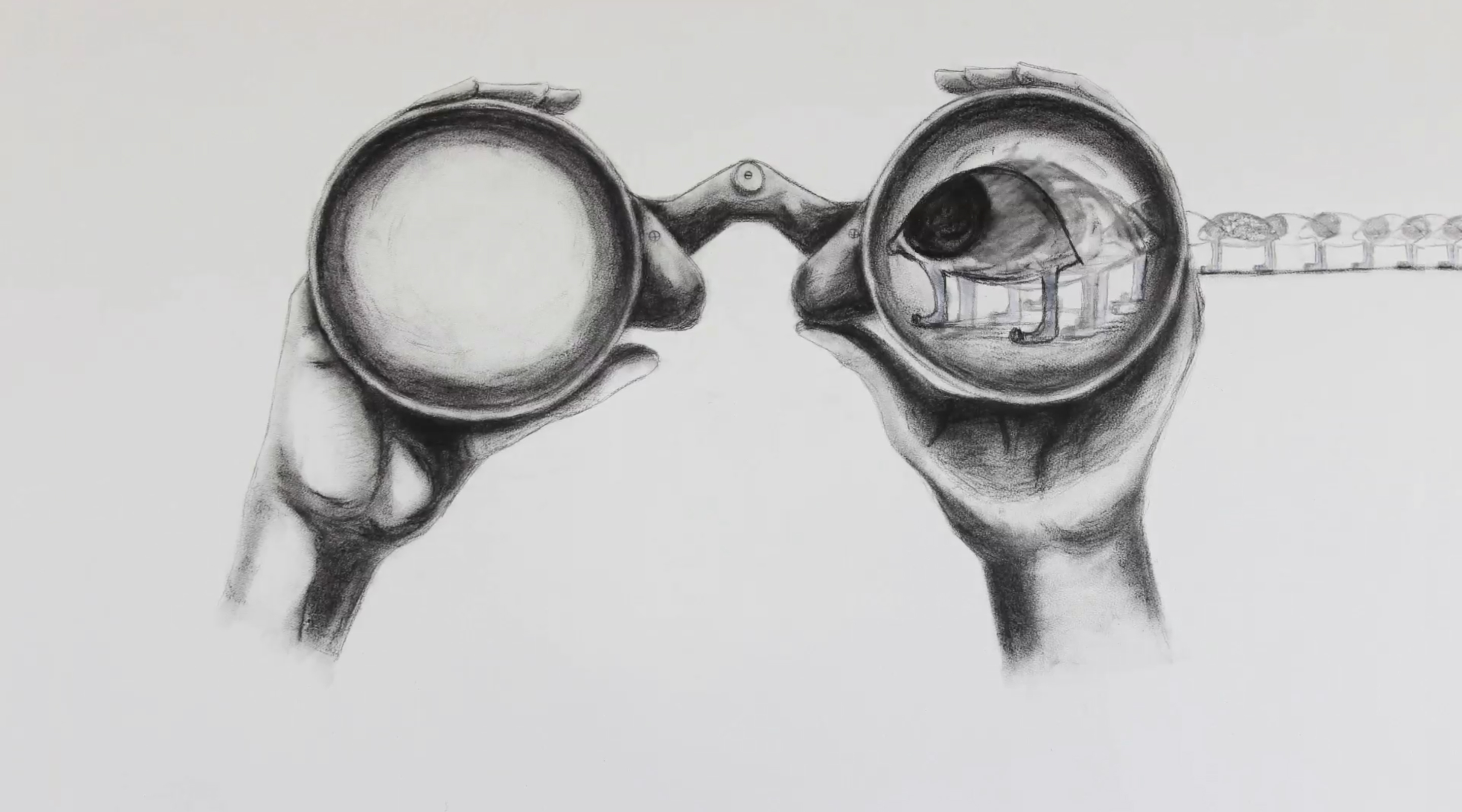 "The Milk of Dreams"
The central exhibition of the 59th Venice Biennale, "The Milk of Dreams," is curated by Cecilia Alemani, the director and chief curator of High Line Art in New York, and will focus on highlighting questions around the "representation of bodies and their metamorphoses; the relationship between individuals and technologies; the connection between bodies and the Earth." "The Milk of Dreams" references a novel by the late artist Leonora Carrington, and is anchored in the many contributions of midcentury female surrealist and avant-garde artists working in Europe and around the world, and their legacies on contemporary art. Among more than 210 artists from 58 countries, Zheng Bo will look at the symbiosis of human and animal bodies in a new video of interspecies intimacy. Works addressing environmental concerns include Prabhakar Pachpute's paintings about India's mining industry and Ali Cherri's video about the Nile's dams. Among those reflecting on ecofeminist concerns is Thao Nguyen Phan, who imagines dream-like matriarchal societies. Elsewhere, the sculptural works of Mrinalini Mukherjee and Simone Fattal evoke chthonic deities, and sculptor Pinaree Sanpitak will contribute fantastical biomorphic forms.
Armenia
Andrius Arutiunian
"Gharib"
Campo della Tana
Borrowing its title from an ancient, transcultural word for a stranger, "Gharib" is a solo showcase of the Armenian-Lithuanian artist and composer Andrius Arutiunian. Inspired by the mystical Armenian-Greek mystic and composer Gurdjieff, the pavilion features a ritualistic Midnight Practice communal event and centers around an instrument that plays with "natural resonances and diaphony." The project is set in a former residential apartment in the working-class area of Castello, reflecting the furtive nature of the composition and offering "temporary shelter to the manifestations of gharīb."
Azerbaijan
"Born to Love"
Procuratie Vecchie
"Born to Love," the Azerbaijan Pavilion, is a group exhibition that explores the boundaries of reality and virtual reality. Curator Emin Mammadov selected seven artists whose works draw on "the infinite consciousness of the universe." The title of the exhibition comes from an installation by Zhuk (Narmin Israfilova) about water's crucial role in the birth of humanity, while pop-art-inspired painter Ramina Saadatkhan creates an installation of paintings featuring animals and Fidan Akhundova's bronze sculpture Saltation (2022) reflects on the phases of a woman's life.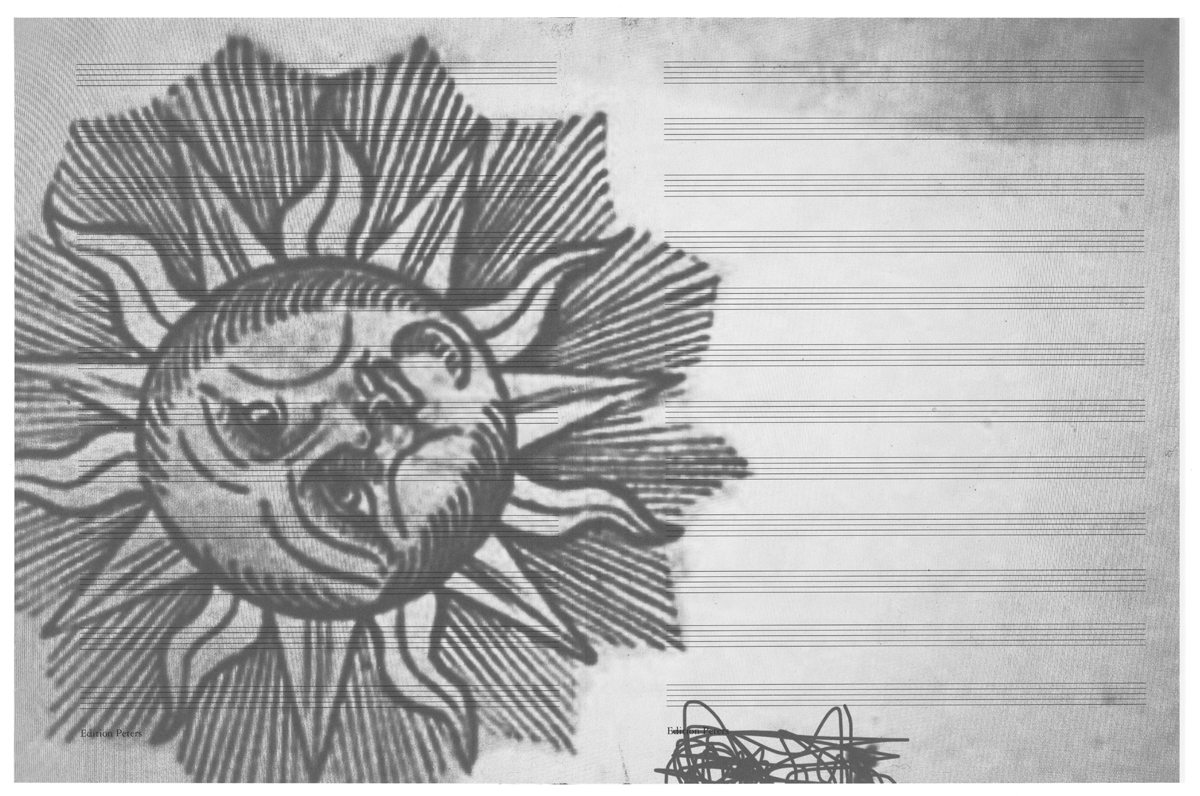 Australia
Marco Fusinato
"DESASTRES"
Giardini
Interested in creating gestures of sonic and visual intensity, Melbourne-based artist and noise musician Marco Fusinato's oeuvre spans installations, performances, recordings, and photographic reproductions. For his experimental noise project DESASTRES (2022), Fusinato, working with curator Alexie Glass-Kantor, probes the coexistence of binaries such as noise and silence, order and disorder, the institution and the underground, and purity and contamination. Demonstrating these conflicting energies, the project is realized through Fusinato's durational performance during the Biennale, where the artist continuously plays an electric guitar to generate mass amplifications, slabs of noise, and feedback that triggers a deluge of imagery.
Bangladesh
"Time: Mask and Unmask"
Palazzo Pisani Revedin
While no detailed information has been released yet, Bangladesh's pavilion features Bangladeshi artists Jamal Uddin Ahmed, Mohammad Iqbal, Harun-Ar-Rashid, Sumon Wahed, Promity Hossain, Mohammad Eunus, as well as Italian artists Marco Cassarà, Franco Marrocco, Giuseppe Diego Spinelli. The pavilion is curated by Viviana Vannucci.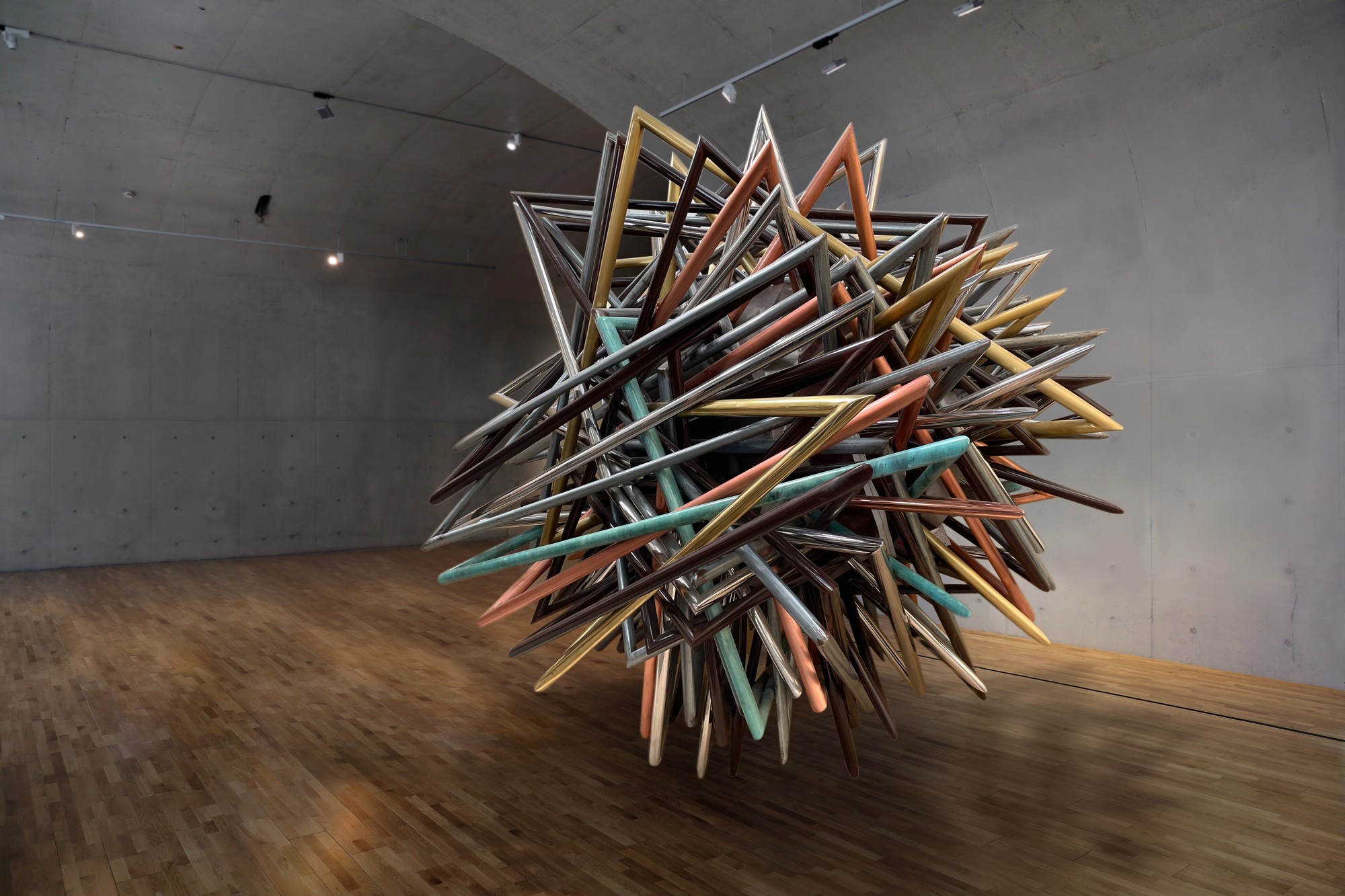 China
"Meta-Scape"
Arsenale
Derived from the spiritual perception of "scape" (jing) in traditional Chinese art and culture, "Meta-scape" presents a contemporary iteration of the concept and delves into the interconnections and boundaries between human, technology, and nature. Curated by Zhang Zikang with assistant curator Sun Dongdong, the group exhibition features four artists and collectives that incorporate new media and technology into their work. Wang Yuyang's spiky and colorful steel-and-copper sculpture Snowman (2021) will be situated in the garden. In the indoor space, The Jungle (2021), a collaborative project by the Institute of Technology and Art of the Central Academy of Fine Arts + Tsinghua University Brain and Intelligence Laboratory (also known as Group AT), explores the possibility of AI deep learning. Xu Lei's 3.5-meter-long multimedia installation Correspondences (2022), comprising an electric track and acrylic boards, depicts different types of trees that are usually found in traditional ink paintings while Liu Jiayu's real-time rendering 3D projection Void and Silence (2021) depicts an inner landscape of the mind.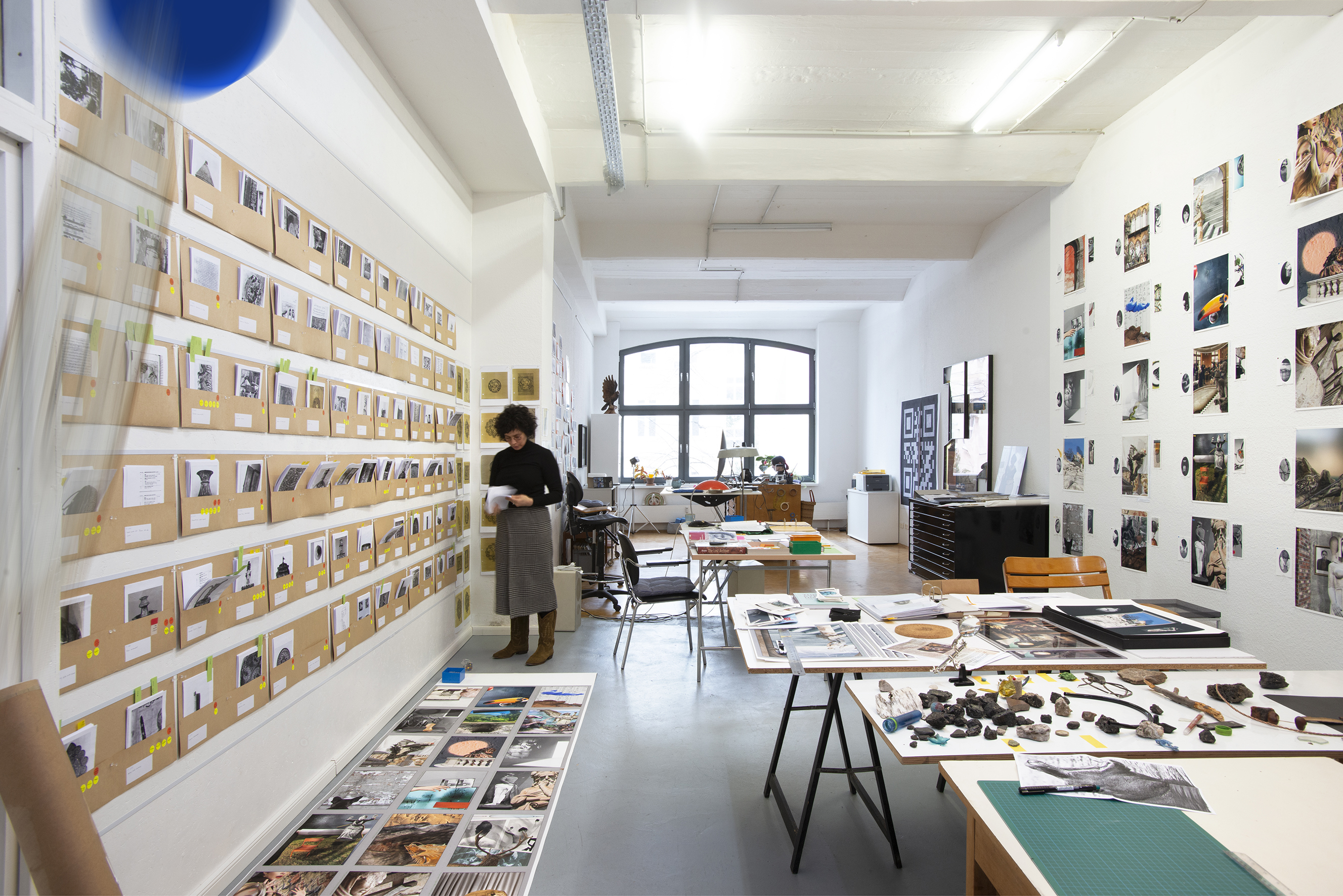 Israel
Ilit Azoulay
"Queendom"
Giardini
Berlin-based artist Ilit Azoulay's Israel Pavilion "Queendom" features a series of the artist's panoramic photomontages along with a collaborative sound installation with a "light-language chaneller" and architectural interventions. Curated by Shelley Harten, the ​​curator for contemporary and modern art and history at the Jewish Museum Berlin, "Queendom" features Azoulay's research into a little-known archive of medieval metal vessels from the Islamic world, made in the Middle East, brought to Europe via Venice and presently housed in European museums and other collections. Azoulay's exhibition attempts to transform the Israel Pavilion into a "trans-regional and re-gendered space, shifting away from a male and euro-centric gaze."
Japan
Dumb Type
"2022"
Giardini
Founded by six artists in Kyoto in 1984, the intermedia collective Dumb Type in recent years has questioned the idea of "post-truth" through their immersive audiovisual installations. Inside the Japan Pavilion audiences are surrounded by written questions projected by laser beams onto the four walls and broadcast through multidirectional speakers. These questions probe "how we understand, live, and die in such times" and are written in a direct style borrowed from geography textbooks published in the mid-19th century. In the middle of the Pavilion, a black square leading to the underground space represents "void and invalidity," as the installation prompts the audience to reconsider their perceptions of the boundaries between the visible and invisible, audible and inaudible.
Kazakhstan
ORTA Collective
"Lai-Phi-Chu-Plee-Lapa"
Spazio Arco
Organized by Meruyert Kaliyeva, founder of Aspan Gallery, after the 2019 pavilion was canceled by the Ministry of Culture allegedly due to budget cuts just months before the opening, the re-booted debut of the Kazakhstan Pavilion features the works of the ORTA collective (Alexandra Morozova, Rusten Begenov, Darya Jumelya, Alexander Bakanov, Sabina Kuangaliyeva), which will address the legacy of the surrealist avant-garde artist and inventor Sergey Kalmykov, who died in obscurity in 1967 but has come to be hugely influential to contemporary artists in Kazakhstan. So far no additional information has been released, though the collective has called for an end to violence against protesters in both Kazakhstan and in Ukraine.
Kyrgyz Republic
Firouz Farman Farmaian
"Gates of Turan"
Hydro Space
Curated by Janet Rady, Firouz Farman Farmaian's installation features ten hand-stitched, hand-felted shyrdaks (traditional floor coverings) designed by the artist and produced by skilled artisans of the Altyn Kol Women Handicraft Cooperative to represent the tribal banners of nomadic communities of ancient Turan (a historic region encompassing modern Central Asia and northern parts of Afghanistan and Pakistan). A large tündük—the central copula of traditional Krygzy yurt—is suspended from the ceiling and forms a meeting place carpeted with white yak felt that channels the communal spirit of nomadic cultures.
Korea
Yunchul Kim
"Gyre"
Giardini
Artist and electronic music composer Yunchul Kim (known as Yunchul) pursues research topics including "fluid dynamics, metamaterials (photonic crystals) and especially in the context of magnetohydrodynamics." "Gyre," Yunchul's exhibition in the Korea Pavilion, features five large sculptures, including one on the pavilion's roof, a large chandelier filled with seawater from Venice and Korea, and 80-meter spiraling, knotted structure, collectively transforming the building into a "breathing body powered by invisible particles."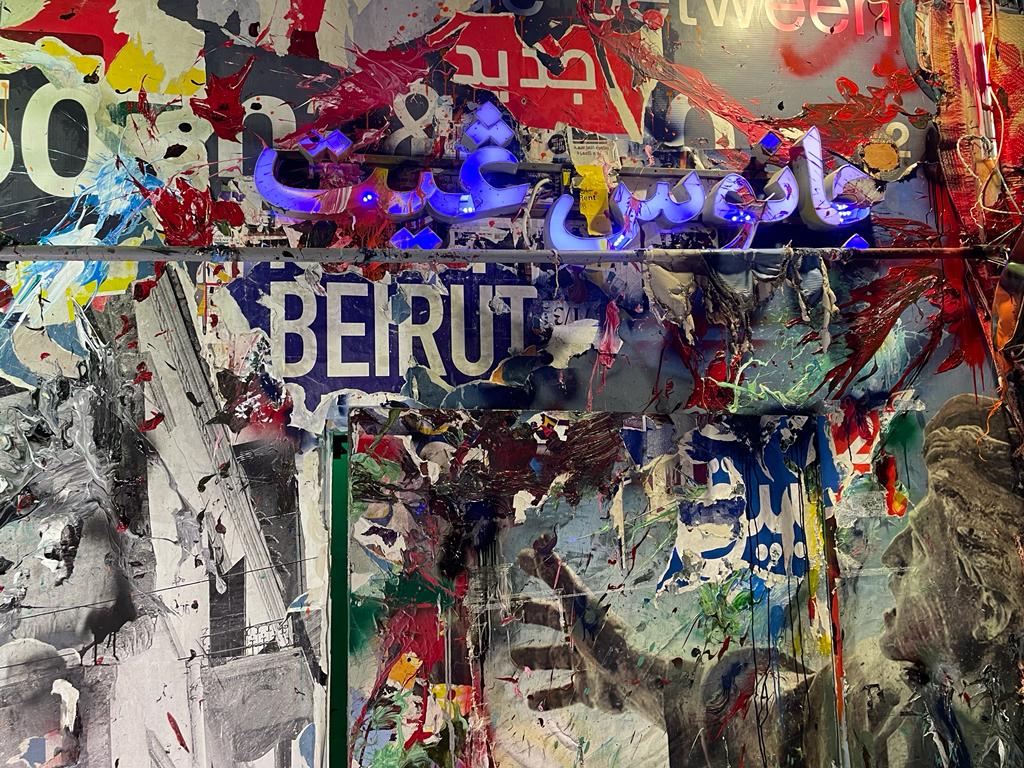 Lebanon
Ayman Baalbaki, Danielle Arbid
"The World in the Image of Man"
Arsenale
Centered around narratives of Beirut, the Lebanon Pavilion features works by film- and video-maker Danielle Arbid and the visual artist Ayman Baalbaki in a scenography designed by Aline Asmar d'Amman. Arbid's video continues the artist's My Lebanese Family series, which looks at her mother as "a mirror image of Lebanon: It embodies it with its fatalistic mentality, its appetite for risk taking, and its exuberance. She is caught in a frantic pursuit for money, in a car through Beirut." Baalbaki takes his cues from Michel Foucault's concept of heterotopia and merges it with his perception of Beirut as a city of discrete islands, creating an installation that reflects both the glamor and poverty that co-exist within the fragmented urban landscape.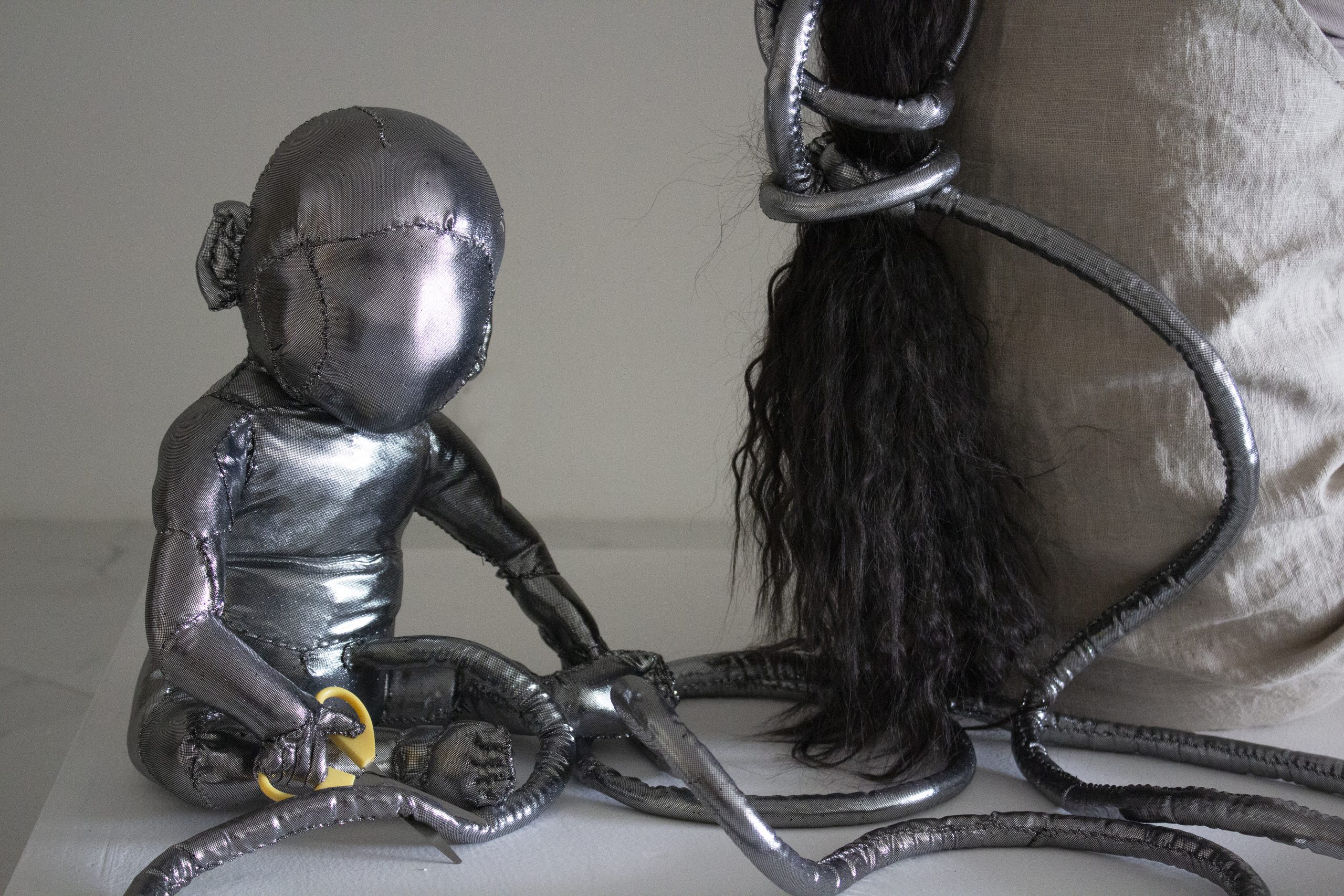 Mongolia
Munkhtsetseg Jalkhaajav
"A Journey Through Vulnerability"
Castello 2131
Inspired by Mongolian traditional healing methods and spiritual therapy, Munkhtsetseg Jalkhaajav (Mugi) is a leading contemporary artist in Mongolia, working with a feminist perspective across media on themes of pain, fear, recovery, and rebirth. Curated by Gantuya Badamgarav, the founding director of the Mongolian Contemporary Art Support Association, "A Journey Through Vulnerability" showcases Mugi's installations—including soft sculptures, collages, video pieces—from the past two decades, and is divided into three chapters (titled "Miscarriage,", "Dream of Gazelle," and "Pulse of Life") that narrate stories of women, children, and animals.
Nepal
Tsherin Sherpa
"Tales of Muted Spirits – Dispersed Threads – Twisted Shangri-La"
Castello 994
Tsherin Sherpa will represent Nepal in its Venice Biennale debut, "Tales of Muted Spirits – Dispersed Threads – Twisted Shangri-La." Curated by Sheelasha Rajbhandari and Hit Man Gurung, the pavilion will feature Sherpa's artworks that interweave Nepali cultural elements and explore the paradoxical perceptions and stereotypes of the Himalayan region. With training in traditional thangka painting, Sherpa will collaborate with artists nationwide, incorporating materials from shared history and narratives in oral cultures, woven languages, and daily rituals. "International understanding of Nepali art remains plagued by a Western conceptualization of the Himalayan region: a pervasive, romanticized vision that frames Nepal as static, pure and untouched by time and modernity," Sherpa explained. "We need to create a space to reflect and re-evaluate these biases."
Aotearoa New Zealand
Yuki Kihara
"Paradise Camp"
Arsenale
In "Paradise Camp" multidisciplinary artist Yuki Kihara surveys Sāmoa-New Zealand relations, Pacific island ecologies, climate change, queer rights, and decolonization from the perspective of Fa'afafine (one of Sāmoa's fluid genders). Curated by Natalie King, the pavilion embarks from scholar and activist Ngahuia Te Awekotuku's unpublished 1992 essay critiquing the depictions of Fa'afafine in Paul Gaugin's paintings of Māori in order to unravel "colonial histories linked with gender politics and environmental concerns." Kihara, whose practice addresses the intersections of colonial histories and gender politics in the Pacific, presents photographs, videos, and community programs developed in collaboration with local communities on Upolu Island.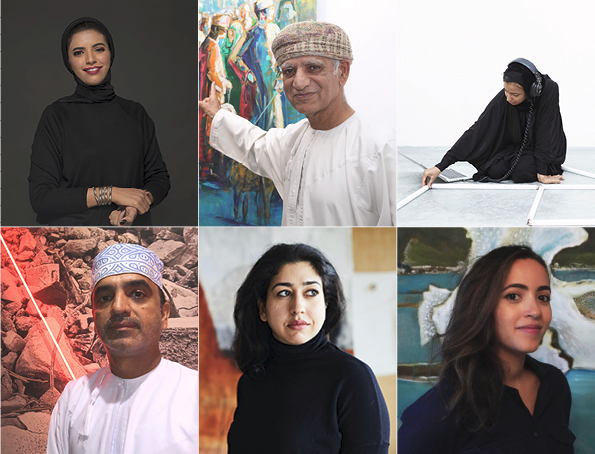 Oman
Anwar Sonya, Hassan Meer, Radhika Khimji, Budoor Al Riyami, Riya Al Rawahi
Arsenale
Making its debut at the Biennale, the Oman pavilion, curated by Aisha Stoby, will spotlight five practitioners whose practice span three generations of contemporary Oman art—painter Anwar Sonya, multimedia artists Hassan Meer, Radhika Khimji, and Budoor Al Riyami, and Riya Al Rawahi. The "godfather" of modern and contemporary Omani art, Sonya's works chronicle lives and landscapes. Meer is known for his abstract art and for founding The Circle, a prominent experimental art collective. Khimji's multimedia oeuvre explore notions of identity and feminism. Al Riyami is a new-media innovator best known for her award-winning video The Peak of Burning (2008), which muses on violence and threats against peace. The pavilion will also include the final works of the late self-taught installation artist Al Rawahi, who died of cancer in 2017.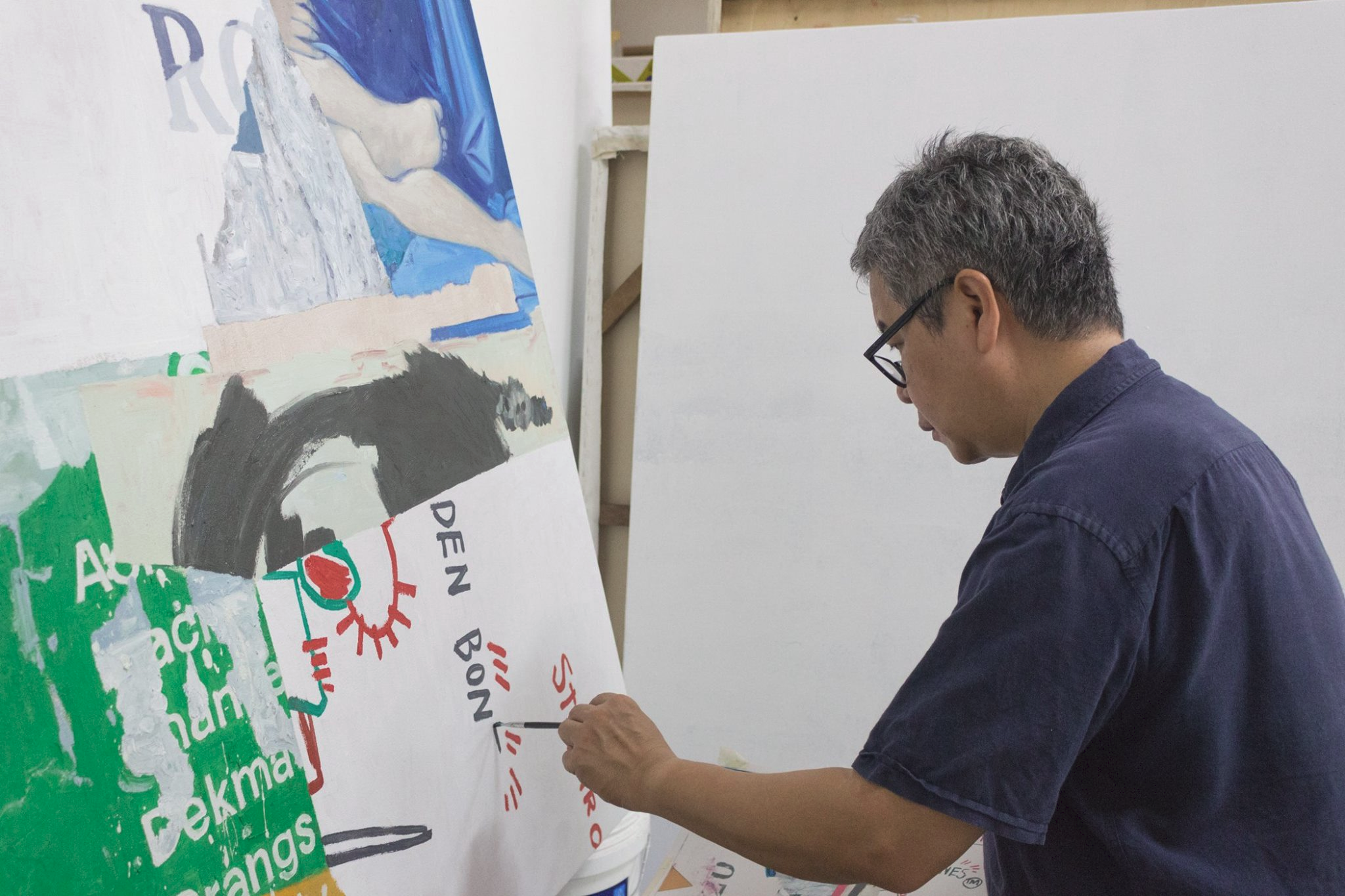 The Philippines
Gerardo Tan, Felicidad A. Prudente, Sammy Buhle
"All of us present, This is our gathering / Andi taku e sana, Amung taku di sana"
Arsenale
"All of us present, This is our gathering / Andi taku e sana, Amung taku di sana" is an interdisciplinary exploration of the transmission of culture through sound, video, painting, and textiles. Curated by Yael Buencamino Borromeo and Arvin Jason Flores, the presentation is a collaboration between multimedia contemporary artist Gerardo Tan, ethnomusicologist Felicidad A. Prudente, and accomplished weaver Sammy N. Buhle. With a career that spans over three decades, Tan is an established artist whose mutable practice engages with issues of representation. Prudente's expertise in Indigenous music cultures span various Filipino genres including epic singing, vocal polyphony, and gong culture. Raised by a family of weavers, Buhle is among Ifugao Province's weaving artisans. The show will feature notations of a traditional Kalinga chant from the Philippines's northern province, and weaving sounds from all over the country, expressed as painting and textiles.
Saudi Arabia
Muhannad Shono
"The Teaching Tree"
Arsenale
Riyadh-based multimedia artist Muhannad Shono will represent the Kingdom of Saudi Arabia in the exhibition "The Teaching Tree," curated by art historian and curator Reem Fadda with assistant curator Rotana Shaker. Trained in architecture, Shono has garnered attention in recent years for his large-scale installations that tackle philosophical subjects with references to Saudi Arabia's political history and culture. The pavilion will investigate philosophical theories related to nature, and the wisdom these concepts could impart onto people.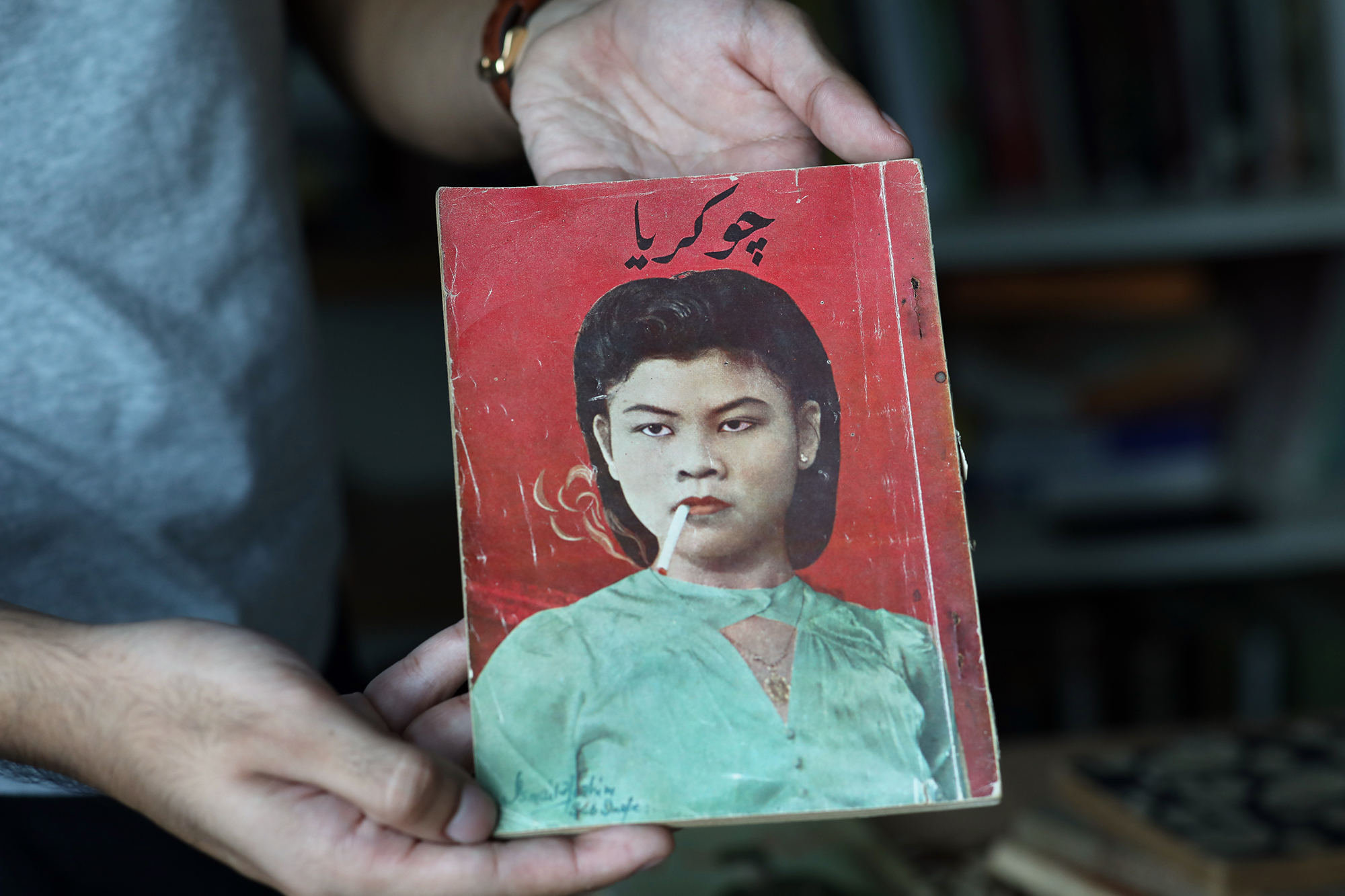 Singapore
Shubigi Rao
"Pulp III: A Short Biography of the Banished Book"
Arsenale
Since 2014, artist and writer Shubigi Rao has visited collections, libraries, and archives for her decade-long, five-part film, publishing, and multimedia project Pulp (2014– ), which unravels the history of book destruction and its impact on the future of knowledge. In collaboration with curator Ute Meta Bauer, "Pulp III: A Short Biography of the Banished Book" marks the midpoint of Rao's investigation and centers on regional print communities, literary movements, and keepers of culture to ruminate on how information is produced, owned, and disseminated. Rao's multilayered presentation takes the form of a book, film, and print magazine, as she uses mass-communication media as a means to preserve and mourn for knowledge, histories, and cultures that have been obscured, endangered, and lost.
Turkey
Füsun Onur
"Once upon a time . . ."
Arsenale
Conceptual artist Füsun Onur has been incorporating domestic objects into her installations and sculptures for more than five decades as she has explored notions of rhythm, time, space, and form. Working with the curator Bige Örer, Onur presents Once upon a time . . . (2022), an installation of thin metal wire sculptures featuring fairytale-like characters from an imagined tale of a cat and a mouse. To enliven the figures Onur used colored crepe paper for their clothes, ping-pong balls for their heads, and other everyday materials and household objects such as beds, pillows, chairs, books, and rugs. Through the delicate staging of her story, spread out horizontally on platforms across the exhibition space, Onur offers a critical allegory for the times we live in and the crises we face.
United Arab Emirates
Mohamed Ahmed Ibrahim
"Between Sunrise and Sunset"
Arsenale
Hailing from the first generation of avant-garde, conceptual artists in the United Arab Emirates, Mohamed Ahmed Ibrahim creates artworks rooted in his lifelong relationship with the landscape of his hometown, Khor Fakkan, which is situated on the coast between the Gulf of Oman and the Hajar Mountains. Known for his installations, paintings, and his papier-mâché sculptures—incorporating earth, leaves, tea, coffee, and tobacco—that resemble ancient tools, bones, or parts of trees, he worked with curator Maya Allison on a new installation. These biomorphic sculptural forms are painted colors that evoke the contrast between the bright hues observed at sunrise over the sea and the dark sunset over the mountains, echoing Ibrahim's deep connection to the region's geography.
Uzbekistan
"Dixit Algorizmi: The Garden of Knowledge"
Arsenale
Uzbekistan's first national pavilion will be a gathering place for public events, workshops, performances and conversations "critically exploring the under-examined origins of the ideas and technologies that define our era." "Dixit Algorizimi" is curated by Joseph Grima and Space Caviar (Camilo Oliveira, Sofia Pia Belenky, Francesco Lupia) and Sheida Ghomashchi, featuring new collaborative work by Uzbek musician Abror Zufarov and artist-composer Charli Tapp, and features workshops organized with the Center for Contemporary Arts in Tashkent.