Pause, Rewind, "Play and Loop" at Blindspot Gallery
By The Editors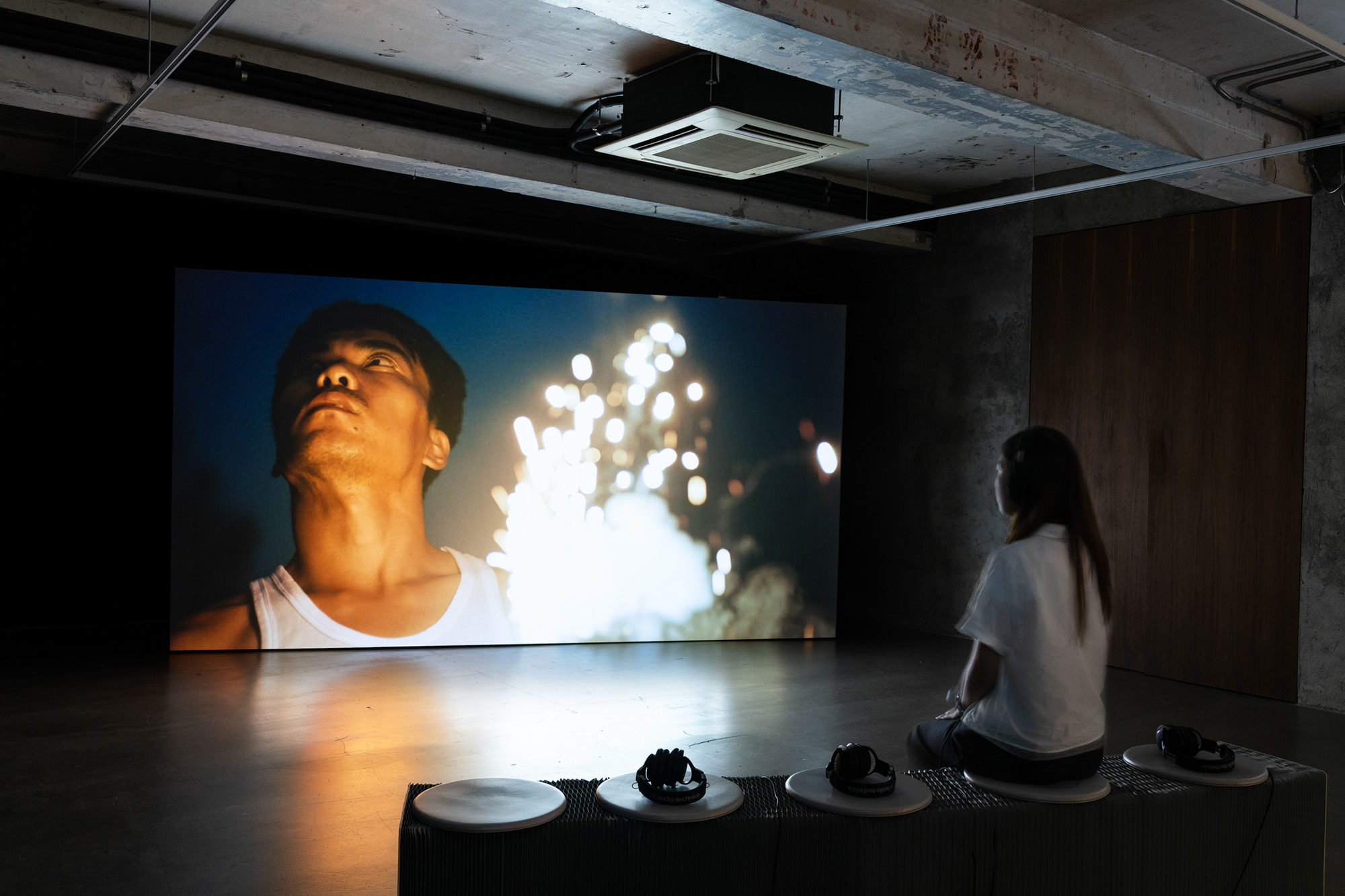 In Hong Kong, Blindspot Gallery's annual summer video screening program is a vital platform to discover works by artists who were previously unfamiliar and to experience new pieces by established practitioners. For its fourth edition curated by Nick Yu, "Play and Loop IV" offered short and feature length works by 15 artists engaged with the moving image.
The six-week program was divided into three sections: Scene 1 presented animations by artists working in Greater China; Scene 2 was a selection of works from the Asian Art Museum's multimedia program "After Hope: Videos of Resistance"; and Scene 3 focused on the practices of Christian Jankowski and Wang Tuo. Video installations by three Hong Kong artists—Yuk King Tan, Luke Casey, and Eason Tsang Ka Wai—were also on view across the three scenes. We ventured into this summer's screening roster and compiled our top picks from "Play and Loop IV."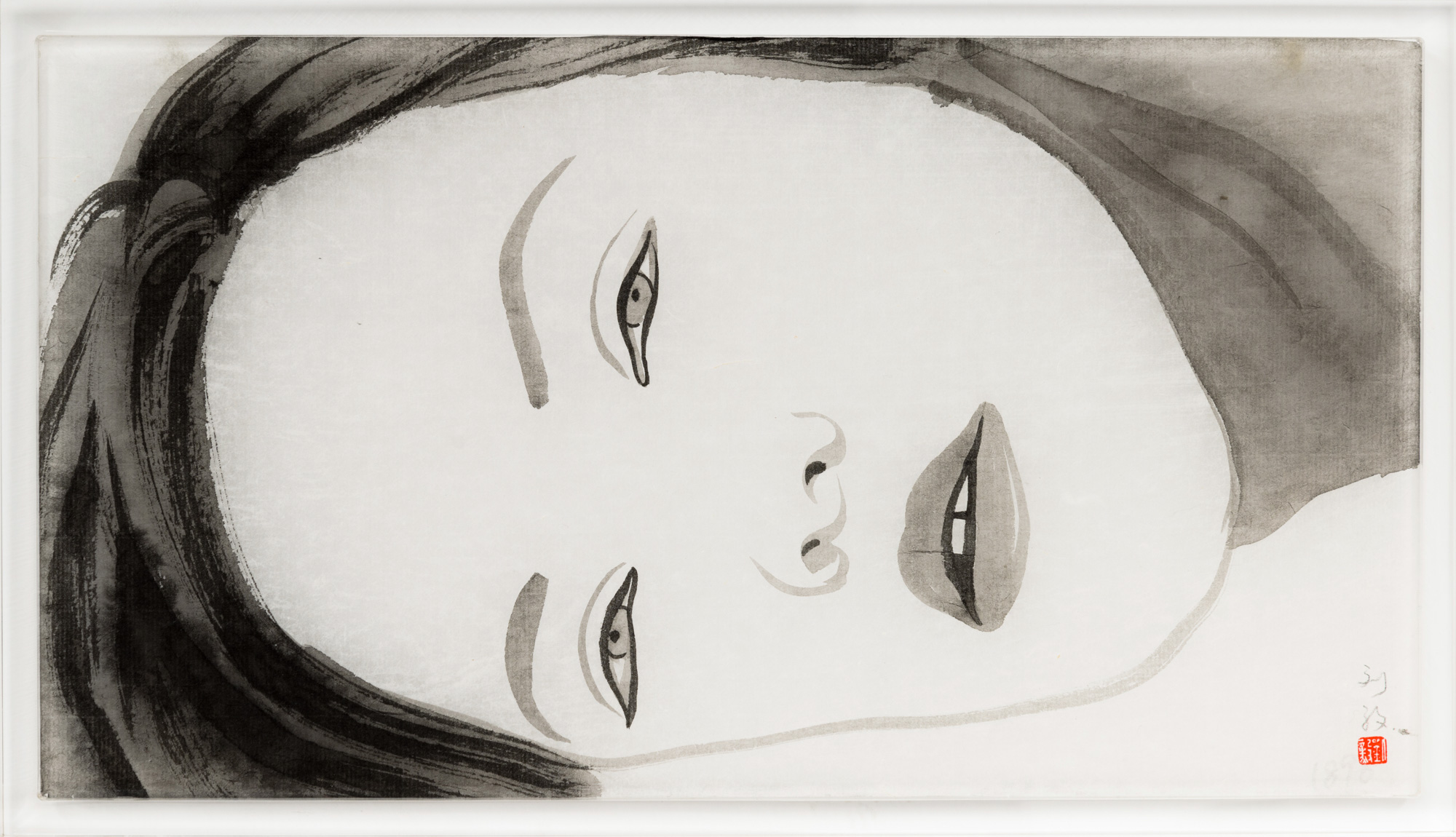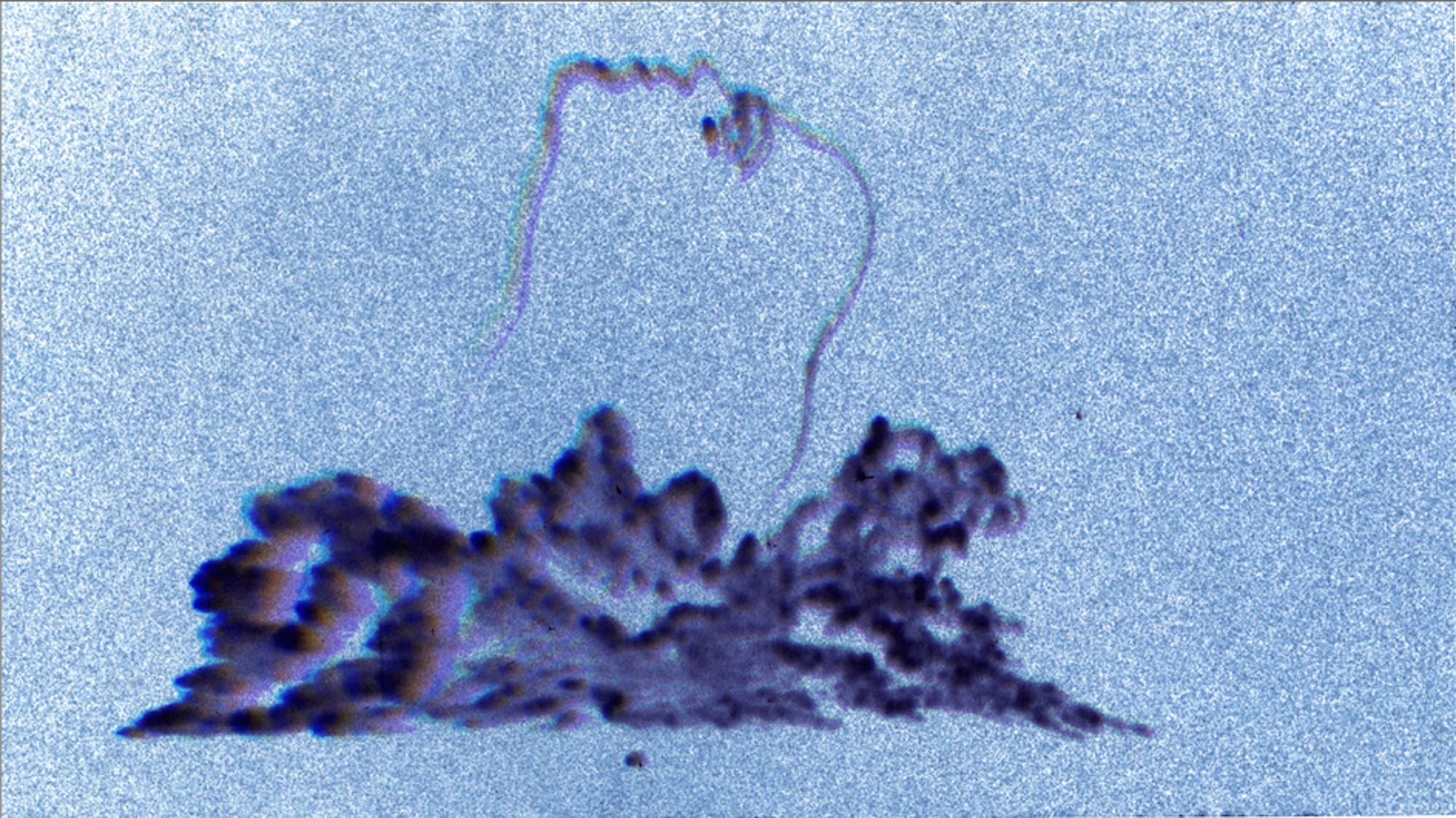 Scene 1
Liu Yi's Chaos Theory (2014) and A Travel Inward (2015)
Liu Yi's hand-painted ink animations on xuan paper utilize the fluidity of the medium in imparting flowing narratives told through the stream of consciousness method. At "Play and Loop IV," two of Lui's works were on view and it was indeed their medium that caught my attention.
Chaos Theory begins with a serene close-up of a woman's face rendered in black ink. It then takes the viewer across snippets of actions that seem to bare little to no relationship with one another: a group of women bathing, a couple about to make love, a bear cub walking with its mother, a brawling crowd, a falling dew drop, a troop of monkeys, a volcanic eruption, and a man arduously swatting away a swarm of bugs. Chaos theory is a scientific hypothesis suggesting that apparently random occurrences still obey particular laws, and that these seemingly insignificant events have significant effects. In Lui's Chaos Theory, we are made to wonder which event initiated what, and what happens next.
Lui's other work on view was inspired by the different colors that emerge when ink mixes with water: blues, purples, and pinks. In A Travel Inward, Lui uses this material reaction to visualize what an experience on psychedelics may look in the mind's eye. We are taken, quite literally, inward, into the protagonist's body. We—as the protagonist—become an anthropomorphized cell traversing her intestines, undergoing mitosis, and exploding. A groovy percussion guides us in our trip; it becomes more and more intense adjacent to the imagery. Ink, in its inherent mobility, has found a great manifestation in the moving image.
NICOLE M. NEPOMUCENO
Scene 2
Chulayarnnon Siriphol's The Internationale (2018)
Past the entrance of "Play and Loop IV," one could easily hear the strong vocals of patriotic hymns and Chinese heavy metal emitting from within the gallery space. Their source was a single-channel work by Thai artist Chulayarnnon Siriphol: The Internationale (2018).
Created during Chulayarnnon's artist residency at Organhaus Art Space, Chongqing, the work's title is lifted directly from the socialist anthem "The Internationale," a cover of which plays throughout the video. The Internationale depicts the artist and his many clones dancing, singing, and walking around various locations in Chongqing while donning a stereotypical Japanese girl's school uniform, complete with knee-high socks. In one scene, they join a large crowd of middle-aged dancers that have congregated outside a plaza. In another, the lone artist sings in a karaoke room lit by colorful disco lights.
Inspired by music videos produced by East Asian idol girl groups such as AKB48, these youthful "schoolgirls" personify the region's soft power. National resources are continuously being poured into the expansion of subcultures such as J-pop and K-pop, with some popular idols given controversial special privileges like military service exemption. Reasserting their role as superpowers, Japan and South Korea have rebranded themselves following their international and domestic conflicts of the 20th century. In a post-Cold War era when countries race to churn out girl groups as ammunition for soft power, Chulayarnnon's crossdressing parody functions as a hilarious but powerful insurrection.
ELLA WONG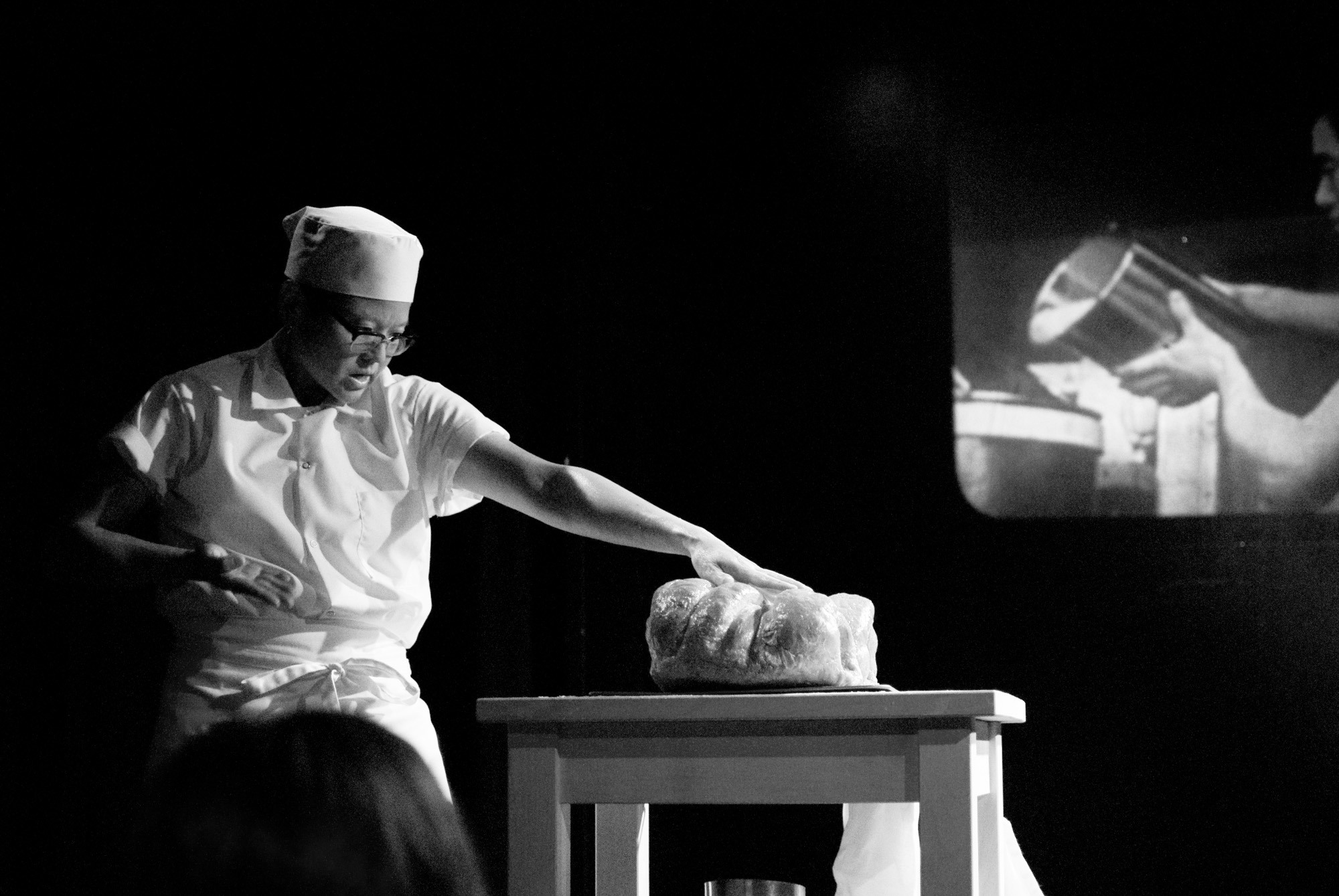 TT Takemoto's Looking for Jiro (2011)
The spirit of queer seclusion and flamboyancy is prominent in TT Takemoto's Looking for Jiro (2011), a performance video where Takemoto embodies fellow Japanese-American Jiro Onuma in drag. Onuma was a gay man incarcerated in an American concentration camp during the Second World War; in the beginning of the video is a text that reads "A Queer Meditation on Japanese Americans incarcerated during World War II," accompanied by a slowed down version of Madonna's "Hung Up."
Forsaking the usual trauma-based historical documentary, historical footage from the camps are layered against an upbeat mash-up of Madonna's and ABBA's hits. We then see Takemoto as Jiro jamming to ABBA's "Gimme! Gimme! Gimme!" while cleaning the prison's empty mess hall. Later scenes of Jiro performing his tasks in the camp are riddled with homoerotic questioning. For example, while baking, the protagonist performs rhythmic innuendos such as lubricating his arms with Crisco and inserting his fists into ready-made bread as pulsating muscular men flex in the background.
Interspersed with archival clips of the camps and old videos of men flexing their muscles, Jiro's suggestive performance of his chores when no one is watching explores the hidden dimensions of incarcerated immigrants' sexualities. Has queer sexuality been fully accepted and embraced since then? Certainly, the world has come a long way since the 1940s and '50s in terms of queer acceptance, however Takemoto's comically entertaining approach leaves viewers wondering about those who still jive solitude.
ANGELIQUE SANTOS
Scene 3
Wang Tuo's Tungus (2021)
Wang Tuo's 69-minute film Tungus is set during the Chinese Communist Party (CCP)'s 1948 siege of Changchun amid the civil war with the Kuomintang. While the siege has been branded as a success story in China's official history, in reality it starved thousands of civilians to death. Amid this wartime turmoil, Wang's shaman—defined by the artist as "an interdimensional traveler"—arrives on the scene, traveling through the past and future to bear witness of this history.
Tungus interchanges mainly between two storylines: one of CCP-enlisted Korean soldiers lost on their way home; the other of the shaman, a former scholar who is too indulged in history and haunted by his own ghost. The Korean soldiers, wandering in the snow, compare themselves with the male protagonists in poet Tao Yuanming's stories, who are trapped in a hidden paradise and lose their route home. Here, the paradise is CCP's political ideology that the Korean soldiers are enlisted for. Trapped in the snow, the soldiers died mysteriously.
The multiple narratives, heavy with historical context and mixed with drone shots of present-day Changchun, can be difficult to grasp for audiences without knowledge of its history. While Wang is perhaps too ambitious in mixing everything into one bowl, the experience of this film alludes to that of pursuing the truth when you can only rely on spirits. Time, as described by the shaman, is "no longer linear, but like countless ripples bubbling up in a pond during a showering rain." In Wang's film, these ripples disturb the seemingly peaceful surface masked by the biased success stories of official history.
PAMELA WONG
Also on View
Luke Casey's House Of A Thousand Assholes (2022)
House Of A Thousand Assholes (2022) follows a man about to leave Hong Kong. A commentary on Hong Kong's current mass migration wave, the protagonist, dressed in a suit, seems to have made the hasty decision to leave his office at Jardine House, nicknamed the "house of a thousand assholes" for its circular windows and white-collar, expatriate business executives.
With his suitcase and Hope (the brand of his pack of cigarettes), irritated, and sweating profusely, he journeys to The Peak through the Mid-Levels escalators before ultimately arriving at Shek O Beach. Upon reaching the beach, he runs into the water, breaking into cheers of joy like an innocent child playing in the ocean. He lets go of his luggage and his box of Hope cigarettes. While the journey was hectic and stressful, the video suggests that it was worth it.
BEATA LI
"Play and Loop IV" at Blindspot Gallery, Hong Kong, was on view from July 16 to August 27, 2022.
Nicole M. Nepomuceno is ArtAsiaPacific's assistant editor; Ella Wong and Angelique Santos were editorial interns; Pamela Wong is associate editor; and Beata Li is editorial intern.