Over the Influence & CAC Málaga present Mark Whalen's "I Am Just Here"
By ArtAsiaPacific
*This is a sponsored post.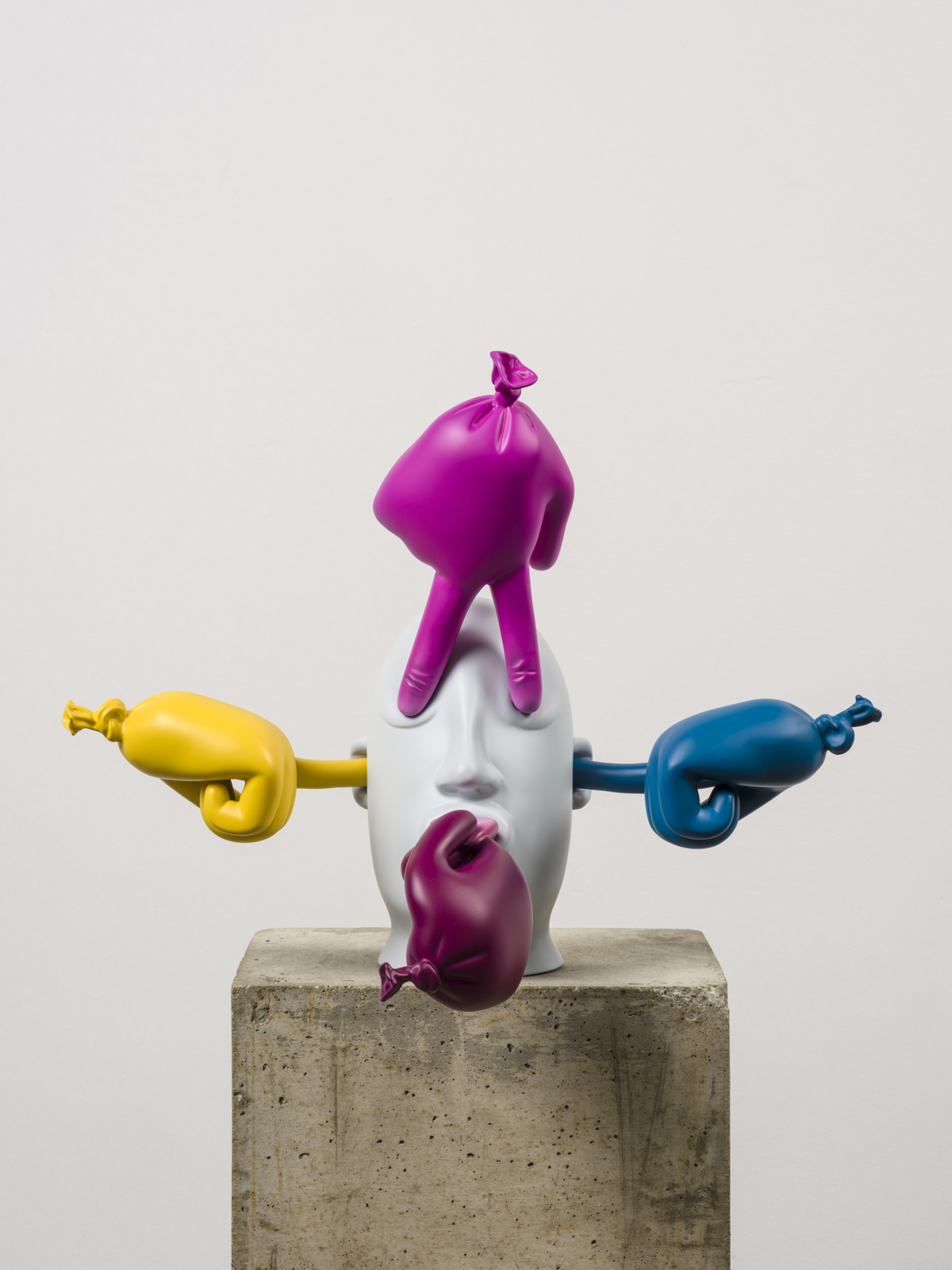 Over the Influence and CAC Málaga are pleased to announce Mark Whalen's debut museum show at CAC Málaga. As we engage in purely graphic displays of joint attention, bodily actions communicate in parallel with the spoken word. "I Am Just Here" extends the artist's work and further explores the uncanny relationships between object and person and the peculiarities of different meanings.
As the artist explained, "The works are very much my signature style but this time I have brought in new processes, such as playing with iconic and nostalgic objects, body language, and illusion."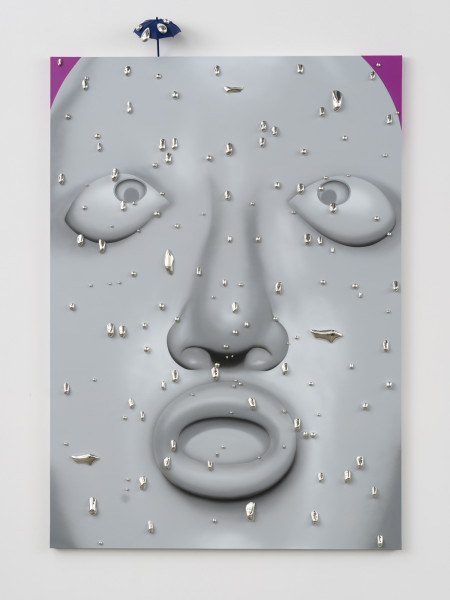 The exhibition will feature entirely new work made in his Los Angeles studio. "I Am Just Here" at CAC Málaga, in Spain, will take place 17 September – 28 November 2021.
Artist Mark Whalen's sophisticated sculptures generously stack, merge, and integrate everyday objects with the figure, engaging in a narrative highlighting the relation between the absurd and the mundane.
"Going through the complexities of everyday life is something that I continually find myself dealing with. Exploring the anxiety, fear, humanity, and humor that us humans face every moment daily. I really wanted to try to find a way to celebrate these emotions," the artist explained. "'I Am Just Here' is a way to relate to daily hurdles and I think a position that not just myself, but everyone encounters. We are all just here, but I try to find the humor and interesting avenues to materialize these different situations that we all face."
Whalen's process begins simply with a pen and paper, as he maintains a continual flow of scribbled notes, which are often put away for months or even years before being referred back. Whalen later utilizes these initial written thoughts and adapts the concepts still relevant and interesting enough to pursue into drawings. These sketches focus on exploring relationships between human form and everyday objects and aim to capture a moment in that juncture for an eventual final sculptural form. These illustrations are then adapted into digital renders and printed from 3D printers at the artist's studio.
Among the works in the exhibition, the artist is proud of the sculpture hear no, see no, say no and his new paintings, for these pieces allowed him to experiment with new techniques and materials. "Using airbrush has been an interesting medium to bring into sculpture. It gives you a surreal moment when it's combined against the hyperflat finishes throughout the piece. I have also really enjoyed exploring the airbrush paintings. It's a concept I explored in 2019 and wanted to reengage to hyperrealize certain emotions in the paintings with the close-up cropping of the face," he said. "I really wanted to have the same conversation that a sculpture has while creating a more confronting emotion on canvas."
A process of trial and error often occurs to get each piece perfectly sized and engineered to fit together as if one entity. Once the concept exists as a physical form, shaving down and smoothing out the imperfections to get the fabrication right begins; these maquettes are then cast in aluminum. The finalized segments of Whalen's work are painted frequently in signature bold hues with specific chromatic details before they are wrestled into their resolved configuration.
For the artist, "The process of creating these pieces over the last year has given me an outlet for expressing the gamut of physical, mental, and emotional highs and lows that we all have experienced in our own ways—together, and alone. I hope that these works carry these experiences collectively for this exhibition, and then take on a new life wherever they find their home."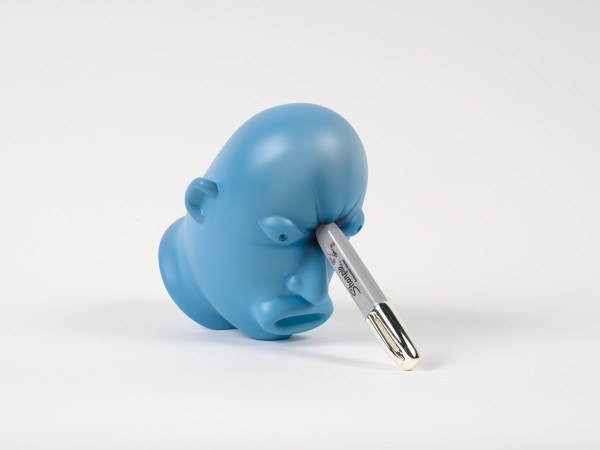 Mark Whalen mixes familiar themes while merging industrial materials with found objects and studio reserves. Whalen expands the narrative into vivid depictions of life's folly by building relationships with iconic human shapes, color, and chromed elements. Sculptural storytelling revealed as the stacking of disturbances, conundrums, and entertaining questions about life and beyond. Mark Whalen's contemporary work continues to expand architectural boundaries for interior and environmental applications. Born in Sydney, Australia, in 1982, Whalen received his diploma in graphic design from Martin College, Sydney.
Whalen has been showing at galleries internationally since 2006, including exhibitions at Over the Influence, Los Angeles (2019); Yavuz Gallery, Art Basel Hong Kong; National Gallery of Victoria (2018); RMIT School of Art, Melbourne (2013); National touring exhibition, National Gallery Of Australia (2010–11); Penrith Regional Gallery, Australia (2010); and the Museum of Contemporary Art Macro, Rome (2009). His work is held in the collections of Artbank, National Gallery of Australia, and Mainland Art Fund.
Over the Influence was founded in Hong Kong in 2015 and expanded to Los Angeles in 2018. The gallery represents an international roster of emerging and established artists working across different mediums and disciplines. OTI is dedicated to championing artists who challenge traditional approaches to studio practice and presents a dynamic program that explores the intersection of contemporary art, architecture, design, music, fashion, and other forms of visual expression.
The CAC Málaga is located in the historic Málaga Wholesale Market. The museum is intended for reflection on and dissemination of contemporary art. Exhibitions, publications, conferences, educational programs, workshops, and seminars are some of the many activities that make CAC Málaga a living, dynamic, and innovative center, open to all kinds of artistic and cultural events in the international vanguard.