"Nation, Narration, Narcosis" at Hamburger Bahnhof
By Alexandra Chaves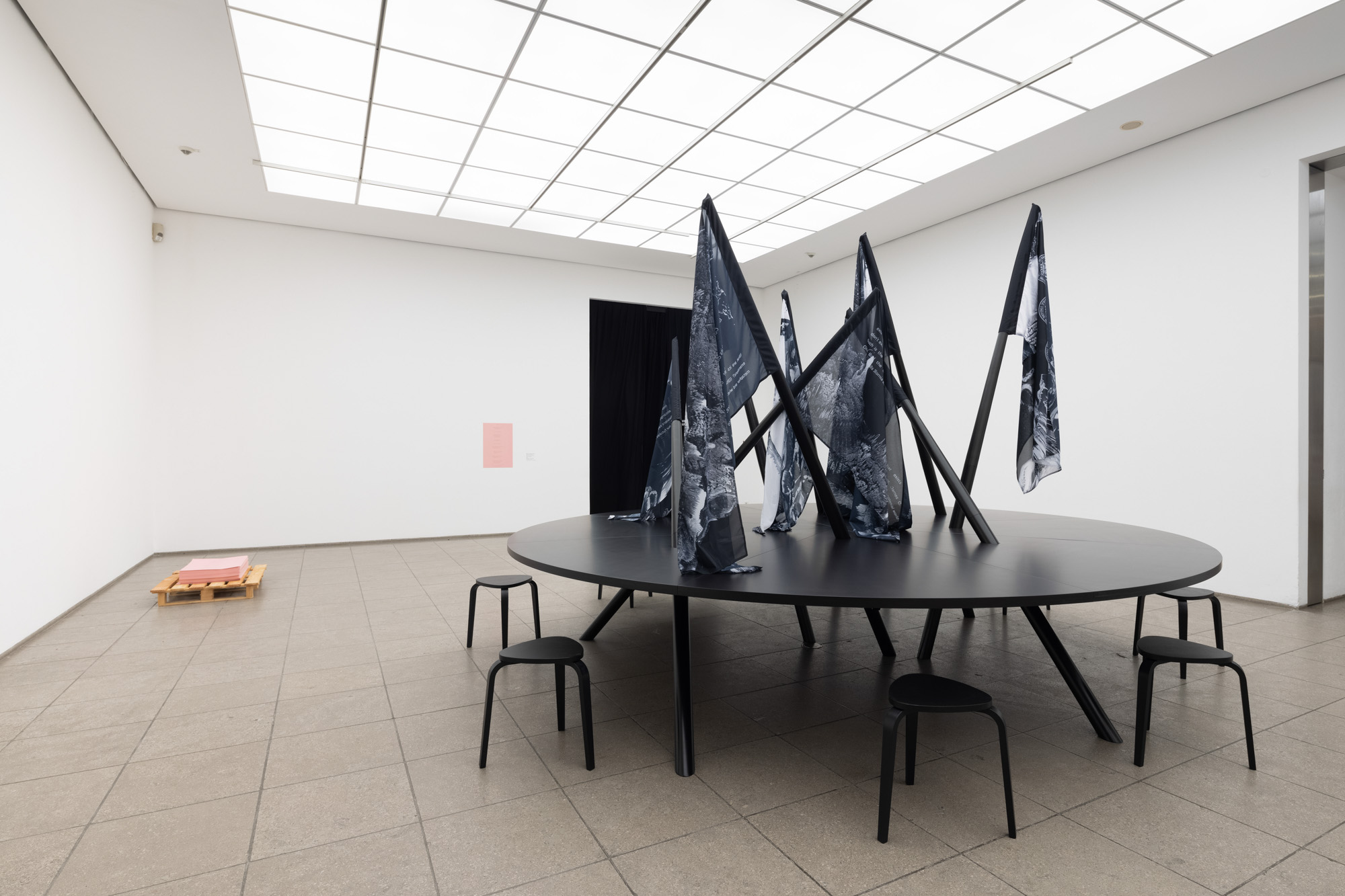 Zomia is a geographical conceit that encompasses a 2.5 million-square-kilometer belt of mountains and lush forests between South and Southeast Asia. This terrain is home to more than 100 million people, all of varying, ethnic and cultural identities. For the amorphous collective The Forest Curriculum, led by curators Abhijan Toto and Pujita Guha, Zomia provides a discursive model for a non-state and fluid concepts of belonging and identity. Exploring these ideas, the group's installation How to Not Build a Nation (2021), a conference table featuring black flags of mythical shapeshifters in Zomia, is activated as a gathering point for artists, activists, and researchers during a symposium. The installation exemplified much of what the group exhibition "Nation, Narration, Narcosis: Collecting Entanglements and Embodied Histories" set out to do: challenge notions of nationhood and the components of a state beyond people, land, language, and history.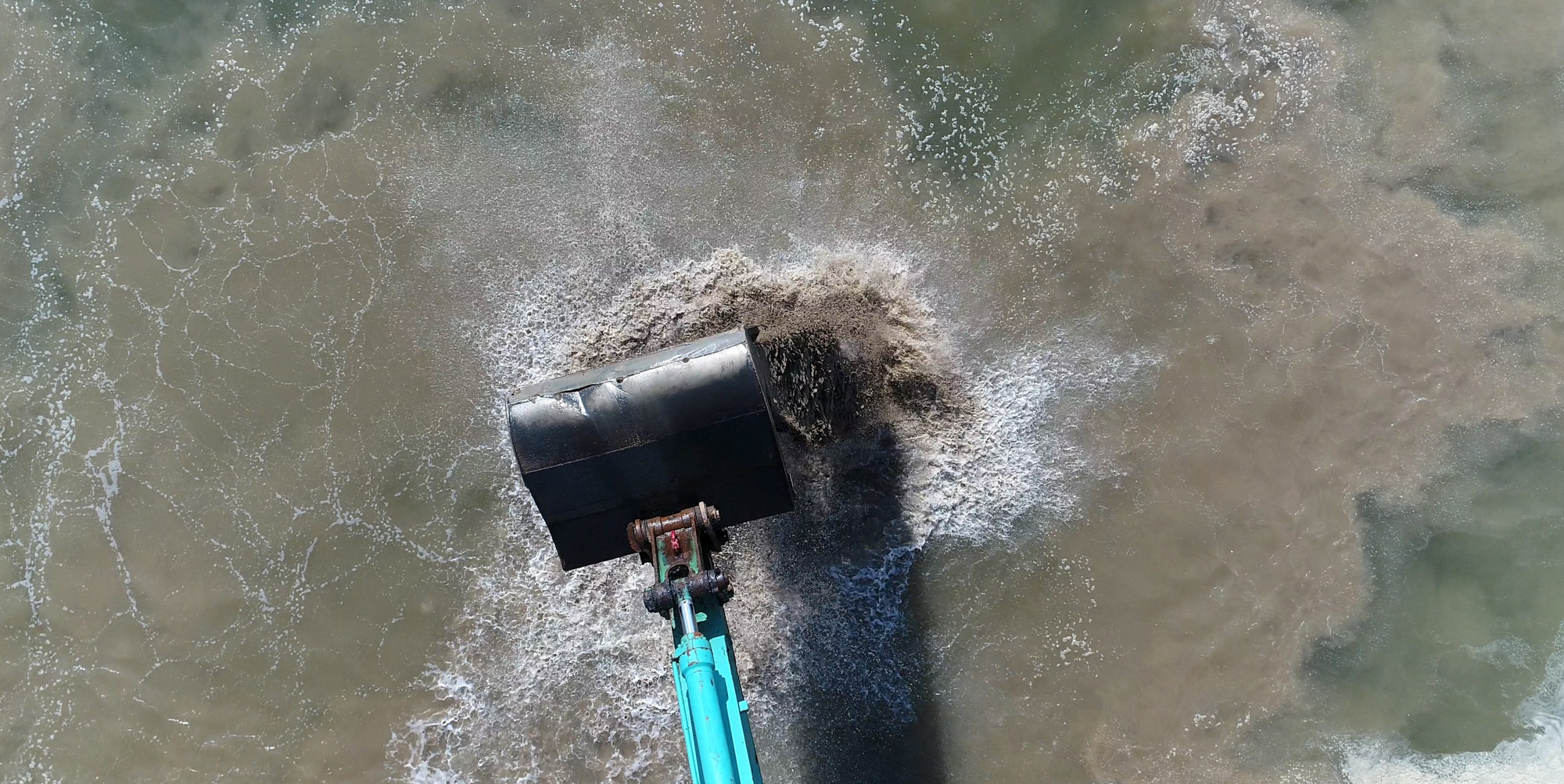 Throughout the Hamburger Bahnhof in Berlin, the show's other participants carried forth this challenge. For instance, through his performance-intervention A Pantry of Things (2022), artist Zeke Sales explores the forging of mutual-aid initiatives and alternative food and farming systems, including "guerrilla gardening," outside the auspices of the increasingly repressive government in the Philippines. Conceived initially as a workshop, the project was reformatted as a response to the mass arrest of more than 90 artists, activists, and farmers advocating for their land rights in June. Tacking notes on the museum wall, Sales mapped out the concept of bungkalan, the cultivating and tilling activity that the arrested farmers were engaging in to reclaim the land granted to them by the state decades ago. These pages were then layered with protest posters written by audiences during the intervention. Sales also imagined the archival potential of the pantry, and what its contents reveal about the economic conditions of vulnerable communities. With a makeshift wooden table as his prop, he reflected on the dinner table as a site for gathering and sharing, both in matters of sustenance and knowledge, and how anti-imperial and anti-capitalist food production can be manifest.
The question of state expansion, in terrain and power, is central to the works of Charles Lim Yi Yong and Tita Salina. Lim's multichannel video installation Sea State 9: PROCLAMATION (drop) (2018) chronicles Singapore's land-reclamation projects since the 1960s, for which Singapore has extracted sand from neighboring Malaysia, Vietnam, and Cambodia. In various split screens, Lim's drone shots reveal the shifting shoreline and the conquering of nature by machine. Singapore's model is now being replicated in Indonesia, where artificial islands are being built to protect the sinking capital Jakarta. In her video 1001st Island – The Most Sustainable Island in Archipelago (2015), shown in the next gallery, Salina is seen drifting on a floating "island" made with plastic waste from Jakarta's harbor. Both Lim and Salina point out how the growth of a nation entails eco-colonization.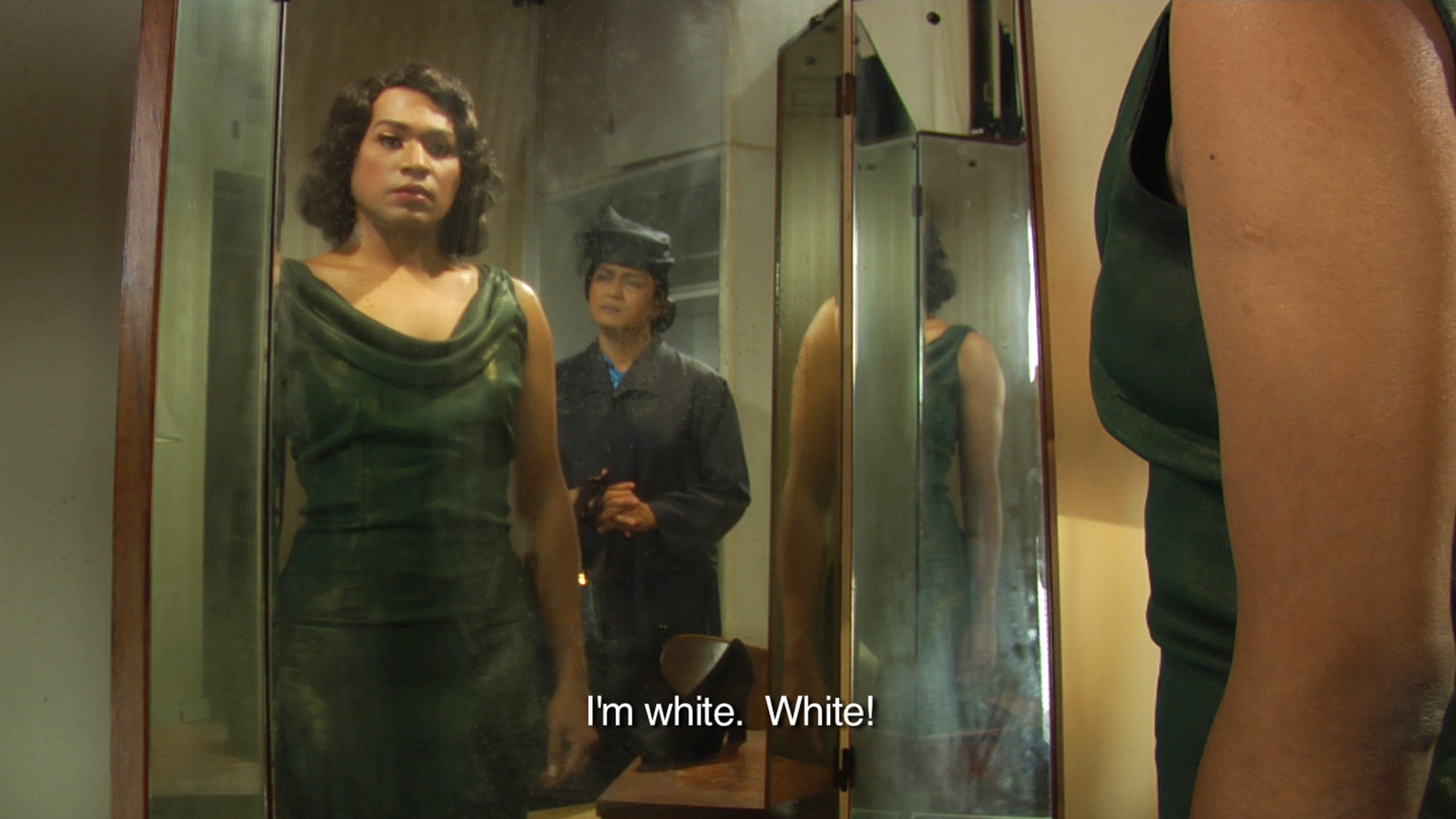 Nationhood also exists in the body, with our identities being pinned to our physical characteristics. This is dissected in the works of Ming Wong. His video installation Life of Imitation (2009) is a reenactment of a scene from Douglas Sirk's 1959 film Imitation of Life, where a young, mixed-race woman looking to become a Broadway actress decides to leave her mother and family to pass as White. Wong appropriates the narrative for a Singaporean context, interchanging male actors of varying Malay, Indian, and Chinese descent to act out the lines. Humorous and dizzying, the video casts ethnicity and gender as mere performance. Similarly, Agan Harahap's Mardijker Photo Studio (2015) reclaims the colonial image of the Mardijkers, an ethnic group from the Malay Archipelago descended from enslaved Indigenous people, through fictional portraits where the faces and bodies of the colonizers and the colonized have been switched.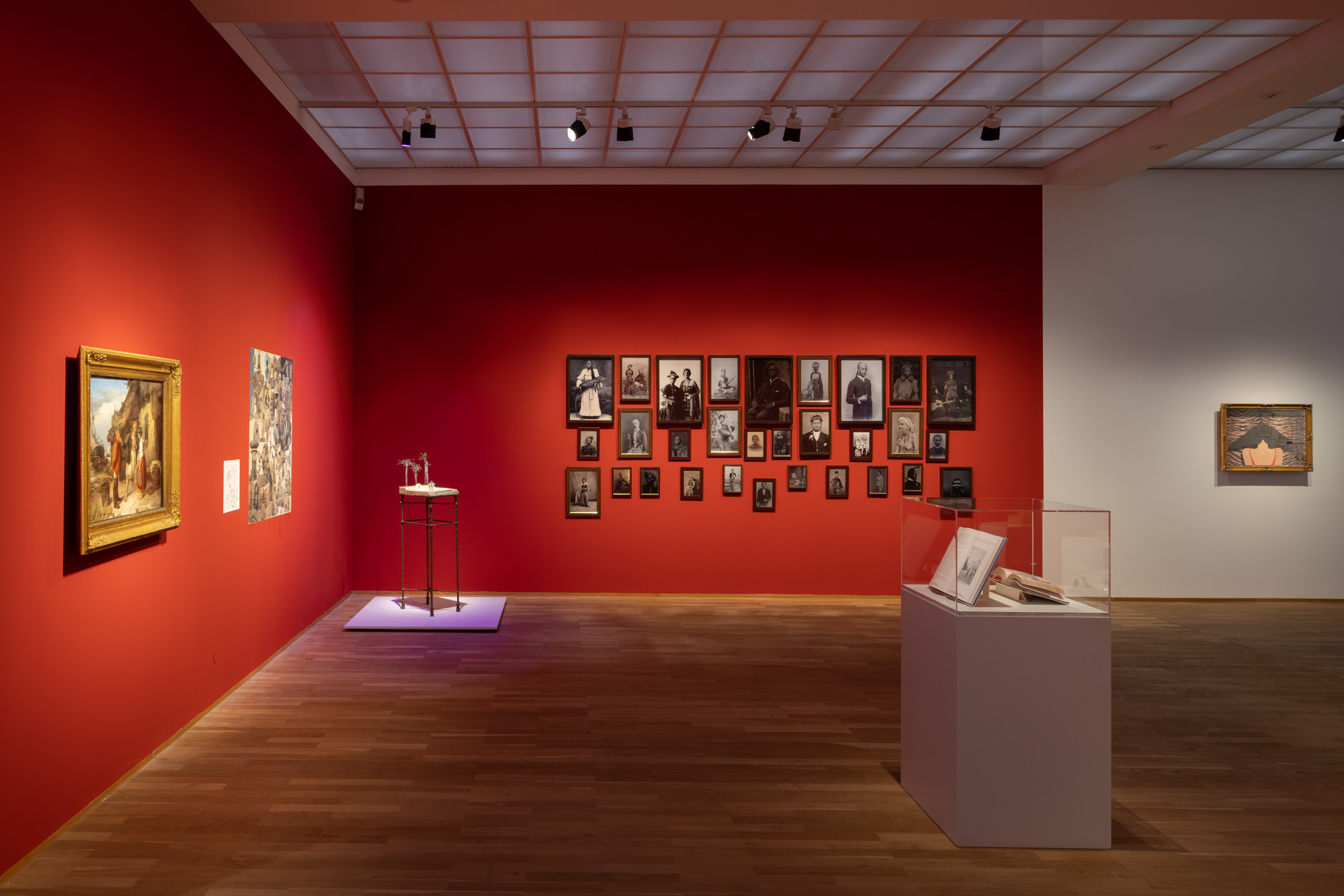 With the rise of various nationalisms around the world, exhibiting art that unsettles state narratives and myths signals a critical response, particularly from a national museum. Avoiding utopic views of global unity, "Nation, Narration, Narcosis" casts a wide net of ideas, though its abstract possibilities of change blunt the urgency of its subject matter. Still, there are subtle dialogues among the artworks, proposing fresh perspectives. The show's curators, Anna-Catharina Gebbers, Grace Samboh, Gridthiya Gaweewong, and June Yap, have mapped out a contemplative guide to ways we can reimagine our allegiances, both in body and territory.
"Nation, Narration, Narcosis" was on view at Hamburger Bahnhof, Berlin, from November 28, 2021 to July 3, 2022.