Maternal Relief: Patty Chang's "Milk Debt"
By Jennifer S. Li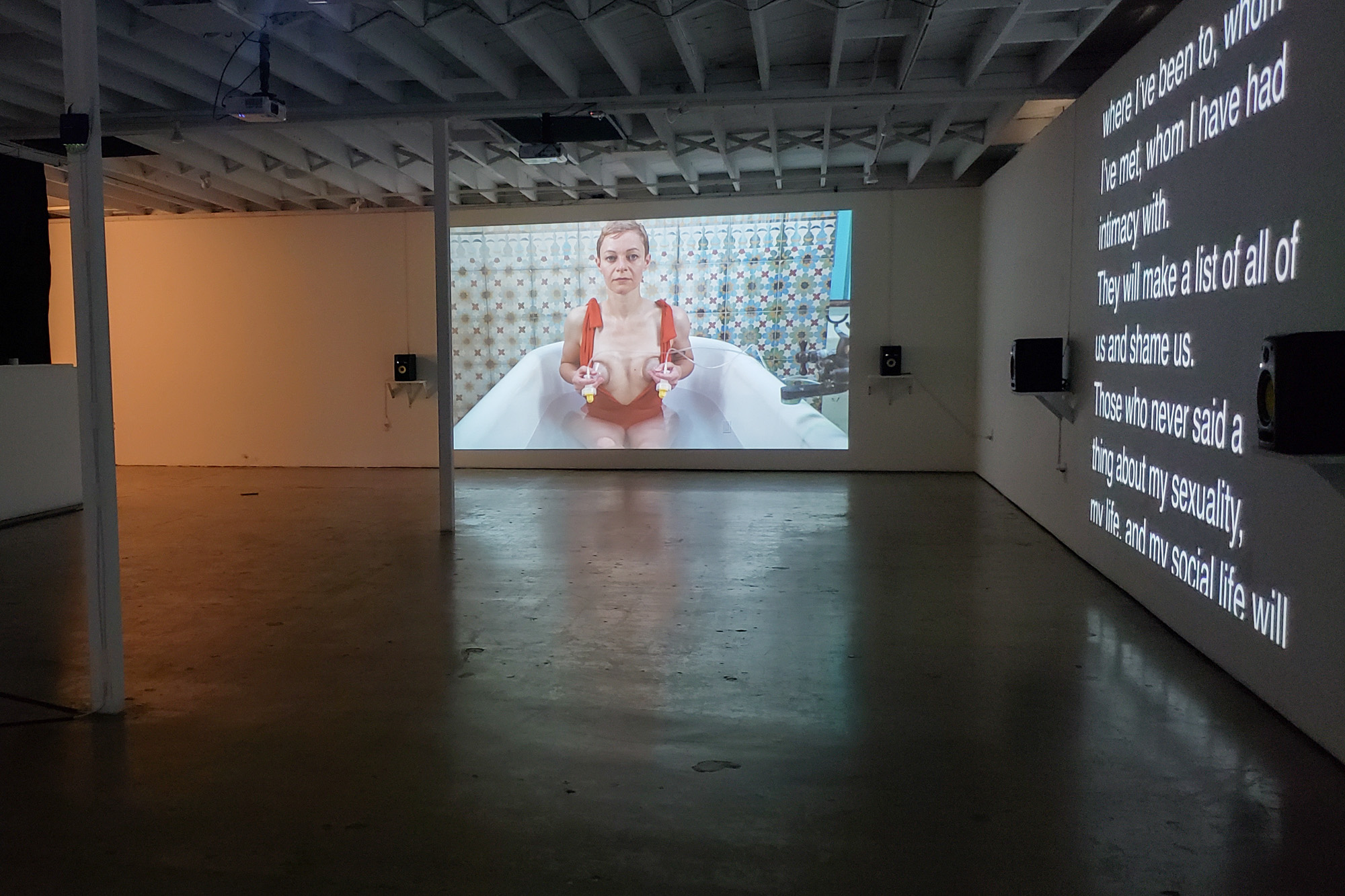 If a single artwork could sum up the cultural gestalt of a pandemic-gripped, politically anxious global citizenry in 2020, performance and video artist Patty Chang's Milk Debt does. The project began in 2017, when Chang was conducting research at the Huntington Library in Pasadena, California. Anxiety over a new presidential administration, climate change, and an uncertain future ahead of her young son overwhelmed the artist, causing her to sideline the task at hand and instead scrawl a purgative four-page list of her fears. This single personal act grew to become multiple and communal as Chang asked friends and colleagues—and later strangers in an open call—to share what plagued them. Some of the fears were solicited in Hong Kong, on the occasion of Chang's artist residency through the University of Hong Kong in 2019, which coincided with nearly six months of widespread civil unrest over the contested and subsequently withdrawn extradition bill. These lists eventually culminated in Chang's latest work, Milk Debt (2020), a five-channel, multi-screen installation in which litanies of preoccupations scroll up like movie end credits. Four of the screens feature women pumping breast milk as they incant the worries of strangers—a few of the women were captured on Zoom recordings to adhere to the reality of our new but tiresome Covid-19 social distancing protocols. Chang's Milk Debt explores the peculiarity of this historical moment not through our hopes and dreams for and of the exterior world, but through our interiority, our palpable collective angst, and the salve of the invisible domestic labor of women. Standing in the center of the darkened room, surrounded by scrolling lists and incantations of fears, the installation was not unlike a confessional, in which the lactating women anoint and absolve us.
Some of the fears listed are collective and shared across a liberal-leaning, progressive audience: "Another 4 years of 45 [President Donald Trump] . . . Not being able to pay my rent . . . Receiving inadequate care from doctors because I am a Black Woman. Being attacked by white supremacists." Milk Debt has turned out to be more apropos of the current moment than Chang could ever have imagined in the calm of the library almost four years ago. Slated to open in May, the exhibition was unexpectedly delayed until October due to the pandemic, which has wrought extensive social upheaval since the beginning of the year. Social and racial justice movements exploded across the United States beginning in May, with demonstrations in all 50 states and sustained activism. Also occurring at time of writing is a contested presidential election, with margins of victory so thin that the country was on the edge of their seats and glued to their devices for days after polls closed.
Other fears in Milk Debt are personal or stream-of-consciousness, and delivered in an almost trivializing manner. One woman pumps breast milk in her cluttered living room over a Zoom recording as she reads a list of fears in a hurried drone: "That I'm lazy . . . That I'm selfish . . . The depths of my rage . . . Breaking in half from everything I have to do . . . Being disemboweled and having to hold my guts . . . Zombies with open drooling mouths . . ." The unromantic reality of her surroundings and an unpoetic delivery is strangely comforting as it diminishes and quells the urgent distress of the fears she intones.
On another screen, actress Kestrel Leah reads out fears emotively and magnanimously as she sits gracefully in a cinematically shot bathroom pumping milk that drips into the bathtub below her, validating submitted concerns with a swelling depth of feeling and empathy in her recitation as the bathwater clouds with milk. Referencing the Buddhist principle of the perennially unsettled "milk debt" of the progeny to the mother, these women symbolically ameliorate and absorb an unending tally of fears and anxieties through the lactational release of oxytocin, the hormone responsible for a range of positive feelings including love, comfort, and bonding. It is through this arduous invisible and emotional labor that peace and rest for all may be possible.
Jennifer S. Li is ArtAsiaPacific's Los Angeles desk editor.
Patty Chang's "Milk Debt" is on view at 18th Street Arts Center, Santa Monica, until January 22, 2021.
To read more of ArtAsiaPacific's articles, visit our Digital Library.