Lauren Brincat's "women with fringes etc."
By Hilary Thurlow
If you only glanced at Sydney-based Lauren Brincat's "women with fringes etc." at Anna Schwartz Gallery you might have thought that the show was an incongruent grouping of three works, only connected by their maker. But Brincat rewards those who pay attention. The artist's constellation of Bauhaus-informed objects was collaborative, gentle yet practical, and resourceful. The longer you looked, the more time you spent, the more you saw—a phenomenological thread.
Perhaps the work that most obviously takes its cues from Bauhausian principles is Wild is the Wind (2022), which shares its name with a song sung by Nina Simone and later David Bowie. The installation is a collaboration between Brincat and Sydney-based textile designer Leah Giblin. Hung vertically across the gallery's threshold, Wild is the Wind is a red-and-white silk curtain, shaped like a triangular pennant with canvas trim, and tethered to the wall via ropes. There is no way around the curtain but through. Not dissimilar to a parachute, the work caught the slightest motion in the air, its movement propelled by visitor's bodies pushing against its silk. The sensation of touching an artwork with your body, namely your hands, felt uncanny. Just like the song sung by Simone and Bowie, Wild is the Wind encourages us to turn to intuition and feeling—an ode to Bauhausian wisdom.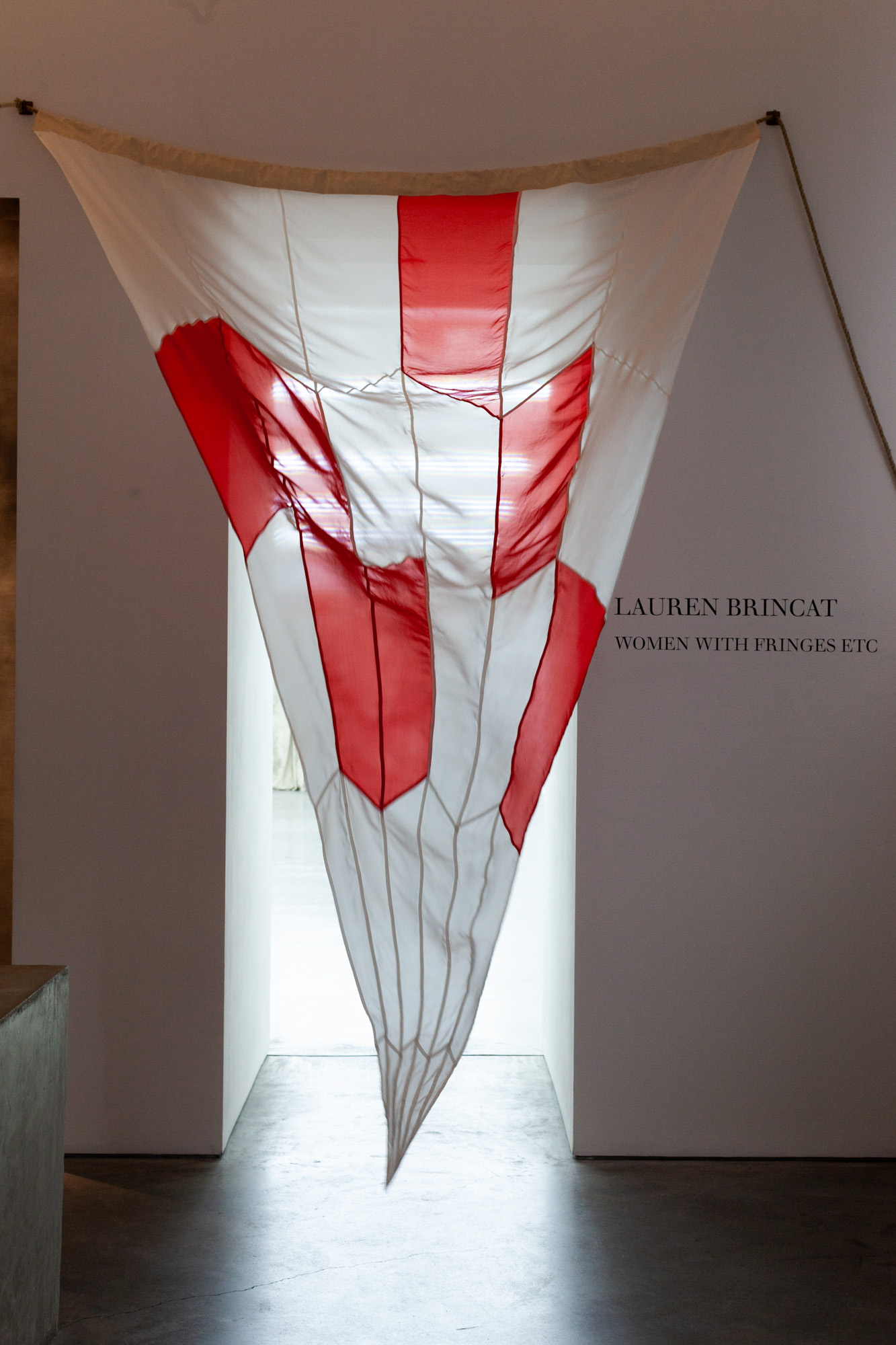 Tacked to a wall nearby, Egyptian Postures (2022) is a poster featuring 12 hand gestures shot in black and white, all devised by Dr. Otoman Zar-Adusht Ha'nish's, founder of the controversial Mazdaznan religion, which advocated a racist, Aryan-informed worldview alongside the everyday cultivation of the body. Swiss painter Johannes Itten, one of the first Bauhaus faculty members, was a piously devout follower of Mazdaznan and would teach the hand movements to his pupils so that they could physically channel positive currents. Brincat invites us to mimic each hand sign: a clenched fist, a thumbs-up with fingers awkwardly coiled, a clenched "ok" sign, and so forth.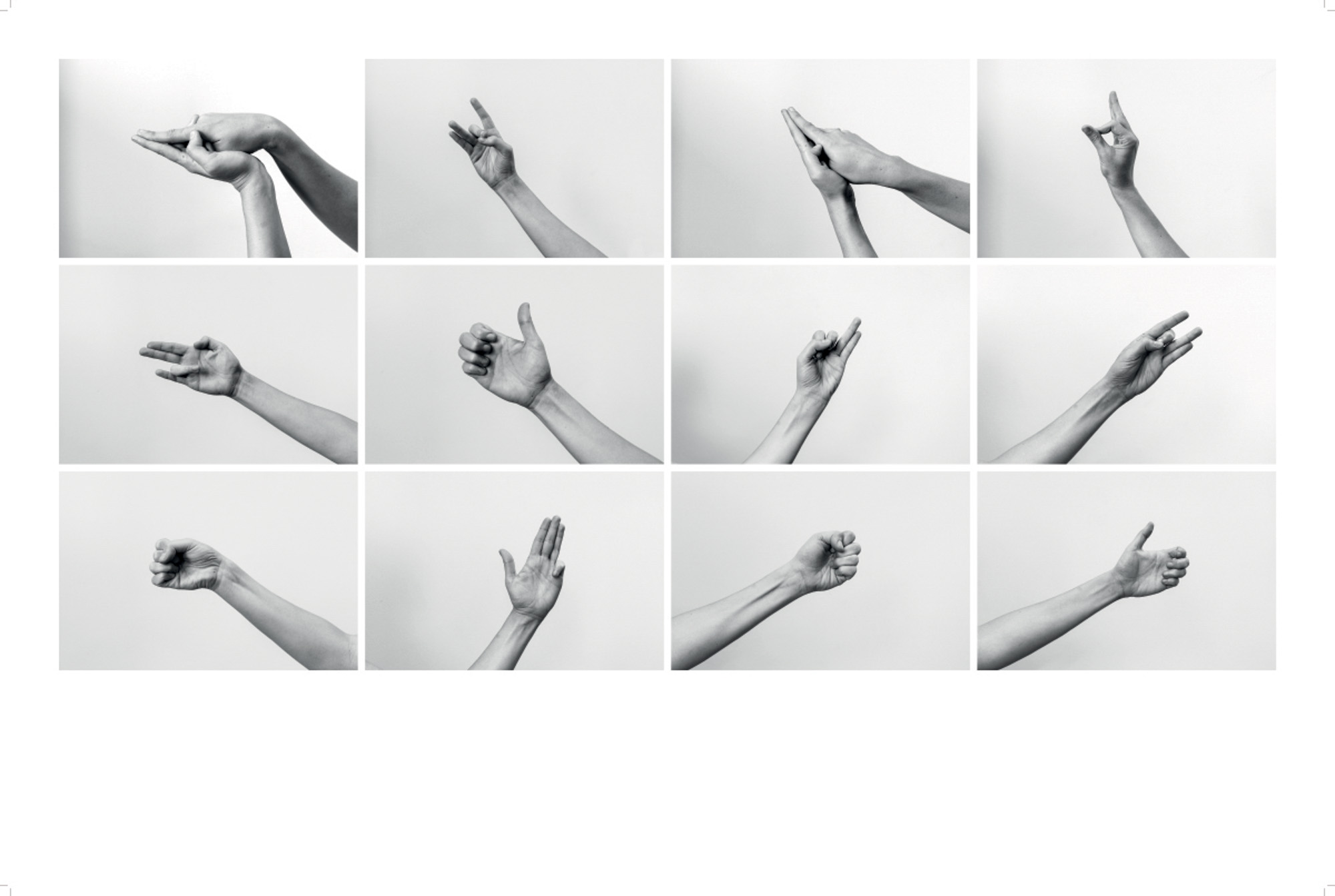 While Backstage (2022), the centerpiece of Brincat's presentation, is less overt in its dedication to Bauhaus, the site-responsive sculptural work holds underlying utilitarian tropes. Backstage comprises three tiers of worn drop cloths and coverings hung across steel rods. Contrasting the fabrics of muted colors are a few pieces of a richer, red cloth sharing a likeness to cliché theater curtains. Each piece of cloth folds into the next. Backstage's lithely drapery has a performative bent, offering a kind of contrapposto or dynamism that is countered by the heavy fabric's static quality. When walking among the rows of material, the passive viewer transforms into an active participant caught behind the curtain.
Backstage evidences the artist's immaterial labor in the studio via the castoff drop cloths collated by Brincat from fellow artists—painters—exposing the hand of their previous owner. Some are heavily soiled with lurid paint spills while others have only a few polychromatic speckles of paint here or there. The careful collation of drop cloths by Brincat hints at the invisible but shared labor carried out in artist studios. Think impromptu critique sessions, lending eyes to read over an email, or even preparing cups of tea and coffee. The "et cetera" in the exhibition's title likewise alludes to this kind of innately feminized emotional labor all too often carried out by women and left unseen in finished artworks. Moreover, the work is a cursory reminder that art making never happens in a vacuum and only through networks of supportive communities in shared dialogue.
Brincat's stage play was not merely an anachronic playback that rides on the coattails of the Bauhaus School. Instead, "women with fringes etc." was a thoughtful cue to sift through the school's principles and ratify their use in our everyday lives.
Lauren Brincat's "women with fringes etc." was on view at Anna Schwartz Gallery, Melbourne, from May 14 to June 18, 2022.