Joseph Beuys's "Aktion"
By Hilary Thurlow
The word populism often conjures images of brash right-wing politicians such as former United States president Donald Trump, or France's Marine Le Pen. On the seventh floor of Melbourne's historic Nicholas Building—home to several small galleries and artist studios—is 99%, a space whose programming interrogates our understanding of populism at its root. Curated by the gallery's director, Chelsea Hopper, "Aktion" sought to unfurl the populist politics of German artist Joseph Beuys by bringing together a suite of the artist's multiples.
On the surface, Beuys's claim to populism lies in his infamous aphorism that "everyone is an artist." Nonetheless, the artist's democratic gambit goes further than words. Beuys's desire to speak to the masses permeated every aspect of his life, and the artist's loyalty to the multiple holds the key to unlocking his populist method. By working with multiples across every medium, he ensured that the ownership of his work is held not by a single custodian, but is quietly distributed across a willing multitude. Even the sculptures and prints that formed "Aktion" were loaned from the Joseph Beuys Café—a significant collection of the artist's work housed only a few levels below 99% in the Nicholas Building.
The earliest multiple in "Aktion" is Intuition—an unlimited edition—from 1968; the year following Beuys's formation of the German Student Party, which marked the artist's first concrete move into national politics. No bigger than an A4 sheet of paper, the work is a shallow, open box constructed from cheap wooden offcuts, with "intuition" inscribed by Beuys in pencil. In keeping with the artist's commitment to the Fluxus movement, Intuition was available via mail-order and designed with utility in mind, intentionally functioning as a small piece of storage.
The show's centerpiece was Rose for Direct Democracy (1973): a single, living burgundy rose positioned in a graduated cylinder atop a plinth. Conceived for documenta 5, the work formed a fragment of Organization for Direct Democracy Through Free Collective Referendum. Etched into the vile is the work's title, winding upward and following the direction of rose's growth: skyward—the very trajectory Beuys hoped his own lived political reality and that of his speculative constituents would take.
Beuys's political and artistic pursuits spread across the globe and earned him renown—in 1984, he even appeared in a Japanese whiskey commercial. Celebrity quickly became part and parcel of his practice. Think of it as a proto-exercise in self-branding, akin to influencer culture where personal image and work converge. Take Bonner Kunstverein (1977) for example, a sepia-toned print produced to raise funds for a public talk between Beuys and British artist John Latham. Here, the back of Beuys's trademark fedora is front and center while the artist signs the wall in front of him. Similarly, Yellow (1977), a blue-and-yellow, screen-printed portrait of Beuys with a Warholian edge, hints at the artist's politician-meets-popstar persona.
The poster Kunst = Kapital or Art = Capital (1982)—titled after one of the artist's favoured catchcries—functions as an advert for Beuys's apex, his planting of 7000 Eichen or Oaks throughout Kassel in 1982–84. Incidentally, for the 1984 Biennale of Sydney, Beuys used curator Réne Block as his proxy to plant a native Moreton Bay fig tree near the Art Gallery of New South Wales, as an extension of Beuys's 7000 Eichen. The land-art project brought attention to what Beuys saw as excessive urbanization with little care shown to the natural environment. Evidencing similar concerns for the environment was a black-and-white photograph documenting participants engaging in an event for the Fondazione per la rinascita dell'agricoltura or Foundation for the Rebirth of Agriculture (1978), a cursory project to the artist's Free International University.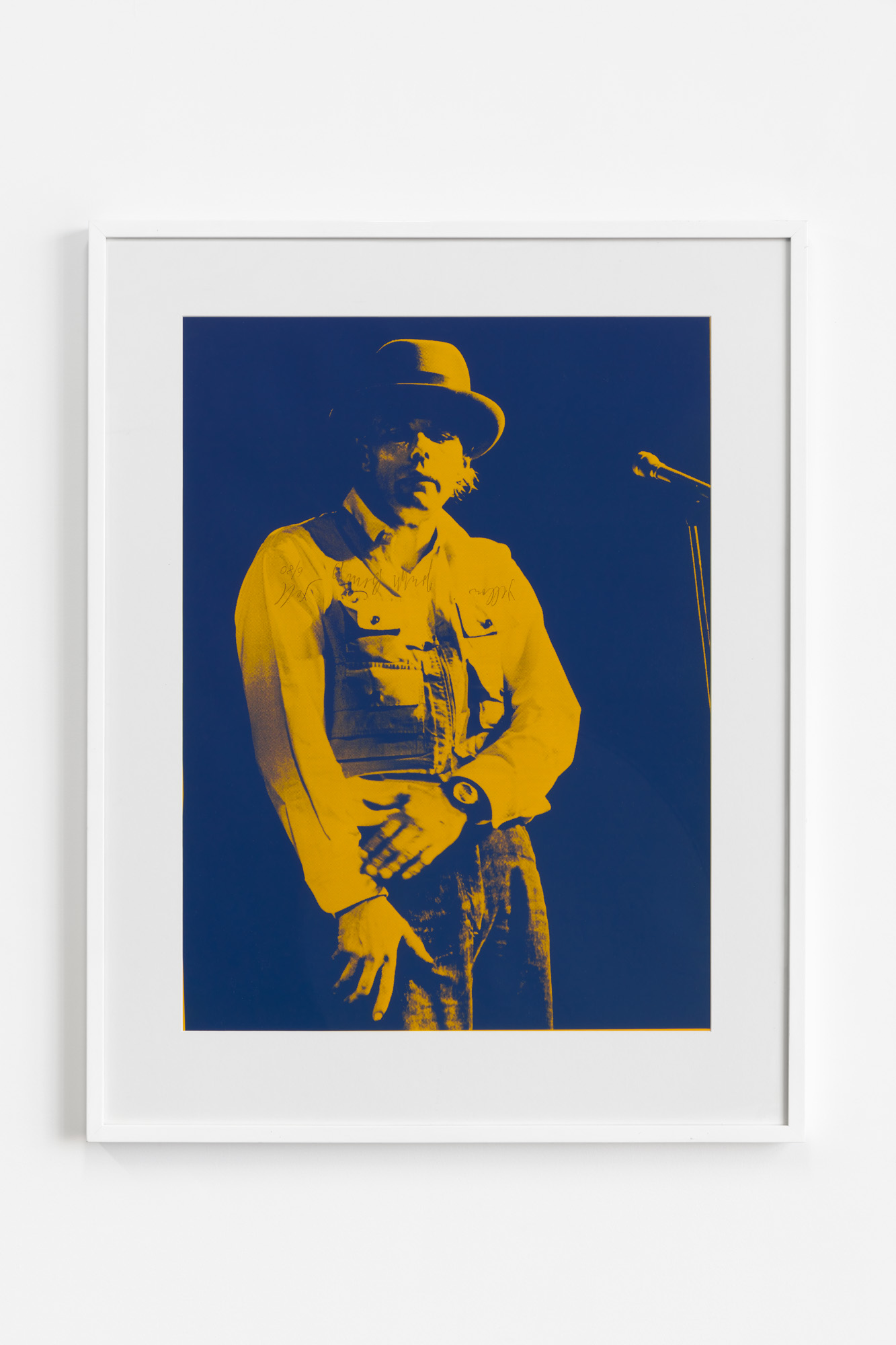 Although Beuys never entered German parliament as a member, "Aktion" underscored how, with his social sculptures and artist-as-facilitator projects living on through multiples, Beuys's personal politics and approach to practice have achieved a far broader, cosmopolitan brand of populism than entering any kind of legislature ever could.
Joseph Beuys's "Aktion" was on view at 99%, Melbourne, from May 13 to June 4, 2022.