Isamu Noguchi: Expanding Sculpture
By Béatrice Grenier
Launched at London's Barbican Centre and touring to the Museum Ludwig in Cologne, the Zentrum Paul Klee in Berne, and the Lille Métropole Museum of Modern, Contemporary and Outsider Art within the next two years, "Noguchi" is a major occasion to revisit the expansive scope of Isamu Noguchi's influential practice. The exhibition was particularly courageous at the Barbican, where it was organized and curated by Florence Ostende. Indeed, the brutalist architecture of the galleries, with their multi-level layout, low ceiling heights, exposed concrete, and imposing columns, obliged a rigorous curatorial approach to allow for a legible statement on the sprawling career of this legendary 20th-century figure. The carefully chosen body of more than 150 works showcased the artist's vast interdisciplinary output in architecture, stage-set design, furniture, garden landscaping, playground models, and lighting. What cohered these components in the presentation was the artist's experimental and groundbreaking interpretation of sculpture as "a vital force in our everyday life if projected into communal usefulness."
Subtitled "I Became a Sculptor," the first gallery was a crucial introduction to the artist's initial encounter with an alternative understanding of sculpture. Arranged on a single base was a group of bronze, brass, and aluminum sculptures dated 1928, when Noguchi lived in Paris under the auspices of a Guggenheim Fellowship, and around the time that he worked as an apprentice in sculptor Constantin Brancusi's studio. This mode of display referred to a principle that Noguchi learned from Brancusi. The latter called it groupes mobiles: multiple sculptures sharing a base or pedestal that were meant to be read as bearing relations to each other and to viewers.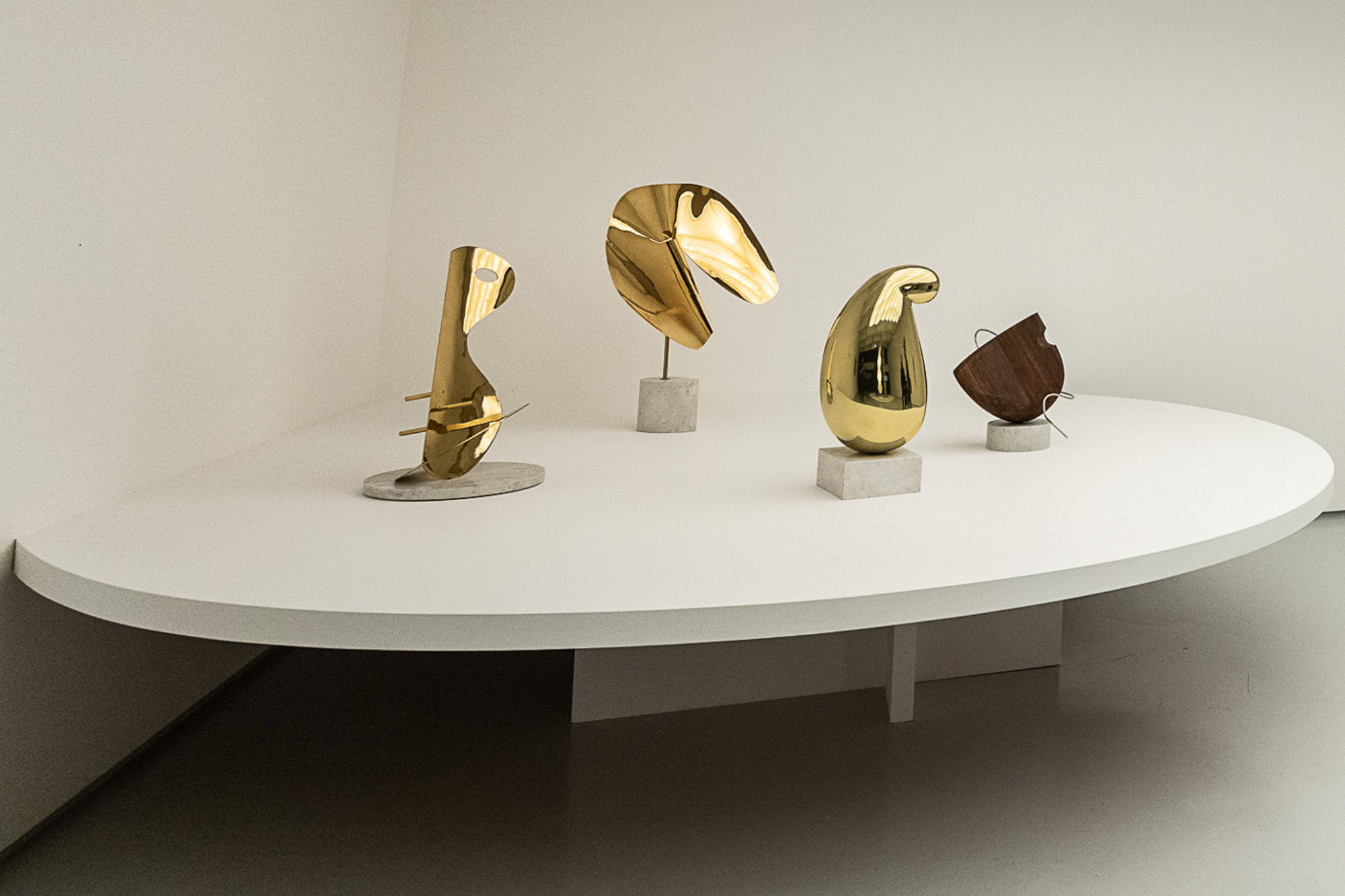 The idea of groupe mobiles is a fundamental premise in Noguchi's practice. As he developed this notion in subsequent years, his ambition for sculpture became not just for it to interact with the viewer, but for it to be inhabited by the human body. Indeed, he expanded the notion of groupe mobile to an immersive scale to allow for the viewer's physical participation. A gallery devoted to Noguchi's early exploration of abstraction in the 1930s included one of his first playground models, titled Play Mountain (1933). Cast in bronze, it consists of shapes such as rippling half circles, triangles, and pyramids in half relief. While originally proposed for a city block in New York's Midtown Manhattan in 1933, the playground was later imagined for different geographies. In November 1988, a month before the artist's death, Play Mountain was realized in Sapporo, where it is known today as Moerenuma Park. The architect Shoji Sadao supervised the planning and construction of the site, where play areas are defined using nothing but steps and slopes erected from the ground. Sculpture, as Noguchi saw it, is lived architecture; for it to exist, it requires the participation of humans: it is social.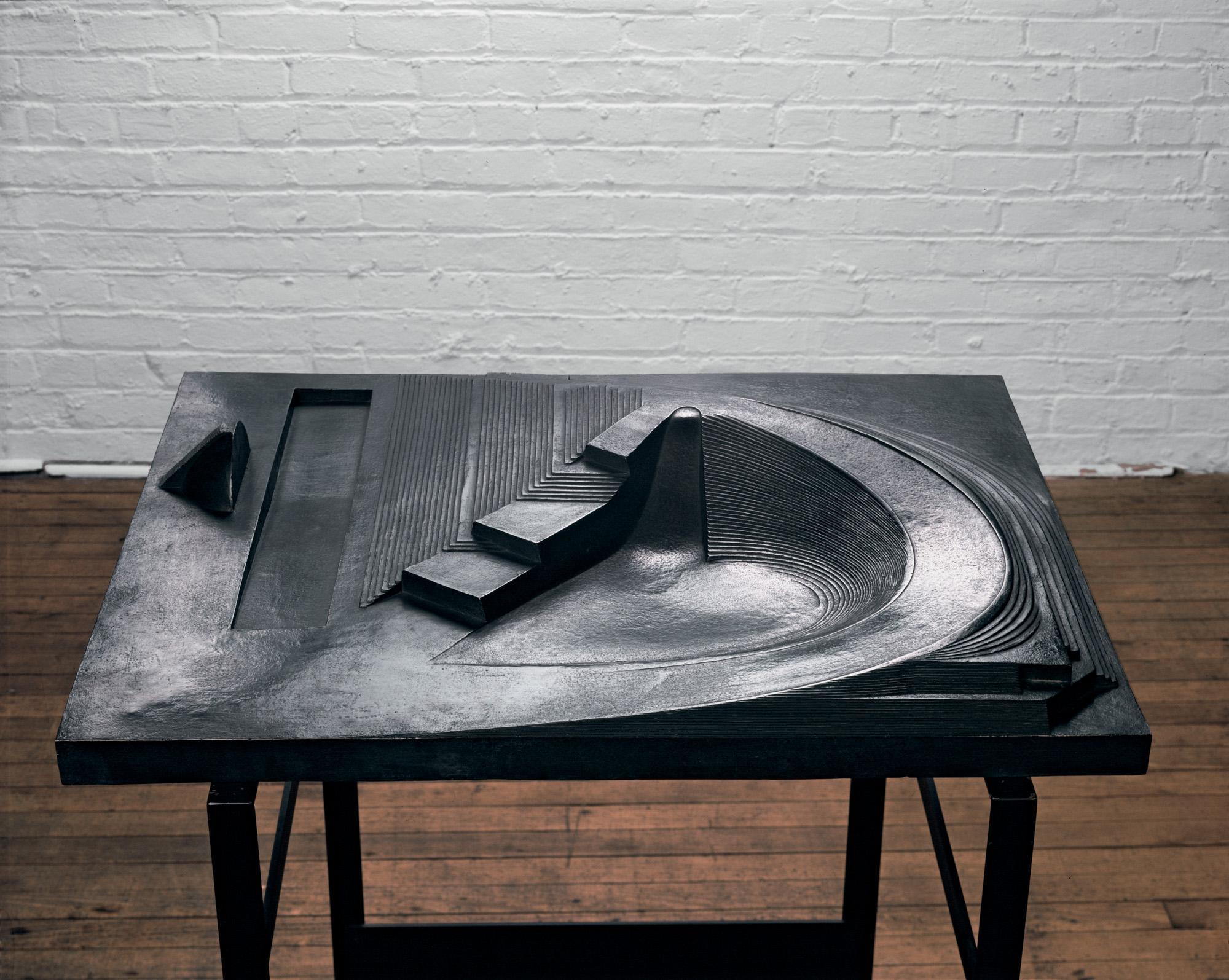 Positioning the human body as an essential element in his sculptures in turn brought Noguchi to confer to the medium a hybrid and interdisciplinary potential. While in the 1920s, the Bauhaus had already generated productions that combined the visual arts and theater, Noguchi's experiments with stage design further blurred the boundaries between sculpture and performance. The retrospective appropriately highlighted Noguchi's involvement with stage design as an important part of his reflection on the transdisciplinary nature of sculpture. On display was Spider Dress and Serpent, a prop that Noguchi created for dancer and choreographer Martha Graham's ballet Cave of the Heart in 1946. Composed of brass wires that protrude from a brace like tree branches, the gown stands immobile—as a sculpture—on a serpent-shaped bronze base on the stage. In the final dramatic moment of Graham's choreography, it is activated and transformed into a costume and extension of the performer's body.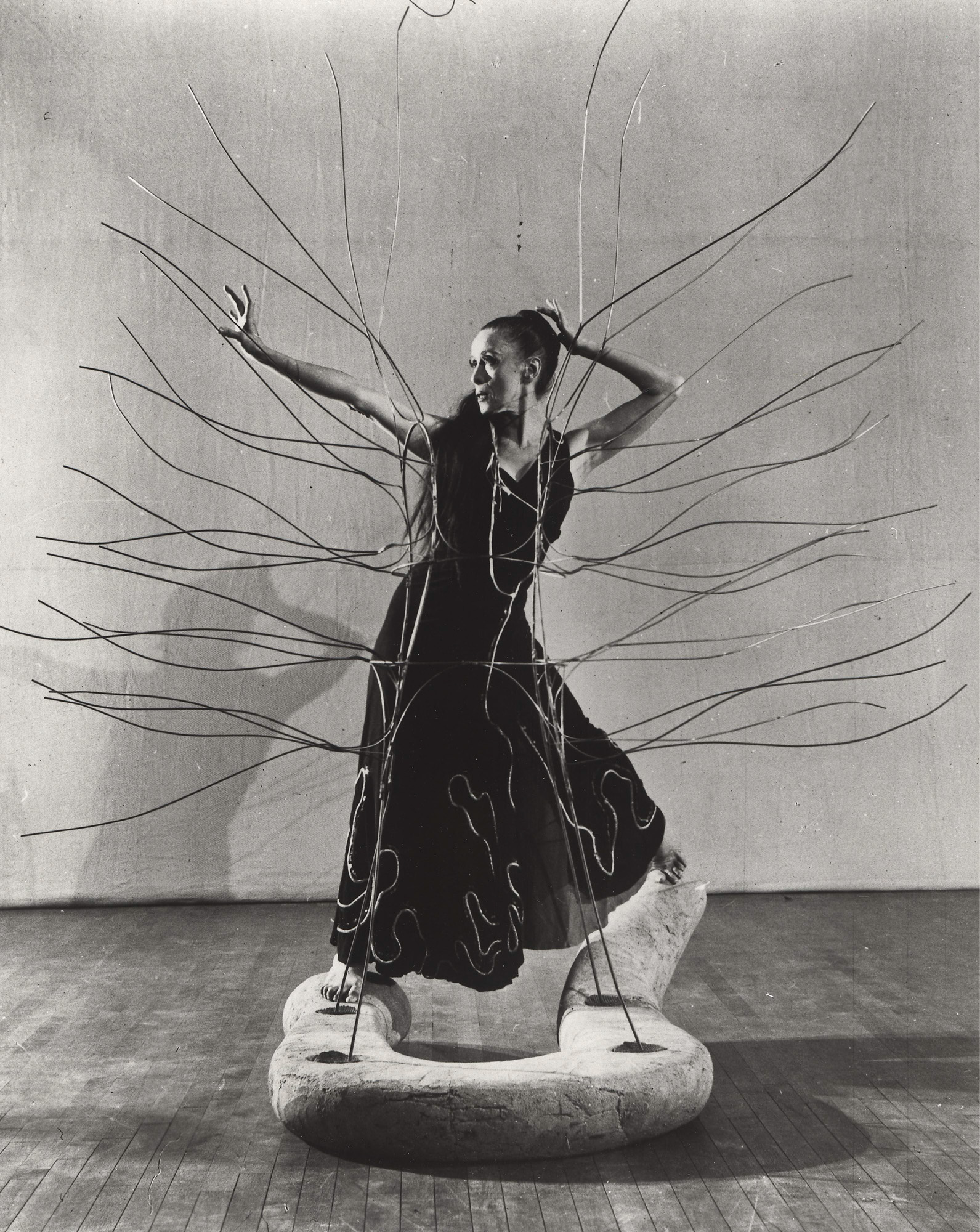 The interaction of the human body with sculptures in space was completely in line with Noguchi's democratizing approach to the medium, one that remains controversial or misunderstood today. Indeed, some reactions to the Barbican exhibition suggest that Noguchi's work in furniture design is decorative and popular, not meriting serious art historical consideration. In the largest gallery of the exhibition, on the ground floor of the Barbican, examples of Noguchi's furniture designs abutted some of the artist's most critically acclaimed sculptures, placing these exhibits on a level playing field to illustrate the artist's disregard of the boundaries between disciplines. For instance, Trinity, Triple (1945) is an elegant example from a series of sculptures that Noguchi developed in the 1940s. Bronze sheets cut into various shapes are interlocked—a technique that references the Japanese building tradition of kanawa-tsugi—forming a column. Nearby, the presentation of the iconic Coffee Table (1944– ) reminded viewers that this industrially manufactured object is no less a sculpture for human use and appreciation. The abundant use of the similarly iconic Akari (1951– ) lights for scenography purposes throughout the exhibition further underscored this point. Noguchi encouraged people to live and play with sculptures daily.
For Noguchi, sculpture existed in order to give social meaning to space. He considered the presence and participation of the human body as essential to sculpture. This allowed him to expand its scale to an architectural one and consider it as an extension of the body or as an object for human use. The radicality of this understanding of sculpture is yet to be fully appreciated: much of its hybrid potential remains to be explored.
"Noguchi" was on view at the Barbican Art Gallery from September 30, 2021, to January 23, 2022, and will be at the Museum Ludwig, Cologne, March 26–July 31, 2022; Zentrum Paul Klee, Bern, September 23, 2022–January 8, 2023; and LaM, Lille, March 17–July 2, 2023.