Füsun Onur's "Opus II – Fantasia"
By Bala Gürcan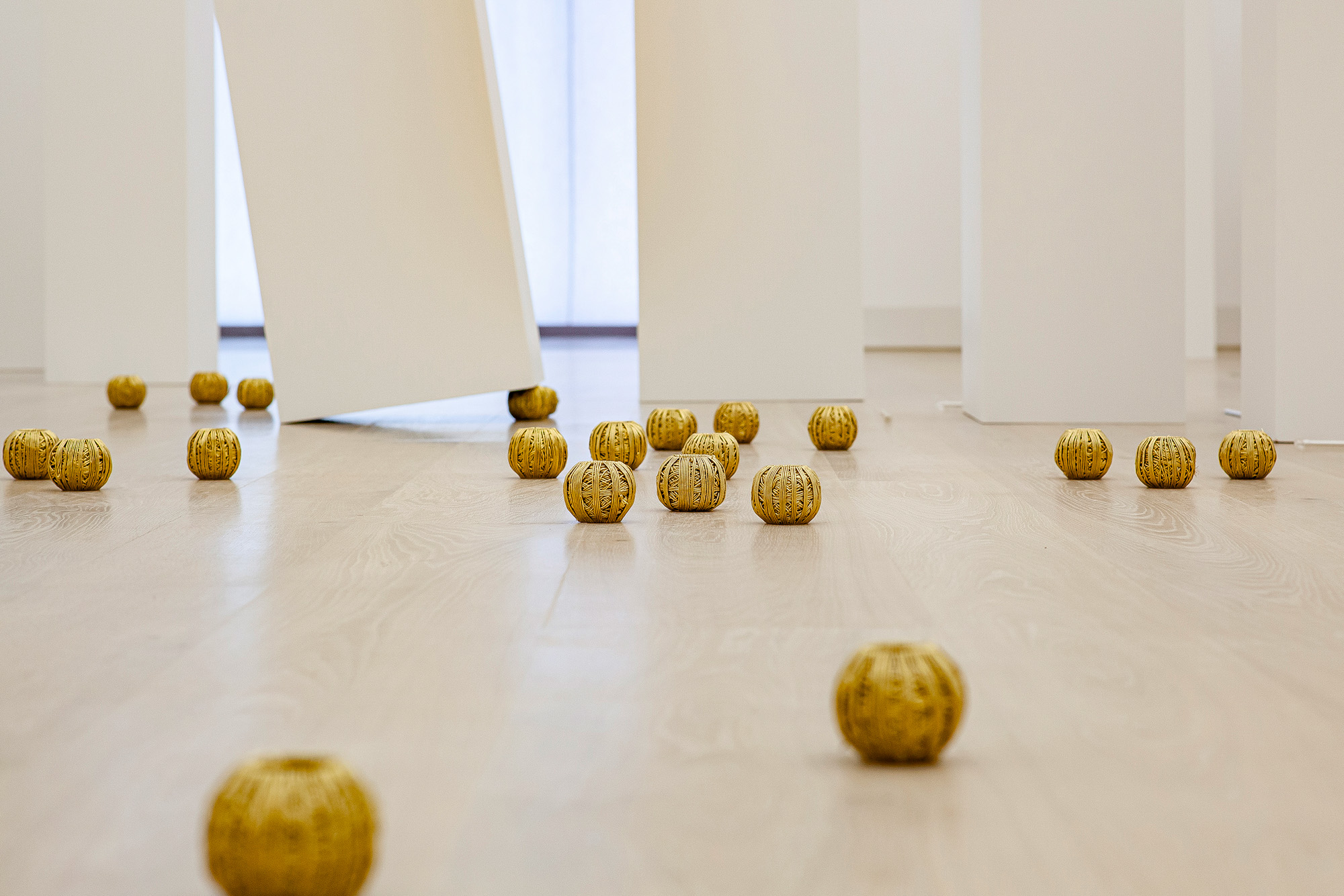 Synesthesia is the neurological condition whereby one sensory stimulant activates other, secondary sensory pathways in the brain. This creates a world for the synesthete in which a color might evoke the taste of a savory dish, or a stream of vibrant hues may come flooding in upon hearing a note. Füsun Onur brings us closer to this world of overlapping perceptions with Opus II – Fantasia (2001/21), a visually symphonic installation laid out across Arter's Gallery Room 4 that embodied and signalled auditory movements through the pulsating materiality of everyday objects.
From earlier geometric drawings, to three-dimensional sculptures and installations, Onur's influential and transgressive body of work is rooted in the avant-garde movement in Turkey in the early 1970s. Her preoccupation with space, rhythm, variations, and harmony is expressed through the delicate nature of ordinary objects, which draw their poetic significance from the artist's personal life. Characterized by a move away from traditional materials and forms, Onur's adoption of the quotidian and the autobiographical represents the ever-expanding scope of her conceptual excavations.
Following Arter's comprehensive retrospective exhibition "Through the Looking Glass" (2014) that covered almost 50 years of Onur's prolific career, "Opus II – Fantasia" marked the artist's return to the museum. First exhibited in 2001 at the Staatliche Kunsthalle Baden-Baden, different rearrangements of the work have previously been shown at two group exhibitions: Arter's "Tactics of Invisibility" (2011) and Neues Museum Nürnberg's "Border of Time" (2018). In parallel with an ongoing engagement with rhythm in relation to time and space that her earlier works share, Opus II – Fantasia demonstrates a free exploration of music and its dialect with silence, its spatial potential, and counterpart in form and image. Through this bilateral process of abstracting the material and physicalizing the immaterial, Onur challenges preconceived formal notions in art, breaking it down to the structural patterns that lie beneath one's immediate awareness.
Everyday objects form the conceptual backbone in Opus II – Fantasia, as each object introduced in five consecutive rooms provides a new point of reference within the structure of a multi-layered composition. Spread across the floor of the space in perpendicular and linear configurations, white knitting needles act as the base of this structure, analogous to a staff in a music sheet. The other set of objects that soon make an appearance are the balls of gold braid, their uncoiled strands reaching out to one another like the ever-present, dormant yet dynamic space in between notes. Small 18th-century blue-white figurines of young men and women stand at a distance yet remain in synchronicity, imbuing the installation with a sense of presence, nostalgia, and personal history. Onur brought the figurines from Istanbul when she first exhibited the work at Baden-Baden; imbued with a sense of familiarity and nostalgia, these antiques call to mind a cabinet of curiosities that one might encounter in an old-fashioned abode. Meanwhile, the slanted large plinths, at home in the gallery, are unexpectedly in a destabilized position, overturning their purpose of upholding exhibits in the traditional experience of three-dimensional works. Through a multitude of configurations rearranging both material and social space, the piece alternatingly reroutes, enables, and conducts the viewing experience.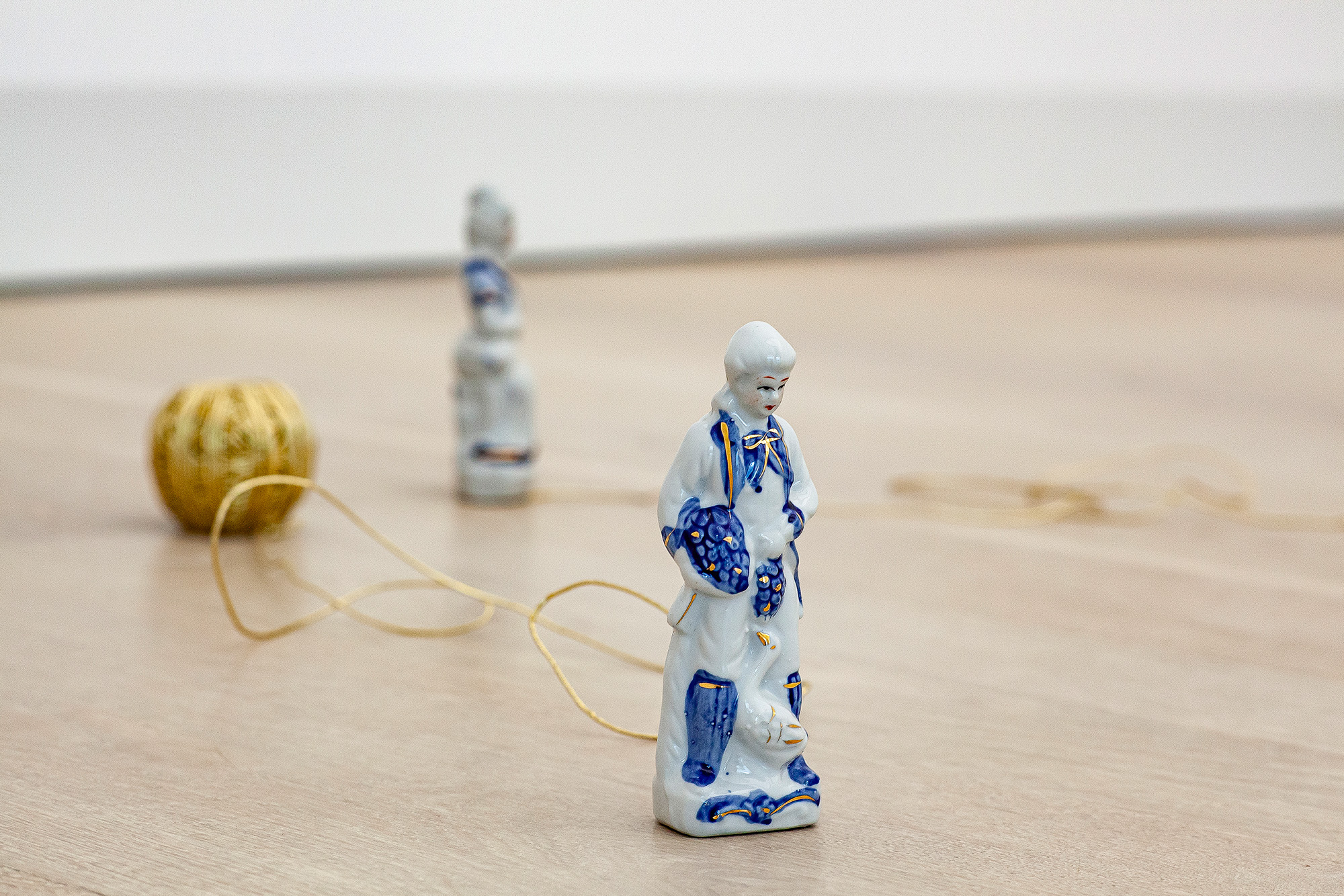 Among the artist's most iconic works, Opus II operates from an internal language of its own. As viewers moved across the gallery space, their pace determined the rhythm and duration of the silent piece, and became a metaphorical instrument that animated it. The installation invites us to bear witness to a composition that is both fictional and autobiographical, rising and falling at moments like a universal song resonating on a personal level, translated and deciphered across senses and mediums.
Füsun Onur's "Opus II – Fantasia" is on view at Arter, Istanbul, until February 20, 2022.