FRONT International: "Oh, Gods of Dust and Rainbows"
By Paul Laster
Exceedingly ambitious, FRONT International: Cleveland Triennial for Contemporary Art made for a meaningful way to explore cultural sites in Ohio City and its surrounding area with an engaging program that explored art as an agent of transformation, a mode of healing, and a therapeutic process.
The name of the triennial's second iteration, "Oh, Gods of Dust and Rainbows," was taken from the first line of the poem "Two Somewhat Different Epigrams" (1957) by Langston Hughes, an African-American poet, social activist, and playwright who spent his teenage years in Cleveland and retained an artistic relationship with the region throughout his career. The sprawling show featured 100 local, national, and international artists working in a variety of media at nearly 30 venues in Cleveland, Akron, and Oberlin.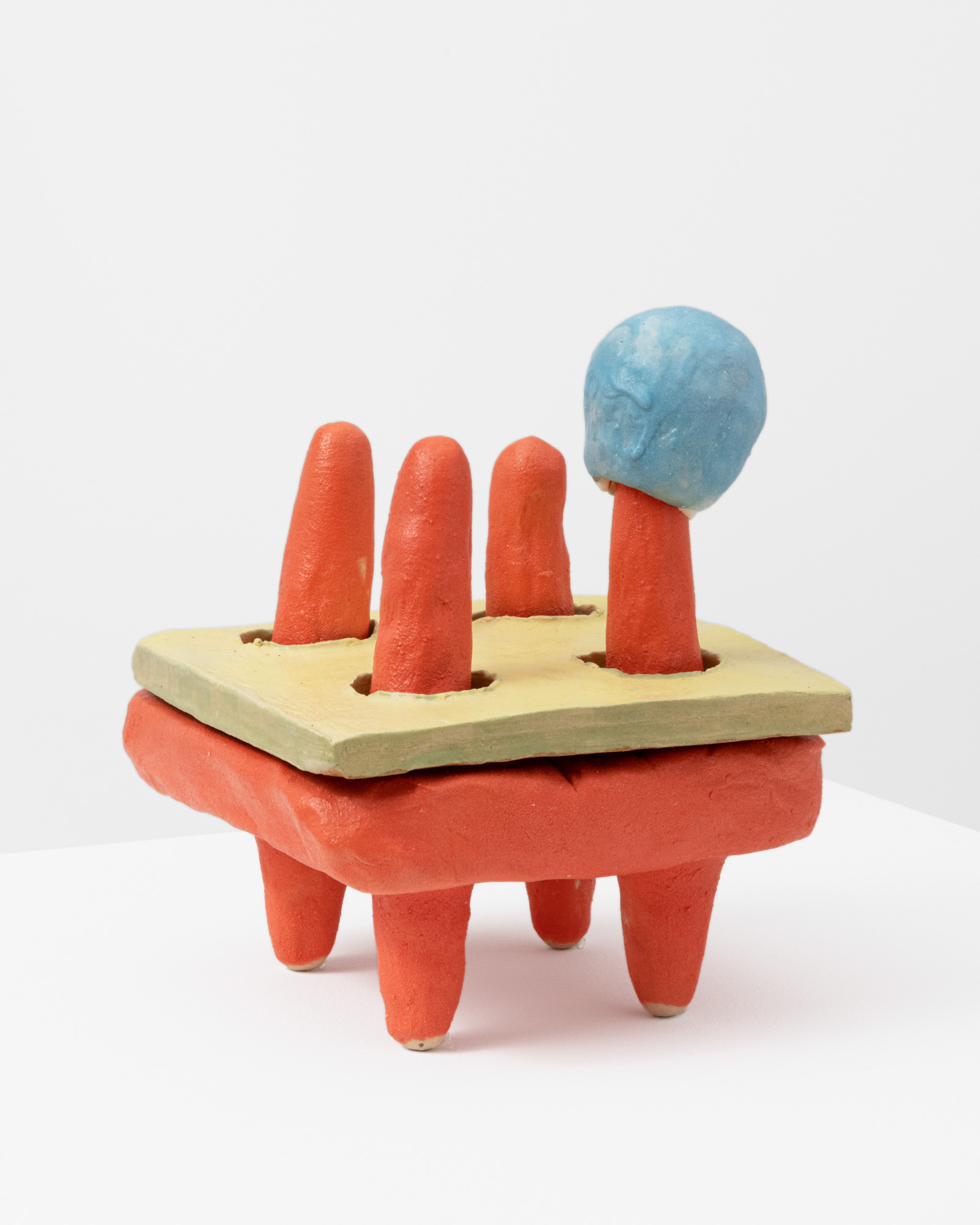 "The exhibition looks at how daily practice can allow individual artists to cultivate liberation through the everyday rituals of creations . . . it looks at how aesthetic pleasure—sharing joy through movement, music, craft and color—can bring different people together," Prem Krishnamurthy, the artistic director of FRONT 2022, shared with ArtAsiaPacific.
Within Cleveland, FRONT 2022 collaborated with several institutions. Cleveland Museum of Art hosted a group show curated by artist Julie Mehretu that positioned her layered, abstract landscapes with works by Louise Bourgeois, Norman Lewis, Jack Whitten, and other exhibits from the museum's collection. The Museum of Contemporary Art Cleveland turned over the entire building to Cleveland-born artist Renée Green, who created a collaborative presentation that puts her conceptual artworks in conversation with pieces by such artists as Marcel Broodthaers and Mika Tajima.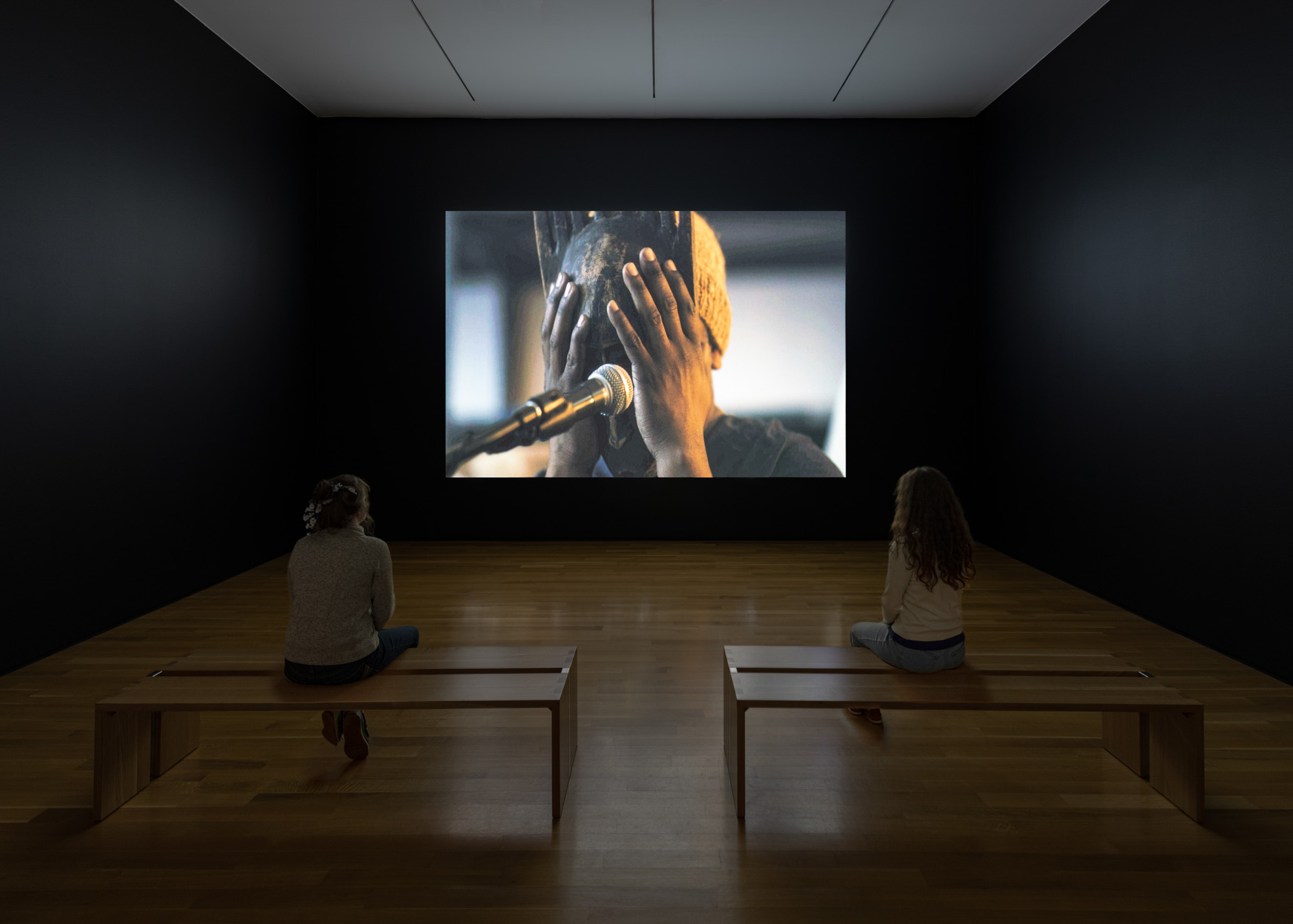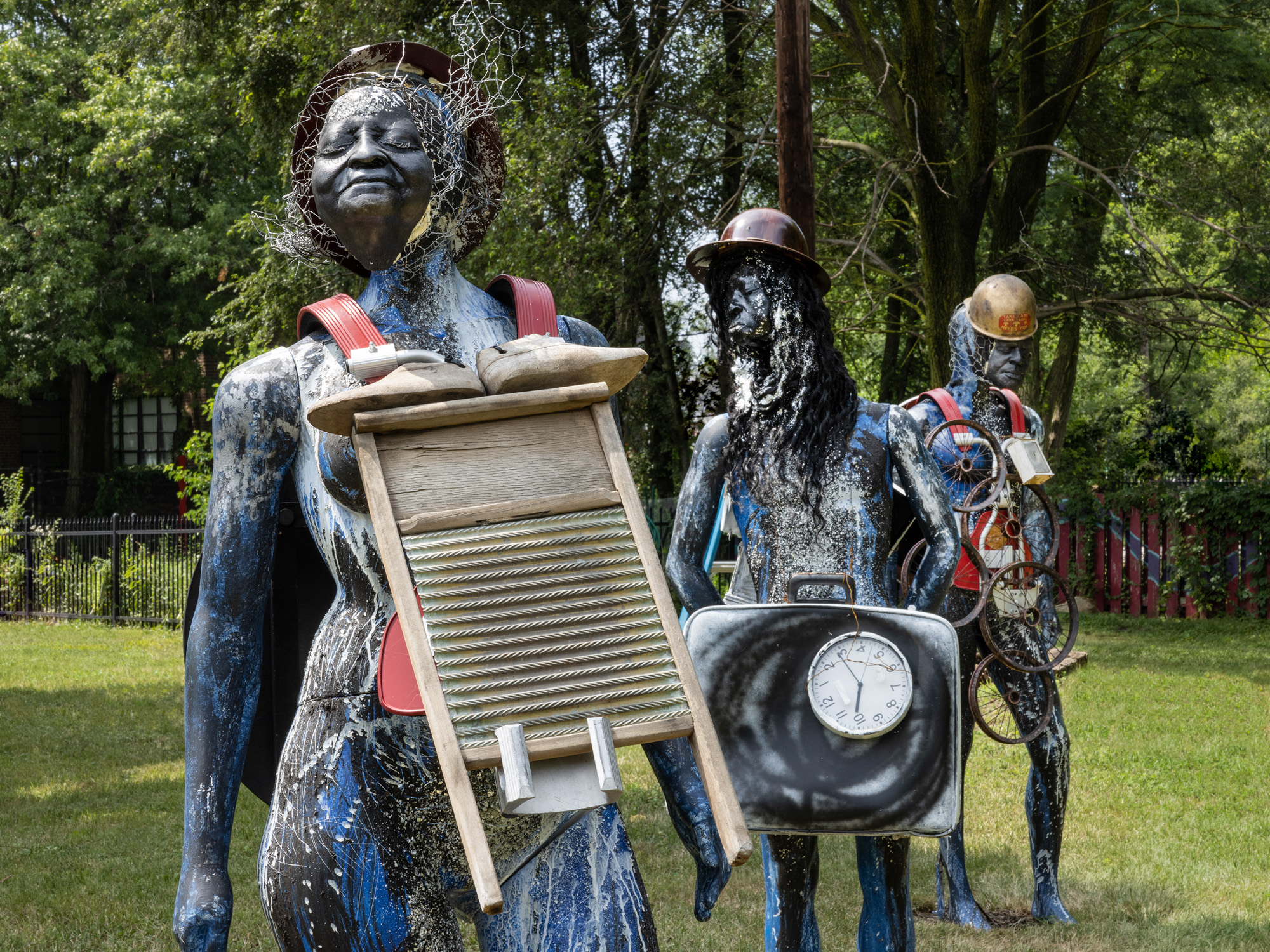 Two of the most engaging exhibitions in the triennial, however, were in Oberlin and Akron. At Oberlin's Allen Memorial Art Museum, Ahmet Öğüt constructed a new version of his collaborative installation Bakunin's Barricade (2015–20), which he first presented at the Van Abbemuseum in Eindhoven. Inspired by a Russian anarchist's unrealized idea to place paintings from the National Museum in front of a barricade so that Prussian soldiers wouldn't breach it during an 1849 socialist insurgency in Dresden, Öğüt created his own protest-minded barricade using junk assembled from local sources as well as artworks. Selected by the artist and participating Oberlin College students, the latter includes works by John Baldessari, Barbara Kruger, Andy Warhol, and other artists from the museum's collection. A conceptual contract stipulates that the barricade may be requested and deployed by activists during future social uprisings.
At Akron Art Museum, Murtaza Vali—FRONT artistic team member and adjunct curator at Dubai's Jameel Arts Centre—co-curated an excellent group exhibition exploring the relationship between craft and labor. Featuring 17 artists working in a variety of mediums—including body-related ceramics by Seuil Chung, web-like sculptures by Sonia Gomes, a bedazzled hoodie honoring Trayvon Martin by Devan Shimoyama, and a film by Theaster Gates linking the spiritual aspect of working with clay with the singing of gospel songs—the show revealed ways that people use craft to transcend adversities, such as oppression, displacement, and trauma.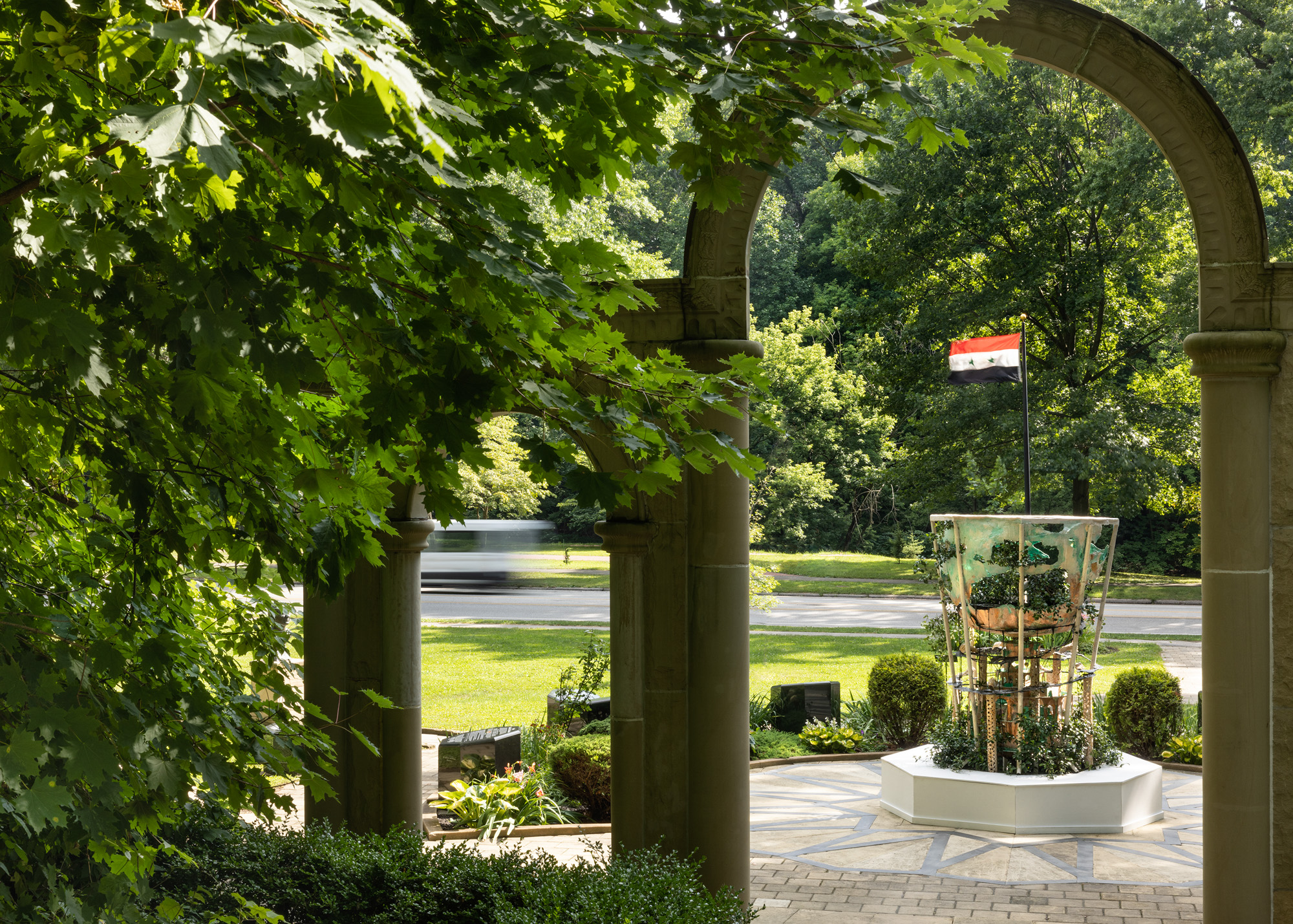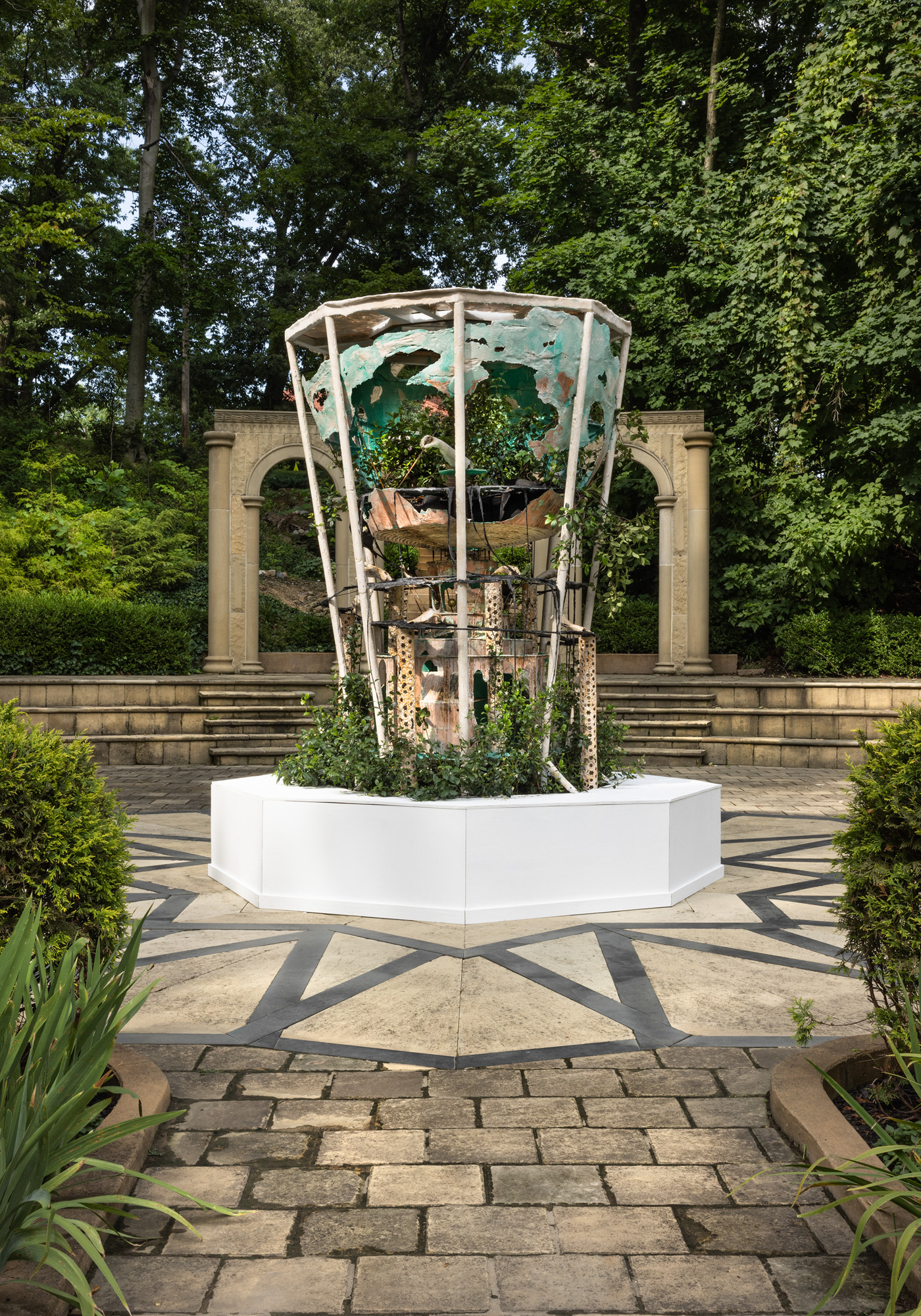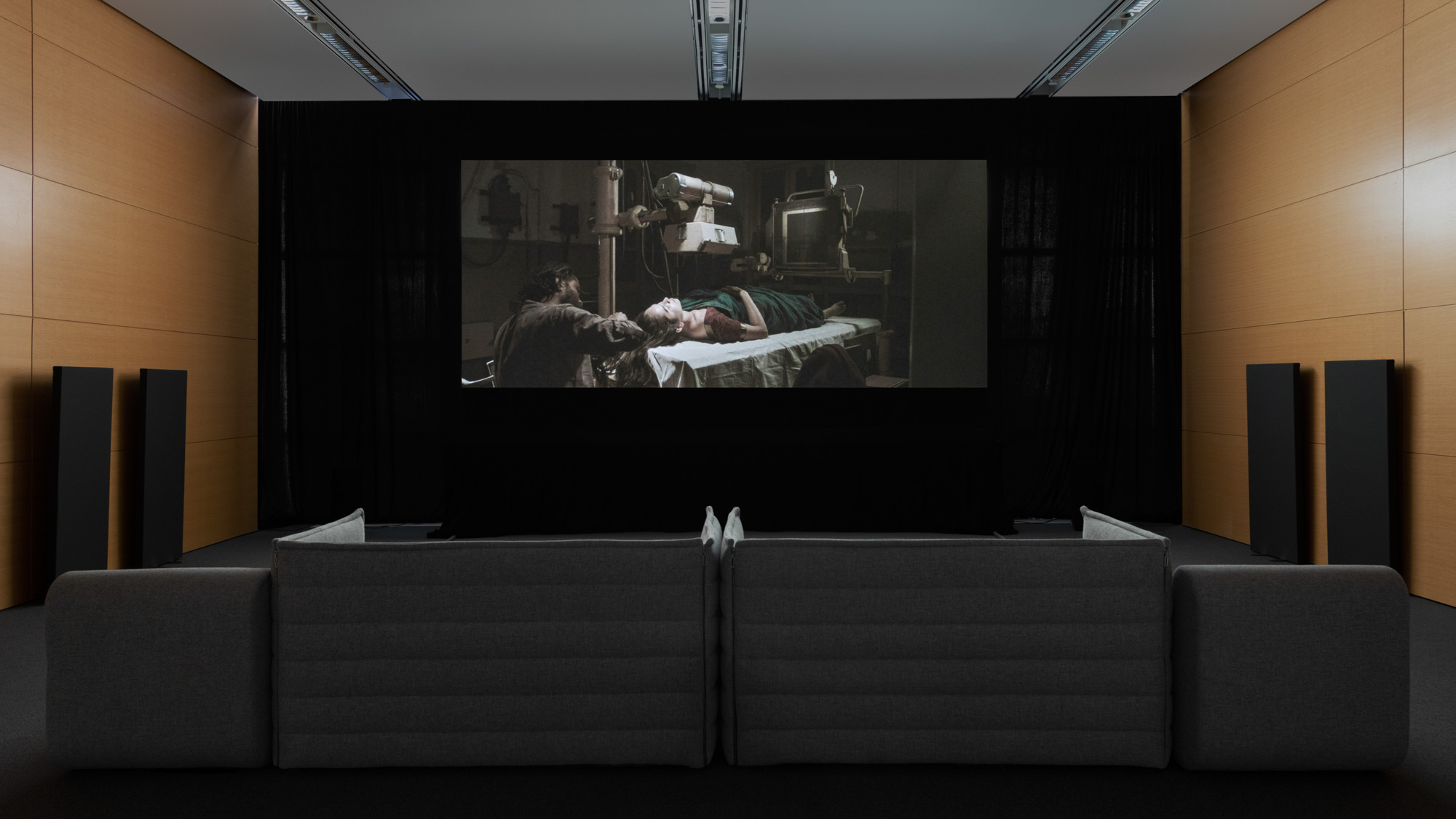 Back in Cleveland, two outdoor projects and a film stood out in the crowd of worthwhile works. Abigail DeVille's The Dream Keeper (2022)—named after a book of poetry written for children by Langston Hughes—comprises 13 figurative sculptures assembled from reclaimed domestic objects. Displayed in a park near Hughes's former home, the sculptures include casts of current Fairfax neighborhood residents' faces. In another park across town, Diana Al-Hadid transformed a fountain at the center of the Syrian Cultural Garden into a symbolic ancient water-clock, based on Islamic polymath Ismail Al-Jazari's design for a scribe clock. The water-clock is surrounded with jasmine, the national flower of Syria. At Cleveland Clinic, Naeem Mohaiemen's compelling 64-minute film Jole Dobe Na (Those Who Do Not Drown) (2020) offers an existentialist view of life and death: a couple relives moments of waiting in an empty hospital where her health fails and he is left only with the memories of their last days together.
A counterbalance to the commercial art market, FRONT's sophomore effort championed works that reflect social and political commentary from a diverse group of artists. FRONT balanced the local and the global to create a biennial unique to Ohio.
Paul Laster is ArtAsiaPacific's New York desk editor.
FRONT International: "Oh, Gods of Dust and Rainbows" is on view across multiple locations in Ohio until October 2, 2022.