First Look at Hayy Jameel
By Paul Laster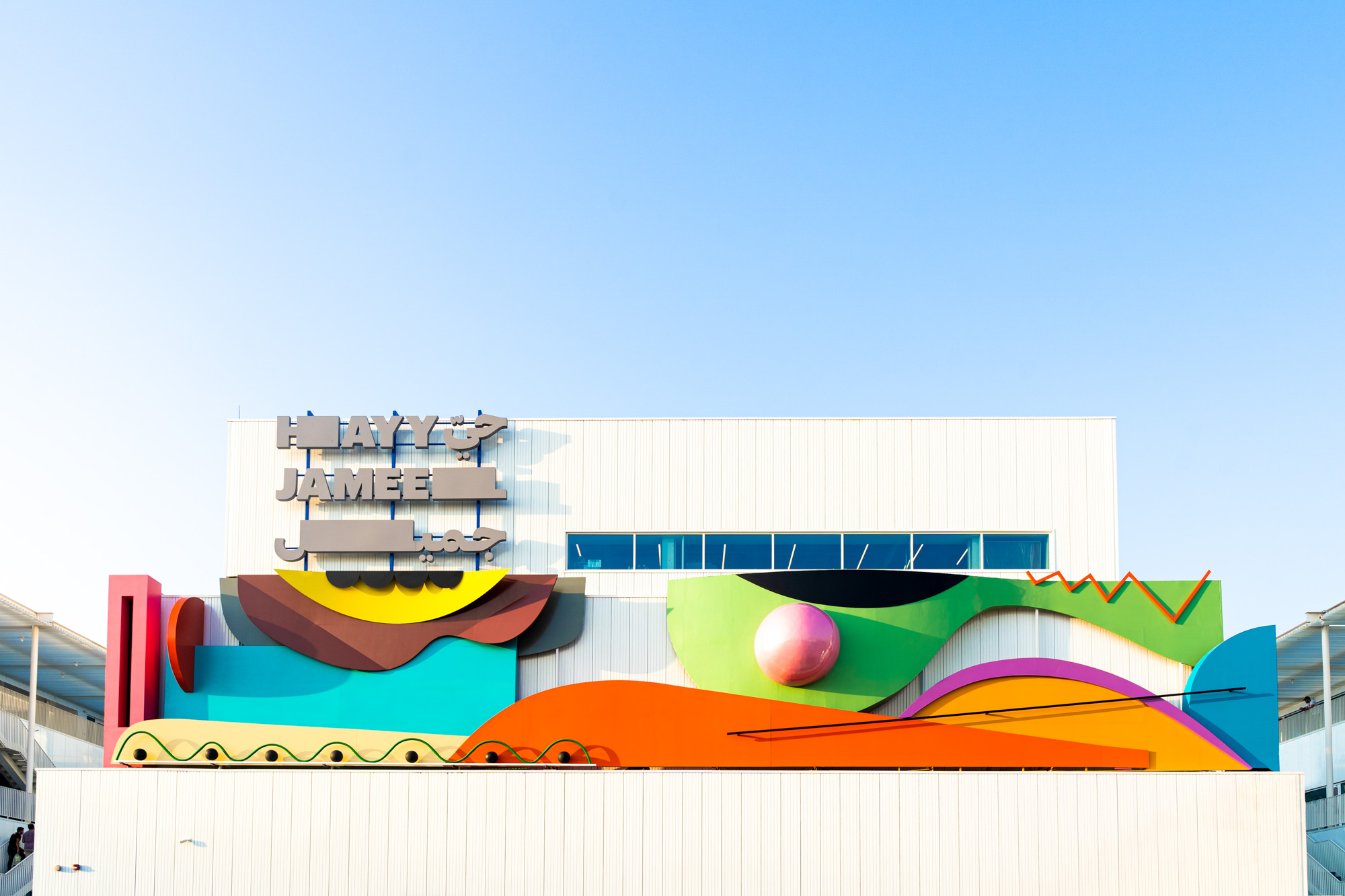 After seven years of thoughtful planning and construction, Hayy Jameel opened on December 6. Managed by Art Jameel, an organization funded by Saudi Arabia's Jameel family, who have a long history of global philanthropy, the new three-story creative complex is located in the coastal city of Jeddah and was designed by the Dubai- and Tokyo-based architecture firm waiwai. The dynamic programming that it intends to offer is reflected in its spaces, which include galleries, design shops, a multi-purpose community area, and an expansive facade presenting artist commissions, all centered around a courtyard peppered with local plants. At the time of launch, artists' studios, a cinema, and a comedy club were still under construction.
"Our programing is focused on building and nurturing creative careers for the future," Art Jameel director Antonia Carver told ArtAsiaPacific. "We want to have a home for the creative community that brings everyone together. We're supporting Saudi artists and curators in building their careers, building audiences, and bringing those audiences together across all of the different art forms, and playing a role to connect Saudis to the rest of the world."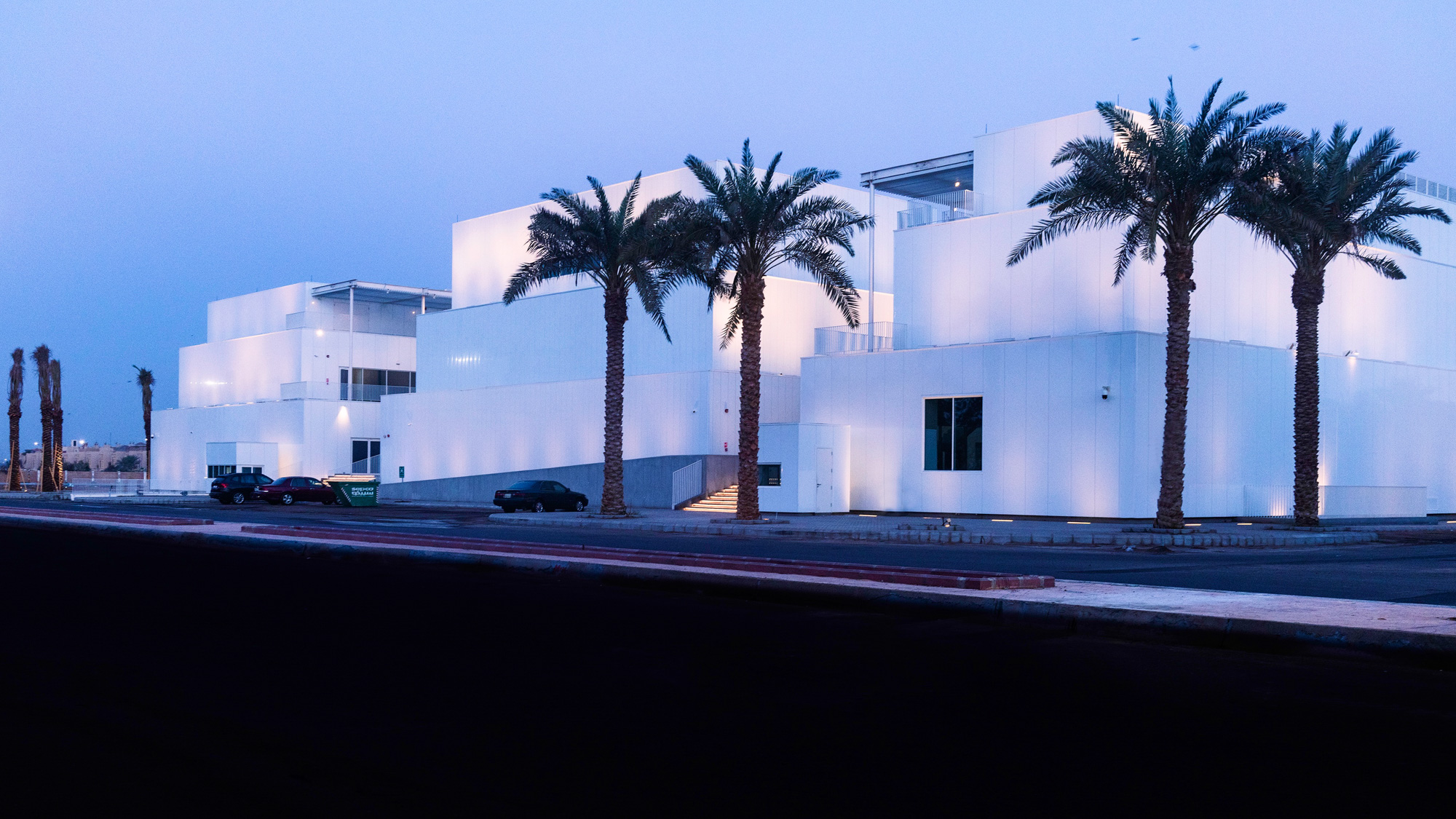 The inaugural season of events enfolded these ambitions. The three main exhibitions include "Staple: What's on your plate?," a group show co-curated by Art Jameel's Rahul Gudipudi and Dani Burrows of London's Delfina Foundation. The 21 featured artworks examine the relationships between food, social structures, and ecologies, both locally and globally, and include commissions developed over a year in a food-focused laboratory. Meanwhile, "Illuminate: A Noor Riyadh Capsule" highlights lightworks by 11 key Saudi artists who were part of a light festival that took place in the kingdom's capital earlier in 2021. For the solo commission "Paused Mirror: The Saudi Artists," Osama Esid photographed artists from multiple generation as he journeyed across the kingdom.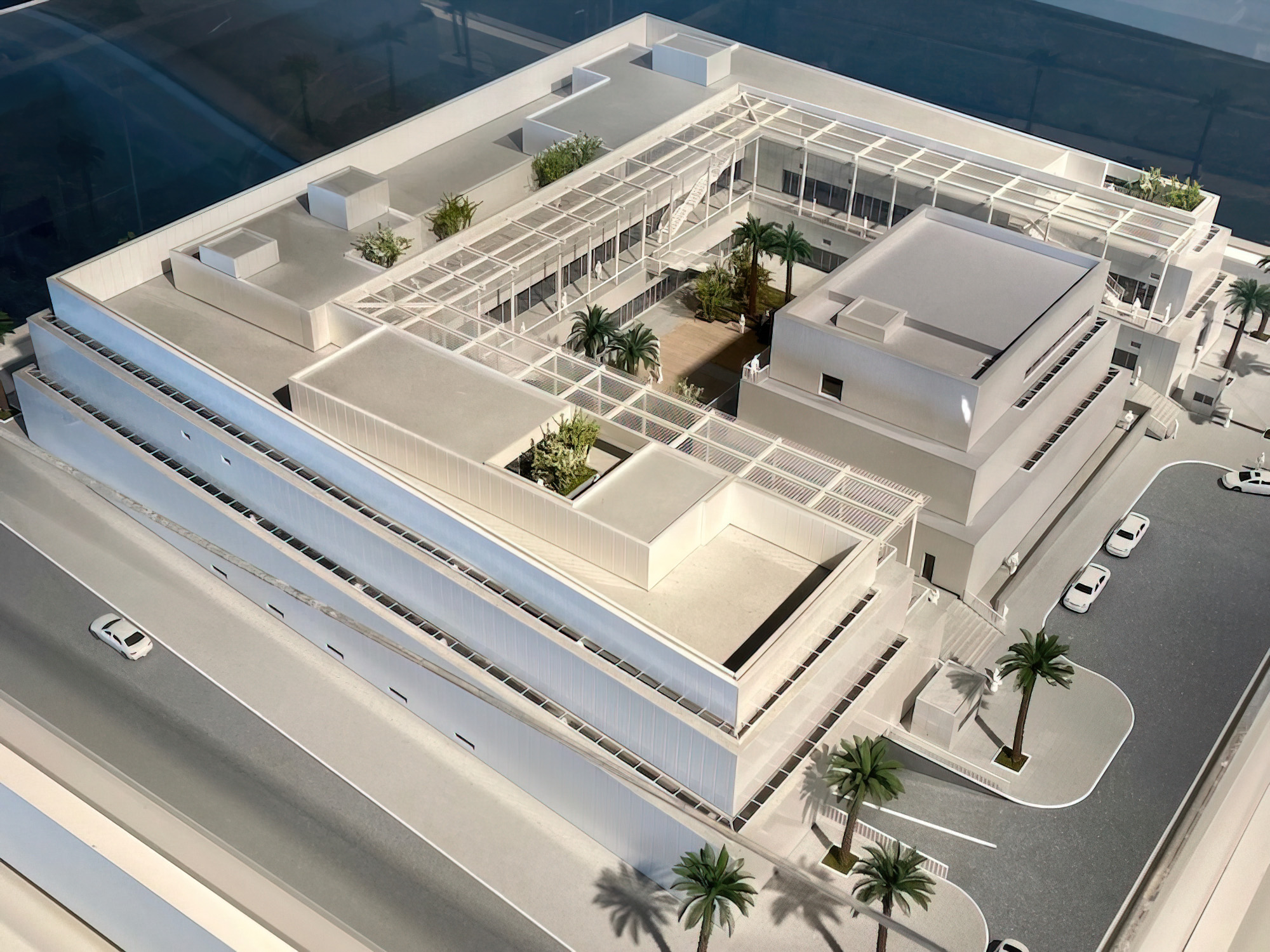 Three additional exhibitions, including the concise "Hayy Jameel: A creative community in the making," which points out the key elements of waiwai's dynamic design for the complete structure; "Tactile Surfaces by Bricklab," an overview of the research and design process by the Saudi architecture studio Bricklab for Hayy Cinema; and the expansive Hayy Jameel Façade Commission, awarded to Riyadh-based painter and sculptor Nasser Almulhim and architect and artist Tamara Kalo, rounded out the opening presentations. As these programs suggest, Hayy Jameel is certain to play a significant role in reshaping the cultural development of the kingdom for many years to come.
Here are some highlights from the inaugural presentations:
In the exhibition "Paused Mirror: The Saudi Artists," a multigenerational tribute, were Osama Esid's portraits of Saudi artists, including Mohammed Khairo, Bakr Shaykhoun, Ahmed Al-Mula, Khalid Al Marzougi, Lubna Ba Haidara, Nujoud Al Sudairi, Azhar Saeed and Hmoud Al Attawi. Esid took the 57 wet-plate collodion photos while journeying throughout the kingdom.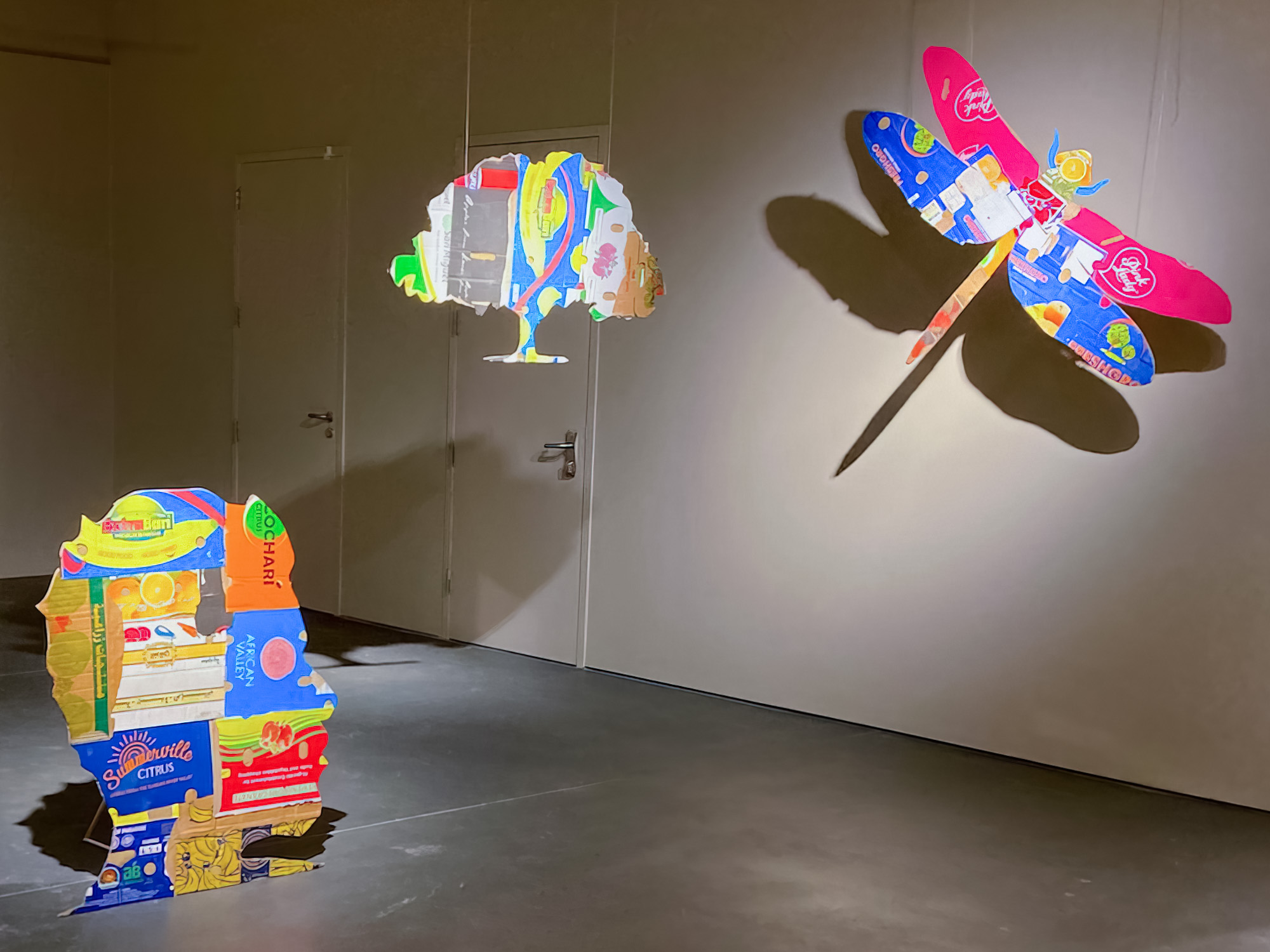 "Staples: What's on your plate?" includes Mohammad Al Faraj's cardboard sculptures from his multimedia installation Jasb Al'aesh (2021). The works were made by collaging cut-up boxes from foods that are imported to meet Saudi Arabia's current demands, which have changed over time as the country has developed and food and family practices have evolved.
The Cercle d'Art des Travailleurs de Plantation Congolaise, a collective of former palm oil and cacao plantation workers from the Congo, makes sculptures that are molded from clay and then 3D printed and cast in chocolate and other natural materials. Previously paid poor wages for their plantation work, they reinvested the profits from the sale of their artworks, such as the sardonic The Art Collector (2015) in "Staples: What's on your plate?," to purchase their own agricultural productions throughout their homeland.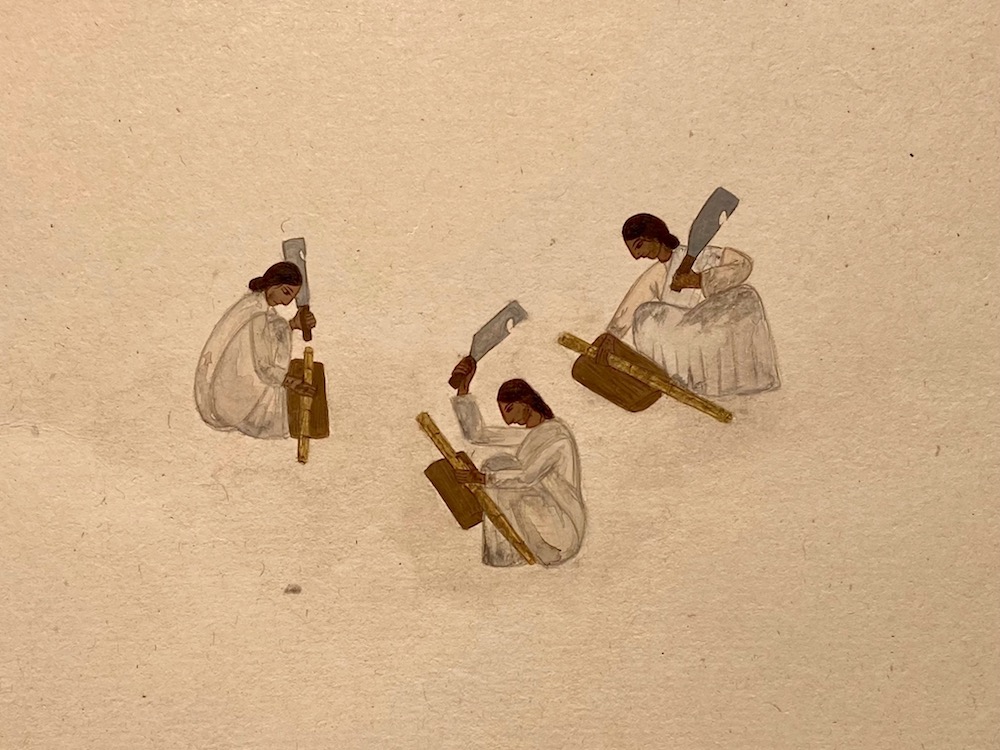 Elsewhere in "Staples: What's on your plate?," Sancintya Mohini Simpson presents watercolor paintings on handmade wasli paper, depicting indentured female laborers who were taken from India to South Africa to work on sugar plantations from the late 19th century through to the early 20th century. Titled And words are whispered (2019–20), the series alludes to the gender issues that permeate agriculture.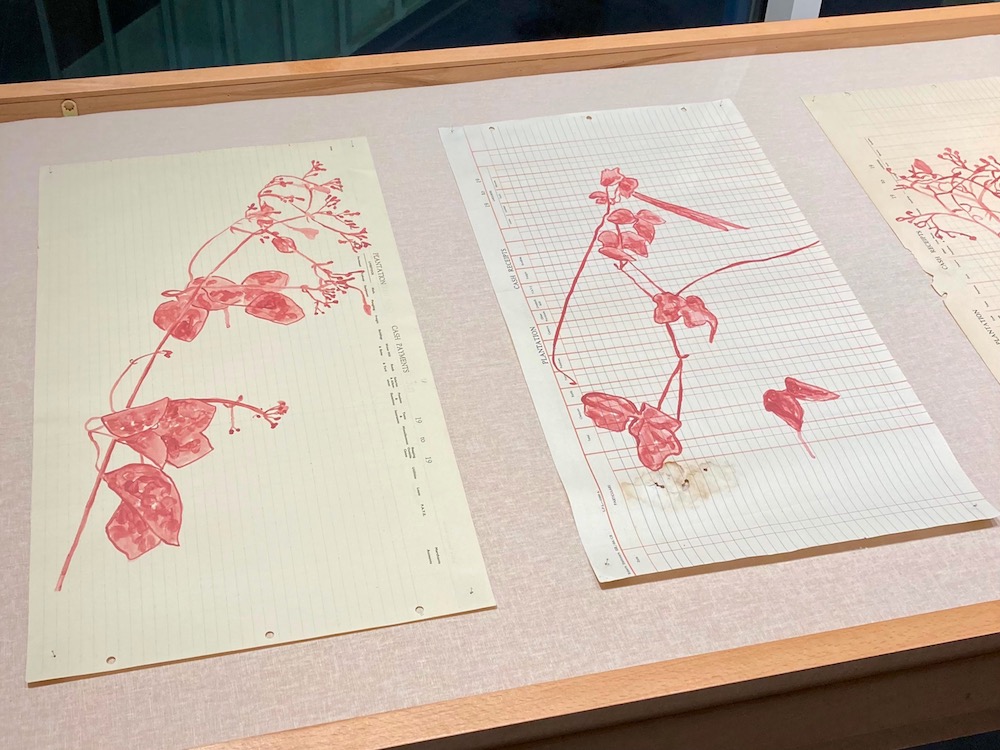 Complicating the monoculture described within the pages of a sugar plantation's ledger, Annalee Davis's Wild Plant Series (2016), also in "Staples: What's on your plate?," records the plants that the artist encounters on her walks around the post-plantation landscapes of her home in Barbados. While primarily referencing the plant life that was plowed under during the time of sugar production, she also draws attention to enslaved laborers' use of these plants for medicinal purposes.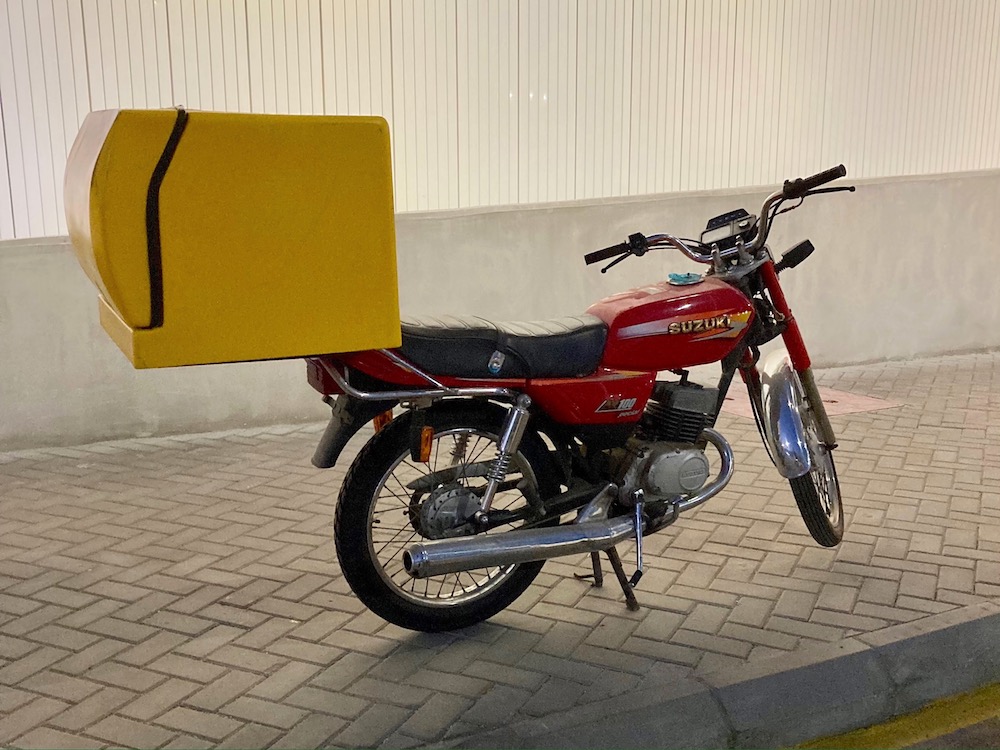 Lantian Xie's mobile installation Home-delivery Motorcycle Parked Outside (2014) extends "Staples: What's on your plate?" beyond the walls of Hayy Jameel, and draws attention to uninsured contract workers who are paid meager delivery fees for their risky labor by multinational food-delivery companies that are valued for billions of dollars.
Exploring issues of immigration, Marwah Almugait's film May We Meet Again (2021), in "Illuminate: A Noor Riyadh Capsule," features performers reciting, and dancing to, spoken poetry expressing loss and longing. Inspired by the kingdom's many immigrant workers who are not allowed to fully partake in Saudi society, the film was commissioned for Noor Riyadh 2021, where it was projected on a water pool on the roof of the Saudi National Museum.
"Illuminate: A Noor Riyadh Capsule" also features Sultan Bin Fahad's Once Was A Ruler (2019). Placed on the light boxes are x-rays of the artist's body superimposed with black-and-white photographs of ancient sculptures of monarchs from the north Arabian kingdom of Lihyan. The work casts the kings of the past as mortals rather than as idolized gods.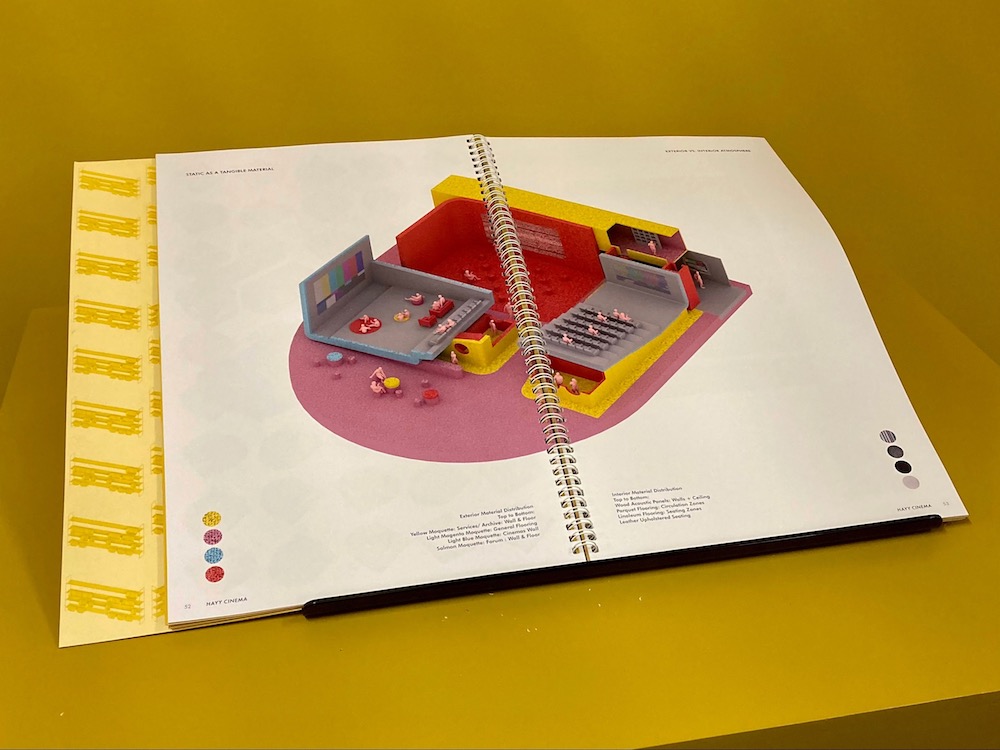 Selected to design Hayy Cinema, which is scheduled to open in April 2022, the Saudi firm Bricklab assembled objects, models, videos, and archival material to visually map out their experimental approach to designing Jeddah's first arthouse cinema in "Tactile Surfaces by Bricklab."
Hayy Jameel's opening season unfolds from December 6, 2021, through to March 2022.