Feng Mengbo's "Long March, Restart"
By Jamie Kulhanek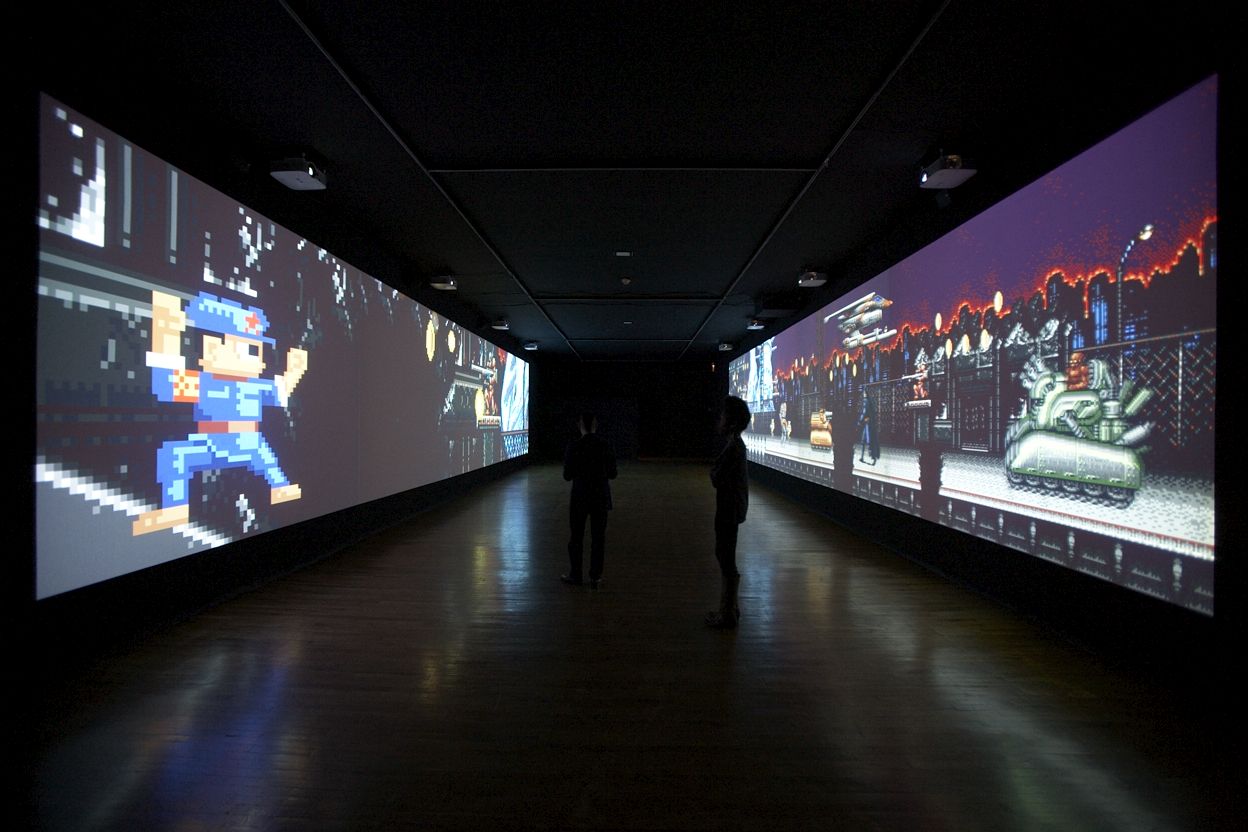 A battle with childhood heroes and villains creates drama in Feng Mengbo's Long March, Restart (2008), a recent Museum of Modern Art acquisition on display for the first time in New York at MoMA-PS1. The dual influences of early consumer video games and the Cultural Revolution are driving forces in the work of the 44-year-old Beijing-based Feng, and Long March, Restart is an interactive video-game installation that fuses the two.
Tucked underneath a first-floor stairwell, one encounters Long March, Restart in a long dark hall. Gallery attendants invite the viewer to take over a wireless controller and engage in a hall-sized projected game in which they are to become a Red Army soldier wielding explosive Coca-Cola cans. One person controls the soldier's actions, while others are spectators as they wait their turn.
Stills of Long March do not do it justice, for the work does more than simply juxtapose Eastern and Western icons as a painting might; interactivity of the icons construct new symbolic meanings. As the player navigates the Red Army soldier through the 14 stages of the game, familiar allies—Mario, the hero from Nintendo's Super Mario Bros., for example—reveal themselves to be villains. One must confront the idea that deeply ingrained roles have been reversed. Motifs from the Communist struggle permeate the game, as the Red Army soldier encounters ray-shooting American astronauts and USSR satellites on the moon. Gigantic monsters and robots from the realms of science fiction also await the soldier on certain battlefields, suggesting a separate fear of the other and technology that is deeper than politics, and not simply resolved by war.
The question of what we are fighting for arises once the game has been completed. The climactic battle at the end of the work does not lead to the rescue of a trapped princess—one is rewarded only with a short pyrotechnic display followed by an abrupt credit line. The perpetual banality of violence propels the narrative, buoyed all the way to the end by a profound disconnect between actions and their implications that builds as a fearsome fighting instinct takes hold in the viewer. Long March, Restart parallels the United States military's current use of game interfaces for training and drone navigation: casualties simply disappear following the fatal blow. Once the player/viewer's heart rate slows and the abstract satisfaction of victory has subsided, one is forced to address how easily we stop thinking.