Entang Wiharso's "A Thousand Kilometers"
By Joseph and Barrie Ann George
On occasion, an exhibition is so visually compelling and packed with sensory details that the audience is drawn into the vortex of an artist's expression and multilayered worldview without the aid of written didactics. This was the case with "A Thousand Kilometers," a dual-venue presentation organized by York College in Pennsylvania that featured the work of Indonesia- and United States-based Entang Wiharso.
A 2019 Guggenheim Fellow, Wiharso engages with a variety of mediums. Saying that sculpture, painting, and metalwork made up the show barely scrapes the surface. His use of aluminum, glitter, and car paint makes for jaw-dropping creations. Upon entry into the darkened Brossman Gallery on the York College campus, one was drawn into the glimmering Unburied Memory (2021), an expansive acrylic-and-glitter painting of two figures, one light-skinned, the other dark-skinned, standing against a shimmering, galactic background. Brightening and fading in a slow pulse, the spotlights turned on the composition appeared to give life to the two-dimensional forms. The effects of the glitter, including the interplay of light and shadow and distortion of viewers' perceptions, were key to the work and were further enhanced by the surreal rendering of the black figure, whose face and toes are pointed in opposite directions. In these twisted perspectives, Wiharso confronts us with how we see each other, and how our views are often warped by sociopolitical systems, as well as, in this case, by the very material that makes up the image itself. Touching on the recent resurfacing of racial-inequality issues in the US, the painting also underscores through its mutable qualities how racial dynamics and social identities are constantly shifting, despite often being seen as static and not up for debate.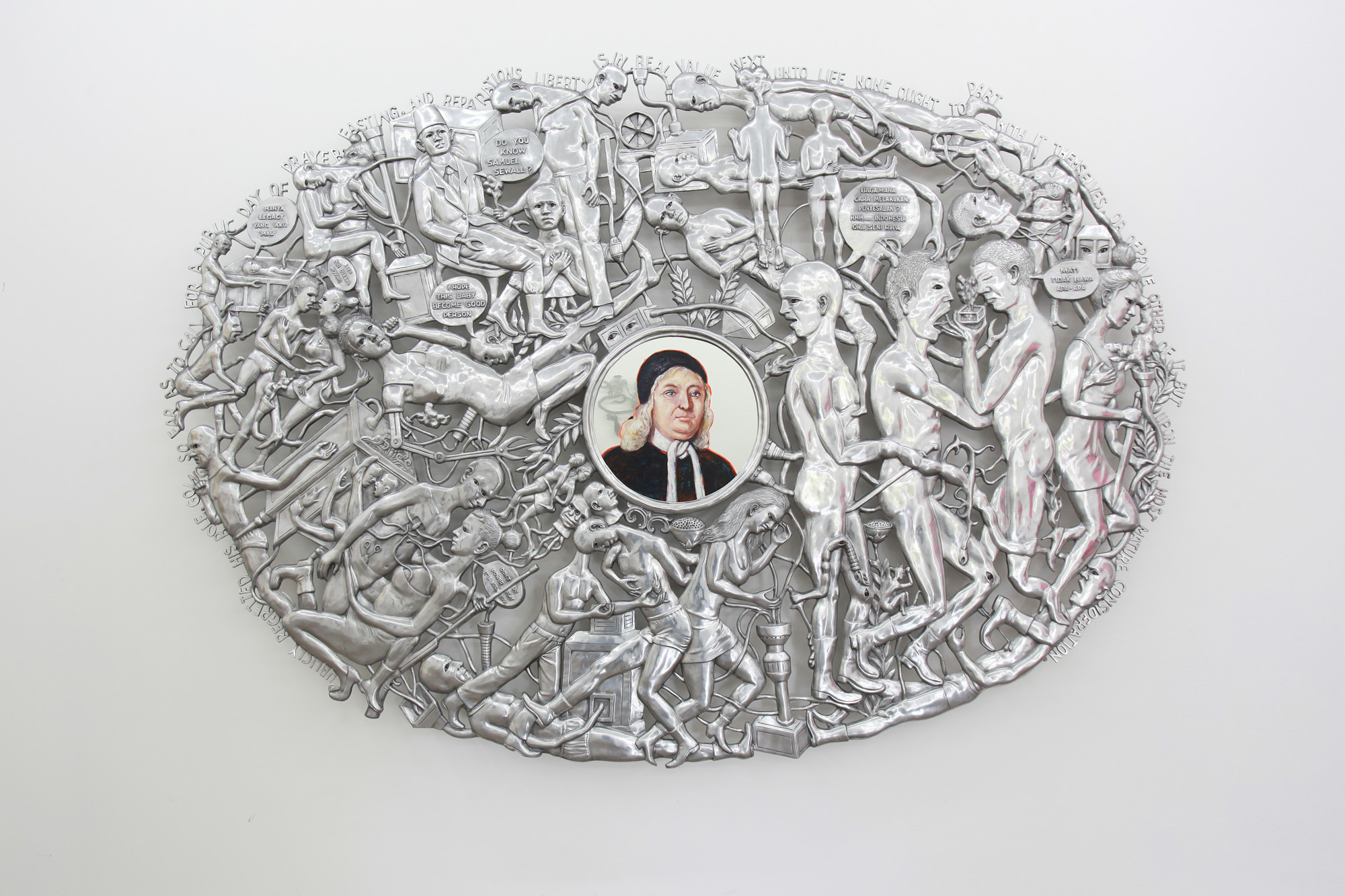 Visually captivating projects abounded elsewhere. Hung in the far end of the adjoining Cora Miller Gallery was the mixed-media installation Perfect Mirror (2013). At the center of the work is a mirror partly painted over with the likeness of Samuel Sewall, the only judge from the Salem Witch Trials who openly admitted his guilt for wrongfully accusing 19 people of witchcraft and condemning them to death, and who later became a strong voice in the fight against slavery. In an artist talk, Wiharso contrasted Seawall with judges who make mistakes but don't admit so. As human beings, it's often hard for us to acknowledge our errors, and, as viewers might realize while catching their own reflections in the mirror, we only see the parts of ourselves that we want to see. Wiharso's veneration of Seawell extends into the portrait's intricate metal frame, of figures interconnected with wires and veins. A speech bubble floating above one of them says, "Mati tidak bawa apa apa" (death brings nothing), echoing Seawall's 1700 anti-slavery declaration wrapped around the metalwork's edge: "Liberty is in real value next unto life."
In the center of the same room was A Thousand KM (2014–15), an installation of two life-size figures, one man, one woman, who stand facing each other, each clad in intricate, metallic garb and with a blade in their hand. A decapitated head lies on the floor at their feet. A witness is seated nearby, overlooking the scene—however, they are blinded by the metal case that covers their head. According to Wiharso, the visual anecdote departs from an incident where the artist experienced racist comments at a store in the US; upon hearing about this, his wife leapt to his defense and called the store owner. With the male figure representing himself and the woman representing his wife, Wiharso alludes to how people often take up arms to protect the ones they love, though sometimes these acts can come at the cost of others—blinded by our own biases, we are all susceptible to becoming parts of violent systems.
The exhibition continued in downtown York, at Marketview Arts, where audiences encountered four Camouflage Portraits (2020). Each painting is a textural delight, of vibrant colors rendered in patches of acrylic and glitter. Like in Unburied Memory, glitter functions here as a means to diffuse light, obfuscating the exact contours of the faces in the paintings. Wiharso thus draws attention once more to the inaccuracies and contingencies in how we perceive each other. Contrasting this haziness, however, are lifelike pairs of eyes looking out from the canvas. Their eerie, realistic, gaze is both unsettling yet familiar, pointing to omnipresent surveillance.
The expansive space of Marketview Arts was a perfect setting for larger pieces such as Kaleidoscope (2017–18), a six-meter-wide triptych. The painting depicts chaotic, cacophonous scenes with half-dressed, sheepish men and mutilated bodies populating a mélange of domestic and exterior spaces. The density of the swirling, surrealistic image recalls the urban sprawl of Indonesia and the convoluted history of Wiharso's dual homelands. Connecting the figures are intestines, wires, and pipes. As the pandemic has shown, we are more entwined than ever; our actions affect each other across the globe, and there is something both reassuring and unsettling about this.
Wiharso's paintings and installations combine personal experiences and universal truths and tug at audiences to delve into issues around inequity and prejudices. One need not be familiar with Indonesian art, history, and politics to be engaged with his works. The lines he draws between cultures and histories offer an unparalleled visual experience that leaves the viewer curious and eager to see more from one of Indonesia's most provocative and engaging artists.
Entang Wiharso's "A Thousand Kilometers" was on view at York College's Marketview Arts and Brossman Gallery and Cora Miller Gallery, from September 3 to October 16, 2021.