Do Ho Suh's "New Works"
By Marybeth Stock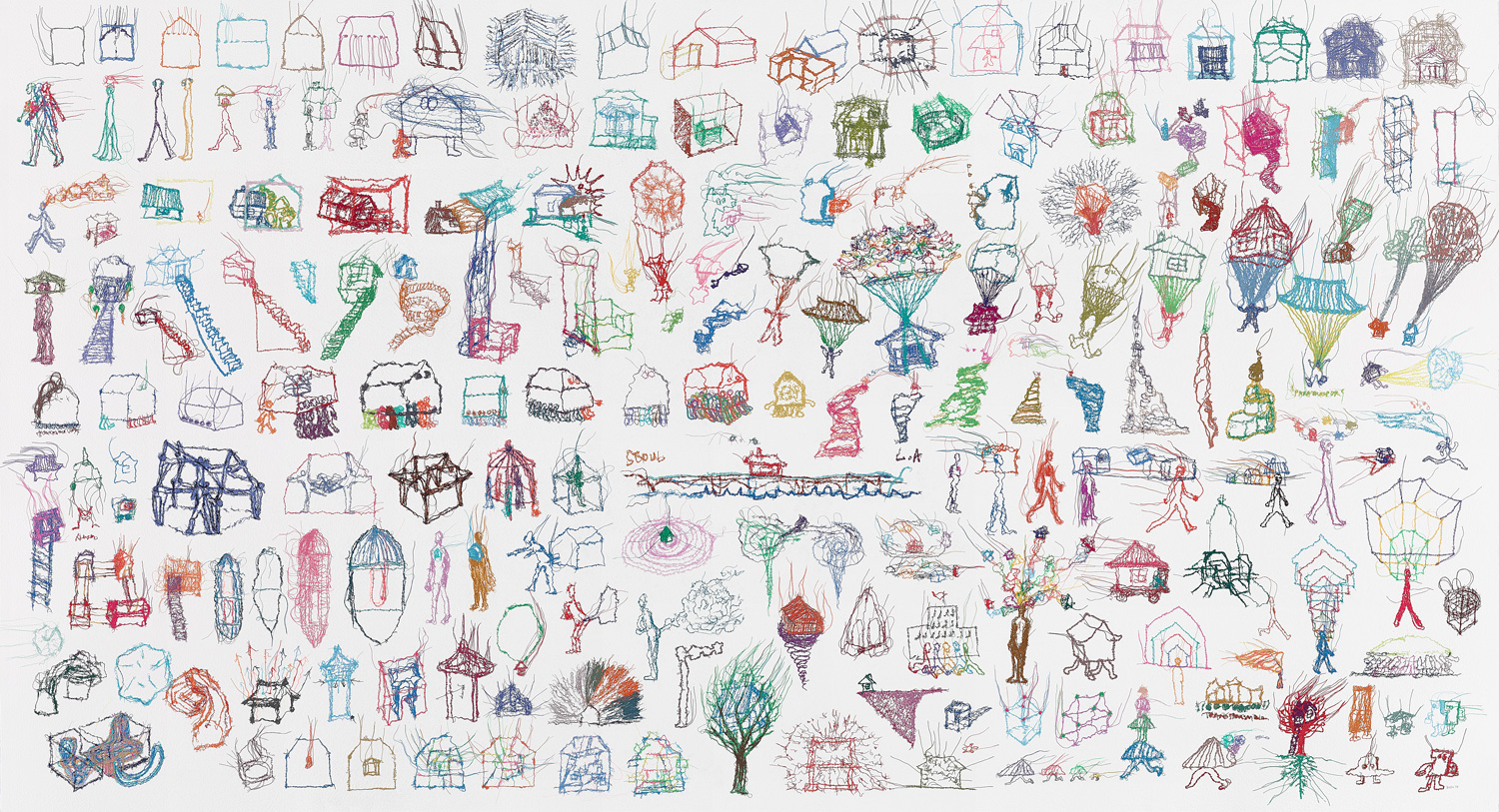 In "New Works" at Singapore Tyler Print Institute (STPI), Korean artist Do Ho Suh fills the gallery with playful pastel rubbings, lithographs and unique "thread drawings." His self-referential works recapitulate the artist's ongoing entanglement with subjective context and physical circumstance. Suh, a sculptor and installation artist, is best known for his full-scale fabric installations, where he meticulously re-composes the architectural space of his past homes. Many involve translucent, tinted fabric stretched over a structural framework—not only of an entire house or apartment, but of appendages like sinks, radiators and washing machines. These are not based purely on memory (they are painstakingly revisited and mapped out), nor are they clever reproductions; they are literal, unsentimental transcriptions of nostalgia. Suh continually re-inhabits these personal assemblages of volume and space, collected and cherished since childhood.
As part of STPI's residency program, which culminated in the exhibition, Suh worked with handmade paper to create distilled, two-dimensional variations on these and other themes. Upon first entering the central gallery, visitors are drawn to Suh's sculptural pastel rubbings on paper. His thickly "embossed" imprints, which are lightly nuanced with pastel, depict room features such as light switches, fire extinguishers and door handles. These could be considered droll outtakes from the artist's separate series of sepulchral, full-scale paper rubbings of entire rooms; but in fact they are elements from the "architecture of space" that the artist encountered during his weeks at STPI—his own tangible mementos of familiarity.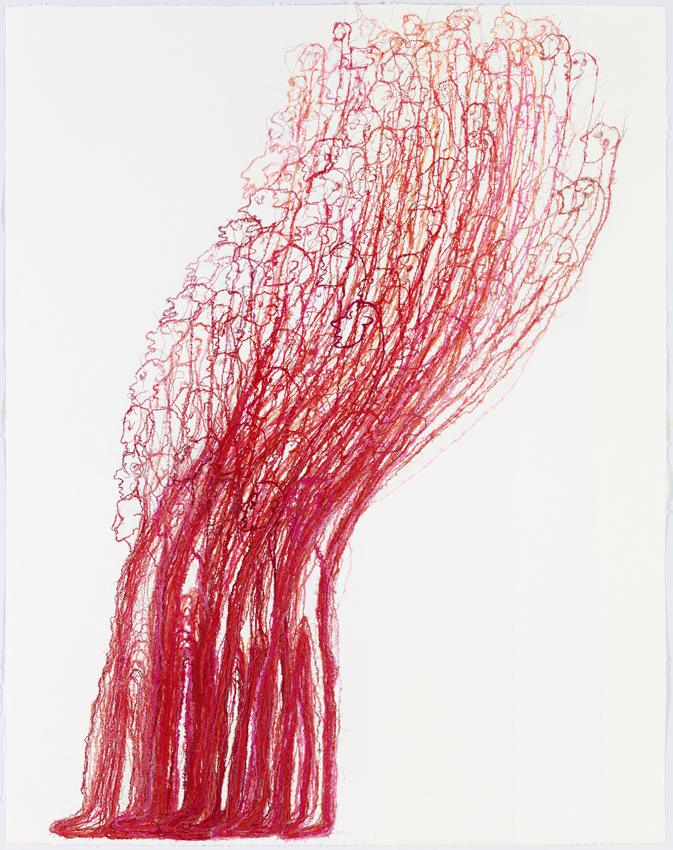 This was London-based Suh's second residency at STPI. It was during his first visit in 2010 that the artist conceived his thread drawings that comprise delicate exultations of colorful threading embedded within thick handmade paper. In a unique process conceived in collaboration with STPI artisans, Suh's original drawings are transferred onto gelatin sheets, and their outlines are sewn in strata of variously colored threads. The gelatin sheets are then immersed in paper pulp, where they dissolve, leaving only the artist's gestural sketches of thready color and texture within the thick, handmade paper. Suh elaborated on this technique in "New Works," recalibrating his customary architectural motifs alongside self-images. In the latter, he portrays silhouettes and profiles in frenetic, repetitive progression and expansion. One gallery hall is lined with works in varying sizes and iterations of color, all depicting scores of such figures and many titled Myselves (2014), where multitudes of forms emanate from thickly massed, threadwork legs, morphing into wispy filaments of loosely rendered faces.

Most of Suh's figure-based works at STPI involve robust collages consisting of multilayered striations of thread. One of the works entitledMyselves is a nearly two-meter-tall threadwork in blazing, vital red; a smaller work comprises a modest clutch of cool blue silhouettes. In these and additional works like Karma (2015), Suh's forms transition upward and forward as if striding through space and time; others, as in I Am Your Conduit (2014), are wreathed in questing threads. One exception is the singular Father and Daughter (2013), where a solitary black-threaded figure is shown sprinting alone, crowned by a pink, goddess-like female.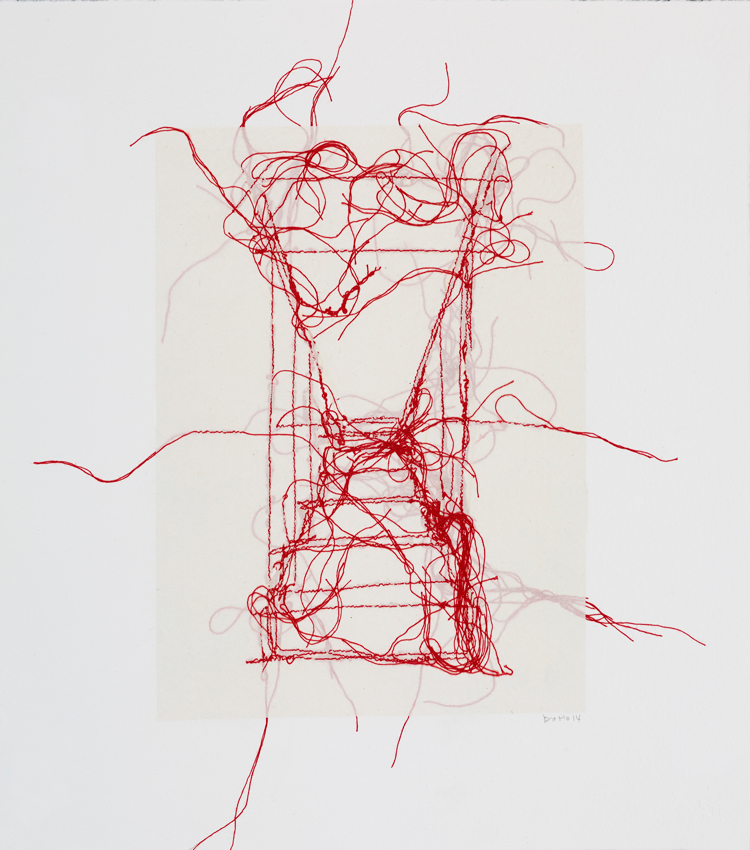 The large-scale threadwork My Homes (2014) is a composite of hundreds of naïve images that include his ubiquitous houses—many ingenuous and rudimentary, others embellished with legs, wheels, parachutes, people, color and dimension. Hanging nearby in the gallery, among some dozen smaller, idiosyncratic house- and figure-based variations, two scribbly red threadworks titled Staircase (2014) are overlaid with a bit of gossamer fabric, evoking the dimensional translucence of Suh's installations.
Suh is one of a handful of artists whose vocabulary is architectural memory. British artist Rachel Whiteread's massive castings of negative interior space, for example, are ponderous monuments to a shared past, just as Suh's installations are aims at its diaphanous reduction. Perhaps closer in spirit to Suh's intent are the works of Indian-born American printmaker Zarina Hashmi, another itinerant whose unsentimental explorations of "home" include minimalist floor plans and rudimentary outlines of buildings where she has lived around the world.
Suh's careful, unpeopled installations are frozen in time and never indulge in regret, and there is something dispassionate and tenuous about their nostalgia. But the artist's "New Works" on paper are brisk: they are loosely rendered, absurd and quirky. Through houses sprouting wheels, parachutes and legs, and unbound self-images that juggle, sprint and fly, the artist transposes the sober confines of memory into lively allegory.

"Do Ho Suh: New Works" is on view at Singapore Tyler Print Institute until January 2, 2016.