Dinh Q. Lê's "The Thread of Memory and Other Photographs"
By Julia Tanski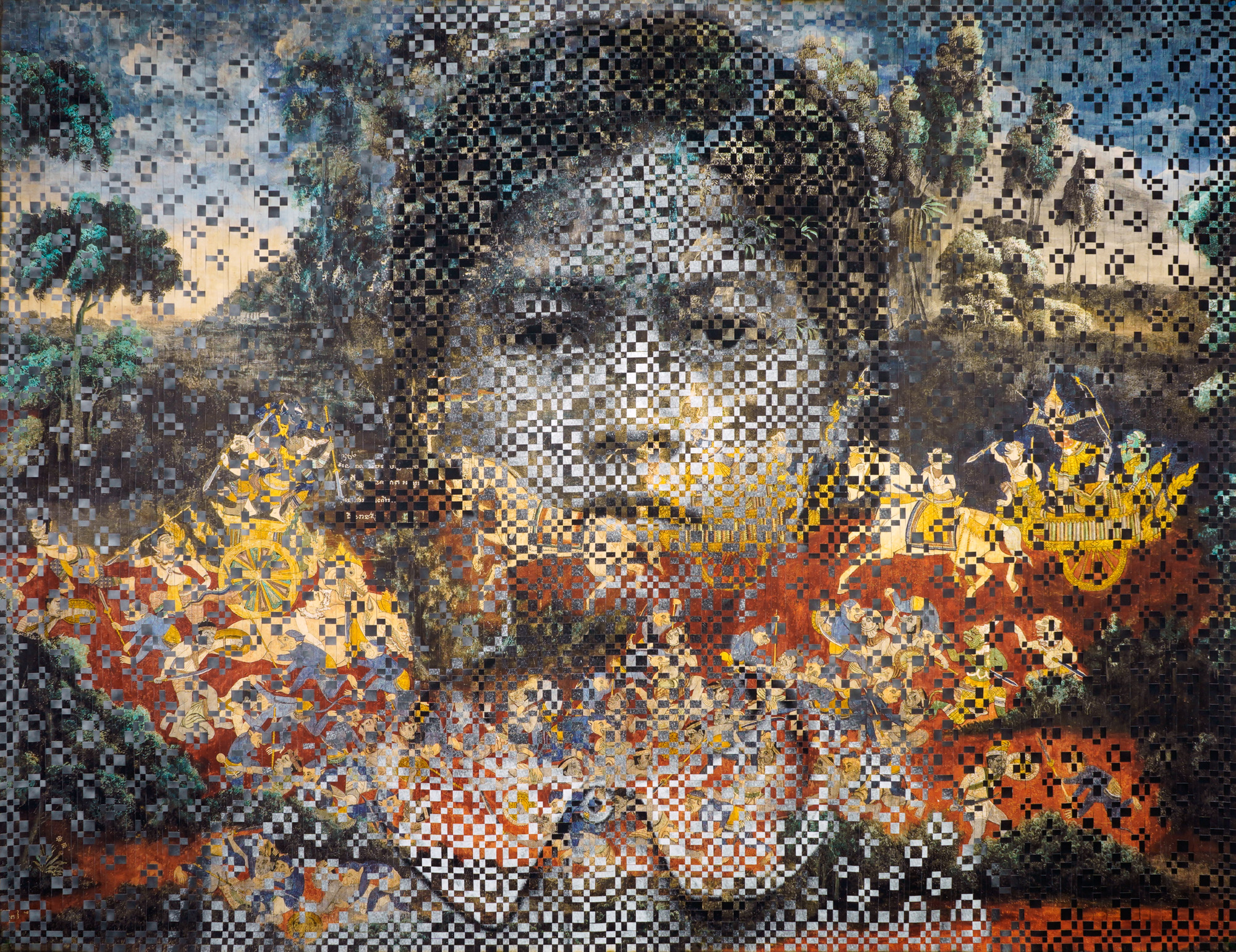 Upon seeing Dinh Q. Lê's work, one's instinctive reaction is often to move closer. Lê's meticulous photo-weaving process, inspired by Vietnamese grass mat weaving, creates intricate collages of found images that tie identities, histories, and memories engrossed in conflict and displacement. His retrospective at Musée du quai Branly in Paris allows for a wide-angle vision of his socio-historically-charged, layered photographs, installations, and videos, dating from 2004 to today. Current geo-political crises can be mirrored in these works, with oppression and power-induced strife affecting communities across the globe.
This is the second time Lê has been exhibited at the Musée. The first time was as part of a group show on photography in 2020, where his mosquito-net-like installation, Crossing The Farther Shore (2014) was shown. Another woven photo-installation was at the center of this solo exhibition. Adrift in Darkness (2017) features three, hanging, black-and-white boulders, created with tiny portraits of the recent refugee exodus from Africa and the Middle East woven compactly together with rattan.
Lê and his family were forced to leave Vietnam in 1978, living in refugee camps in Thailand before moving to the United States. "[Adrift] takes reference from the images of people packed so tightly on a rickety old boat [. . .] As one who did the same to escape the harsh Vietnamese communist regime at the time, issues of this mass exodus and the fear and rejection of Europeans have been on my mind lately," Lê explains. Paradoxically, in this sea of abandonment, the rocks float.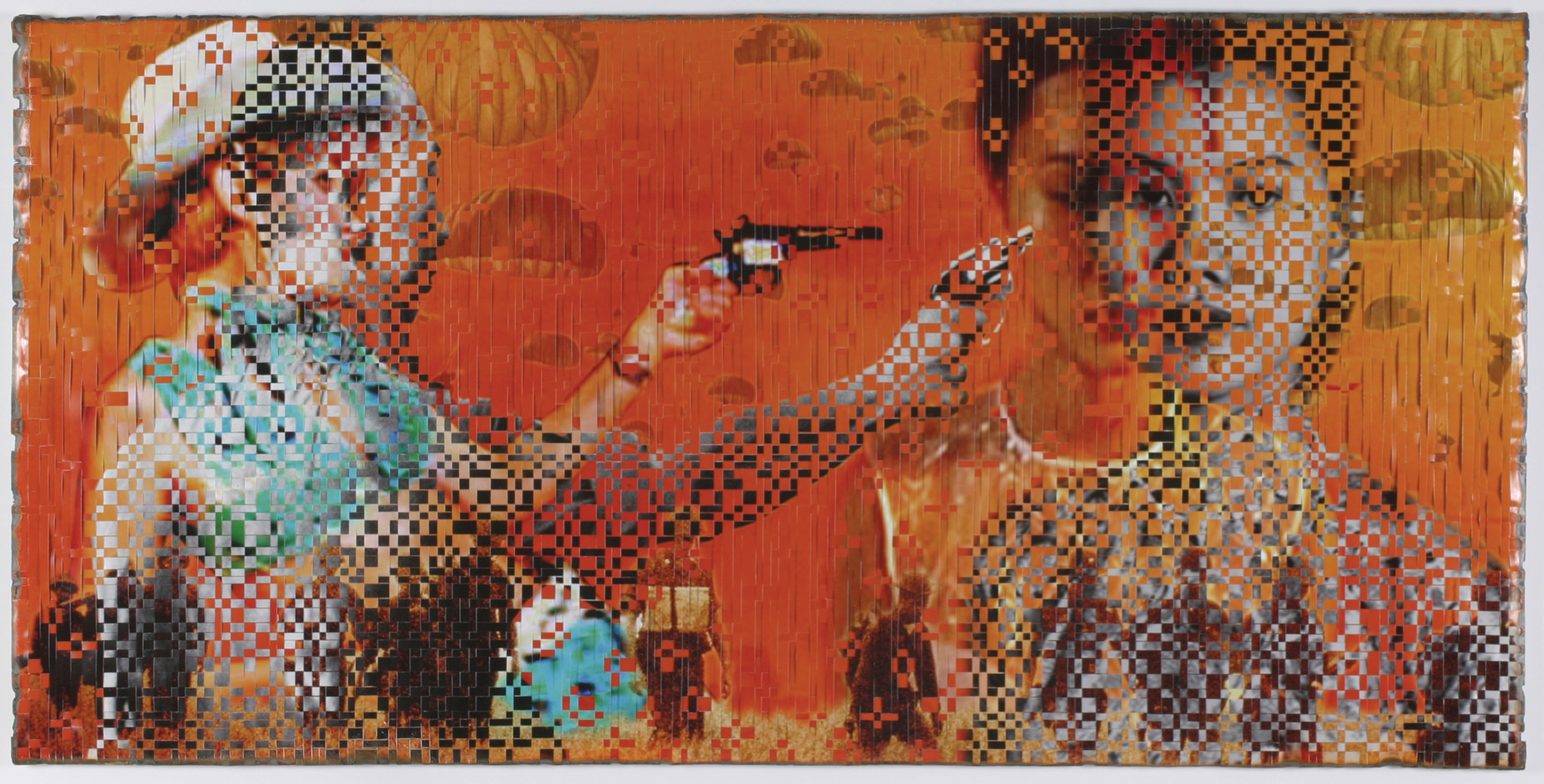 This play on the elements is also present in the series "From Vietnam to Hollywood" (2003– ), with works such as Untitled 9 (2004), where stills of American war films and images of Vietnamese people during the Vietnam War are interwoven against a background of orange fire. The weaving's contrast of color and black-and-white heightens its disorienting effect, alluding to the chaos of war. Lê's vision, derived from his exposure to the American imaginary and personal experience, juxtaposes fictitious and propagandistic depictions of war with its realities, becoming a unique testimonial of this period and its tremors in the present day.
Part of another series, "Cambodia Reamker #11" (2021) uses the same weaving technique but with former prisoners at Tuol Sleng, the S-21 extermination center, as its main subject. Brutal realities of Tuol Sleng are fused with the Khmer Reamker relief at the Royal Palace of Phnom Penh and Angkor Wat. Depicting the extreme oppression a culture is capable of, the series forces broader questions of humanity as a whole.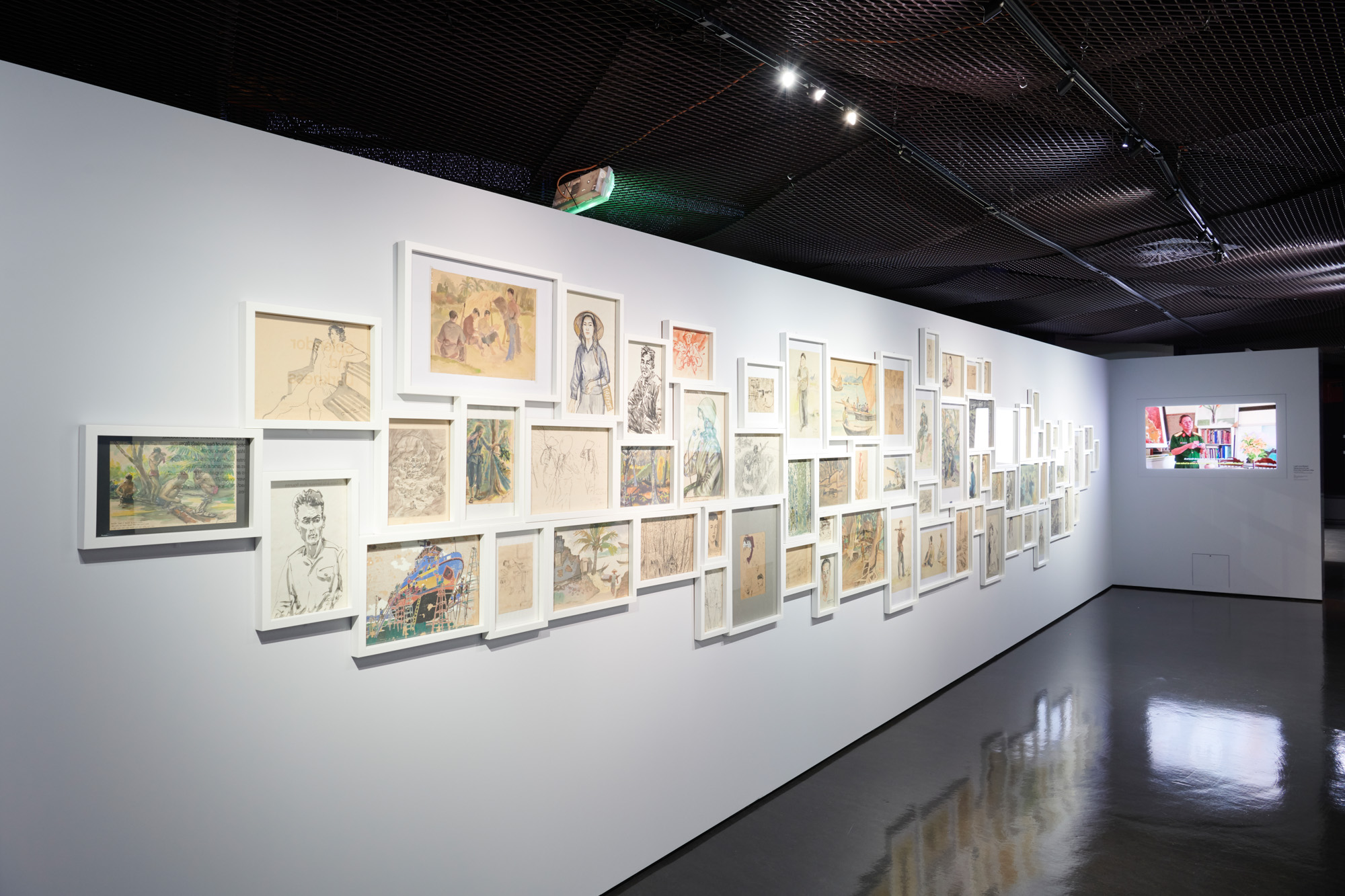 Nearby, the video-installation Light and Belief: Sketches of Life from the Vietnam War (2012) brings together drawings by artists who were sent alongside North Vietnamese soldiers to document the war effort during the Vietnam War, and a documentary filmed by Lê of the artists sharing their experiences as artist-soldiers. Their stories, which include junctures of joy amidst the turmoil, add to the cacophony of perspectives that Lê's works offer, further complicating generalized ideas of individual experiences in conflict.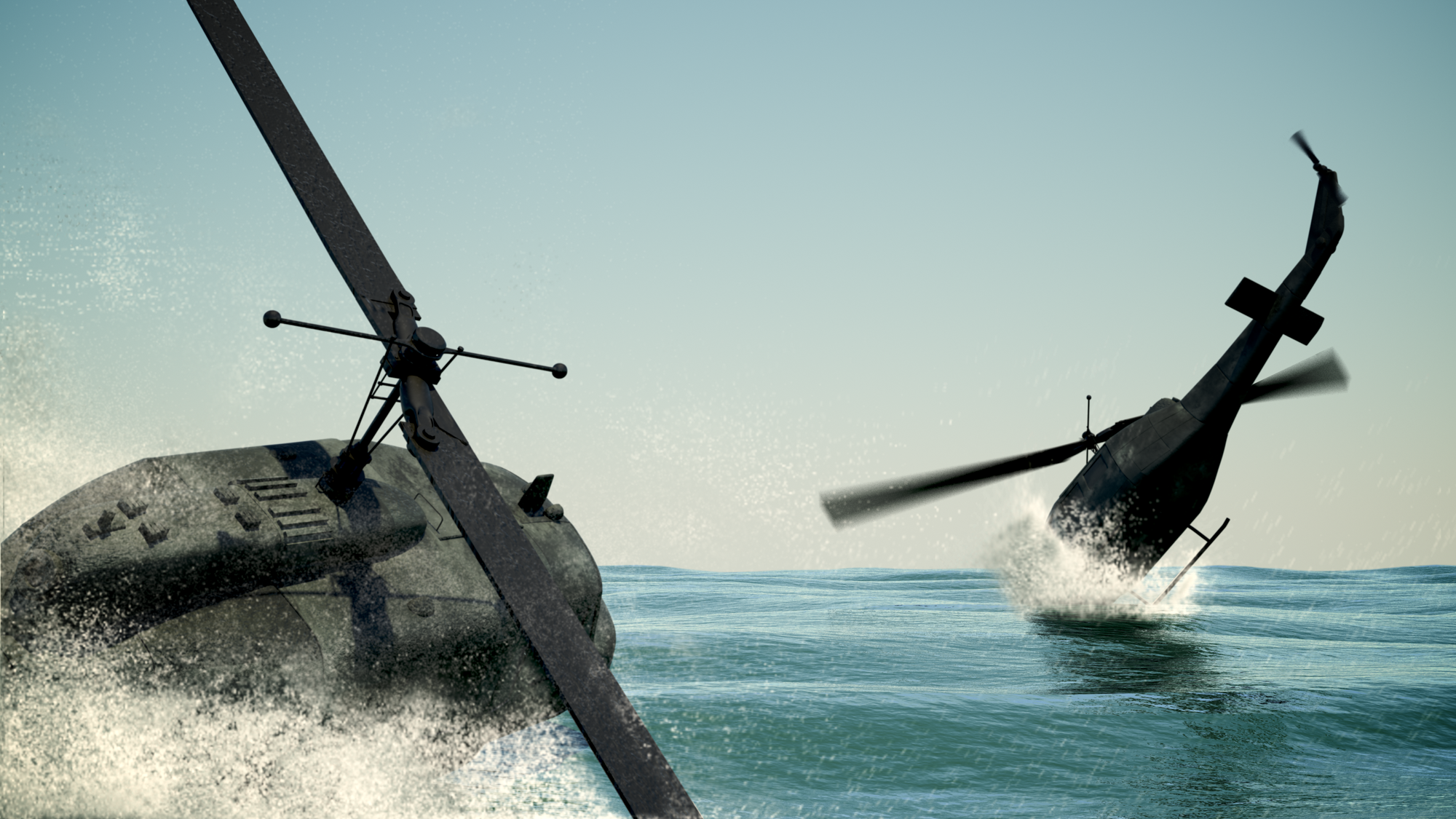 South China Sea Pishkun (2009), visible diagonally from Light and Belief, is another video work. It combines footage of a peaceful sea with synthetic images of helicopters crashing into the water, recalling Operation Frequent Wind, the mass evacuation of Americans, their allies, and locals in South Vietnam via helicopters in 1975 during the Fall of Saigon. Pishkun is an Indigenous American term referring to a hunting method where bison are urged to jump over a cliff en masse. Here, the helicopters are similarly nosediving to their demise in the sea.
Below the exhibition space are the museum's collections of South and Southeast Asian art, including sculptures and weavings from the ancient Khmer and Cham cultures. The dialogue created between these antique pieces and Lê's works is poignant, enabling the viewer to constantly refocus, redirect, and recharge their understanding of the exhibition with broader historical contextualization.
That his photography-based works could be experienced in different ways—as sculptures, videos, and tapestries—is indicative of Lê's use of photography. He uses it less as a means unto itself and more as a resource, "a matter to be transformed." Zooming in and out, the audience put themselves into the position of the artist, occupying a space between the United States and Vietnam, between the imaginary and reality, constantly meditating between varying perspectives of history.
Dinh Q. Lê's "The Thread of Memory and Other Photographs" is on view at Musée du quai Branly, Paris, until November 20, 2022.