Confronting Divergent Realities at the Sigg Prize 2023
By Alex Yiu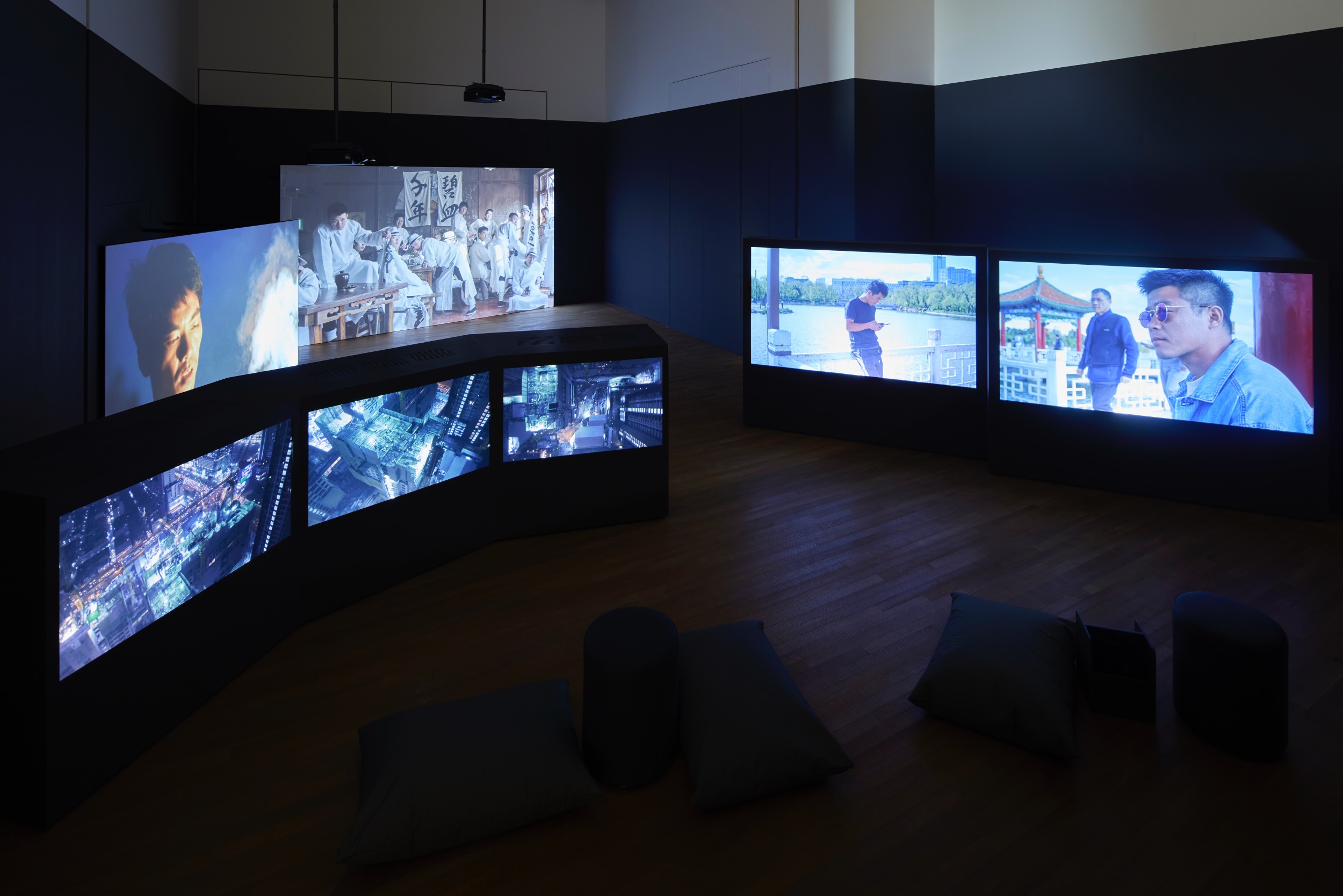 SEP 22–JAN 14, 2024
Sigg Prize 2023
M+, Hong Kong
The second edition of the Sigg Prize for artists from greater China, organized by M+ in Hong Kong, offered fragmented reflections on post-pandemic life. The works by the six shortlisted nominees—Jes Fan, Miao Ying, Wang Tuo, Xie Nanxing, Trevor Yeung, and Yu Ji—demonstrated a disjointedness of theme and energy in an exhibition assembled without much clear curatorial direction, as with many prize exhibitions. Yet with various forms of anxiety hanging over the present moment—from financial turmoil facing M+ to the Chinese economy at large—the Sigg Prize 2023 offered the potential for escapism from the downturn, the climate crisis, and geopolitical conflict.
There is an air of grandiosity in the multiscreen installation of Wang Tuo's multipart film cycle, The Northeast Tetralogy (2018–21). Despite its shan shui painting-like setting of multiple projections and monitors arranged as a vertical landscape, the subjects of Wang's four films are inspired by real-life historical and contemporary figures: a migrant worker in modern China hovering between dream and reality; a student intellectual who died during the May 4th revolution in 1919; two North Korean soldiers stranded during the Korean War (1950–53); and a migrant worker who committed homicide to avenge her mother's death. The characters here reveal historical tragedies through a rhizomatic montage of intersecting narratives, perhaps serving to channel emotions that are forbidden and taboo in contemporary Chinese society.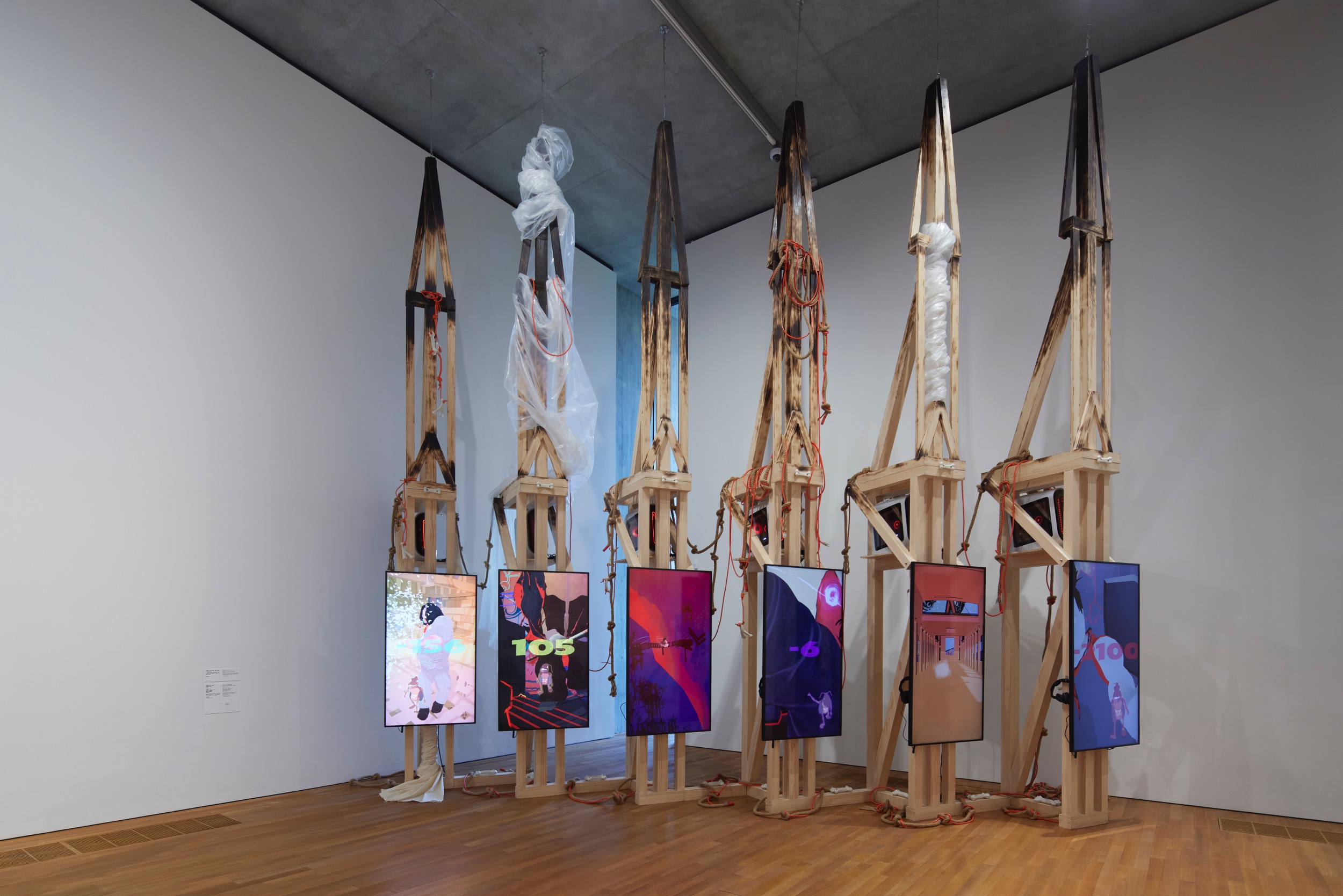 Echoing the epic scale Wang's installation, the New York-based artist Miao Ying is arguably even more ambitious with her neo-Wagnerian multimedia work Pilgrimage into Walden XII (2019–23), comprising an AI-simulation on the game engine Walden XII of Miao's medieval fantasy land, which viewers experienced in the gallery as well as on their smartphones. The multicomponent project is a reminder of our hypermedia environment in which data continuously circulates. Although Wang says that her works serve as a commentary on Chinese internet culture, one can see a significant influence from Ian Cheng's similar AI-based works, Emissaries Trilogy (2015–17), which also employ simulation to reflect on folklore and mythology. But Cheng's older works now look simplistic in comparison to Wang's Pilgrimage series, which merges pop-cultural references such as the games Dungeons & Dragons, Neopets, and World of Warcraft.
While Wang Tuo and Miao Ying showcased their "into-the-world" attitude through a matrix of history and media, Yu Ji's works in the exhibition have a somewhat "out-of-the-world," anti-art attitude underlying them. For Jaded Ribs (2019), Yu suspended a gallery-sized hammock filled with industrial debris collected during her stay in Hong Kong. Additionally, Yu presented several sculptures with an in-progress feeling, such as a partial concrete cast of a torso on a worktable and a ball-like installation of tangled rebar with a minuscule concrete sculpture of a similar body. With these works one was reminded of the Chinese contemporary phenomenon of tang ping, or "lying flat," associated with Chinese youth who reject any attempt at social mobility in order to detach themselves from the frenetic pace of urban life. As the artist observed the "eroded and damaged" architecture of Hong Kong during her research, the artistic outcome feels desperate and destructive, yet at the same time realistic and irreparable.
Observations from reality were also observed in Xie Nanxing's triptych, The Ballad of Pieter Picking His Teeth (2022). A masterful series of expressionist paintings, they depict absurdness, with forms inspired by Pieter Bruegel the Elder's The Blind Leading the Blind (1568), as the outlines of roasted ducks parade across one canvas, while another has a Rorschach Test-like composition. Xie references a Dutch painting that depicted the political turmoil of the Spanish Netherlands (1556–1714) and evokes a dissatisfaction with the chaotic, confining nature of contemporary society during the pandemic. The triptych was placed on a wall in a gallery between other artists' spaces and received a less flattering presentation, undermining Xie's technical sophistication.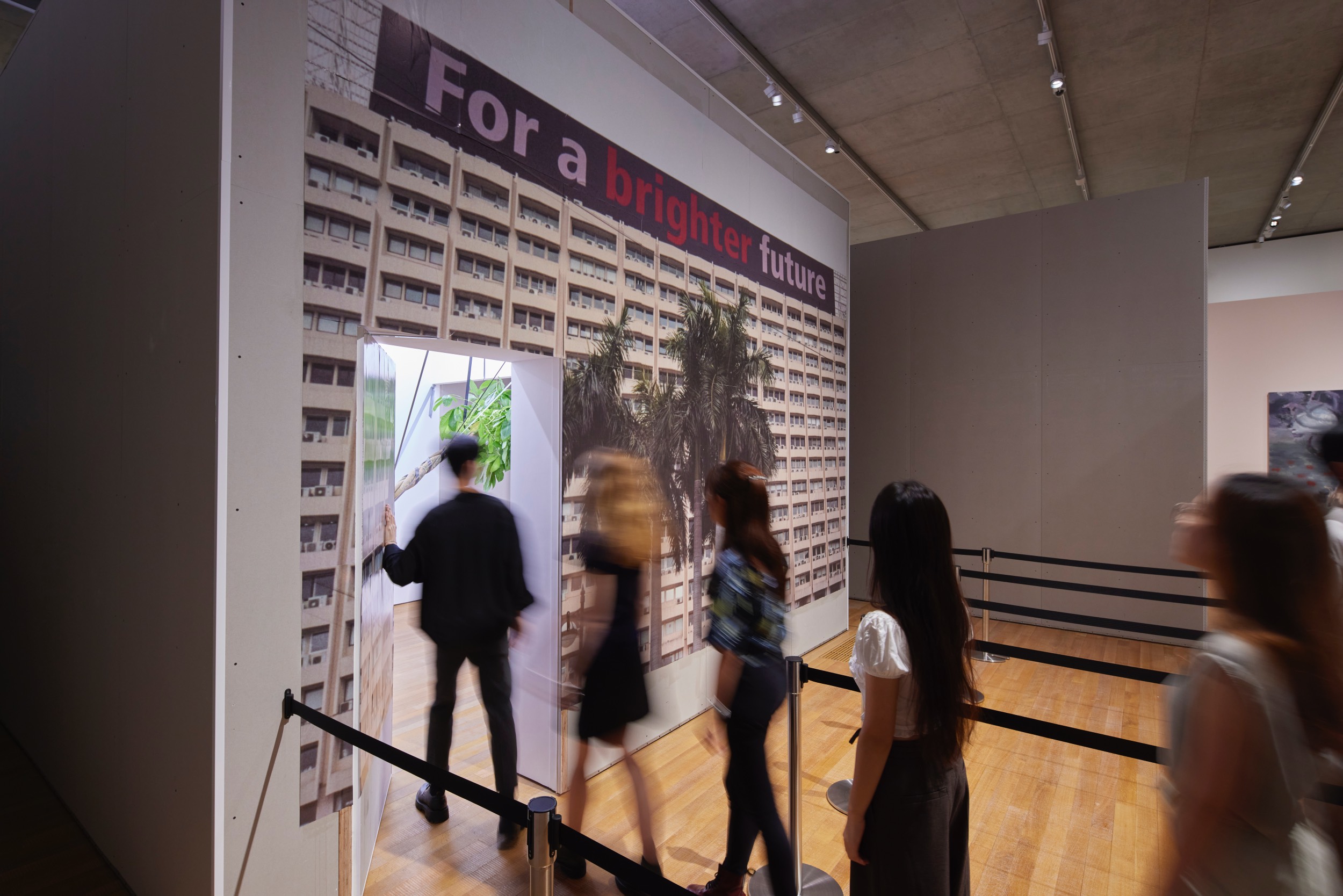 Meanwhile, Trevor Yeung conveyed his feelings towards the pandemic by recombining old and new installations. A room was built within the gallery and Yeung's photographic work Red Brighter (2019) was adhered to the exterior wall with a hidden door. In the installation The Queue (2023), Yeung orchestrated retractable belt-barriers into rows leading to the door. Upon entering, you encountered Mr. Cuddles in a Hotel Room (2023), a suspended money tree entangled by hoisting belts in a kinbaku-esque manner, perhaps a hidden metaphor expanded from the plant's dysmorphism. The plant was accompanied by Wall of a Hamster Cage (Mira Moon) (2022), a tea-stained painting on xuan paper capturing sunlight shining into a hotel room during Yeung's quarantine, showcasing the unbearable mundanity of isolation. Outside the room, through another series of winding stanchions, was Night Mushroom Colon (M+) (2023), an LED-light installation of gleaming plastic mushrooms, hinting at the artist's longing for intimacy.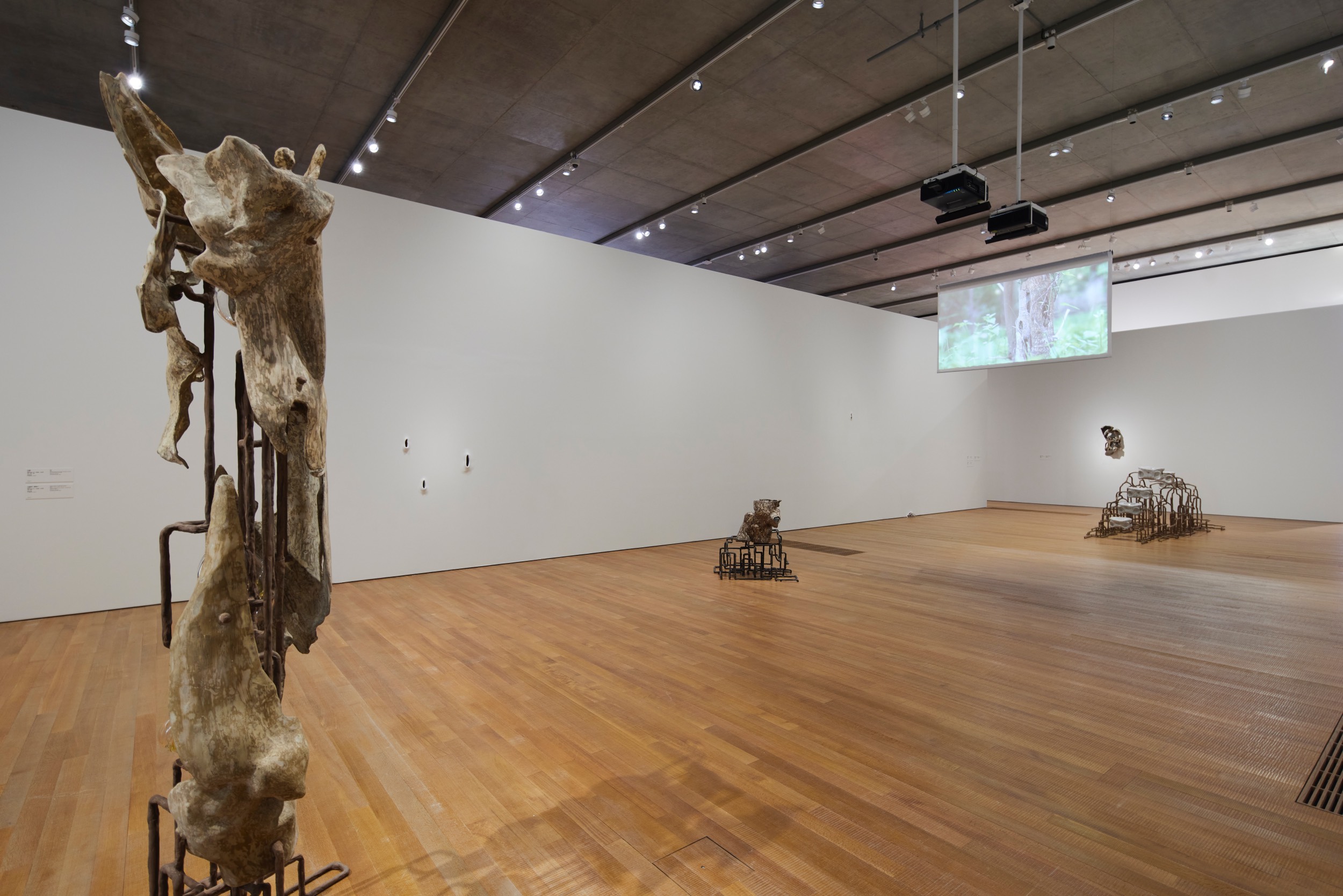 Though one might perceive a hint of queerness in Yeung's intriguing, metaphoric works, Jes Fan's exploration of queerness through kinship between species is sincere and apparent in the series Sites of Wounding: Chapter 2 (2023). Fan took agarwood, a fragrant wood once common in Hong Kong with healing processes, as a symbolism of his identity. In a collaboration with the radiology department at the University of Hong Kong, Fan modeled the forms of his inner organs, resulting in sculptural installations such as Gut (2023), All nouns are false (2023), and All names are nouns (2023). Fan hid several resin globules inside the gallery's wall requiring the viewer to peek through the orifice-like holes to see the forms within. Unlike Yeung's personal and cryptic language of found objects and plants, Fan is remarkably elegant and precise with the use of materials without over-complicating the subject matter. Fan's works were arguably the only ones in this exhibition that demonstrated a sense of both quality and clarity.
What might viewers take away from the Sigg Prize 2023? The exhibition showcased the vast diversity of contemporary Chinese art practice and revealed a strong sense of individualism that exists today in contrast to the collectivism rooted in Chinese society. One might also be tempted to analyze these works through a framework of the current social, cultural, and geopolitical contexts of China and its diasporas. Yet, ultimately, these are voices of individual artists, who express their thoughts and emotions across diverse forms and media that cannot be easily contextualized from a monolithic perspective. This breadth and divergence is, after all, what the Sigg Prize seeks to recognize.
Alex Yiu is associate editor at ArtAsiaPacific.
Subscribe to ArtAsiaPacific's free weekly newsletter with all the latest news, reviews, and perspectives, directly to your inbox each Monday.