A Colorful Captivity: Aya Takano's "Beginning, Liminal, Ego"
By Gabrielle Tse
Hong Kong's Victoria Harbour glittered alluringly beyond a French window at Perrotin. On the opposite wall, wide-eyed girls gazed out from dainty watercolors by Aya Takano. Their unflinching stares seemed to compress the atmosphere, drawing them closer toward the brink of reality. However, stuck in their tiny frames, the girls can only spectate at the world beyond. Blithe and effervescent on the surface, Takano's solo exhibition "beginning, liminal, ego" covertly explored the intersections of gender, liminality, and confinement.
The show depicted a host of dreamy, long-limbed characters—most of whom are young girls—exploring a half-imaginary Hong Kong. Perching on the threshold of reality, Takano's whimsical city retains features like traffic signs and convenience stores, but occupies an ethereal plane where colors are feather-soft and people can casually take flight. Flat backgrounds and delicate outlines—stylistic elements borrowed from ukiyo-e—further liken the city to a "floating world." The sense of liminality is also emphasized by Takano's construction of the figures' gazes. Among the show's only two paintings with passersby, how to ride the tram using foreign coins (all works 2021) contains a group of friends chatting on a colorfully rendered tram, while ignoring the background onlookers who cohabit their dreamed-up realm. They instead turn a coy glance at the viewer as if to assert their individuality—or "ego," if you will—as figments cognizant of reality.
Yet, Takano suggests that liminality is also tied to confinement. Though the girls do nothing but frolic around—shopping, enjoying dim sum, celebrating colorful festivals—they are rarely shown grinning. Instead, their lips are often half-parted in muted expressions. Their state of repression is exemplified in a large oil canvas titled we have a pool next to our apartment, we swim everyday, which shows a girl suspended in a swimming pool. She gazes toward the painting's left, covering her mouth, as if in awe. But there are only blank tiles on that side of the pool. One then realizes that—just like the other fourth-wall breaking protagonists—the girl is looking beyond her frame. We have a pool was mounted next to the showroom's window, so that her hungry eyes were trained on Victoria Harbour, a larger expanse of water she can never touch. She is trapped in the periphery. The painting resonates with the smaller watercolor i enjoyed the market, where a girl, also facing left, gazes blankly at rows of goldfish held captive in tiny plastic bags. Behind their soft colors and eerily innocuous-sounding titles, both works seethe with a longing for escape. In another oil painting, titled typhoon day, the girls lean over a cramped balcony, staring in panic at two tied-up plastic bags blown away by the storm. One of the girls pushes perilously against the railing, long arms outstretched, but the bags are too far away. A building partition further constricts the space, sequestering the girls in one half of the painting, and the bags in another. Despite the protagonists' fluid limbs and floaty clothes, they look anchored. Takano's liminal spaces hint at gender norms that, like gilded cages, idealize women while confining them.
Most enigmatic was the small watercolor why did i burn the grassland, in which a girl sits languidly in a burning field. Holding a lit match, she looks at the viewer, expression unreadable. Why, indeed, did she destroy her seemingly faultless world? Takano often speaks of the feminist undercurrents in her practice, remarking once that "living as a female in this society affects to [sic] my work. I want people who are considered socially vulnerable [to] feel free and strong in my painting." Exploring the expansion and compression of liminal space, "beginning, liminal, ego" flirts with Hong Kong's reputation as a glamorous consumerist paradise while hinting at the gender inequities lurking underneath.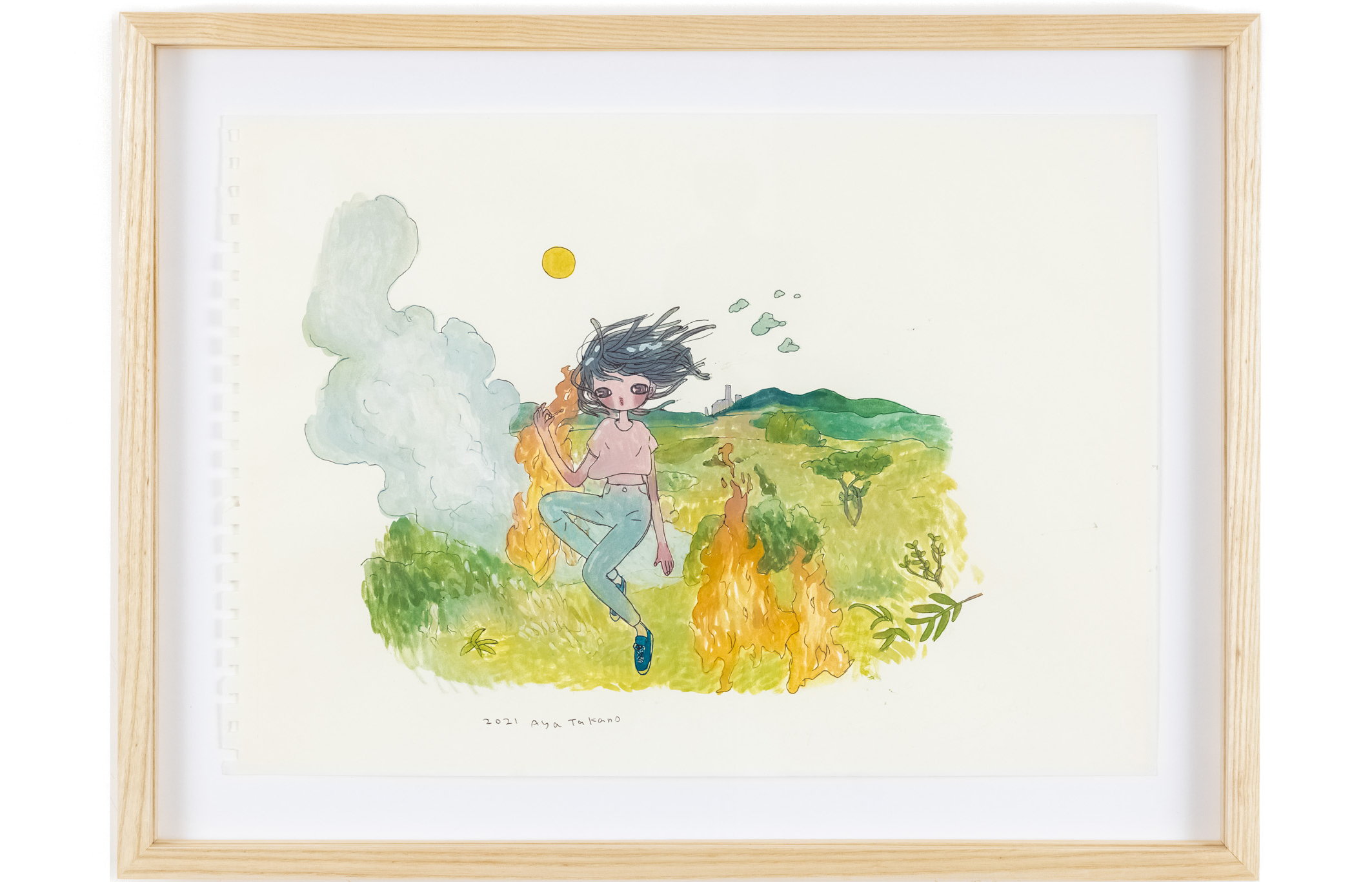 Aya Takano's "beginning, liminal, ego" was on view at Perrotin, Hong Kong, from June 26 to July 24, 2021.
Gabrielle Tse is an editorial intern at ArtAsiaPacific.
To read more of ArtAsiaPacific's articles, check out our Digital Library.