The Mischievous Clamoring of Ornament: Interview with Tunji Adeniyi-Jones
By HG Masters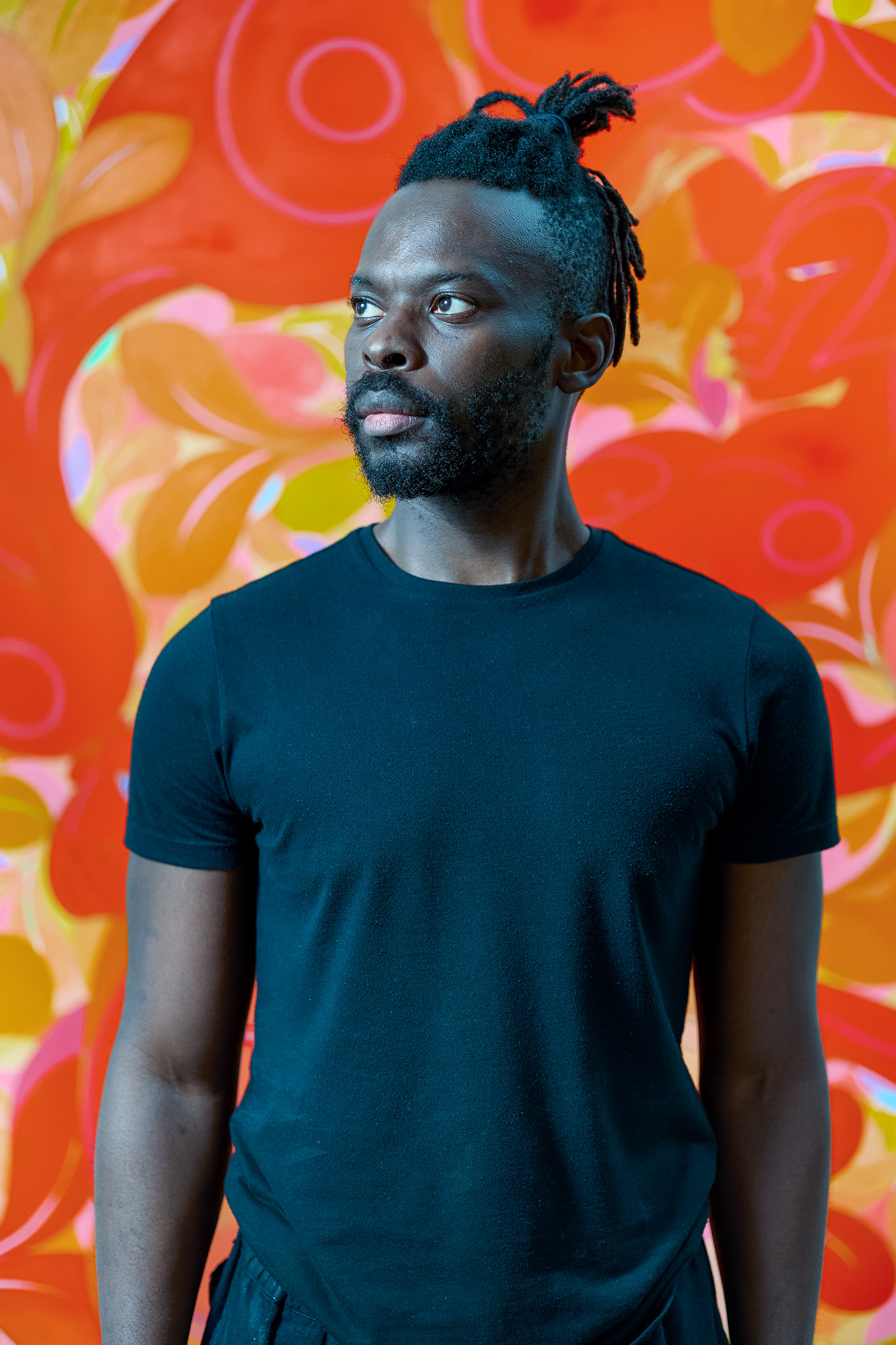 Brooklyn-based painter Tunji Adeniyi-Jones opened his first solo exhibition in Asia at White Cube gallery in Hong Kong on March 20. Ahead of the opening, ArtAsiaPacific caught up with the artist about the new series of works on view.

The exhibition title "Deep Dive" seems to reference both the graceful curving motion of the figures in your new paintings and also perhaps suggests that you've been delving into particular subjects or histories. Can you talk about how research into visual traditions feeds into your artistic process?
The title "Deep Dive" arrived at the end of a very long journey. My research has largely been self-referential, and I think as artists we always tend to be our own biggest critics! So, over the past year I've been searching for ways to complicate the format and sensibility of my paintings. As you've sharply suggested, the word dive has a double meaning, signifying both a new chosen activity in my paintings, and the process by which this inspiration came about.
What about William de Morgan's designs and the Arts and Crafts movement interests you? And how do you see your relationship with the ethos and products of this 19th-century British movement?
There was a sensational exhibition at the Drawing Center in New York last year, called "The Clamor of Ornament." Aside from being a visual feast, it brilliantly addressed the social and cultural implications of what is often quickly categorized as 'Arts and Crafts'. I've always found that label mildly reductive.
I consider the work of William de Morgan and William Morris to be a rare point of kinship between British culture and African textile. I'm speaking broadly, but I grew up in a household that featured both expressions plentifully. So, this recent fascination I've had with European ornamentation, illuminated manuscripts and imagery of that nature, has been a process of recovering relics from my past.
How did you conceive and then create the "chromatic space" in this exhibition, from the paintings to the installation itself?
I wanted to create two individual experiences within the exhibition, a cool space and a warm space. My paintings typically land comfortably in either one of these fields. This exhibition presented an opportunity to dive a little deeper into what this experience might actually feel like. I was fortunate in this instance, because the gallery is divided into two distinct rooms, with a few corridors and a staircase in between. So, your eyes have plenty of time to adjust as you move through the exhibition.
My compositions are quite repetitive, and the distinguishing feature of each painting is the color palette. When you're looking at a blue monochromatic color field, that identical composition will look and feel considerably different in bright yellow.
I saw an Alex Katz survey at the Guggenheim Museum recently, and he deploys this tactic very well, returning to the same subject matter repeatedly in wildly different palettes. I really enjoy that sensation as a viewer, so I wanted to incorporate something similar in my work.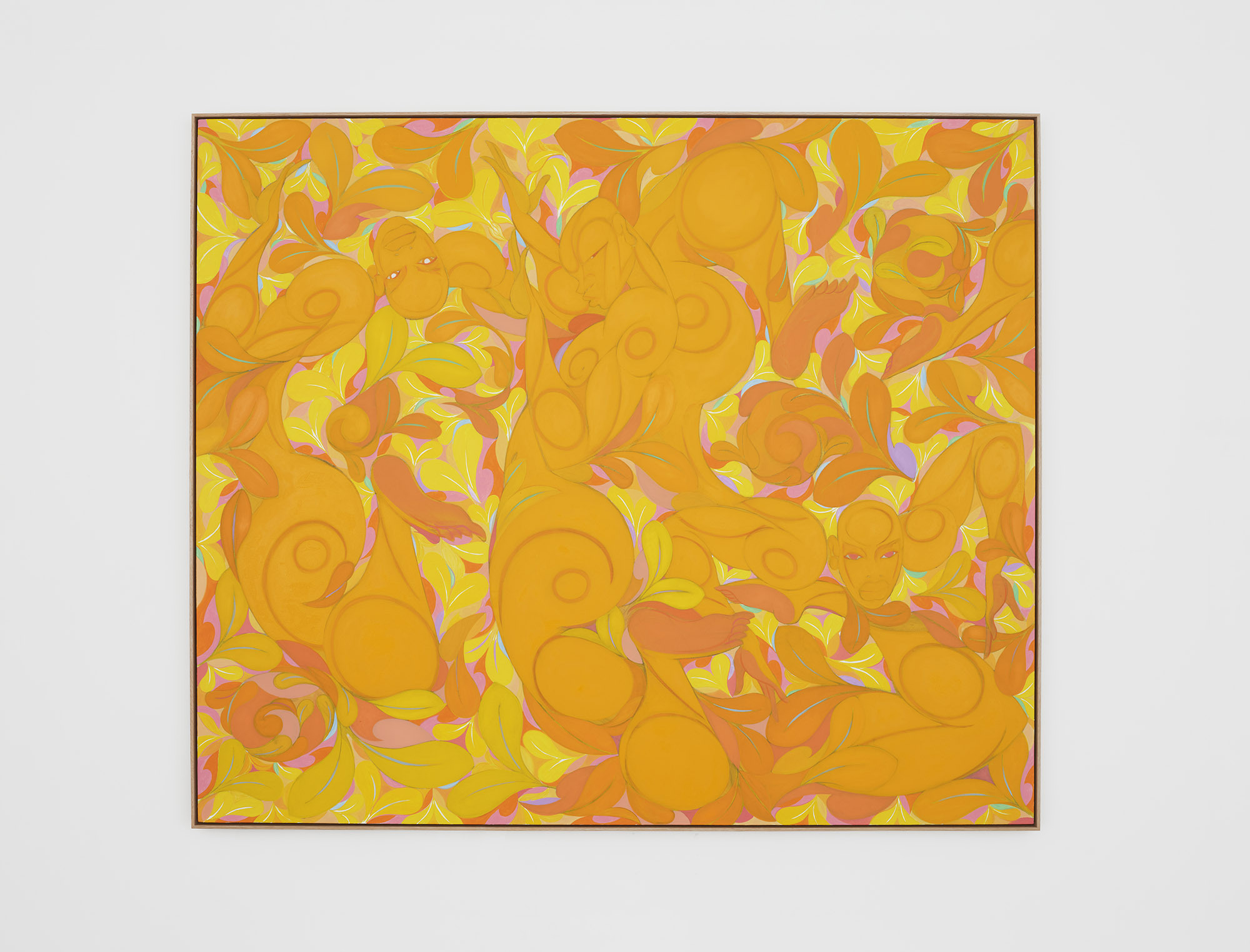 Bodies in motion and bodies together, intermingling and connecting, are central motifs in your works—are there culturally specific references in the paintings (whether mythological, in terms of stories, or say specific actions or rituals being performed)?
I'm excited to say that there aren't any specific cultural references to the choreography and coordination in this new work. I use the term 'excited' because in the past I've been quite reliant on specific references and associations to accompany my paintings, be that a particular dance or ritual that is practiced in a particular West African place. I feel a vast sense of openness now both in how I can present these figures and what they can do in the pictural space. And thus, the mythology develops itself organically through the process of making.
The collapse, or intertwining, of figures and ground is a very visually playful and almost mischievous element of your paintings—because the colors you use also play with our perception. How do you think about "color theory" beyond the European, Bauhaus-Josef Albers lineage? The "color wheel," for instance, feels like another example of a "universal" or "empirical" knowledge that is basically culturally rooted in Europe of the 17-18th centuries.

Mischief indeed! I was introduced to Albers during my graduate studies at Yale, and initially I struggled with a lot of it. He posits such a strong perspective and lens, and it took me a while to understand what I needed to learn from it. I think he offers some really useful tools for perception, but the real work lies in the examination of the subjects that informed Albers in the early 20th century – South American and African antiquity!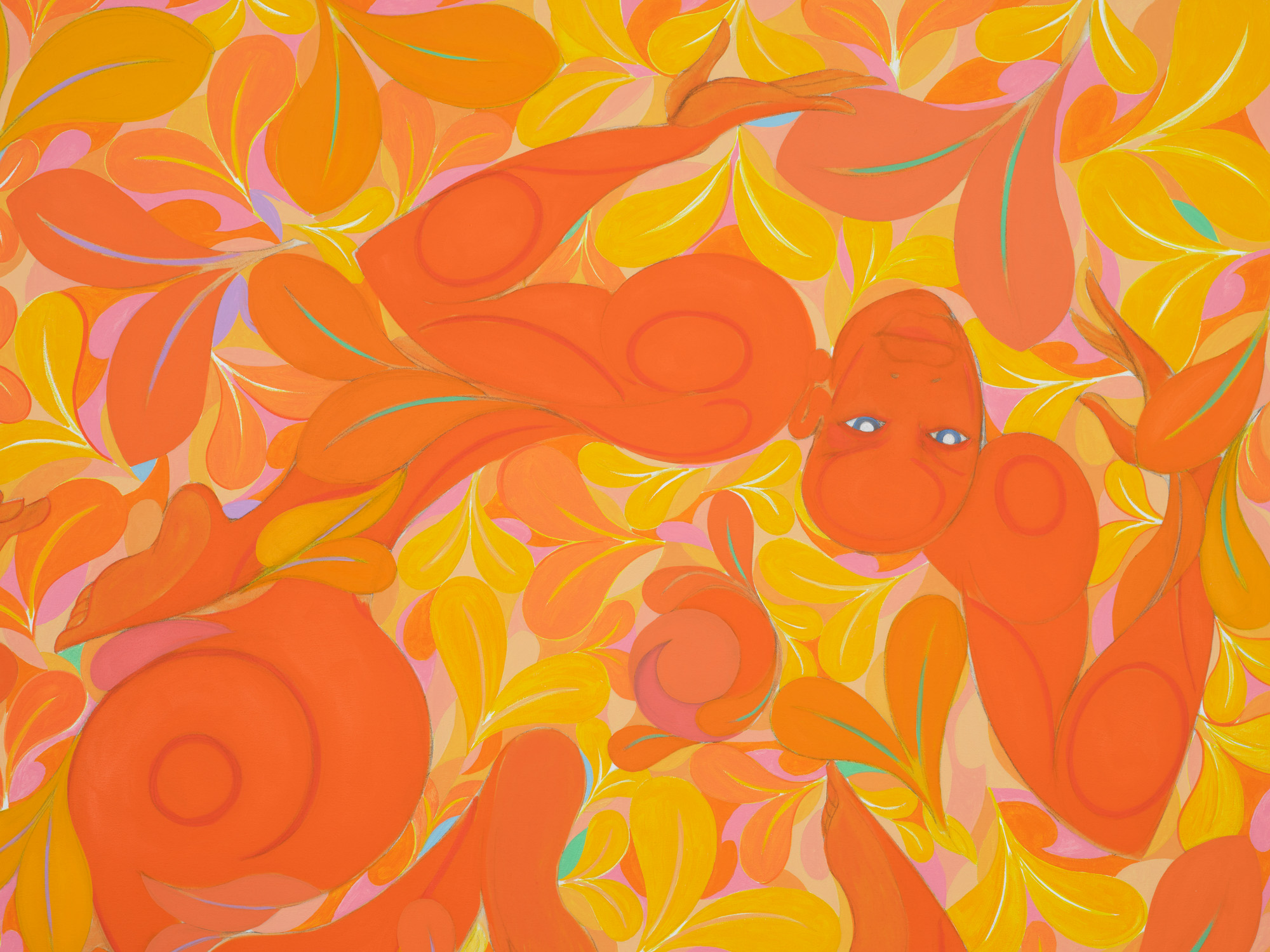 Can you talk about the eyes in your paintings? You create a world of bodies and forms within the canvas and then the figures' eyes are this moment of contact. How do you think about this dynamic of looking, gazing, who-is-looking-at whom?
Yes! Good question. The eyes are the last move I make in each painting, without fail. They serve as the final touch, and a signal that the piece is ready (for showing). So, in that way it becomes something that I look forward to and once I add this final detail, the whole piece comes to life. Subsequently this very private ritual I go through with my work becomes public when the work is exhibited. I am also very honest with how I render the eyes, so if I'm in a bad mood on that day the eyes will certainly reflect that!
You said you feel that making lithographs, here seen in the "Midnight Voices" series, connects you to Nigerian artists including Bruce Onobrakpeya, Demas Nwoko, and Yusuf Grillo. Do you mind sharing a little about that lineage and what is important to you about the medium?
I've found printmaking to be an incredibly useful accompaniment to my painting practice because it offers so much room to learn and grow. I've long admired artists like Bruce Onobrakpeya, and as I learn more about what printmaking means to me, I'm able to learn more about how it has informed his masterful work.
To put it plainly, not enough people know that artists of Bruce's caliber have long had a significant history of pushing the printmaking medium, and I'm committed to addressing this oversight! Especially considering the recent auction boom that surrounds the work of artists like Yusuf Grillo and Ben Enwonwu. It is fantastic that their legacies are garnering an appropriate market value, but the breadth of their individual practices often gets marginalized.
Along with—or instead of—Cubism and Matisse, who are some of the artists that you might want viewers of your work in Hong Kong to know about when looking at your work?
Yes, kindly put Cubism and Matisse to the side! Just for a moment, and please consider artists like Ben Enwonwu, Aaron Douglas, and Bob Thompson. I owe a lot to the work of Chris Ofili, too, and Lynette Yiadom-Boakye.
Tunji Adeniyi-Jones's exhibition "Deep Dive" is on view at White Cube Hong Kong from March 22 to May 20, 2023.
Subscribe to ArtAsiaPacific's free weekly newsletter with all the latest news, reviews, and perspectives, directly to your inbox each Monday.