The Life of Yayoi Kusama Through Images
By Cassie Liu and Chloe Morrissey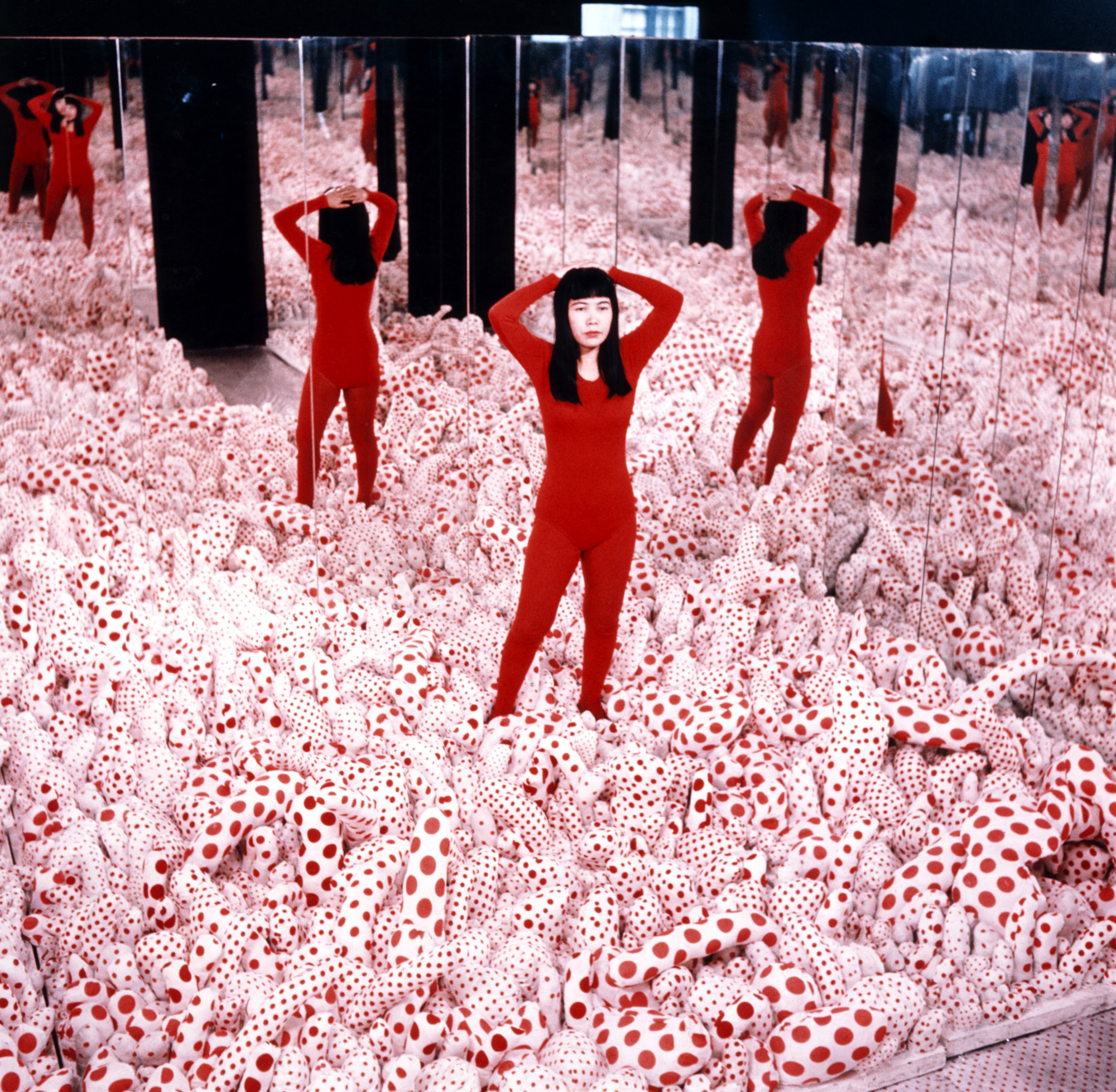 The doyenne of dots, the maven of mirrors, the matriarch of pop-art, an avant-garde visionary, and a creative icon—everyone has a different label for Yayoi Kusama, and a different reason for celebrating her art.
Originally published in 2021 on the occasion of her retrospective at Berlin's Gropius Bau, her solo exhibition at the New York Botanical Garden, and a three-part presentation of her My Eternal Soul (2009– ) series across David Zwirner in New York, Victoria Miro in London, and Ota Fine Arts in Tokyo, this article takes a look back at her life and artistic journey.
This month on its first anniversary, Hong Kong's M+ opened its own survey of the emblematic artist. Let us once again revisit Kusama's odyssey, through images.
Childhood Years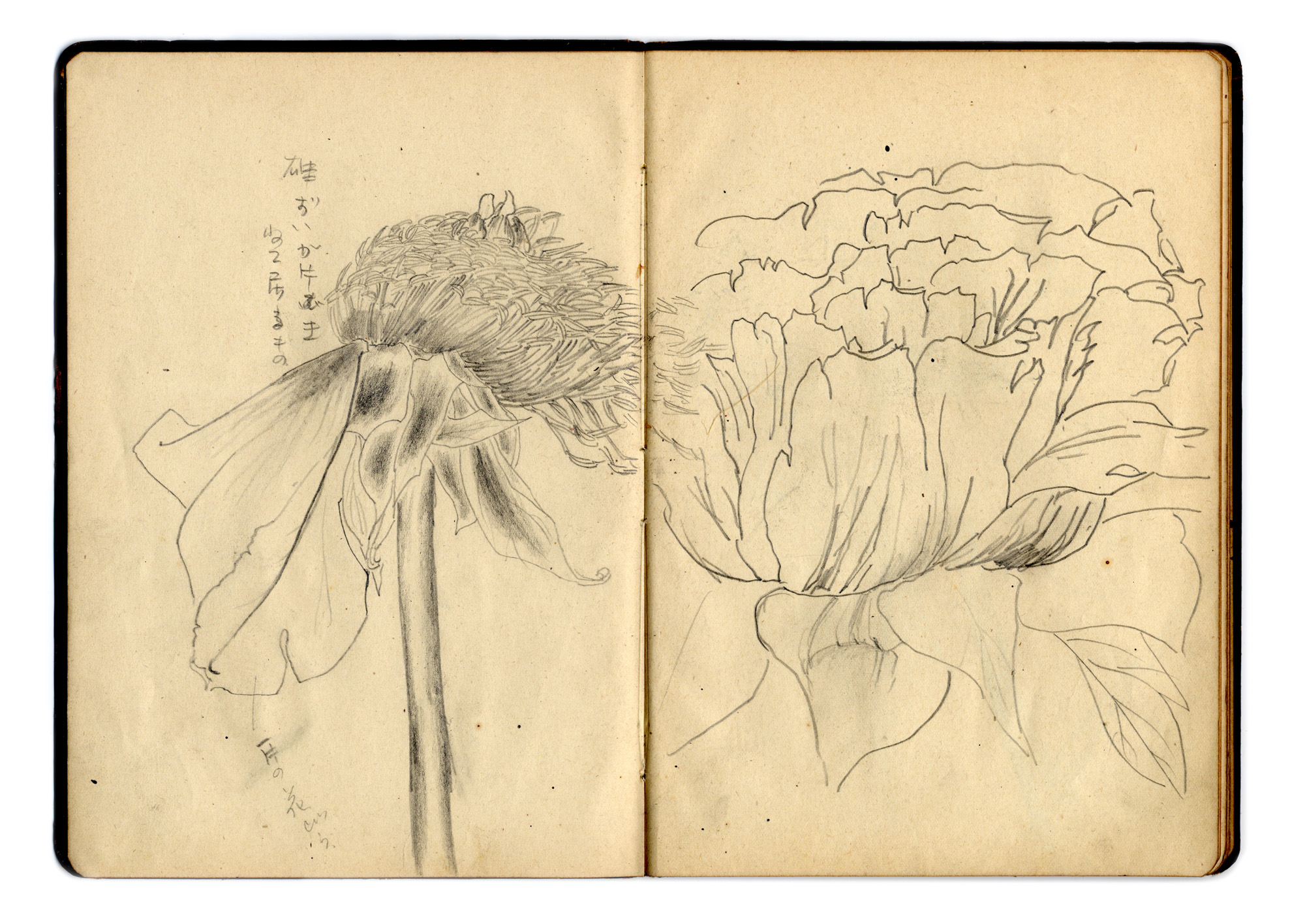 Born in 1929 in Matsumoto, Yayoi Kusama grew up as the youngest of four children in a wealthy merchant family. In this black-and-white family photo, taken around the year 1943, she is the second figure from the right. From a very young age, Kusama showed a talent for painting, yet her family was far from supportive. Her mother, in particular, discouraged her from pursuing a career as an artist, snatching her drawings before she could finish them, and tried to guide her down the traditional path of becoming a housewife. These experiences overshadowed Kusama's childhood, driving her to practice art as an act of rebellion.
The young Kusama often scoured the house for suitable materials to draw on. The image on the left, Untitled (Flower sketches) (c. 1945), from one of her notebooks, shows one of her early artistic explorations of the natural form of a flower.
Beside sketching plants, Kusama also showed an interest in the subject of animals. Similarly drawn in a notebook, Untitled (Monkey sketches) (c. 1948) on the right is a detailed study of monkeys in pencil and watercolor. At around the same time that she began to paint and draw flora and fauna, she began to have hallucinatory visions of a world full of dots, where flowers talk to her and the patterns on fabrics come to life to consume her. The natural world and her visions would continue to inform her art throughout her career.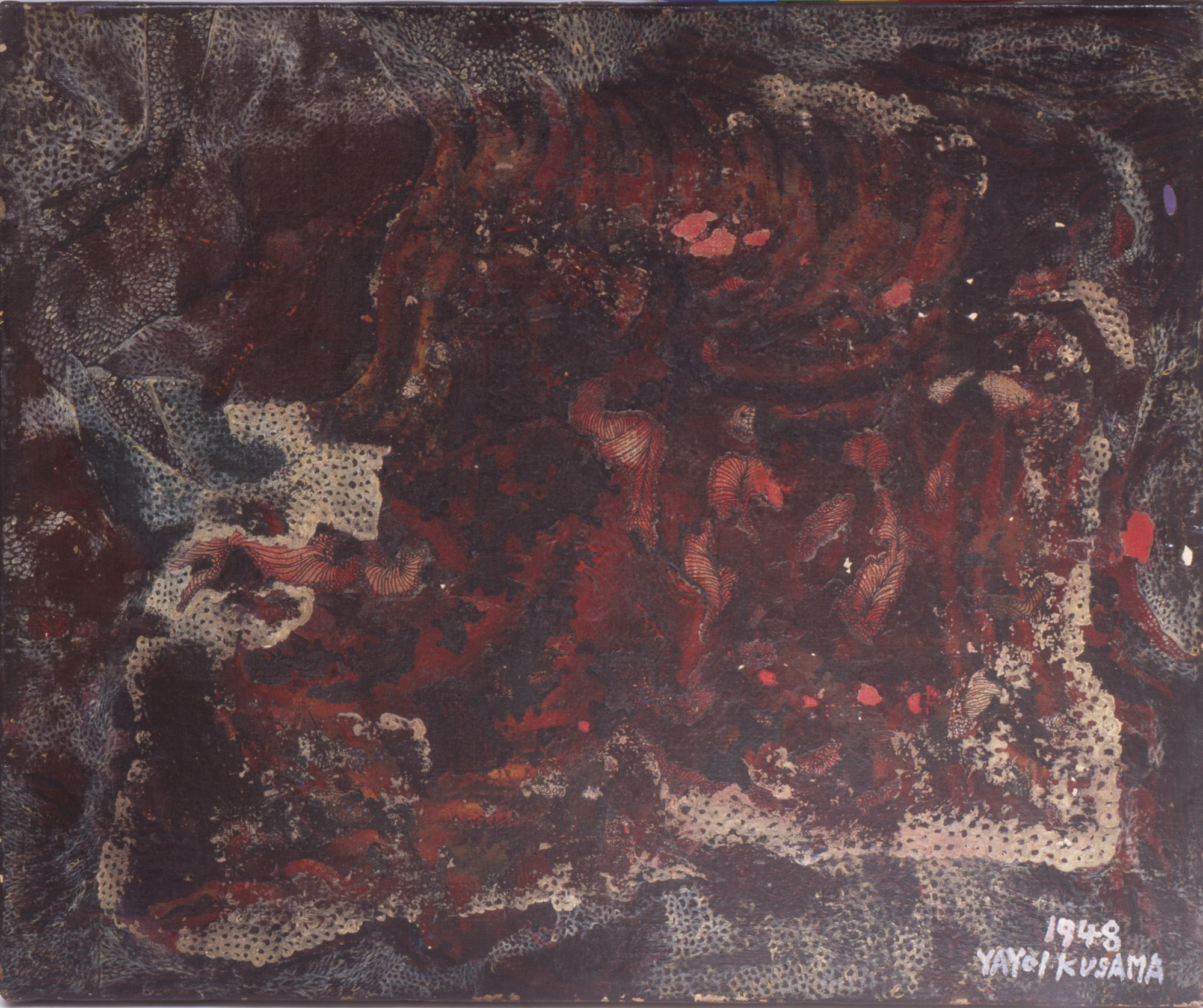 In 1948, after convincing her parents, she enrolled at the Kyoto Municipal School of Arts and Crafts, where she was trained in the traditional nihonga style of painting. However, she soon grew tired of the conventional Japanese style, and turned to experiment with European and American avant-garde approaches. The oil painting Flower Spirit (c. 1948) continues her childhood obsession with flowers, but distorts the shapes of the petals into nebulous forms that reference Western abstraction.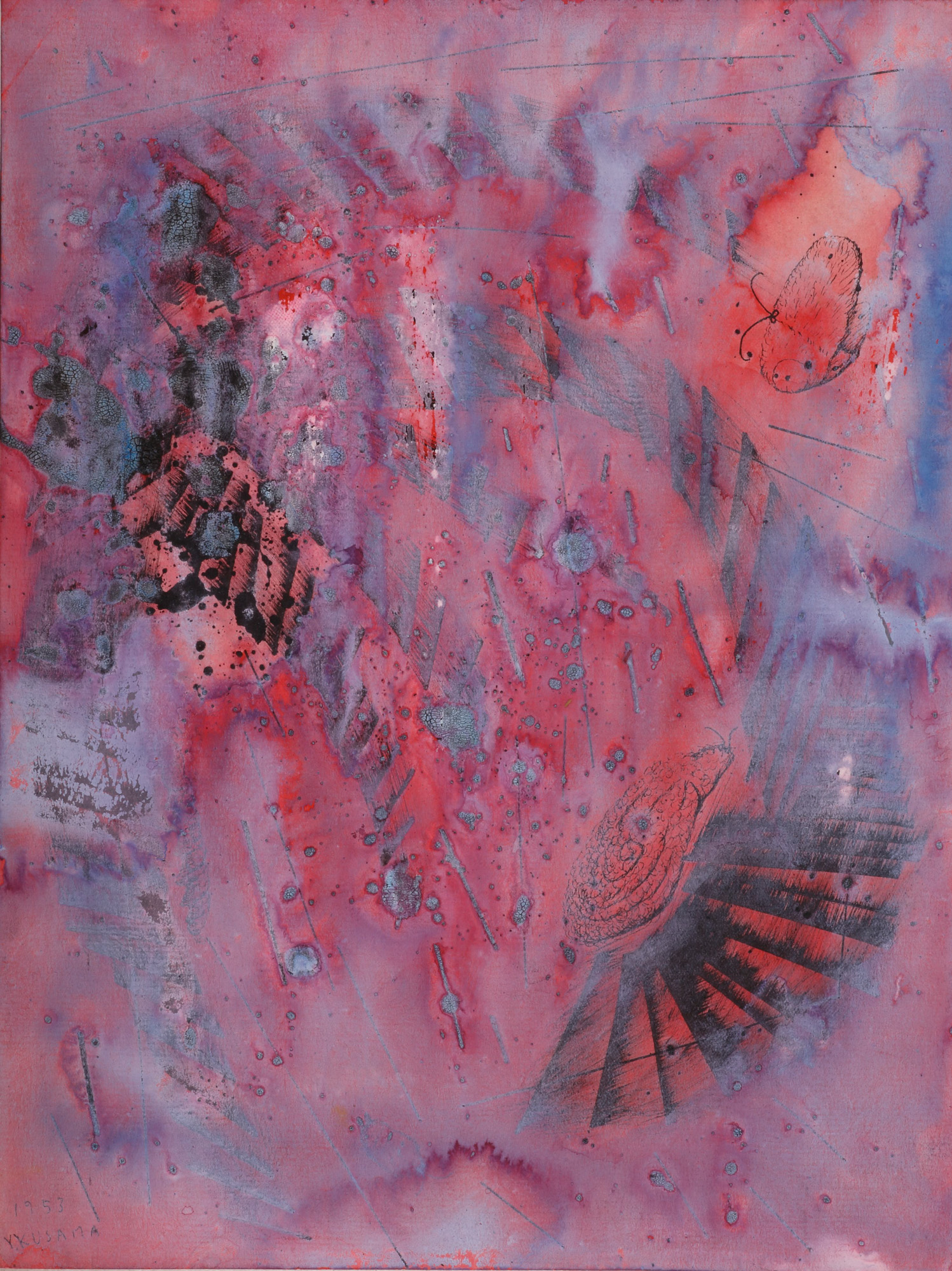 By 1950, Kusama's paintings had already been featured in several group shows in Kyoto, Osaka, Matsumoto, and Tokyo. She had developed her own distinctive, abstract style in her depictions of natural forms, rendered with watercolor, oil, and gouache, principally on paper. In The World of Insect (1953), Kusama creates an ominously colored, uncanny realm where insects roam, reflecting her interest in the vast natural universe.
The United States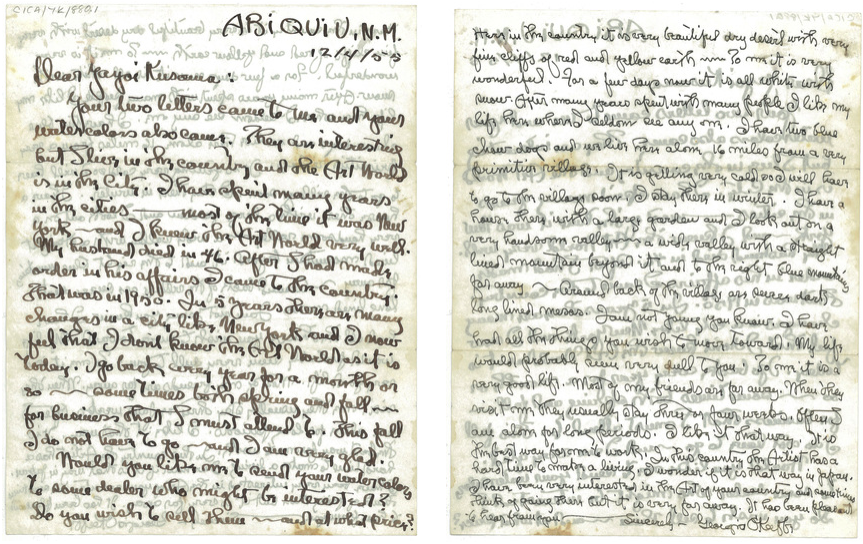 In 1955, she made appearances on the international art stage, participating in "International Watercolor Exhibition: 18th Biennial" at New York's Brooklyn Museum. Compelled by the artistic environment in the US and keen to pursue her artistic career there, she engaged in correspondence with Georgia O'Keeffe, a leading modernist painter whose dreamlike depictions of nature Kusama admired greatly. To Kusama's surprise, O'Keeffe responded. In a letter dated December 4, 1955, she told Kusama: "I have spent many years in the cities—most of the time it was in New York and I know the Art World very well. My husband died in 46. After I had made order in his affairs I came to the country. That was in 1950. In 5 years there are many changes in a city like New York and I now feel that I don't know the Art World as it is today." Two years later, at the age of 28, Kusama arrived in Seattle and spent nearly six months in the city creating artworks and participating in exhibitions before moving to New York in 1958.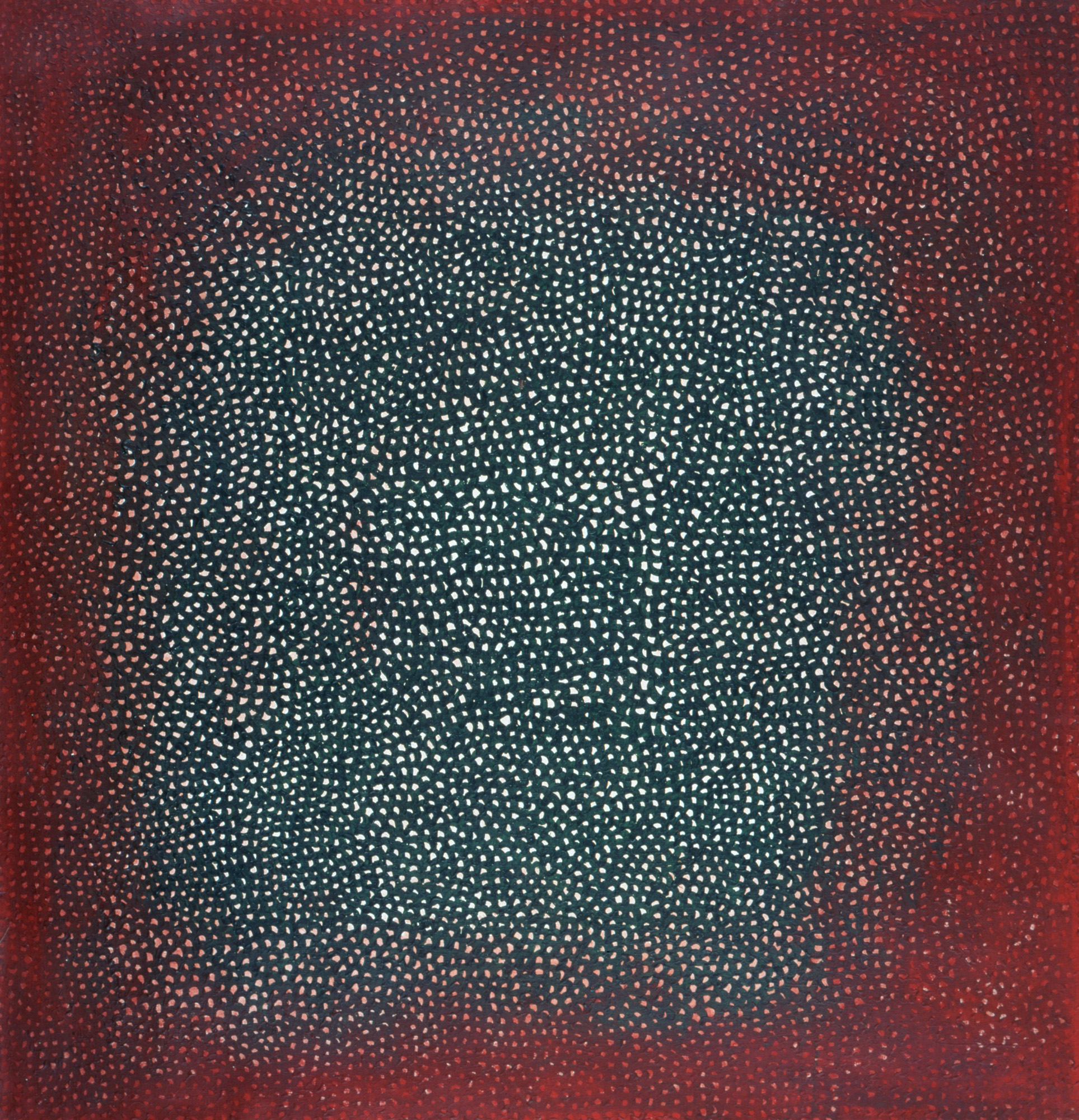 In New York, Kusama quickly established her reputation and received praise for her work. Several of her most recognizable motifs began to emerge in this period. A Flower with Nets (1952/c.1963) features an early version of her signature netlike pattern, which comes from the hallucinations of her childhood. The violet loops and dots, woven in gouache and pastel on paper, evoke the petals of a flower, marking a significant shift in how the artist depicted the subject.
Kusama would subsequently develop her netlike motif in her Infinity Nets paintings, which she began in New York in 1958 and continues to create today. The labor-intensive process of painting the compositions can take 40 to 50 hours. In Infinity Net A, a 1965 oil-on-canvas work, dots spread from the center of the canvas to the edges, fading from a cyan blue into a dark red.
Performances and the Cutting Edge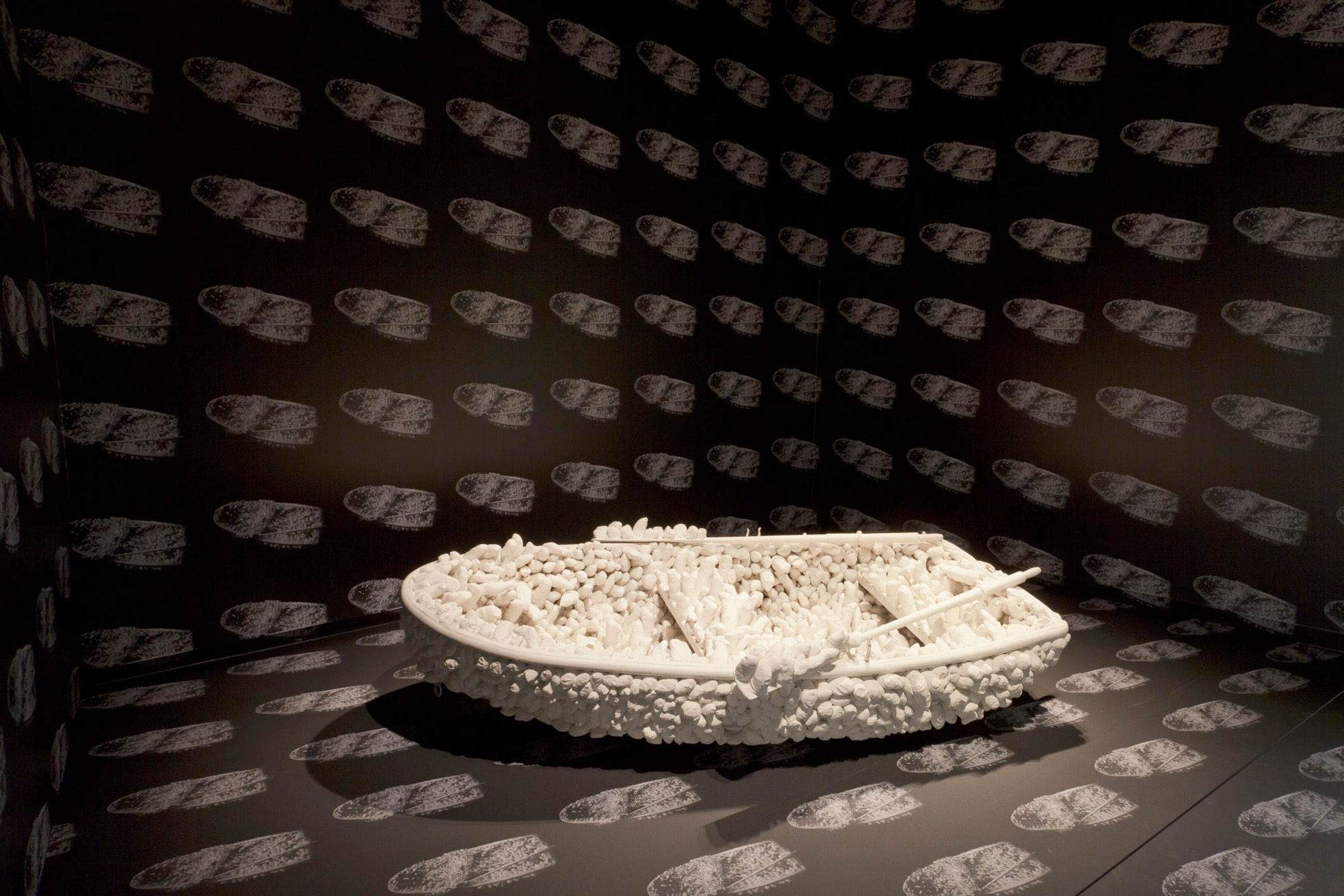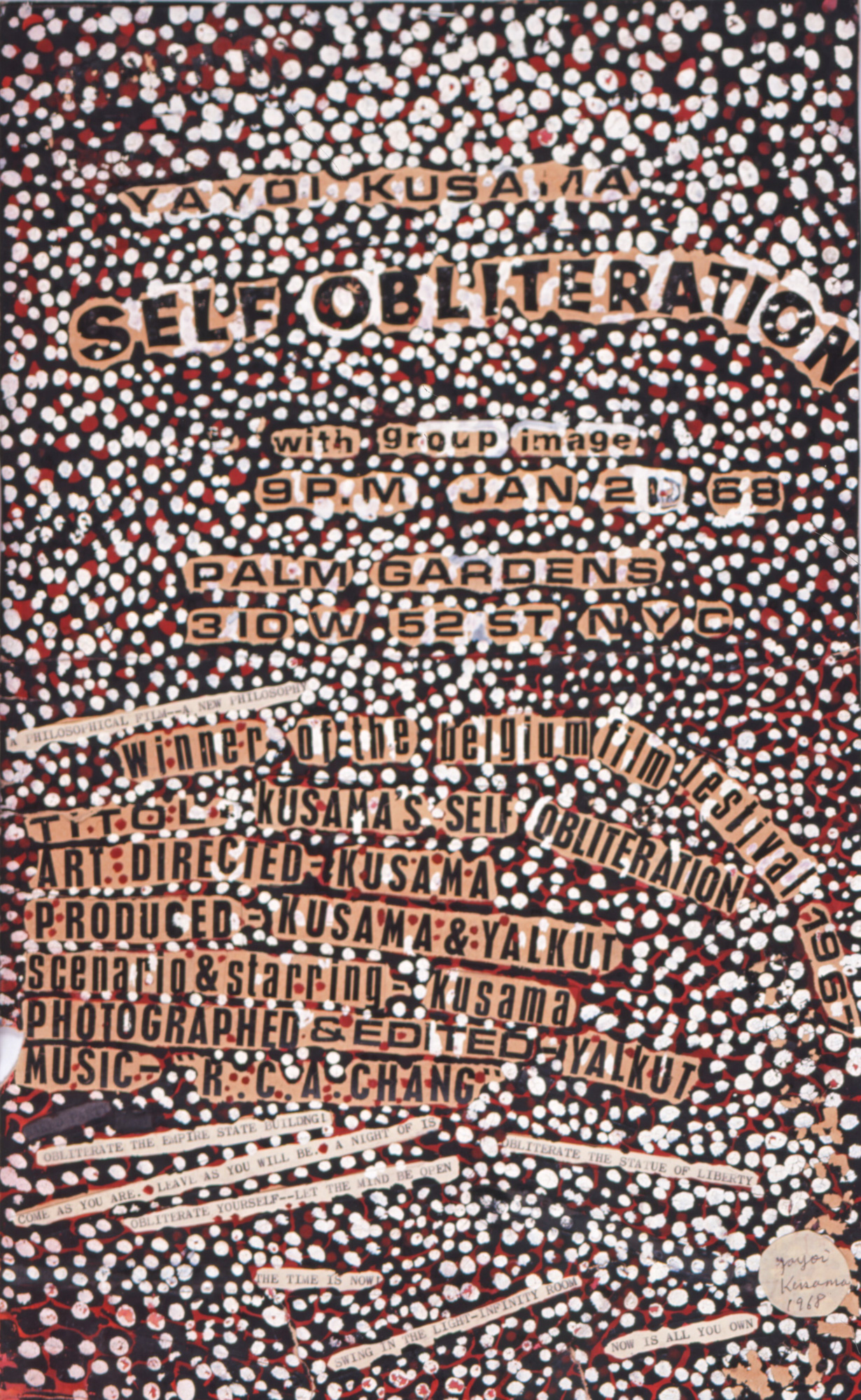 New York's avant-garde art scene propelled Kusama to initiate performances and cutting-edge projects. In an exhibition at Gertrude Stein Gallery in 1963, she mounted Aggregation: One Thousand Boats Show (1963), an installation comprising a found wooden row boat covered in white, phallus-shaped fabric forms, surrounded by numerous posters printed with images of the sculpture. The work resembles but predates Andy Warhol's famous Cow Wallpaper (1966).
For her 1965 solo exhibition "Floor Show" at New York's Castellane Gallery, Kusama produced Infinity Mirror Room—Phalli's Field, a room-size mirrored installation. The floor was lined in phallic blobs covered in red polka dots. The dense, repeated dots in her paintings and works on paper became part of a three-dimensional experience. Kusama also posed in a red bodysuit inside the installation as a performance. This marked a breakthrough in her practice. Over the course of her career, Kusama has produced more than 20 distinct Infinity Rooms. Ranging from immersive installations to chambers that viewers can only peer into, each of the kaleidoscopic Infinity Rooms offers a dizzying spatial illusion that relates to Kusama's own hallucinations. About one of her visions, she said: "I felt as if I had begun to self-obliterate, to revolve in the infinity of endless time and the absoluteness of space, and be reduced to nothingness."
Building on the concept of self-obliteration, or the dissolution of the boundaries that enclose the self, Kusama began to stage performances where she would place polka dots onto the bodies of willing participants as well as plants and animals, replicating her experiences of feeling like she was being consumed by the patterns around her. The poster above advertises an experimental film of one such performance held in 1967.
In the 1960s, Kusama also staged performances protesting violence and the Vietnam War. One happening in 1968 saw her dressing in a polka-dot-covered leotard and leading a naked crossing of the Brooklyn Bridge.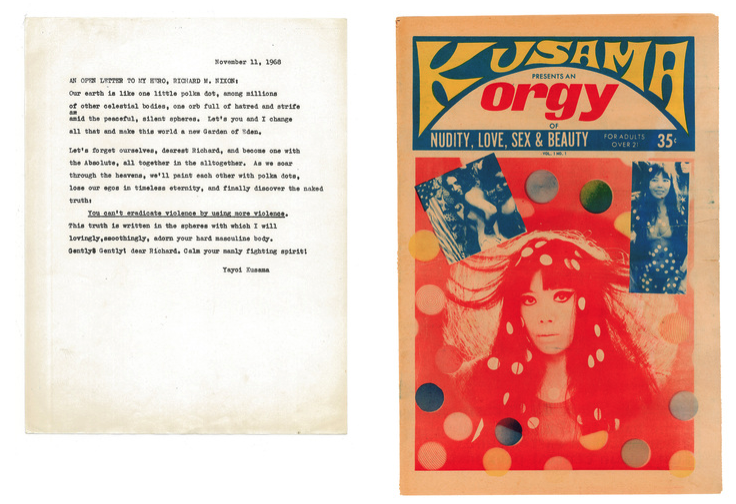 Later that year, Kusama sent An Open Letter to My Hero, Richard M. Nixon, inviting the president to an orgy in exchange for a ceasefire in Vietnam. She wrote: "Our earth is like one little polka dot, among millions of other celestial bodies, one orb full of hatred and strife amid the peaceful, silent spheres. Let's you and I change all that and make this world a new Garden of Eden . . . You can't eradicate violence by using more violence."
Documenting the artist's performances and happenings in the 1960s, the zine Kusama Presents an Orgy of Nudity, Love, Sex & Beauty was first published in 1969. That same year, Kusama staged Grand Orgy to Awaken the Dead (1969) at New York's Museum of Modern Art (MoMA), where she instructed naked performers to embrace each other while playing with the sculptures around them. By staging an "orgy" with living people and static sculptures of or by dead artists like the French sculptor Aristide Maillol, Kusama critiqued MoMA as a museum for "dead" art in need of more living artists' activations.
Years in Isolation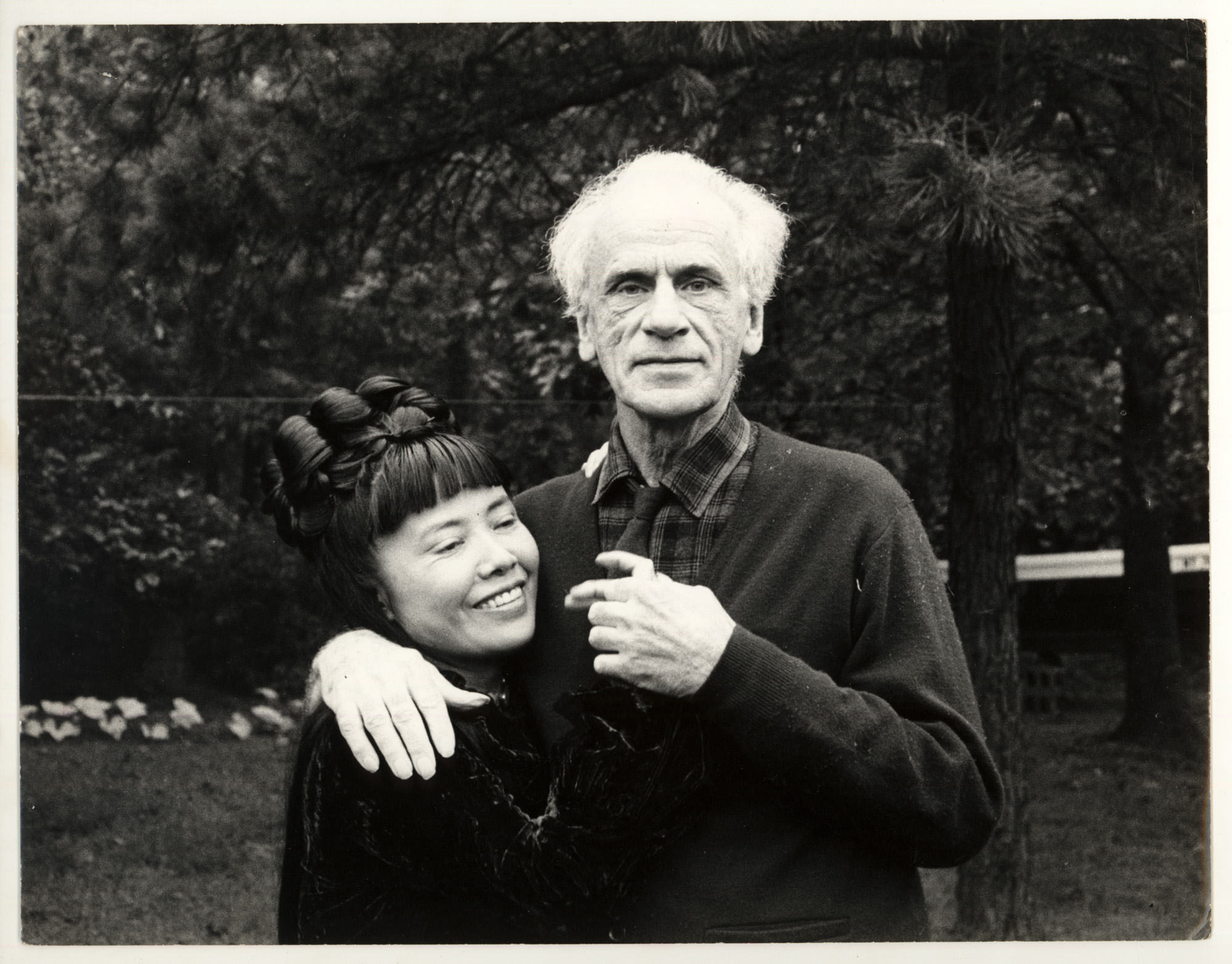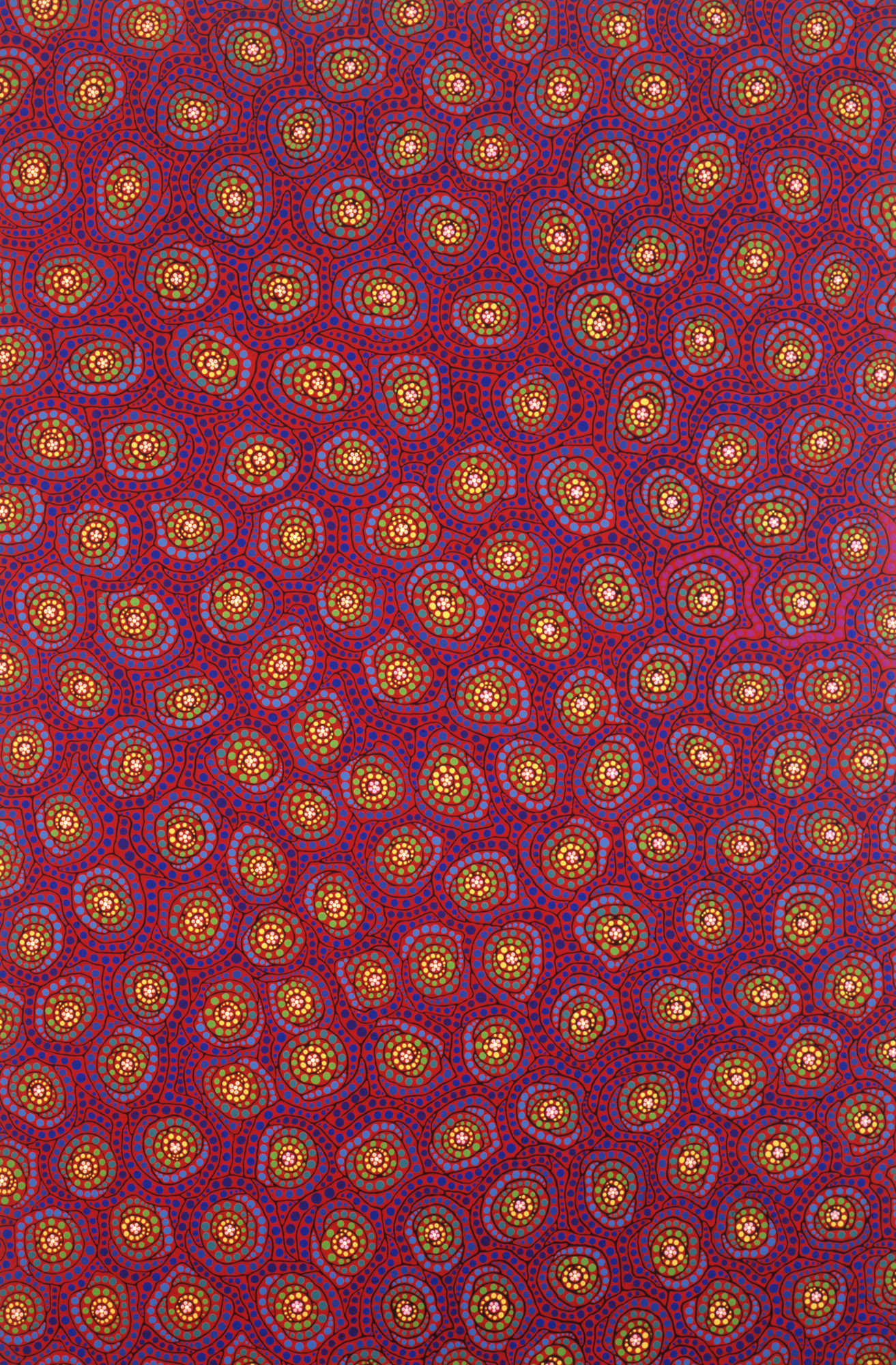 Kusama met American artist Joseph Cornell in 1962. They quickly formed an intimate yet asexual bond that lasted several years. This black-and-white photo was taken in c. 1971, one year before Cornell passed away and Kusama fell into a dark and somber period of self-reflection. While grieving, Kusama created a series of collages that include some of the objects gifted to her by Cornell throughout their relationship, such as found trinkets and images of birds and butterflies.
Prompted by her deteriorating health, Kusama returned to Japan in 1973. Throughout the 1970s and '80s, she stepped away from the public art scene to deal with the mental-health issues that have plagued her since childhood, and admitted herself to a psychiatric hospital in 1977. Nevertheless, she continued to make art. This work, Repetitive Vision of Floral Pistil (1989), comprises a net of delicately drawn flower petals sprawling across the canvas, recalling compositions from her early career.
Re-emergence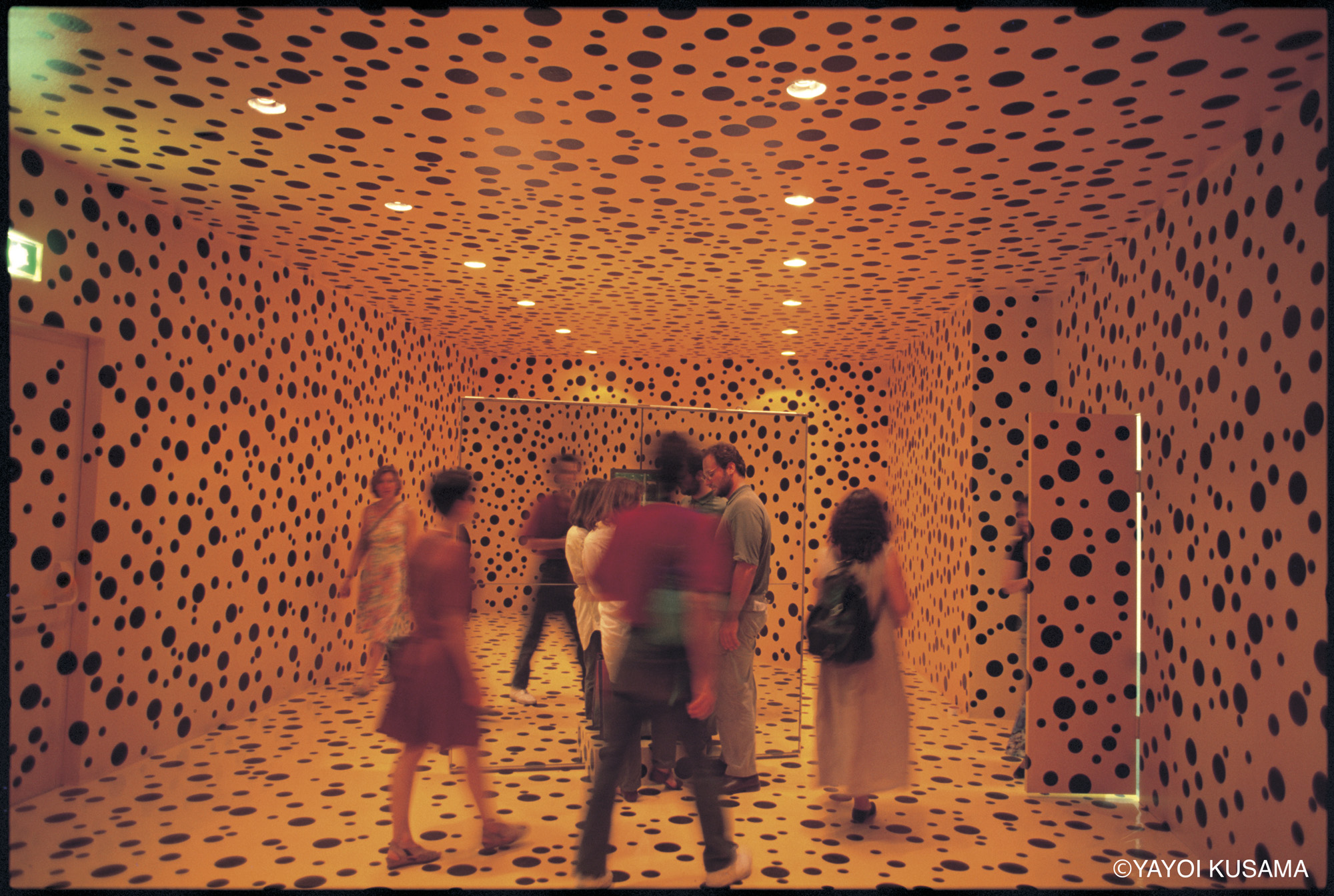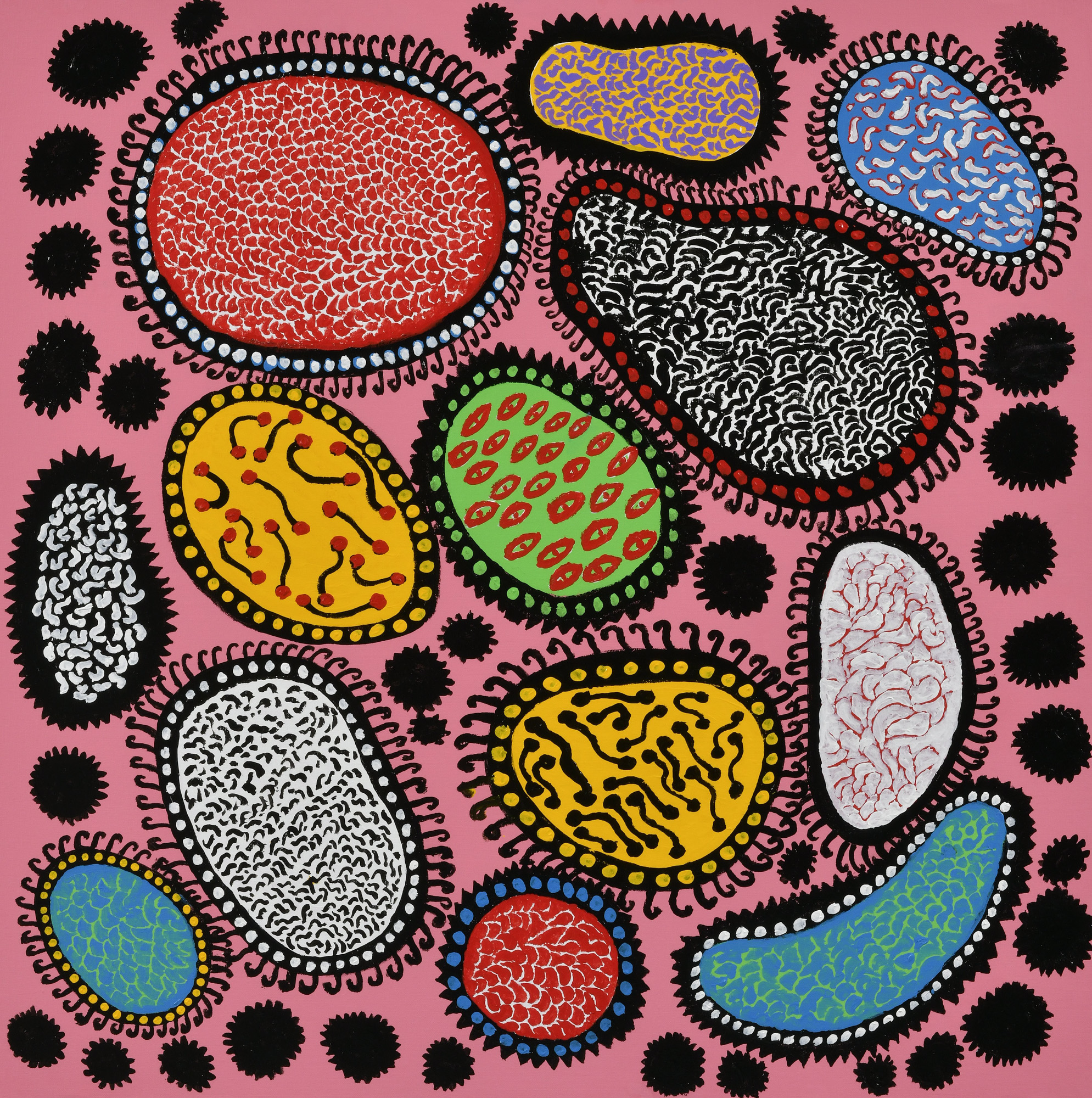 In 1993, Kusama became the first artist to exhibit solo at the Venice Biennale's Japan Pavilion. The momentous occasion marked her return to the global art scene. The exhibition showcased a series of earlier works produced in the 1960s alongside her new installation Mirror Room (Pumpkin) (1991), which positioned a reflective cube in the center of a constructed room with dotted, bright yellow walls. Viewers were invited to peer inside a small hole in the side of the mirrored box to see a crop of yellow, handmade pumpkins also covered in black spots. The pumpkins, a signature motif that emerged in her works in the 1980s, appear to multiply into infinity, overgrowing their surrounding environment and creating a claustrophobic effect.
Kusama continues to be a prolific artist who seeks comfort in the act of creating. Her series My Eternal Soul (2009– ) now comprises over 800 paintings. The vibrant images feature biomorphic forms and her signature dots. From June through to July, works from the series are on view at Victoria Miro in London, Ota Fine Arts in Tokyo, and David Zwirner in New York.
In October 2017, the Yayoi Kusama Museum launched in Tokyo's Shinjuku ward. The five-story building, designed by the architectural firm Kume Sekkei, displays some of the artist's most iconic sculptures, paintings, and mixed-media installations in approximately two exhibitions every year (tickets must be purchased online in advance, no tickets are sold at the door). It also has a gift shop on the ground floor and an archival reading room on the fifth floor. A wide range of audiences visit the museum, testifying to the artist's acclaim not only within the art world, but as a popular cultural figure.
This article was originally published on June 30, 2021.