The Essential Works of Nam June Paik
By Suining Sim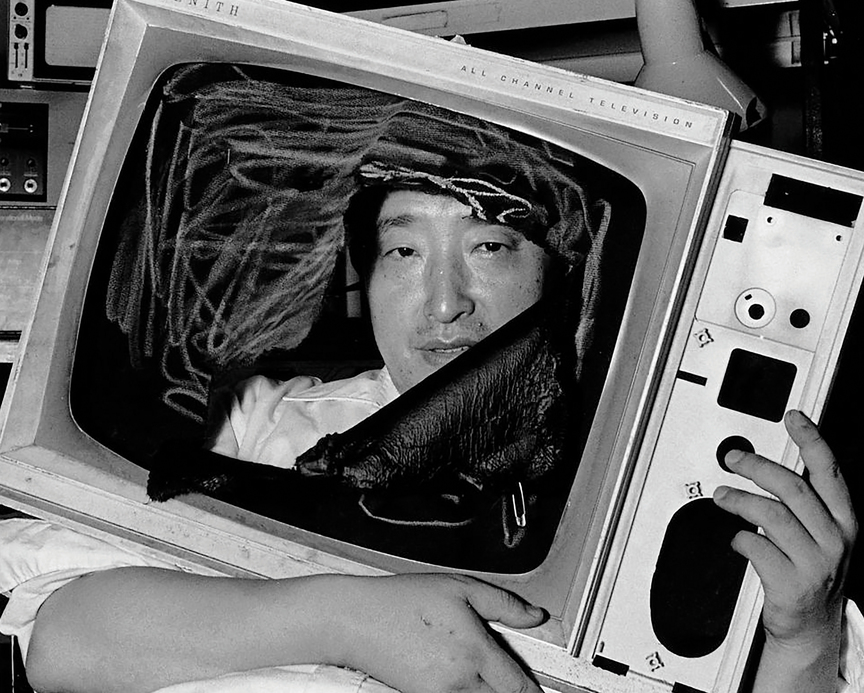 Known as the "Father of Video Art," Nam June Paik pioneered the use of television as a medium in his video sculptures, installations, and performances, straddling contradictions between the way technology brings us together and drives us apart. Born in 1932 in Seoul to a wealthy industrial family, Paik fled to Japan with his family at the outset of the Korean War in 1950. In pursuit of his interest in avant-garde music, he left Japan for Germany in 1956. There, he met George Maciunas, who invited him to join the Fluxus movement, and the composer John Cage, who became a lasting influence on his career. In 1964, Paik moved to New York City at Maciunas's behest, where he met choreographer and dancer Merce Cunningham, cellist Charlotte Moorman, and artist Shigeko Kubota, all of whom became his collaborators. Paik married Kubota in 1977. Throughout his five-decade-long career, Paik completely transformed video-making into a new artistic practice, circulating rapid-fire images in a prophetic comment on the pervasiveness of technology and the influence of mass media on human perception. His work has been featured in major international art exhibitions, including Documenta 6 and 8 (1977, 1987), the Venice Biennale (1984, 1993), and the Whitney Biennial (1977, 1981, 1983, 1987, 1989). He has held major surveys at a number of museums, including the National Museum of Contemporary Art in Seoul (1992) and New York's Solomon R. Guggenheim Museum (2000). His latest traveling retrospective, "The Future Is Now," began its run in 2019 at London's Tate Modern before stopping at Amsterdam's Stedelijk Museum, and is now on view at the San Francisco Museum of Modern Art until October 3. It will open at its final destination, the National Gallery Singapore, in December. Here's a look at some of Paik's most influential works.
One for Violin Solo (1962)
Paik met Cage in 1958 at the International Summer Courses for New Music in Darmstadt, during which he revised his working method to include a mix of live and taped sound, theatrics, and objects. Paik called this new form "Action Music," which violates performative and musical conventions to shock the listener into receptiveness. His work caught the eye of Maciunas, who invited Paik to participate in the Fluxus concerts, including "Neo-Dada in der Musik" (1962), where he performed One for Violin Solo. In this piece, Paik slowly and intently lifts a violin up over the course of five minutes before smashing it with one blow against a table, shattering the suspense and overturning expectations of how musical instruments ought to produce sound. Though Paik later moved on to experiment with television sets, he carried the Fluxus "anti-art," "anti-commercial" ideals with him throughout his whole career.
Robot K-456 (1964)
Paik spent a year with his family in Tokyo before he moved to the United States. In 1963, Paik befriended Japanese electronics engineer Shuya Abe, who later became Paik's long-term collaborator and technical support. The duo's first project, Robot K-456, is a life-size anthropomorphic robot humorously named for Mozart's Piano Concerto No. 18 in B-flat major, K. 456. The robot comprises metal, cloth, wheels, and a loudspeaker playing speeches by President John F. Kennedy, an amalgamation that reflect Paik's interest in transforming widely available sources and materials into new aesthetic forms. With 20 radio channels and a remote control, the androgynous Robot K-456 is programmed to walk, talk, and defecate beans. Paik and Abe originally built the robot for impromptu street performances, hoping that "it would meet people on the street and give them a split-second surprise." Paik did not view his works as inert, and was interested in humanizing technology to highlight the possibility of machines having consciousness and to explore the interface between humans and technology.
Magnet TV (1965)
In the spirit of the Fluxus movement, Paik involved readymades in his art. In the early 1960s, he began experimenting with television sets and other audio-visual equipment. Exhibited at his first New York solo show, Magnet TV features a television displaying wave patterns generated by the interference of the U-shaped magnet affixed to it. In this piece, Paik plays with the idea of chance: though the wave patterns seem random and uncontrollable, the effects can be explained and calculated with physics, creating here an artistic abstraction grounded in science and technology. Paik was eager to reveal the manipulative power of mass media. His altered television is at once a sculpture and an experience, a malleable gateway that gestures toward a more democratic mode of cultural transmission.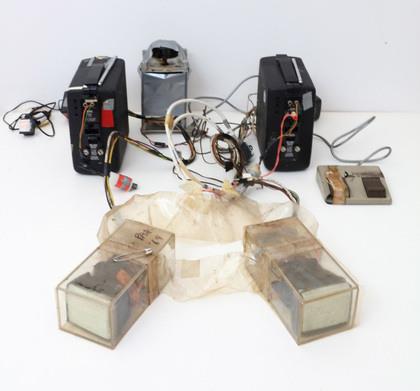 TV Bra for Living Sculpture (1969)
In 1964, Paik met the avant-garde cellist Charlotte Moorman in New York. Around this time, he started to believe that the antidote to television could only be found within television, writing in a 1966 manifesto, "specific frustrations, caused by cybernated life, require accordingly cybernated shock and catharsis." Based on this premise, he worked with Moorman for the performance TV Bra for Living Sculpture at Howard Wise Gallery. The performance transformed Moorman into a "living sculpture" as she plays nude except for a bra made from two miniature televisions attached to vinyl straps. Alternately displaying live television coverage, pre-recorded programs, or CCTV feeds of the audience, the screens are additionally distorted by the sound of Moorman's playing, which is filtered through a processor that disrupts the footage. Paik believed that the hybridizing of different media presents "a moment of truth and revelation from which new form is born . . . The moment of the meeting of media is a moment of freedom and release from the ordinary trance and numbness imposed by them on our senses," in the words of media theorist Marshall McLuhan.
TV Garden (1974)
The influence of Buddhism on Paik's life and work is inherent in TV Garden, which departs from the Buddhist idea that all things arise in dependence on other things. Placing 49 television sets amid live tropical plants, Paik envisions a world where technology has intertwined with the natural world. The televisions all play Global Groove (1973), a music video that mixes media ranging from Beethoven's Moonlight Sonata, Allen Ginsburg's chants, Japanese TV commercials, to a Nigerian dance performance.
TV Buddha (1974)
TV Buddha was originally conceived to fill an empty wall at an exhibition. Now one of his most iconic installations, it consists of a Buddha posed with a meditation mudra, sitting before a video camera and a monitor playing a live feed of itself, caught in an infinite loop of watching and being watched. The Buddha's act of watching itself prompts the audience to question the distance between the barrage of screen-flattened images on television and their own identities and self-image. TV Buddha highlights Paik's love of hybrids, setting the modern against the historical, the technological against the spiritual. The Buddha motif continued in Paik's later works such as Stone Buddha/Burnt TV (1982) and Standing Buddha with Outstretched Hand (2005).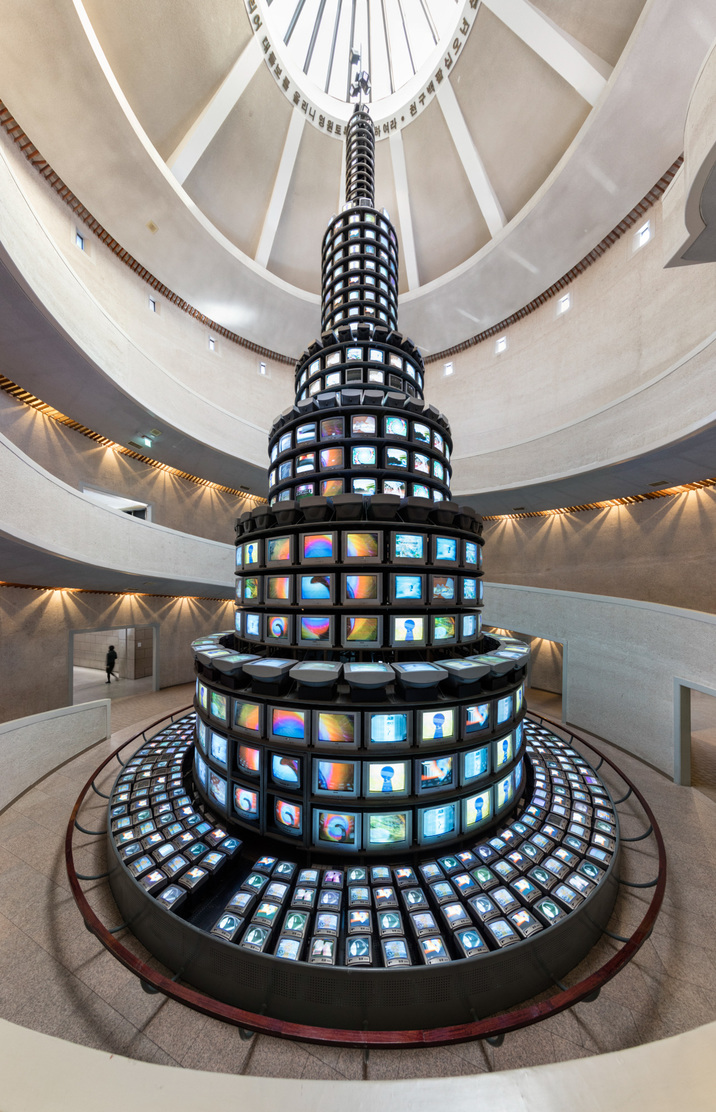 The More, The Better (1988)
Paik created his largest installation, measuring 11 meters in diameter and 18.5 meters in height, in 1988 to celebrate the Seoul Olympics. Weighing 16 tons and comprising 1,003 monitors, The More, The Better attracted 50 million viewers with a broadcast of entertainment from all around the globe, from salsa rhythms in Rio to a punk concert in front of Beethoven's house in Bonn. The event attempted to capture the artistic high points of all cultures in one space, honoring the connectivity and global fellowship brought by television. However, the title contains also a hint of irony, pointing to the installation's roots in mass production and consumerist culture as a reflection of South Korea's own economic ambitions.
Sistine Chapel (1993)
Representing Germany at the Venice Biennale in 1993, Paik and curator Hans Haacke created Sistine Chapel, which won the Golden Lion. The installation references the Chapel's hotly debated restoration process throughout the 1980s, and reimagines the space with a host of television screens and 40 video projectors, replacing frescoes with fast-paced electronic images and biblical references with pop stars. The all-encompassing installation buries the viewer in image and sound, presciently evoking the "information overload" of the internet age that was just beginning.
Electronic Superhighway: Continental U.S., Alaska, Hawaii (1995)
Constructed from 336 televisions, 50 DVD players, 175 meters of multicolor neon tubing, and 1,143 meters of cable, Electronic Superhighway: Continental U.S., Alaska, Hawaii presents an ambitious overview of America's cultural contours, comparing its then newly built interstate highway with the internet. Paik coined the term "electronic superhighway" to describe a decentralized worldwide information exchange system. In representing each state by a video clip—Oklahoma by flashing potatoes and Kansas by the tornado in The Wizard of Oz (1939)—Paik portrayed the internet as a utopian "superhighway" of information where people can connect beyond geographical boundaries. At the same time, the work also reflects how mass media flattens each state into a stereotype and presents them to the viewer all at once, making it impossible for the audience to absorb any information in depth.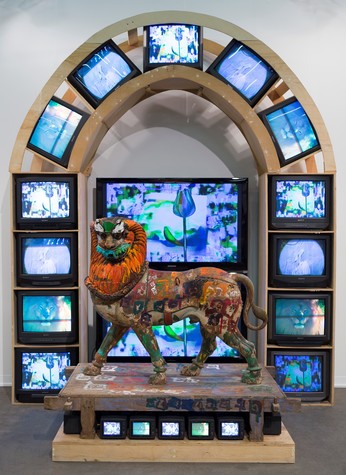 Lion (2005)
After his stroke in 1996, there was a notable infusion of spirituality in Paik's work. Lion is emblematic of Paik's late style, showing a reflective spirit and nostalgia not previously seen. As one of his final television sculptures, Lion sees a wooden sculpture of the animal tattooed all over with TV pictographs and signatures in English, Japanese, and Korean, and framed by an arch of 28 monitors, each ranging from 13 to 147 centimeters wide. The screens intersperse nature videos with old clips of Paik's friend Merce Cunningham dancing, demonstrating his lifelong interest in the melding of nature, technology, and diverse art forms.