Poetry Amid Crisis: Interview with Ahmet Öğüt
By Lesley Ann Gray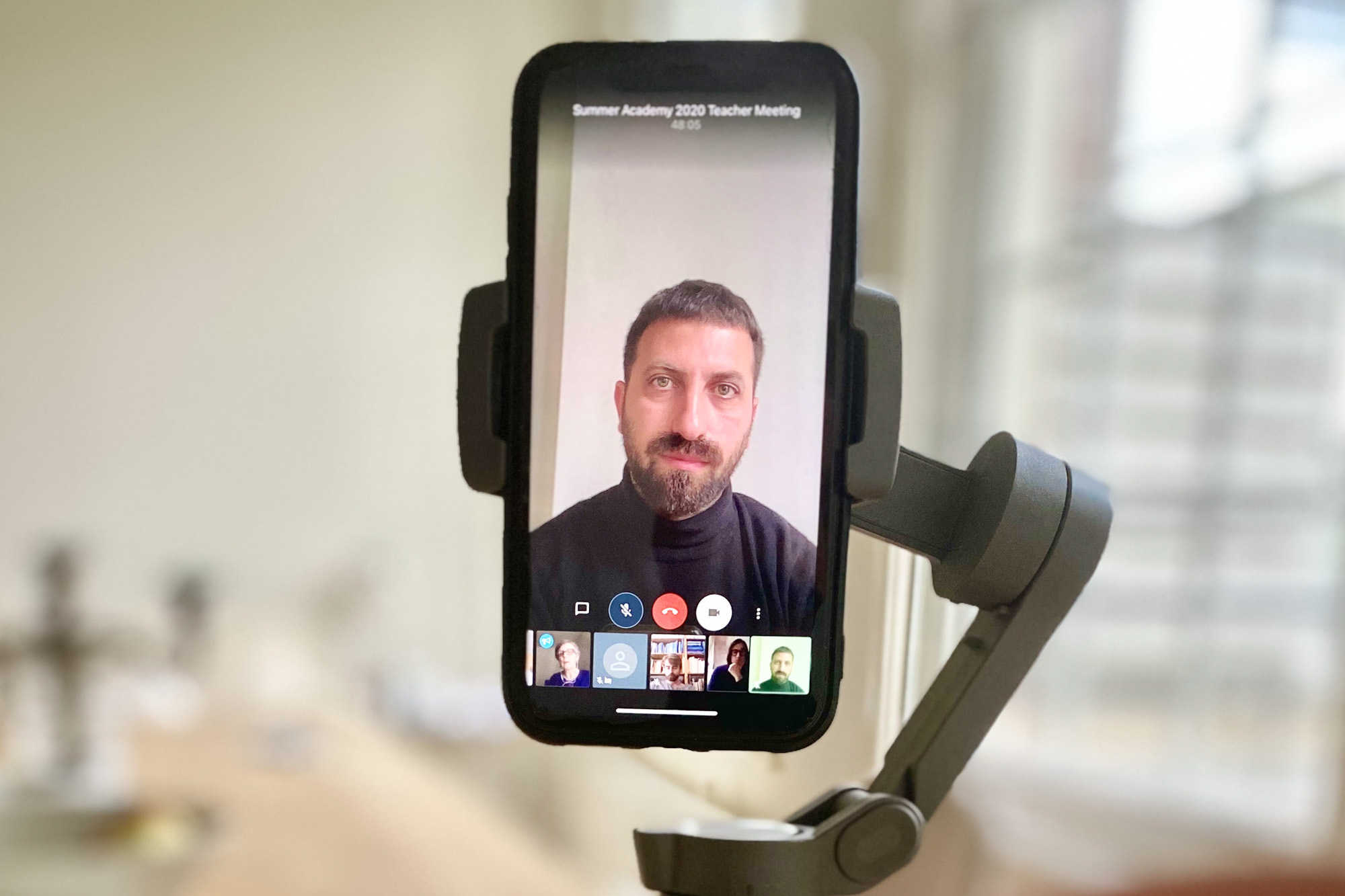 Ahmet Öğüt's multimedia conceptual practice has illuminated and confronted ideas of conflict, displacement, and disaster. Co-curated by Mari Spirito, Istanbul- and New York-based organization Protocinema, and Suad Garayeva-Maleki at Yarat Contemporary Art Space in Baku, the Turkish-born, Kurdish artist's latest solo exhibition, "No poem loves its poet," features two new site-specific commissions. The installation Hiçbir şiir, şairini sevmez (No poem loves its poet) (2020) mimics the narrow architectural passageways through the buildings of the Sovetsky neighborhood in Baku, revealing glimpses of an accompanying video displayed on a large LED wall. The work explores traces of the neighborhood's varied cultural-historical influences—Turkish, Soviet, and Azerbaijani—which coexist across Baku's urban environment despite contemporary gentrification. Also on view is the series Living Beings Squatting Institutions (2020), five sculptures of animals on top of museum roofs that highlight forms of exclusion and coexistence at play in cultural institutions.
Originally slated for March, the show opened briefly in May before closing again as Azerbaijan reinstated quarantine measures in June. I met Öğüt as he was finishing the installation of his show to discuss his practice and contexts of crisis.
Tell me about your preparation for this exhibition.
My first trip to Baku was the site visit in May 2019. My initial interest was in the Soviet era; there are many traces of that era still around. Also, I was intrigued by the new development and look of the city—there is quite an experimental type of architecture dominating how the city is represented, but you can also see the history of the Soviet era and a lot of influence of Iran and Turkey in the country. So it is a cosmopolitan place in a different way. I also know this from Istanbul. The two most common languages here after Azeri are Turkish and Russian; these two languages represent this different kind of cosmopolitanism. 
The exhibition came quickly into place following my observations. Even the title of the exhibition—it was all here. I composed the different elements in a way that was interesting for me, which is everything being side by side. There is almost no hierarchy in terms of architecture: I saw a Soviet monument right next to a Turkish mosque, next to the skyscrapers, and it all fits in one camera frame. It is surreal and post-modern in a sense, but very normal at the same time. It feels like traveling back and forth in time.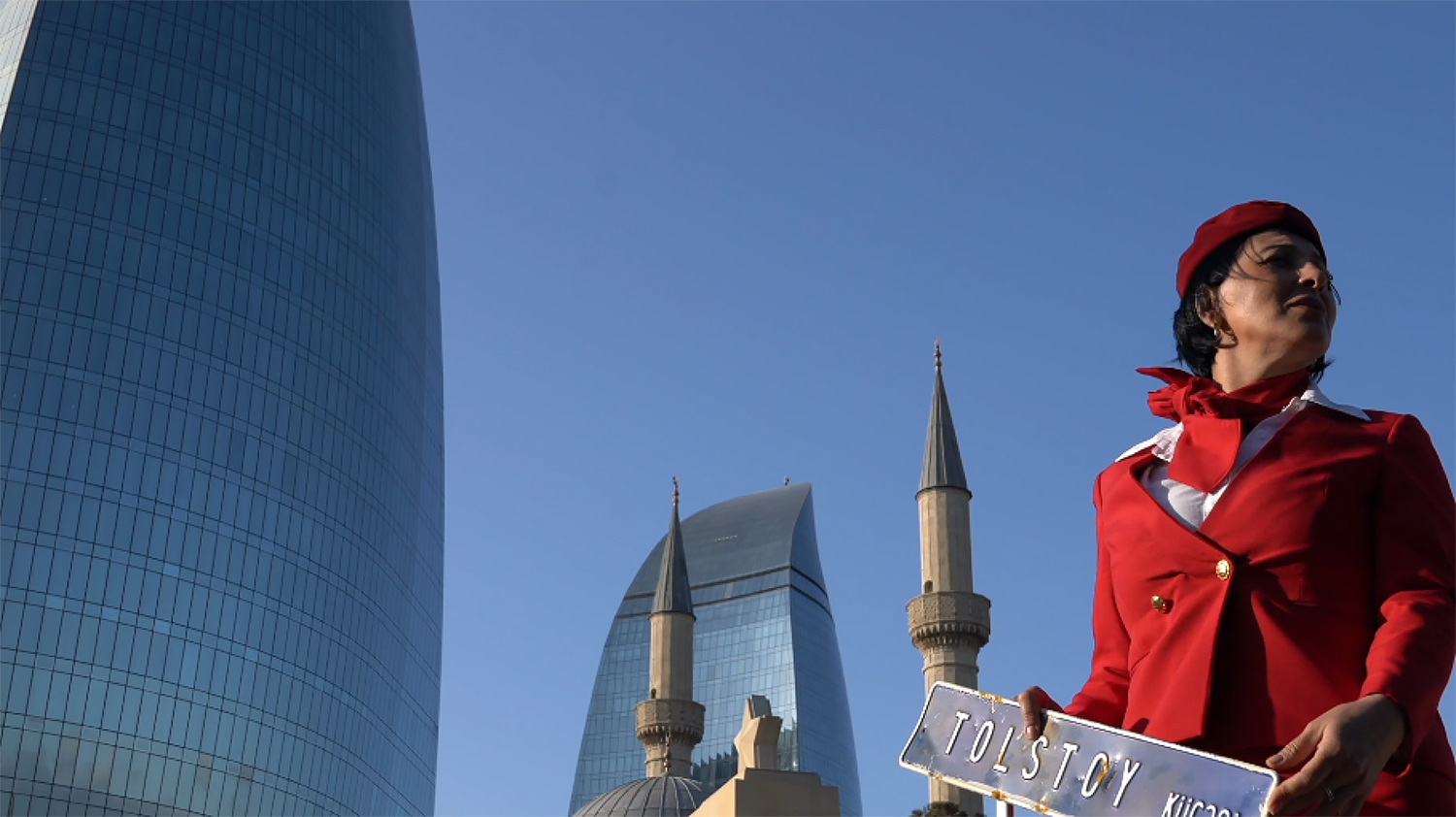 I was specifically looking for traces from the Soviet era. They are everywhere in Sovetsky, which is in the heart of the city but looks like a suburb. Anyone who grew up here had to go through this neighborhood. When I came in May, a big part of it had been demolished for the new park, but it is central to the local history, so the disappearance of this area is a big step toward getting rid of the Soviet past. One of the few remains was Tolstoy Street; we have a sign from this street in the exhibition. Tolstoy Street is a memory in people's minds. On another wall I saw Turkic graffiti—which I could read—that was completely poetic: "No poem loves its poet." I thought about this conflicted area, where is a lot of tension—a few families are refusing to leave—but this poetic sentence is on one of the last remaining walls. On the other hand, I came across two lines of Russian graffiti that were both political and poetic. One of them read "The world isn't yours, nor are your rules." Poetry on the streets has become political for me since the uprisings that I witnessed in Turkey in 2013, which was the first time I realized that there is actually a role for poetry in the politics of everyday life. 
In May 2019, when we were discussing the show, I suggested having the opening at the end, not knowing what would be happening in the world right now. Let's do it in a different way and reverse the whole process. This would give the audience the opportunity to look at the work and the exhibition in hindsight, at what happened while the show was up, as well as to reflect on the hundreds of years of histories that the work illuminates.
This graffiti became the title of the show and you see the traces of all of these things, but framed by event culture. With event culture we take so many things for granted, especially in the art world. We are not prepared for any other scenarios. And because we are not prepared for any other scenarios, the only way out is to cancel everything. We could be better prepared conceptually and practically for crisis.
The exhibition's titular video installation features drone footage over Sovetsky. How did you craft this journey through the memories of this neighborhood?
When I went to Sovetsky, I didn't only see the destruction and gentrification of a neighborhood, I saw a journey to a country that doesn't exist anymore, which is increasingly part of our political reality. I imagined a flight attendant who actually used to work in Soviet times being in that neighborhood and picking up one of the last remaining identifiers—a street sign—and metaphorically looking for the departure gate. In another neighborhood, one sees Soviet oil rigs abandoned in the sea because it is very expensive to destroy them; they are so huge that you cannot pretend they are not there. This was a sign of Soviet times: nobody talked about the pollution in the sea, but they were a monumental and glamorous part of Soviet ideology, the steel city, a celebrated metallurgy that came from the labor of the proletariat. All of the symbolism is still there because of the visibility and scale of the construction, and across from there is the seaside where people would go swim, so there is a surreal, dystopian scenario that has already happened and we are looking at it retroactively. In the work, the former Soviet flight attendant is picking up the sign and looking for the gate in different locations where you see different types of architecture side by side: the mosques, the Soviet monuments, the Flame Towers, the oil rigs, and Sovetsky. 
A key symbol in the work is the white cat. When I went to Sovetsky, there was almost no one and no house left, but when I walked through the remaining residential sections there was a domestic white cat standing outside. It was very similar to a regionally specific type of cat from southeast Turkey that often has heterochromia and goes by multiple names, but is commonly known as the Van cat—in Turkish, "Van kedisi," and in Kurdish, "Pisîka Wanê."  We don't know its origin exactly but we know that it comes from this geography and is claimed by many cultures. This animal is decreasing in numbers and is a part of cultural heritage that needs to be protected. I was immediately reminded of this when I encountered this beautiful, domestic, all-white cat standing in front of the house in this almost completely destroyed neighborhood. In the video, I inserted the Van cat with the blue and green eyes as a parallel to this domestic cat in the ruins of Sovetsky. How does it survive if the house is no longer? It all looks like symbolism or poetry but it is realistic. Everything may look surrealistic but the film is based on everyday realism.
This takes me to Living Beings Squatting Institutions. Is the cat in the video connected to the cat in your sculptures at Yarat?
At the Yarat offices, I saw a plate with fresh food just before the entrance. I asked what the food was for and the Yarat team members said, "We have our own institutional cat here." Yarat found and adopted a street cat, and it became part of the institution. That beautiful story is linked to another that very much inspired me: the falcons of Tate Modern. They have claimed the tower, it is their home, and they are part of the institution's life. When you look at an institution, you look at things like visitor numbers, et cetera, but there are also unexpected visitors who become part of the institution's life. I am more interested in these kinds of visitors.
As we talk about how the institution can function in a moment of crisis, we can also consider how to deal with unexpected visitors. They either become part of your habitus or you ban them from the institution. In the exhibition, I focused on five institutions and their animals: the peregrine falcons of the Tate Modern; the cat at Yarat; the Weimaraner dog at the Museum of Fine Arts, Boston; the bats at the National Museum of Cambodia; the polar bears around Artica Svalbard. These institutions have stories with these animals. They are either occupied or surrounded by these animals that became part of the institutional structure. Through these beautiful stories we can learn to deal with unexpected situations.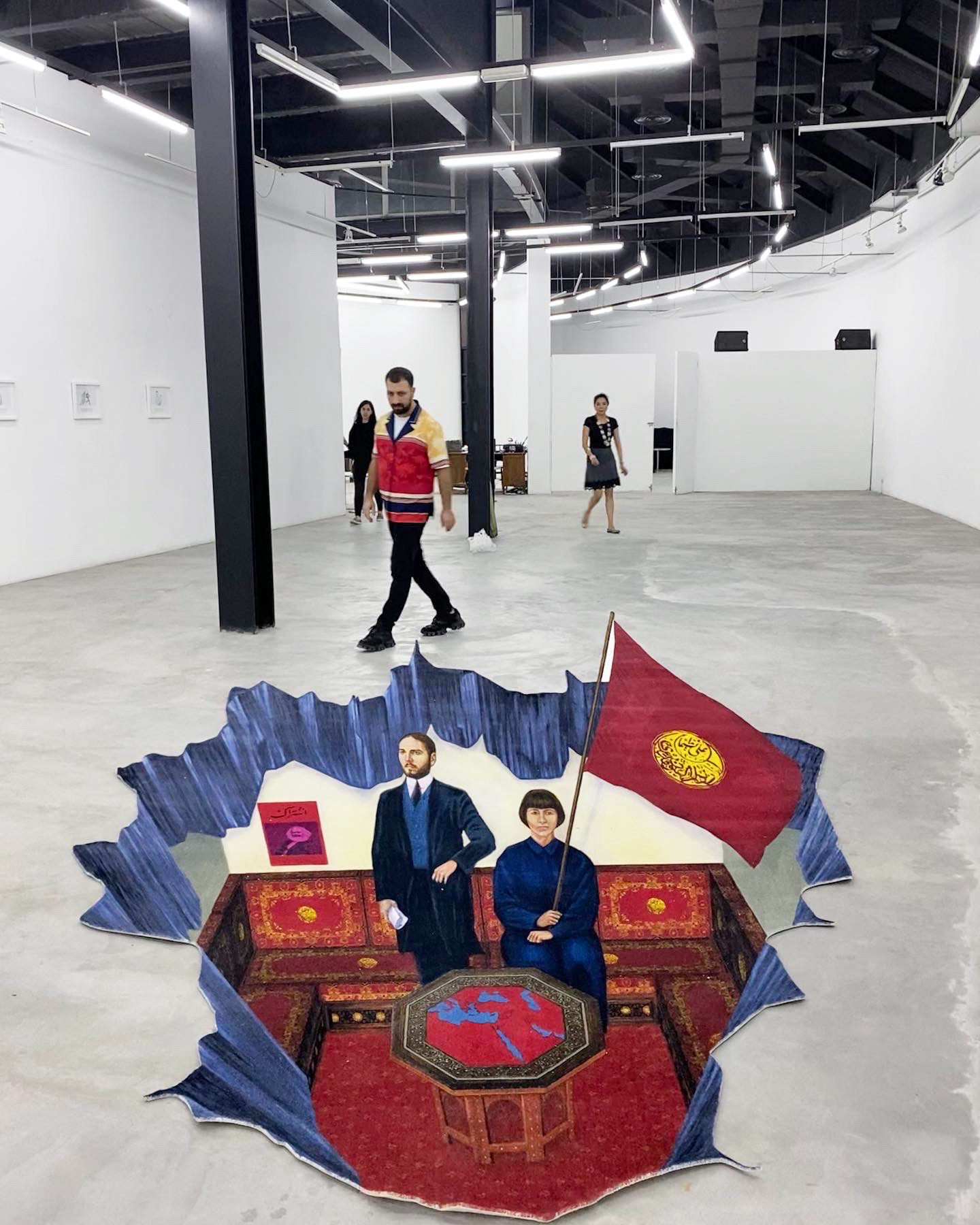 Your work often includes stories that hold a crucial part of the identity of your investigation, and they are not immediately apparent. How do you see your new works in relation to your wider practice of resurrecting the forgotten?
These works become part of my practice naturally, because an important feature of my practice is that it is site-responsive and time-sensitive. However, I am also always thinking of the possibilities in another site, in another part of the world; it should always remain meaningful and connect with the local audience there too. Even if I sometimes go very deep into site-specific stories, they always have the potential to be exhibited somewhere else, a context I wouldn't even imagine myself being in. 
For example, the work that I did in Timișoara [History Otherwise: Ottoman Socialist Hilmi and Ottoman Women's Rights Defender Nuriye, 2019] referencing the 164 years of Ottoman history of Romania now appears in Malaysia, which wasn't originally part of the plan, but considering the Ottoman influences in the Malay Archipelago dating back to the 19th century, it totally made sense there as well. I wasn't thinking about this when I made it. I was thinking about a little-known Ottoman history in Timișoara and how it can be linked to the recent communist era there. I know there was a Communist insurgency in Malaysia that ended in 1989 and never came to fruition. It is interesting that the work often goes beyond my imagination in its interpretation in different places. It definitely gets a new, more layered meaning.
Even a few weeks ago, we could not have imagined that you would be installing your exhibition in the midst of a pandemic. What is the role of an art institution in times of crisis?
I wish we could have been more prepared. I think responding to a crisis is all about being prepared. In these moments, the importance of art institutions is magnified. Art institutions should set the example because they involve creative thinking. We really need creative and reflective institutions to replace panic and misinformation. If art institutions can adapt, they will lead the way. As an artist, I have unexpectedly ended up in situations of crisis. In 2010, when I was about to go to New Zealand for the SCAPE Christchurch Biennial, a very large earthquake happened just a few days before the opening. The installation of my public artwork was delayed by a year. In 2016, I had a show during the military coup attempt in Istanbul—I was there when it happened. The immediate question was "what does an exhibition mean in a moment like that?" The best example to answer that question is the ongoing exhibition "Don't Follow the Wind" in the Fukushima exclusion zone that I am part of, which hasn't been seen by the public yet and where my work Once Upon a Time Breathing Apparatus for Breathable Air has been installed since 2015. This is an unusual exhibition because it remains inaccessible to the public until the ban on entering the area is lifted. And it's prepared, maintained, and designed according to the unpredictable future. 
I thought to make a design for a mask—a spontaneous new work. With Yarat we were able to produce them within a day. I like to think about making something that we can give away to visitors to use but also with the option to keep as an artwork edition at home. I came here not knowing if we would be able to have an opening and still it is unclear. It is important to not just give up everything and cancel, but instead think about how we—artists and institutions and the public—can still operate together under these circumstances without putting anyone in danger. I had already been talking about this subject at different conferences: how to think before moments of crisis, particularly in reference to art institutions affected by natural forces and wartime, and now epidemics. When I suggested we do a reverse exhibition and have the "opening" at the end back in May 2019 in Baku, things seemed normal. It sounded like a conceptual game. Today, we know: it could have become an exercise in being prepared for the unexpected.
Ahmet Öğüt's "No poem loves its poet" is on view at Yarat Contemporary Art Space, Baku, until October 11, 2020.
To read more of ArtAsiaPacific's articles, visit our Digital Library.