Interview with Para/Site executive director Cosmin Costinas
By Kathy Zhang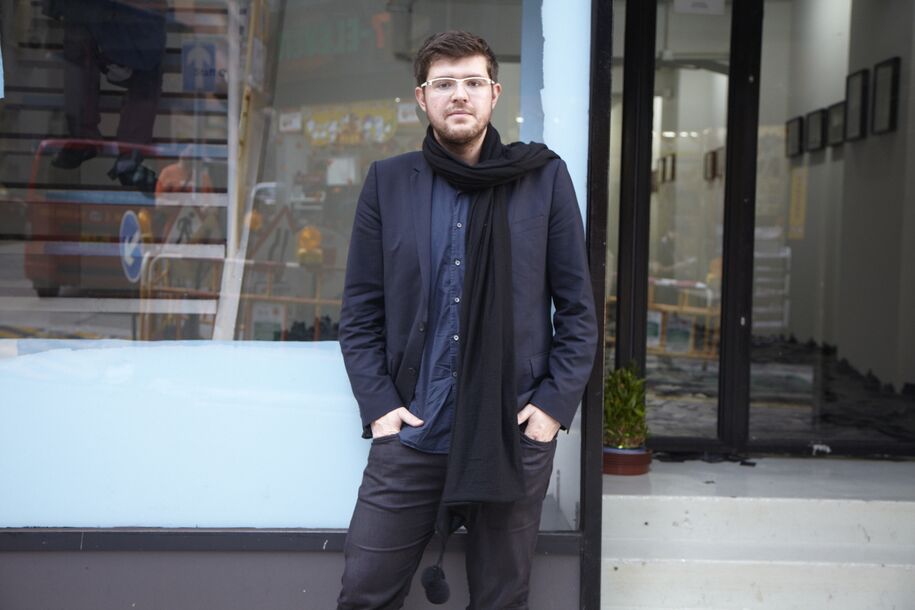 In May last year, 28-year-old Romanian writer and curator Cosmin Costinas, previously a curator at the contemporary art center BAK (Basis voor Actuele Kunst) in Utrecht, was appointed as the new executive director of Hong Kong's seminal non-profit, Para/Site. ArtAsiaPacific spoke to Costinas about his inaugural curatorial offering, "Two Thousand Eleven," and his plans for Para/Site this year.
What is the background of Para/Site, and its mission? Are you planning to make any major changes?
When Para/Site was founded in 1996, it was the only contemporary art structure in Hong Kong. Its mission was to fill the gaps in the art scene—which was pretty much nil. To that end, it assumed the role of multiple institutions. Similar to a museum, it produced historical shows, generated research and published books and periodicals. It also behaved like an artist-run space. Today Para/Site doesn't need to fill the same role it once did; Para/Site is no longer so invested in its former objective: to bring relevant international art to Hong Kong and promote Hong Kong artists internationally. The art world has changed, and there are now other institutions that serve that purpose. What hasn't changed is Para/Site's dedication to the local art scene. We want to bring a creative spirit to Hong Kong and create dialogue with the community, which will be reflected in Para/Site's programming.
Do you perceive more similarities or differences working at Para/Site compared to the Dutch art center BAK?
Para/Site and BAK have very similar histories. BAK also started as an artist-run space, in 1989. In 2001 it appointed an artistic director, then later its name changed and its budget was increased. More than Para/Site, it completely abandoned its former motto, becoming a professional art organization. Still there are many differences. BAK is situated in Holland, where culture is understood as a public good to be supported through public funding. The entire BAK budget was given by the Dutch state and the city of Utrecht. It was also, unlike Para/Site, a large institution, but the relevant difference would be the context in which the two operate. Utrecht, while it is a small Dutch town, is very accessible because it is part of the Randstad megalopolis, which includes Amsterdam, Rotterdam, and The Hague. It was not lacking a public to address, but still didn't have Para/Site's prestige of being situated, in a major city in a very dynamic region. That determines everything, the ways you work, the kinds of projects that you do, who you are addressing and how. At BAK, one had the luxury and freedom to do things that were relevant internationally, but didn't necessarily relate to the locality. Whereas Para/Site, precisely because of its almost strategic location, bears a great responsibility to the community.
How did you select the artists for your first Para/Site show? What is the exhibition's relation to the Hong Kong art scene, particularly when none of the artists are locally based?
It is always a complex process when conceiving an exhibition. The list of prospective artists grew organically as I thought about the topic to propose for "Two Thousand Eleven." I had in mind that it would be interesting to show some of the people that I worked with before—such as Olga Chernysheva and John Smith—but not exclusively. I also didn't want to have Hong Kong artists in my first show with Para/Site. It would be patronizing to come and my first gesture to be my own take on Hong Kong. It was important for me to showcase artists outside of Hong Kong and artists whom I had collaborated with before. This exhibition talked more about me as a curator and what I could bring to Para/Site, rather than my premature assessment of Hong Kong contemporary art.
At the same, "Two Thousand Eleven" is an exhibition very relevant to Hong Kong. For example, the title of the exhibition could be read in two ways: one reading is to take 2011 as a cornerstone year in the world, and the other is simply that 2011 was the year in which we were. It is a comment on the city and its complicated relation with the rest of the world. Hong Kong became, in the week just before the opening [on December 17], the leading financial center of the world, overtaking New York and London. It sees itself as a very cosmopolitan city, which it is in many regards. But at the same time, there is a strange detachment from many discussions and many phenomena that are going on in the rest of the world. There was a sense of crisis and of supreme uncertainty that reigned over the last year pretty much everywhere in the world except Hong Kong. "Two Thousand Eleven" confronts visitors with this tension between the city's image of itself that is sheltered from international developments, and what is actually happening around it. It is also meant to be a message of how Para/Site might want to operate in the future, in terms of fostering critical thinking that is accountable to real developments in Hong Kong and elsewhere.
The gallery space was altered, to come to a point in the far corner. Was the decision to limit the showroom based on the works in the show, or were you trying to say something about the tiny galleries on Hong Kong Island?
There were multiple factors in arranging the space. For one, Heman Chong's business cards are easier to install in a small space. Also symbolically, the tapered room functions well in situating "Two Thousand Eleven." It points to the prevailing mood in that year in the face of the global financial crisis, this sense of having no future. As you progress through the space, the visible "future" constricts to a point. I also wanted to make a statement, not about the SoHo district per se, but specifically that the physical scale of Para/Site's space shouldn't limit us from accomplishing grander goals.
Congratulations on Para/Site recently being awarded the HKD 2.8 million Springboard Grant from the Arts Capacity Development Funding Scheme. What events or new developments can we hope to expect in this year?
The grant money will go towards workshops, conferences, research and other areas outside of exhibition, such as the three-week seminar, "Deconstruction of a Show," co-curated with Venus Lau, which will take place in April. Para/Site will invite artists, writers and curators to discuss the theme of curatorship. In May, our next exhibition, co-curated with Doryun Chong [associate curator at New York's Museum of Modern Art], will contemplate historicity and the ways in which Chinese artists were written into the discourse of the 1980s New York art scene.