Extending Aroha: Interview with Turumeke Harrington
By Hutch Wilco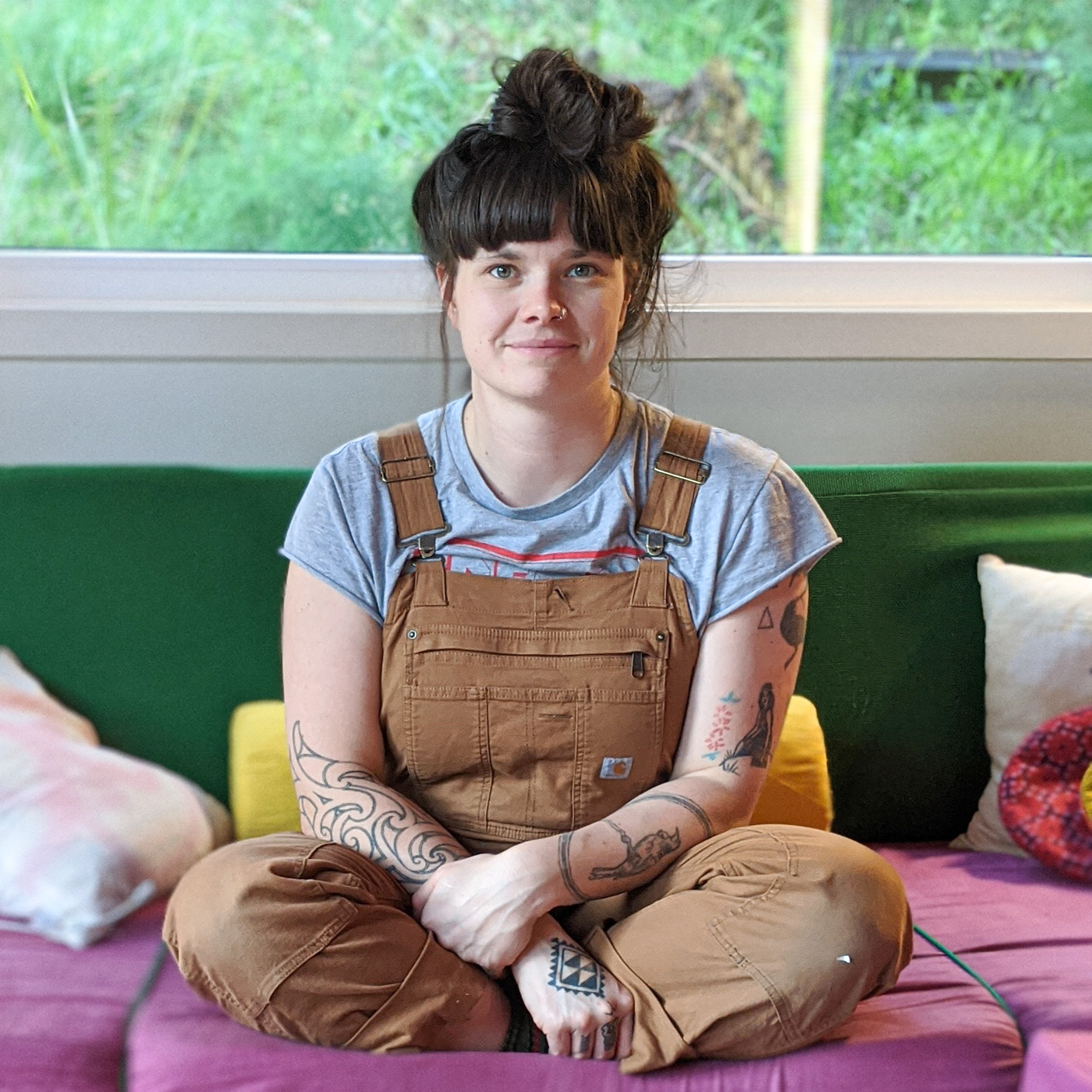 I first met Turumeke Harrington almost a decade ago at Te Papa Tongarewa, New Zealand's national museum in Wellington. Bespectacled, with hands dotted in what looked like hand-poke tattoos, she exuded a wry cynicism coupled with determined confidence. At the time, she planned to go to Australia to learn how to make shoes.

Since then, Harrington has indeed added cobbling to her training, which includes a background in industrial design and fine arts. She is currently completing her MFA at Toi Rauwhārangi College of Creative Arts, Massey University. After numerous moves across cities and countries, she is now based in Wellington.

Lately her career has moved into high gear, with seven solo exhibitions in the past two years, as well as participation in numerous group shows. In May, she and curator Grace Ryder co-authored the show "Help Yourself" at Wellington's Enjoy Contemporary Art Space, featuring her own work alongside contributions from artist friends Sarah Hudson (Ngāti Awa, Ngāi Tuhoe), Saskia Leek, and Greta Menzies in an examination of the complexities of friendship, generosity, and reciprocity.

We talked recently about some of the preoccupations of her work, among them whakapapa, space, and color, as well as the sense of conviviality that informs her practice.

Kia ora, shall we start with where you whakapapa [connect] to?
This is an interesting question. You'd think I'd have a more concrete understanding of this given the kind of interrogations in my practice and personal life to establish it, but it just keeps getting murkier.
My whānau [family] whakapapa to the South Island tribe, Ngāi Tahu. We whakapapa through my tūpuna [ancestor] Ema Turumeke to the hapū [sub-tribe] Ngāi Tūāhuriri who's takiwā [domain] extends from the Hurunui North and Hakatere south of Ōtautahi Christchurch and inland to the main divide. We also whakapapa, through Ema, further south to Moeraki.
There are also the North Island lines, Ngāti Raukawa ki te Tonga, Rangitane and Ngāti Toa Rangatira. People moved around, married each other, had kids; my pepeha [Māori self-introduction] is changing as we rediscover more of this history.
How much context I give depends on who I'm talking to. The other thing is I'm not necessarily interested in making identity-focused work. I'm just figuring my own stuff out, and my work may or may not reflect this, but fundamentally it is not a unique position to be in. There are so many Māori who don't know where they come from. It gets more interesting as you get older and you realize that all societies are made up, and you start to think, "so what can I make up?"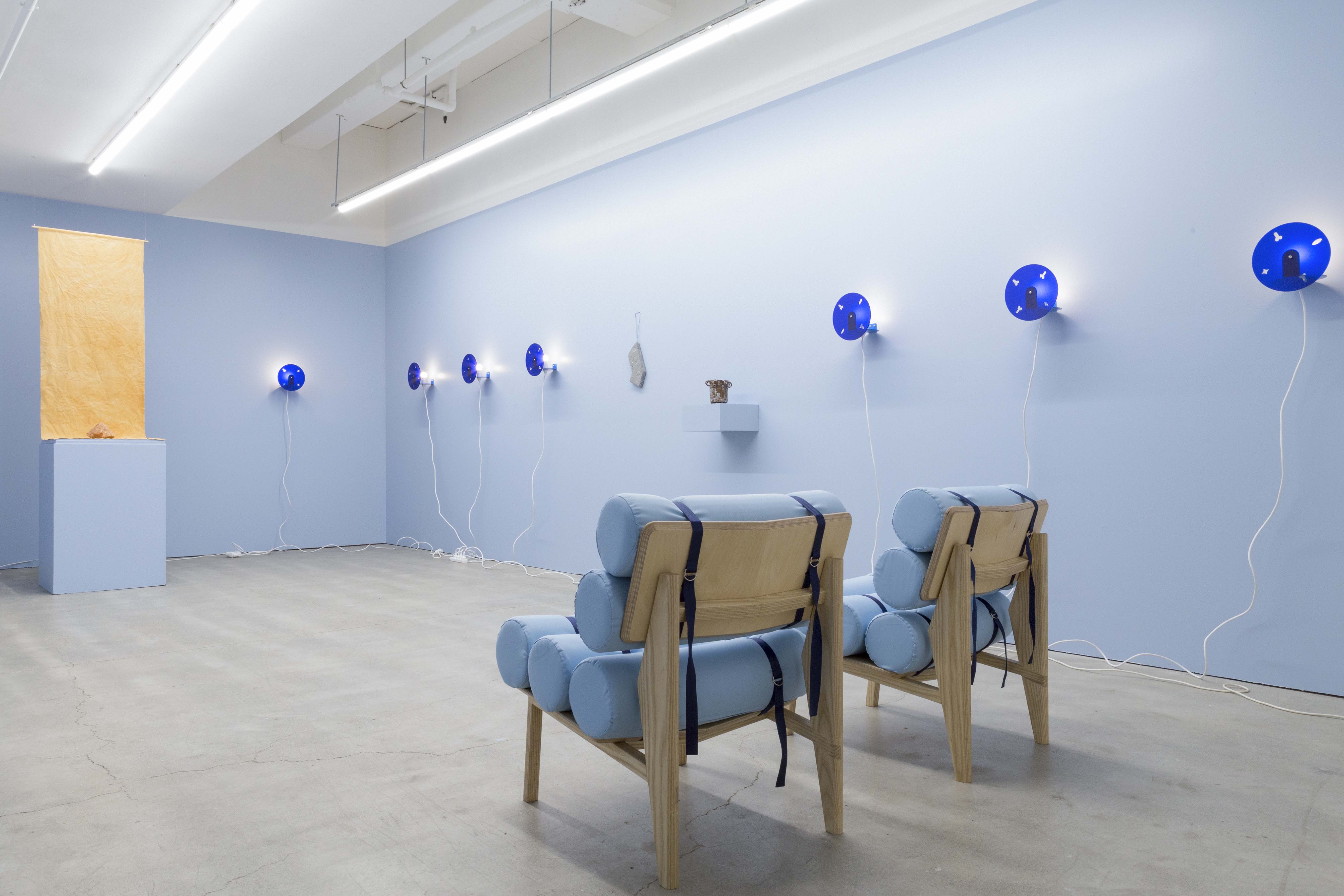 There's a sense to "Help Yourself" of creating social forms.
The premise of a show being about friendship feels simplistic or twee, yet it seems fundamental to everything. Whanaungatanga, or "being in good relation"—as interpreted by scholars Hana Burgess and Te Kahuratai Painting—to the people and the world around us, is central. We can get stuck in discussions about nepotism and networking, but I don't think we talk openly enough about giving opportunities to people because of friendship.
Many cultures value these networks of reciprocity that are entangled throughout friendship and business, which from a Western perspective is often considered corruption.
Yet we frequently create processes to manage appearances while enabling these relationships to continue. In the same vein, the color palette of "Help Yourself" is blue because Grace's favorite color is blue. But one isn't meant to say that. There are lots of other ways that I could rationalize that choice but it shouldn't be necessary.
The texts for your recent exhibitions have little conceptual rhetoric—not that you're avoiding it, but rather asserting the validity of plain language.
That is because I am driven by formal considerations—materials, color, space. Generally speaking the conceptual or narrative aspects to my mahi [work] are developed simultaneously, an evolving journey of learning and understanding my own whakapapa and place in the world. In this way I consider the "work" like mnemonic devices, objects from which I can recall experiences and knowledge, as opposed to conceptually driven output.
When I think about my contribution to this particular show, there's so much further you could take it in terms of explicitly articulating generosity. I have been thinking a lot about appreciating the lessons your parents teach you as you get older. My dad is this super charismatic, intelligent, bizarre dude and he's been talking my whole life about philosophy and the ethics of social behavior, and I'm only just coming to realize and value how this has shaped me. And the idea that a good friend is someone who holds you accountable. As I think about these things more consciously, it wraps into these exhibitions. So there are ideas of friendship, generosity, and a moral code that underpins relations between people, and how those are communicated.
The exhibition also subtly broadens the definition of manaakitanga—understood as hospitality, or "extending aroha [love] to others"—to include a form of self-care.
Grace is really interested in the idea and practice of care. She would say her love language is service. I think we both practice manaakitanga in the sense of hospitality, but also in the way we approach our friendships as a genuine effort to recognize and uphold the mana [prestige] of these people we care about.
There is a conversation in the arts currently about what your obligations are and to whom. That this show is made for someone, and collaboration is the important element, is a way of de-centering oneself. As an artist it feels better to give something. I'm not sure if my family and friends want these shows but they get them. "Self-care" as a term makes me cringe, but to practice it is genuinely necessary in order to care for others.
I think this is common throughout your exhibitions. Each seems to be for, or about, someone: "Te Koretētāmaua - Settle Petal" (Corban Estate, 2020) was for your father; "Special Time" (Blue Oyster, 2021) for your daughter; "Gentle Ribbing" (Toi Poneke, 2020) perhaps for yourself.
I did make "Gentle Ribbing" for me. It was hard and took ages! But then I feel like you shouldn't make sexy work for your parents.
The fabric banners in "Help Yourself," which operate like pou whenua [carved boundary posts], seem an extension of some of the thoughts and sexual imagery that informed "Gentle Ribbing."
Subversion and dark humor is prominent in many indigenous practices, and the banners adorned with cocks, vulva, and mouths are part of that. I've been drawing dicks because it's funny for ages, but I'm also having these serious conversations around attraction, gender, whakapapa, wairua [the soul]—the idea isn't as shallow as I first thought. I make these paintings from earth pigments I've collected; there are repetitions of dicks and other symbols, and it occurred to me, it references Hineahuone, the first woman made of earth, so there is solid conceptual and cultural grounding.
Colonization has affected all our life rituals, our body image, our attitudes to gender, sex, death. Not to say that our decolonized lives should be salacious, but we'd all have much fuller lives if we could be more open about these issues.
Within each show being for someone, you're extending these conversations generationally, at least within a single family. There's a sense of preparation, in that you're preparing your child for the world through your work.
Preparation and acknowledgement, recognizing the things people have done and taught you, and how I can contribute and support is a lot of my thinking.
"Help Yourself" was co-authored with Grace Ryder and informed by your relationship to one another. How did the other participants become involved?

Grace is a curator, and the former director of The Blue Oyster Art Project Space in Dunedin. As an artist I tend to curate myself but have very little interest in curating others, so "co-curators" didn't really work. Sophie [Davis, former director of Enjoy] suggested the term "co-authoring." In essence, there's two bodies of work: my solo, making output, and Grace's, which is the conceptual grounding and working with the people we wanted to work with.

Saskia Leek's work—a textile made by her mother, Kristin Leek, in 1975, accompanied by a text detailing the sacrifice of her mother's creative aspirations for dutiful parenthood—has meant a lot to everyone. It's a pretty admirable move to present a work made by your mother who has just passed away. Sarah Hudson's contribution—a textile colored using pigments derived from whenua, earth, from which she and a friend whakapapa—was the first time she's shown her whenua-based work outside of the collective Mata Aho. Everyone was going through different things and while we weren't trying to do something massive or poignant for people, it was serendipitous timing on all fronts that everyone was able to be involved, and more so that when everyone turned up with their contributions, they were all deep oranges and reds, perfectly contrasting with the blue palette of the installation.

My part was realizing how to deal with these two spaces, one with no windows and then the large open front room with windows to the street. Having artworks from other people and not knowing what they might be was an additional wild card. In designing the space I thought a lot about how we live with artworks. There are allusions to women's labor, textiles, ceramics, and the practices that we might take on as women who need to work around families or in small domestic spaces.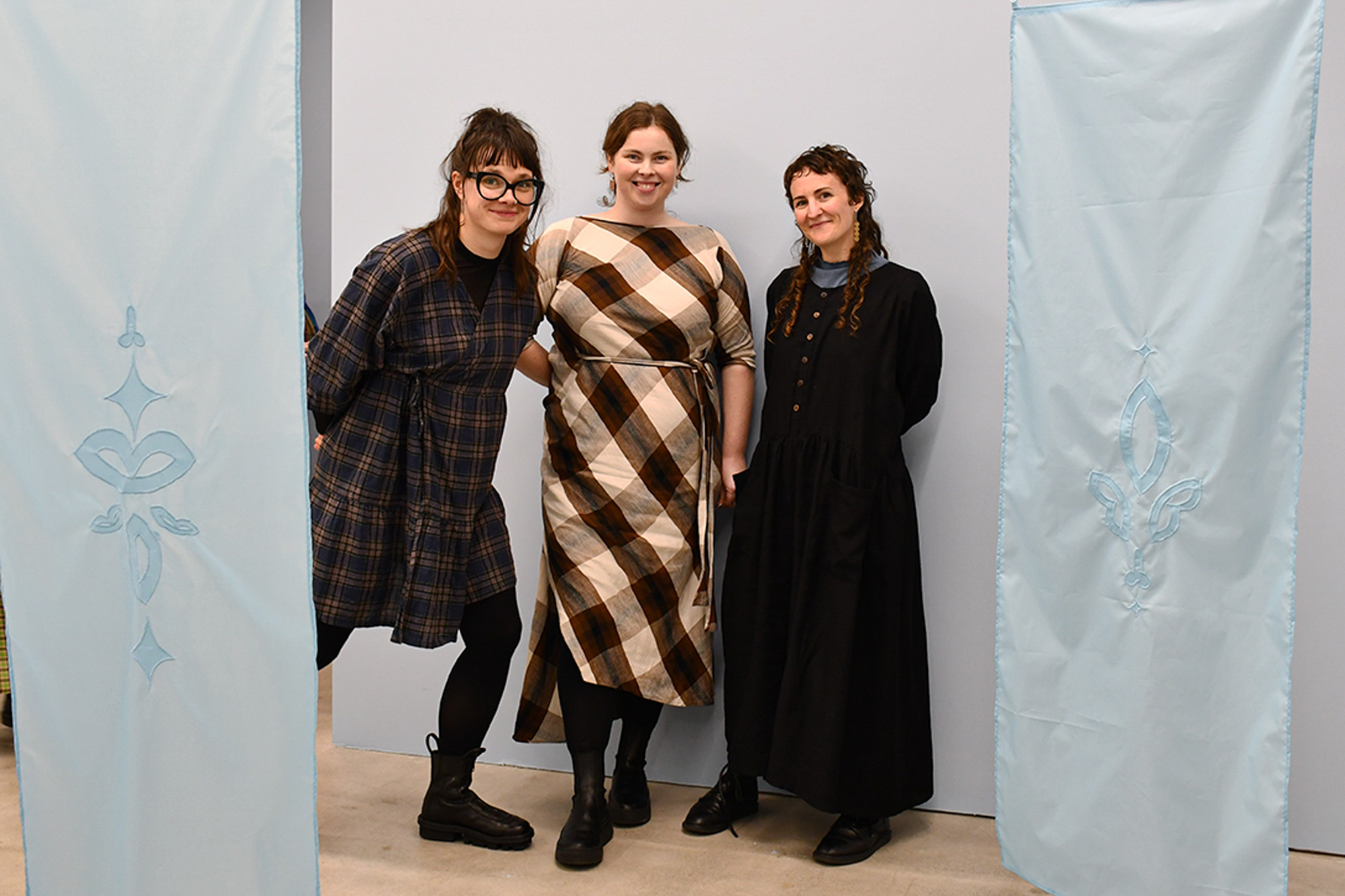 Saskia Leek's contribution centers the show. It's a really strong articulation of the ideas about responsibility, the values that we leave behind and how that resonates into the future for our descendants.
For me this is the magic, for these things to act in such ways, this serendipity or interconnectedness. It really summarized the experience of trying to be for other people, and it was a real honor to have it in the show.
With Covid-19 closing borders indefinitely, the New Zealand art scene has naturally been more inward-looking. Gallery practices are changing—for example, hosting a shared meal in the venue has become common.
As a result of Covid-19 you have all these people coming back, there has been an intensification of local production. There is also an increasing normalization of Te Ao Māori [the Māori world view], reo [Māori language], and all these cultural shifts. Like in the institutional adoption of concepts from Te Ao Māori—of whanaungatanga, manaakitanga, observing the maramataka [Māori lunar calendar]. It is great that galleries are developing a sense of manaakitanga and community responsibility. Even if people are doing it to follow a trend, it still normalizes these behaviors. Anything to chip away at the exclusive exterior is good.
Hutch Wilco is ArtAsiaPacific's Shanghai desk editor.
To read more of ArtAsiaPacific's articles, visit our Digital Library.