Exploring Subtlety: Interview with Haneyl Choi
By Taeyi Kim
Amid the Frieze frenzy this past September, Seoul welcomed an unprecedented number of art enthusiasts and professionals from various parts of the world. Vibrant energy flooded exhibitions at institutions and galleries, from large to small, each displaying artworks for international visitors.
Seoul-based artist Haneyl Choi gained a foothold during the busy period with a two-person show with Osang Gwon, "The Other Self," that opened at the Ilmin Museum of Art and a solo exhibition on view concurrently at two contemporary art spaces: P21, located in the heart of Itaewon, and Gallery2, situated in Jongno, about ten miles away from the former. Choi's work, despite his high profile, defies the standard expectations of the mainstream Korean contemporary art scene—rife with multimedia artists with international backgrounds—as a queer sculptor with solid roots in South Korea. I spoke to him about his recent presentations and the trajectory of his practice.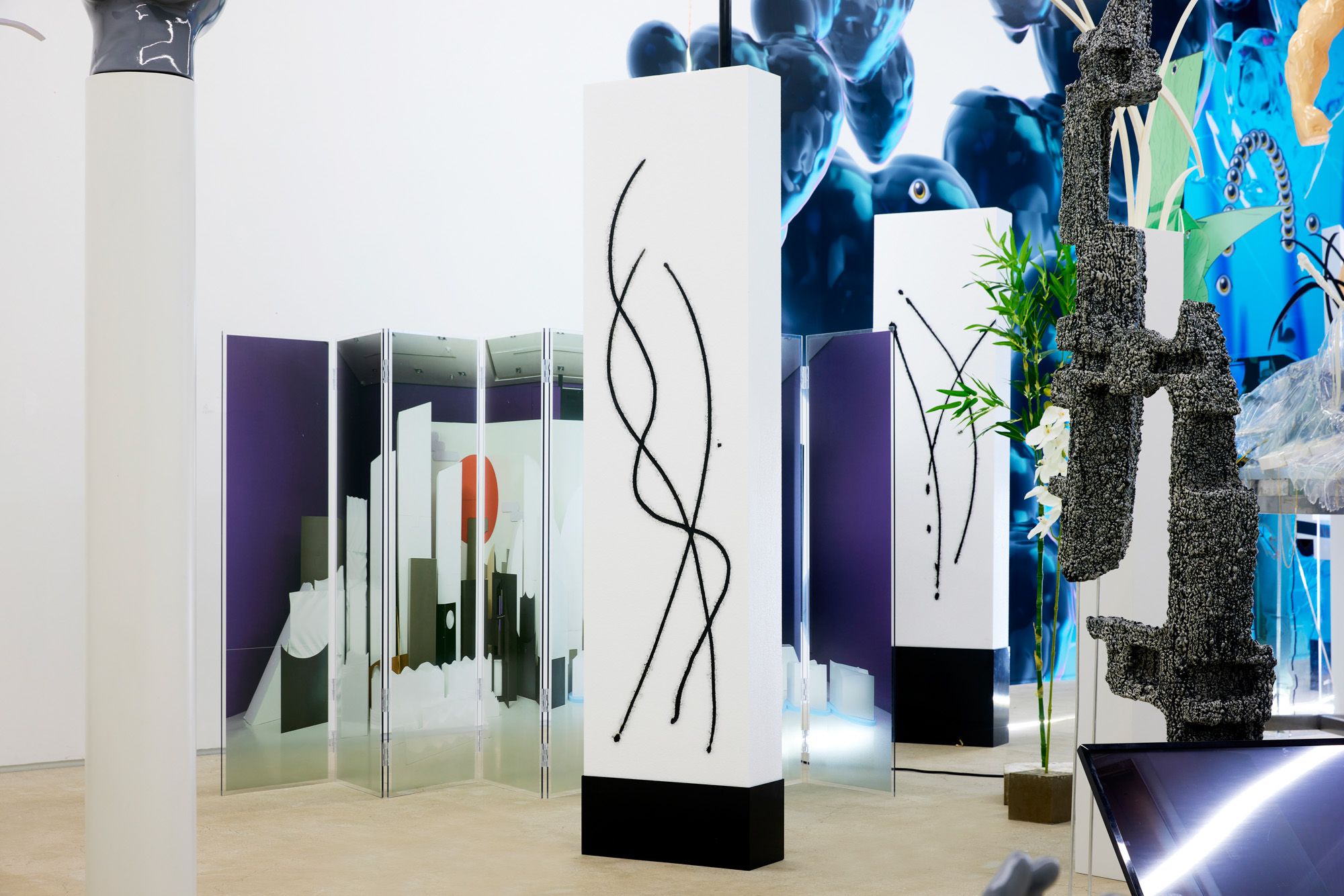 "Manner" is a joint exhibition held in two separate venues: P21 and Gallery2. Each gallery carries a distinct ambience in terms of their size and space, not to mention the geographical distance from one another. Considering the site sensitive aspect of sculpture, what was the intention behind the spatial division of a single exhibition?
It all started with the galleries' suggestion—the idea of establishing and presenting a sense of solidarity among local galleries based in Seoul for the week of Frieze Seoul. Just like you said, the two venues are situated in different parts of Seoul, each with a different vibe in terms of the space. Such a distinct geographical, physical difference naturally posited the question of how to solicit each individual viewer to visit both places, which became one of my central tasks throughout this exhibition. The exhibited artworks of roughly 40 works were carefully allotted and installed in accordance with the surrounding space, which explains the different features of the series in each venue. Overall, it was a fresh and fun experience; it acted as a catalyst for smoother storytelling. In a similar context, I would personally recommend visiting P21 prior to Gallery2 as the latter contains a larger amount of works.
Compared to your most recent solo exhibition, "Bulky" at Arario Museum in 2021, "Manner" places less emphasis on the topical content and more on the concept of form. Does the Korean title of the show "Tae(태)"*—a word used to describe the visual form of someone and also the eponymous title from one of the works in the show—carry any specific relevance to this?
Yes, that is correct. Throughout my last six years of work, I was never remiss in experimenting with the forms of sculptures. Yet, I feel like it was relatively shadowed by my thematic approaches, such as that of queer art. In that sense, "Manner" was an opportunity for me to trace back various methodologies that I've incorporated in my past works and re-examine the significance of a figural, formal practice as a sculptor. The representative examples include the acrylic folding screen series, For My Own Boys (2022), or Tae (2022). Tae, the work you mentioned, was actually produced as sort of a "door opener" for this whole exhibition. It started from a casual question of whether we can still recognize the person when their silhouette has vanished. While having a conversation with a close friend of mine, the subtle concept of tae crossed my mind. The word can be used both in a complimentary or derogatory context,* but what exactly is that boundary that makes us perceive something with or without tae? This exploration of a subtle boundary as an artist is the underlying theme of "Manner."
[* To tell someone that he or she shows "tae" would mean that the person has a stylish, attractive appearance while calling someone to be without one would imply the opposite.]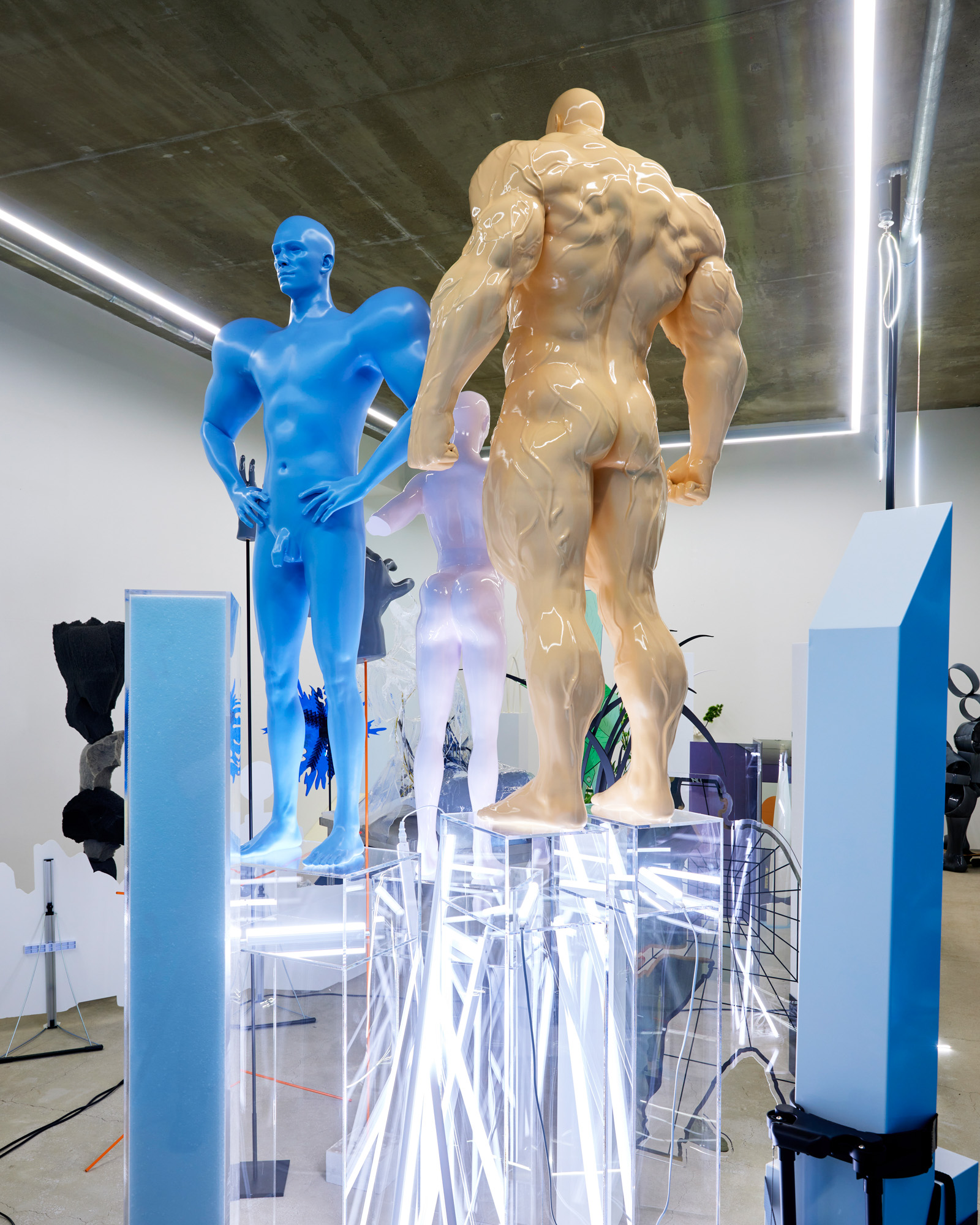 Throughout your oeuvre, you have expressed constant interest in the human body, and "Manner" seemed to be no exception. Hints of the human body—feet, faces, and, in particular, hands—are explicitly found throughout both venues. What do they signify? How do they correlate to the concept of tae?
My body is the most familiar, comfortable source of sculptures for me. Among various parts, hands have naturally become the center of my interest as they're the most frequently utilized parts for a sculptor. As I started conducting research on hands, I came across the fact that there is a considerable percentage of people—far greater than I'd expected—who live with hand deformities, such as having four or six fingers, as depicted in H2 (2022) and H3 (2022). H5 (2022) in P21, for instance, is a 3D-printed image of a person's hand with a swollen thumb. The person in the photograph was living life in such a confident, relaxed manner, which was quite the contrast to my initial reaction when I first encountered the condition.
C4 (2022), at the same time, derives from the face of a newborn baby suffering from Cyclopia syndrome. Cyclopia is a congenital disorder, where the eyes, nose, and mouth fail to properly divide and fuse. This condition leads to respiratory dysfunction, and babies diagnosed with the syndrome are either stillborn or pass away the minute they finally see the world. If, by any chance, future technological advancements succeed in providing treatments for these babies and give them a chance at life, would the world be able to view them without any prejudice? Just like the hands, there are so many variations of the human body, and yet, haven't we become too accustomed to a normalized, standard body figure? What sets apart the normal from the abnormal? These were the questions I wanted to bring out from viewers.
However, presenting these figures under the category of abnormality was the last thing I wanted to do. I wanted these works of "deformed" body figures to stand as independent, monumental works of art that are contextualized in the mainstream of sculpture.
In connection to your identity as a queer artist, "Manner" seems to weigh more on the definition of "peculiarity" of the word "queer," rather than on sexual orientation or gender identity, which were central themes in your previous exhibitions, such as "Bulky," "Siamese" (at P21, 2020), or "Bony" (Museum Head, 2021). What are your current major concerns as a queer artist? How do you view the queer scene in Korea?
Yes, you put it right. I mainly focused on the concept of "queer," as in sexual, gender orientation, between 2018 and 2021. For this solo exhibition, I must admit that I was conscious of Frieze taking place in Seoul. I wanted to create a good balance and mixture of my identity both as a sculptor and a queer artist, especially for the audience from abroad, who would be encountering me and my works for the first time. For those who have already seen my past works, I wanted to them to perceive this show as a comprehensive survey of artistic methodologies I have been using in past years.
As queer artist in Korea, I feel deeply frustrated. Look at the United States, where you are based in, for instance—a country of diversity, packed with people from various race, ethnicities, and cultural backgrounds. In contrast, South Korea, as a country dominated by a single ethnicity and, hence, strong ethnic nationalism, still has so much room left for individualism to sprout. Difference often becomes a subject of rebuke, while others' opinions matter so much in so many parts of one's life. I believe this directly applies to gender and queer issues. Among many other countries, South Korea is particularly more susceptible to conflicts between the feminist and queer community. And I think it's due to extremely rigid, fixated stereotypes on gender roles and heavy nationalism.
How would you define your role as one of the few openly gay artists in South Korea, and a contemporary sculptor? How do you hope to expand your interest through your works?
I feel that Asian countries, such as South Korea, Japan, China, Taiwan, Thailand, and Malaysia, lack cultural exchange and networking relative to Western countries, in terms of queer cultures and communities. If we were to communicate more openly with each other, what kind of characteristics of the LGBTQI+ community would be unique to Asia?
Even among various East and Southeast Asian countries, South Korea has relatively weak queer rights. Due to this situation, the previous generation of Korean queer artists tended to focus on thematic, topical content, which all converged as "queer liberation," traversing all sorts of medium. I want to raise that bar, meaning I hope to expand and deepen the terminological concept of the word "queer" by using sculpture as my main medium. There are various ways to fight for queer rights, such as legalizing same-sex marriage or implementing anti-discrimination laws. Nevertheless, I believe those are the areas of a social activist, not of an artist.
Unlike many other young artists, I was born, raised, and received my education solely in Korea, and I am deeply involved in the Korean art scene. With this kind of background, I feel responsible of showing the world the kind of values a millennial Korean artist, particularly in the postcolonial era, can pursue. I want people to know that despite the frustrating situation in Korea, it is still possible to act and think the way I do. If I compare sculpture to preparing a dish to serve the audience, my main task is plating the landscape of the queer culture and community in Korea.
Haneyl Choi's "Manner" was on view at P21 and Gallery2, Seoul, from August 25 to October 1, 2022.