Weekly News Roundup: November 10, 2023
By The Editors
New Venue of Shenzhen Art Museum Opens
The new venue of the Shenzhen Art Museum has opened in Longhua District, the first of ten cultural landmarks that the city plans to open in the new area. Designed by German studio KSP Jürgen Engel Architekten, the museum is modeled after a palace and opened to the public on November 7 with eight exhibitions and one thematic international forum. Integrating exhibitions, collections, and cultural exchanges under one roof, the museum is located in the Shenzhen North Railway Station central business district, boasting 20,000-square-meters worth of exhibition space, with 18 exhibition halls, a 3,900-square-meter semi-outdoor area for sculpture exhibitions, several lecture halls, an art book reading room, and an art-themed restaurant. Nearly 6,200 square meters of the museum is dedicated to storage, equipped with a tailor-made environment monitoring system. The new museum can receive up to 6,000 visitors daily, and requires admission reservations to be made via the Museum's official WeChat account ahead of time.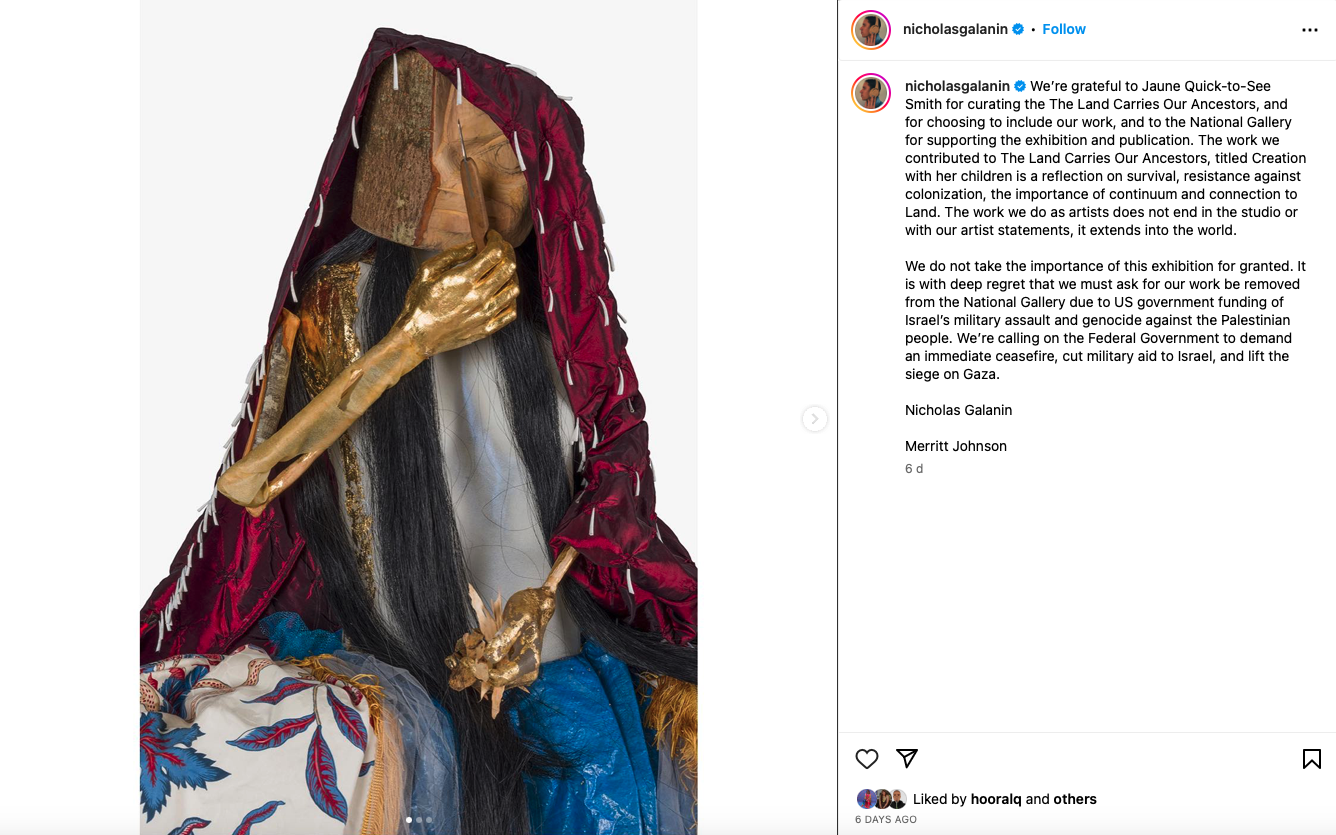 Artists Request Their Work Be Removed from the National Gallery of Art
The National Gallery of Art (NGA) in Washington, DC, has begun deinstalling Native American artists Nicholas Galanin and Merritt Johnson's mixed-media sculpture Creation with her children (2017) from its ongoing exhibition "The Land Carries Our Ancestors," honoring the artists' November 3 request. In a statement posted to Instagram, Galanin and Johnson thanked the NGA for supporting "The Land Carries Our Ancestors," which features work from 50 Indigenous artists on colonization and land autonomy, noting, "We do not take the importance of this exhibition for granted." The statement goes on to request the gallery remove their work "due to the US government funding of Israel's military assault and genocide against the Palestinian people." Galanin and Johnson also cited the message behind Creation with her children—"a reflection on survival [and] resistance against colonization"—as part of why they did not want the federally-funded gallery to display their sculpture. Back in 2019, Galanin and seven other artists withdrew from the Whitney Biennale over Whitney Museum of Art board-member Warren Kanders's ownership of the Safariland Group, a weapons manufacturer with ties to the Israeli military and American law enforcement.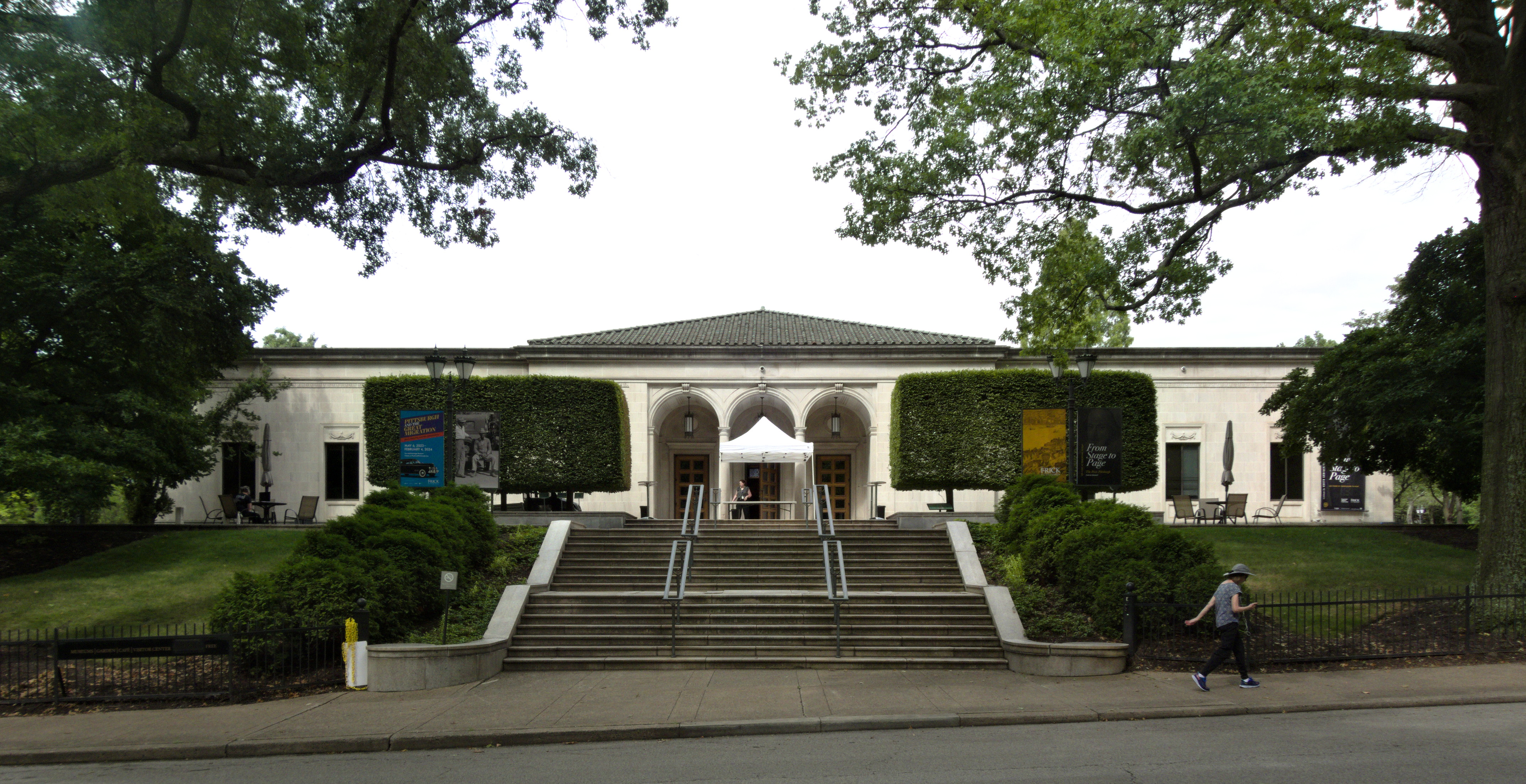 The Frick Pittsburgh Apologizes for Postponing Exhibition
After receiving backlash from local Muslim and Jewish communities, the Frick Pittsburgh has issued an apology over its decision to delay an exhibition on Islamic art and antiquities. "Treasured Ornament: 10 Centuries of Islamic Art" was scheduled to open on November 4 in Pittsburgh, Pennsylvania, but was postponed until August 2024 in light of the ongoing violence in Gaza. Last week, museum leadership attributed the delay to not wanting to offend Pittsburgh's large Jewish population or put its staff in the position of having to discuss the polarizing conflict with museum go-ers. However, executive director Elizabeth Barker has since retracted those claims, writing in a statement: "There are no excuses for what I said, regardless of my intentions. My words gave the offensive and utterly wrong impression that I equated Islam with terrorism and that I saw Jews and Muslims—communities with millennia of peaceful interconnection—as fundamentally opposed." She goes on to call the debacle an "opportunity for [the Frick] to learn and grow" while ensuring the museum will "hold [itself] accountable."
Subscribe to ArtAsiaPacific's free weekly newsletter with all the latest news, reviews, and perspectives, directly to your inbox each Monday.