Weekly News Roundup: March 31, 2023
By The Editors
Taoyuan International Art Awards Announces Winners for 2023
After an intensive selection process that took place over more than six months, the Taoyuan Museum of Fine Art (TMoFA) announced the final winners of the 2023 Taoyuan International Art Award (TIAA) during an award ceremony on March 21. French artist Delphine Pouillé took home the Grand Award with her installation on exhaustion, Pull Up (2020). Meanwhile, Honorable Mentions were awarded to Argentinian artist Belén Santamarina for her hair embroidery on diary entries and sheets in Migran-t, First skin: Nostalgia (2021); Chinese performance artist Jiao Yan for her video work on the disconcertingly persistent phenomenon of missing persons, I CAN NOT BE WITH YOU (2020–23); and Hong Kong artist Lee Kai-chung for The Shadow Lands Yonder (2022), which comprises his writings and videos exploring identity transitions under sudden political shifts in 20th-century Manchuria. Taipei-born Wang Yen-ran received the Sojourn Award for his Productivity Project (2023), which delves into the craft of ceramics in an era of industrial mass production. The Sojourn Award will grant Wang the opportunity to travel abroad and continue developing his practice. This year's winners were chosen from a pool of 15 finalists by an international jury consisting of Hou Hanru, critic and artistic director of the MAXXI in Rome; Cosmin Costinas, curator and previous director of Hong Kong's Para Site; Suh Jin-suk, director of the Ulsan Museum of Arts; Chen Kuang-yi, dean of College of Fine Arts at the National Taiwan University of Arts; and independent curator Chia Chi Jason Wang.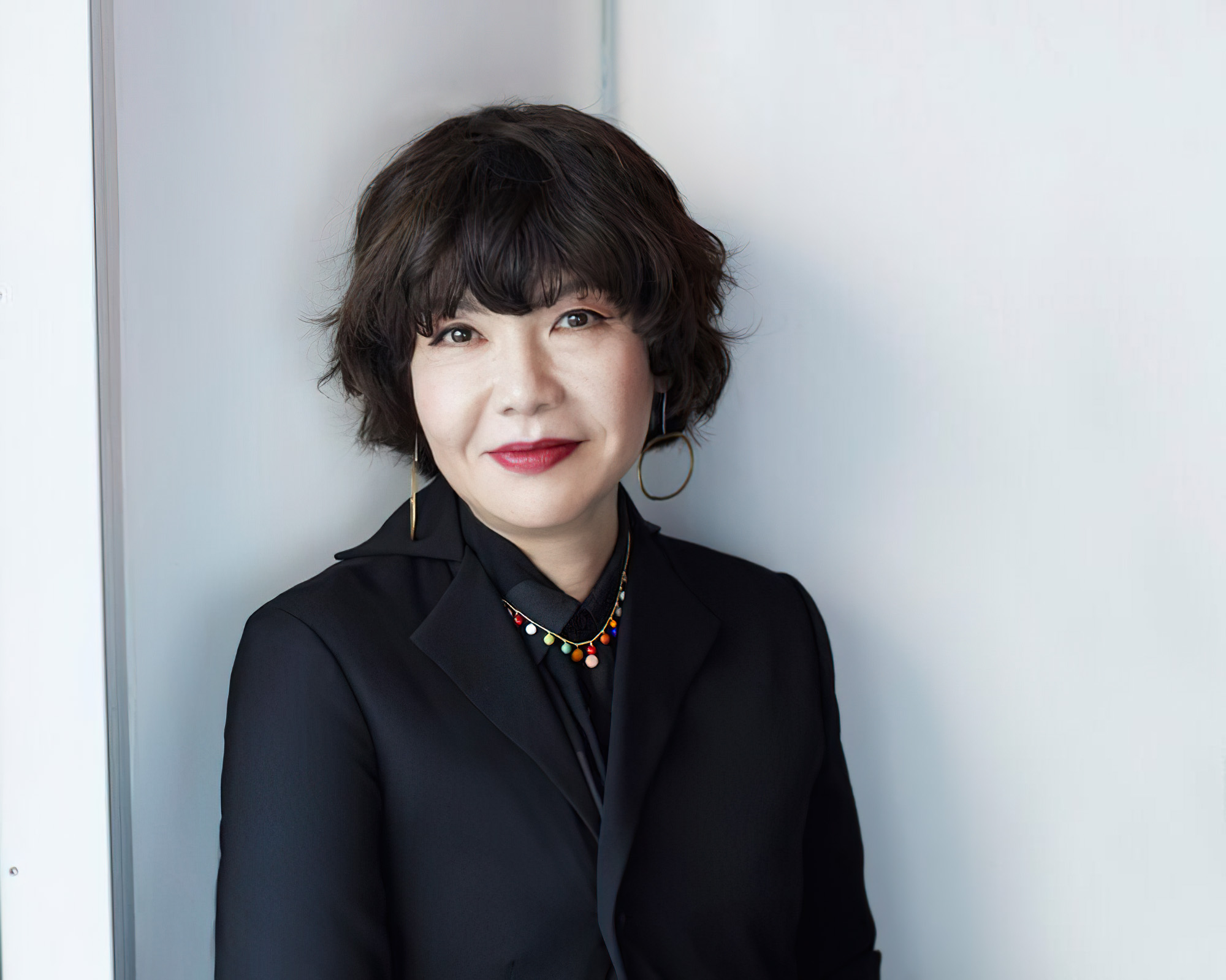 Mami Kataoka to lead Japan's First National Center for Art Research
On March 28, the Tokyo-headquartered Independent Administrative Institution National Museum of Art launched a new comprehensive hub aimed at "connecting, deepening, and expanding" Japanese art sustainably and internationally. Named the National Center for Art Research (NCAR), the art hub is the first of its kind in the country linking art museums, research institutions, and more across Japan and over the world. NCAR's four key project areas include: promoting museum collections' utilization, compiling and disseminating research resources, strengthening international networks, and enhancing learning in accordance with Sustainable Development Goals. Mami Kataoka, current director and chief curator of Japan's Mori Art Museum, will helm the NCAR as inaugural director. In her official statement, Mami expressed that the platform would pursue "inclusivity, diversity, and sustainability" in response to a complex host of contemporary global issues, and in doing so, "foster a greater permeation of art in society, while . . . deepening expertise in the field."
Centre Pompidou to Open Collaborative Seoul Branch

On March 21, the Centre Pompidou unveiled plans to open a branch in Seoul in early 2025. Tentatively named "Pompidou Center Hanwha Seoul," the new museum is a collaboration between the Paris-based contemporary art institution and South-Korean petrochemicals conglomerate, Hanwha Corporation. French architect Jean-Michel Wilmotte, recognized for his design contributions to the Musée D'Orsay and the Louvre, will design the Pompidou Center Hanwha Seoul, which will be located at the city's iconic 63 Building. Built for the 1988 Summer Olympics, the 250-meter glass skyscraper overlooking the Han River is also Hanwha Corporation's headquarters. The firm had signed a four-year USD 21 million agreement with the Centre Pompidou on March 19, edging out other potential locations in Busan and Incheon. This announcement comes days after the Centre Pompidou confirmed similar expansion plans in Saudi Arabia's AlUla region.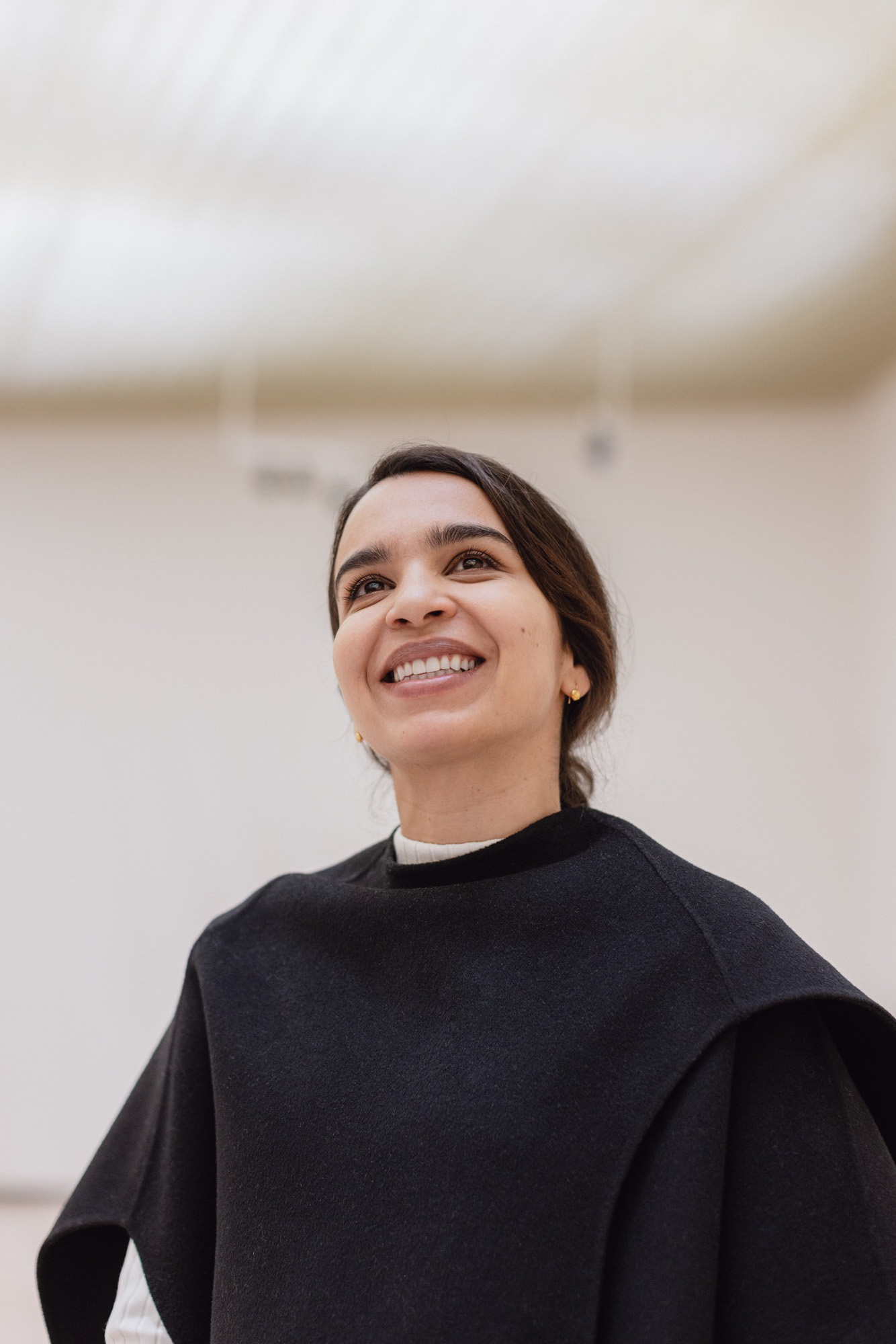 Alia Farid Receives Biannual Lise Wilhelmsen Art Award
The Henie Onstad Kunstsenter near Oslo, Norway, announced that it had awarded its biannual Lise Wilhelmsen Art Award to Alia Farid. The prize comes with an artistic honorarium of USD 100,000, an exhibition at the art center, and an acquisition budget to add a work by the artist to the center's collection. Based between Kuwait and Puerto Rico, Farid's multidisciplinary practice, spanning writing, drawing, film, and sculpture, explores political, economic, and cultural phenomena as well as their influences on the environment. Her work will be featured in forthcoming solo exhibitions at Chisenhale Gallery in London and CAC Passerelle in Brest; she is also shortlisted for the 2023 Artes Mundi Prize. Previous winners of the Lise Wilhelmsen Art Award include Guadalupe Maravilla in 2021 and Otobong Nkanga in 2019.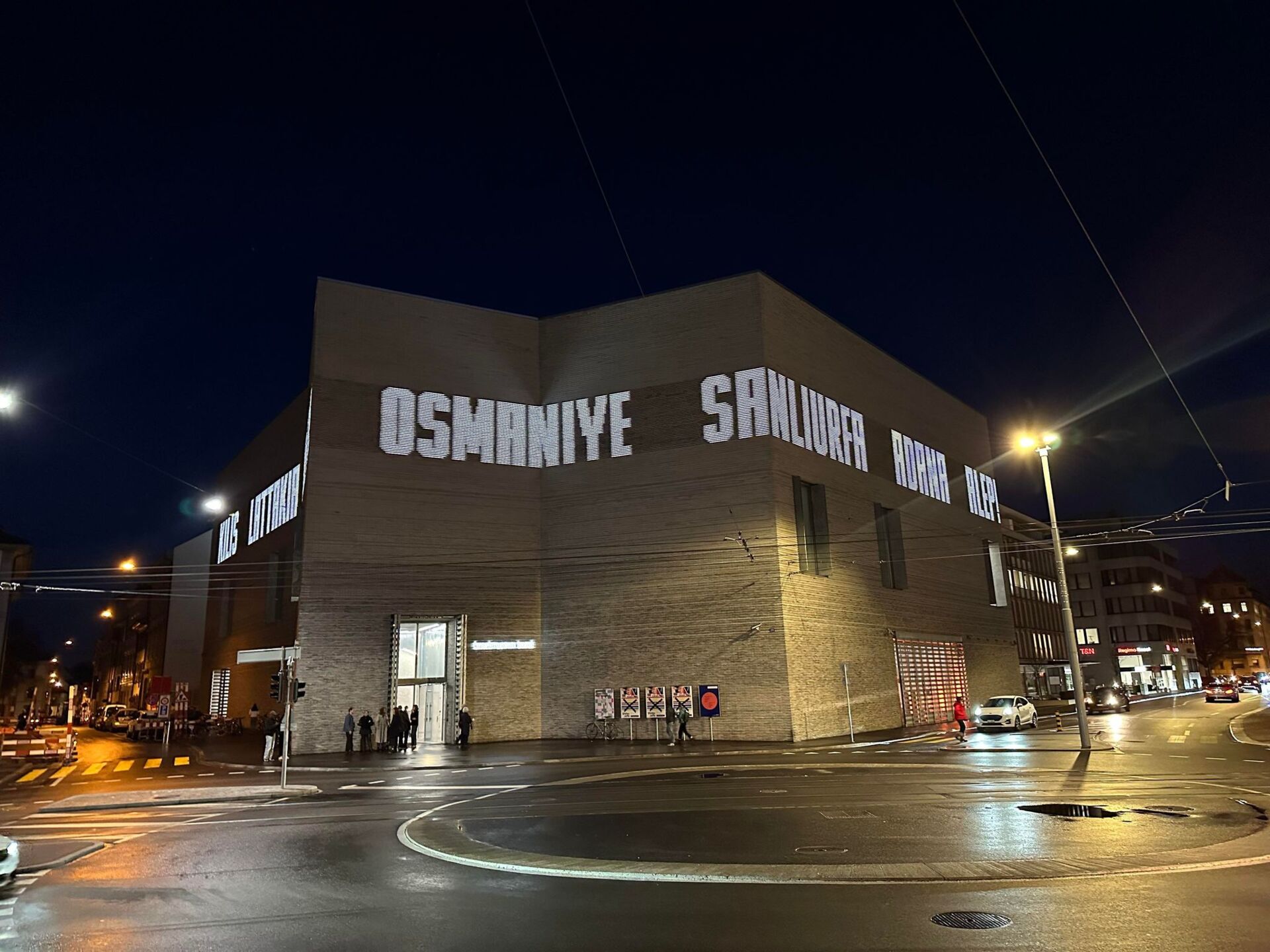 Basel Museum's Screen Plays Names of Earthquake-Impacted Cities in Turkey and Syria
On the LED facade of the Kunstmuseum Basel's new wing, Basel-based artist Dorian Sarı is displaying the names of 14 cities in southeastern Turkey and northwestern Syria—from Adana and Aleppo to Osmaniye and Şanlıurfa—impacted by the pair of devastating earthquakes on February 6, 2023. In addition, Sari has created an unlimited edition of an artwork titled Whistle (2020), a small black plastic emergency whistle with a crumbled mouthpiece, representing what cannot be said out of fear or oppression. It is being sold by the museum for CHF 100 (USD 109) each. All the proceeds go to the Swiss Solidarity, for the benefit of earthquake victims. Posting on Instagram, the artist wrote: "Unfortunately the international help stops when the international press stops talking about it. But the victims are in need for a very long time."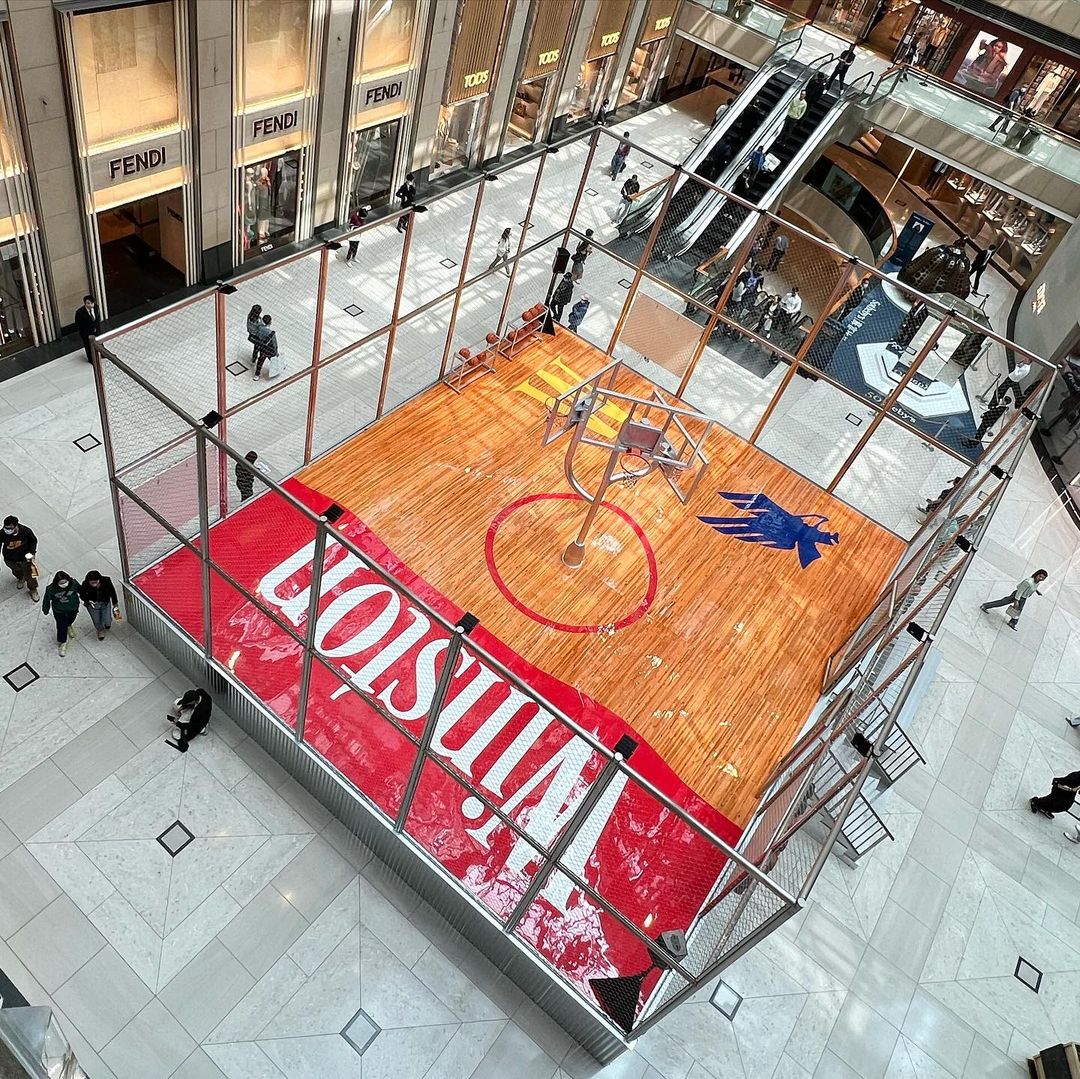 Hong Kong Bans Art Installation Bearing Name of Tobacco Company
A large art installation created for Hong Kong's Art Week and located in The Landmark, one of the city's high-end shopping malls in Central, has been censored over its incorporation of the logo of the Winston cigarette brand. The artist, whose name is Tyrrell Winston and who incorporates basketball and street-culture brands into his projects, created a ten-by-twelve-meter indoor basketball court with three hoops in the center at different heights, an installation called Double Technical. Punning on his name and the American cigarette brand, the Winston logo was emblazoned on the floor. That was too much for the Hong Kong Department of Health's Tobacco and Alcohol Control Office (TACO), which said in a press release it had requested the installation be covered and images on the website of Landmark Atrium be removed. Public displays of tobacco advertising are not allowed in Hong Kong. The basketball court was subsequently covered by a large golden blanket. The mall's owners, Hongkong Land, said it "did not intend to promote or support the use of tobacco in any way." The Department of Health said: "The TACO is conducting follow up investigation in respect of the breach."
Subscribe to ArtAsiaPacific's free weekly newsletter with all the latest news, reviews, and perspectives, directly to your inbox each Monday.