Weekly News Roundup: April 8, 2022
By The Editors
MMCA to Build New Branch in Daejeon
The National Museum of Modern and Contemporary Art, Korea (MMCA) announced on April 7 that it will open a new venue in Daejeon, South Korea's fifth largest city, in a former government office building. It is expected to open in 2026. MMCA's newly reappointed director, Youn Bummo, revealed the project as part of the museum's new three-year plan called "Period of Expansion Ahead of the Next 50 Years." The plan emphasizes the MMCA's role in expanding access to all parts of the country, as well as international audiences through touring exhibitions and publications. Youn also pledged to continue the renovation of Nam June Paik's massive video tower, The More, The Better (1988), which is housed in the atrium of the MMCA Gwacheon and has been undergoing extensive repairs.
Sketches by Anonymous Myanmar Artist Reveal Conditions in Insein Prison
On April 7, Reuters news agency published sketches smuggled out of Myanmar's notorious Insein Prison showing conditions faced by thousands of political prisoners detained following the February 1, 2021, military coup d'état. The renderings and accompanying interviews with former inmates including Nyi Nyi Htwe, who smuggled 14 drawings by an anonymous artist out of the prison when he was released in October, detail overcrowding and squalid conditions since the facility's population swelled from 5,000 to 10,000 since the coup. The artist who drew the scenes was also released and asked not to be named. Communications between inmates and the outside world are strictly limited, leaving family members of those detained with scant information about their condition.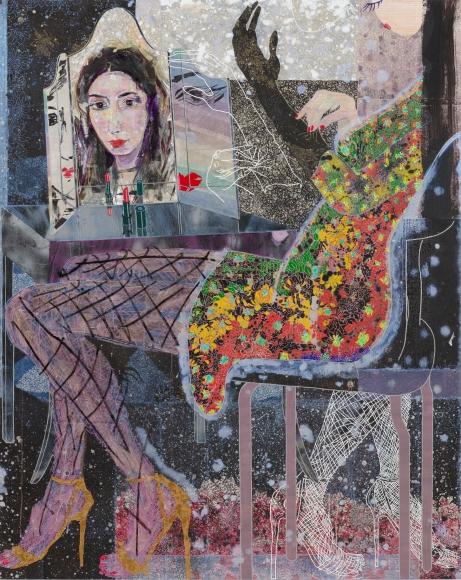 The 2022 Guggenheim Fellowships
On April 7, the John Simon Guggenheim Memorial Foundation approved the awarding of Guggenheim Fellowships to 180 individuals across a wide range of fields, including 26 visual artists. Among those selected this year are Auckland-born, Los Angeles-based ceramicist and sculptor Anna Sew Hoy; Seoul-born abstract painter Yunhee Min; Los Angeles video artist Bruce Yonemoto; San Francisco multidisciplinary artist and social-justice activist, Christy Chan; and Yokohama-born painter Chie Fueki.
Paintings Returning to Russia from Japan Seized in Finland
As Russia's brutal invasion of Ukraine enters its second month, European sanctions have hit the cultural sector in many forms. On April 6, the customs enforcement department of Finland announced that it had impounded more than USD 46 million worth of artwork that was being transported back to Russia from museums in Italy and in Japan via the Vaalimaa border crossing. Artworks from the Pushkin State Museum of Fine Arts had been shown at an exhibition that explored ukiyo-e and Japonisme at the Chiba City Museum of Art from January 12 to March 6. The artworks were impounded because they are considered "luxury goods," which the European Union has banned the export of under its sanctions with Russia. While these items remain to be Russian property, they will be managed and stored under the supervision of Finnish Heritage Agency for the time being.