Vivan Sundaram, 1943–2023
By HG Masters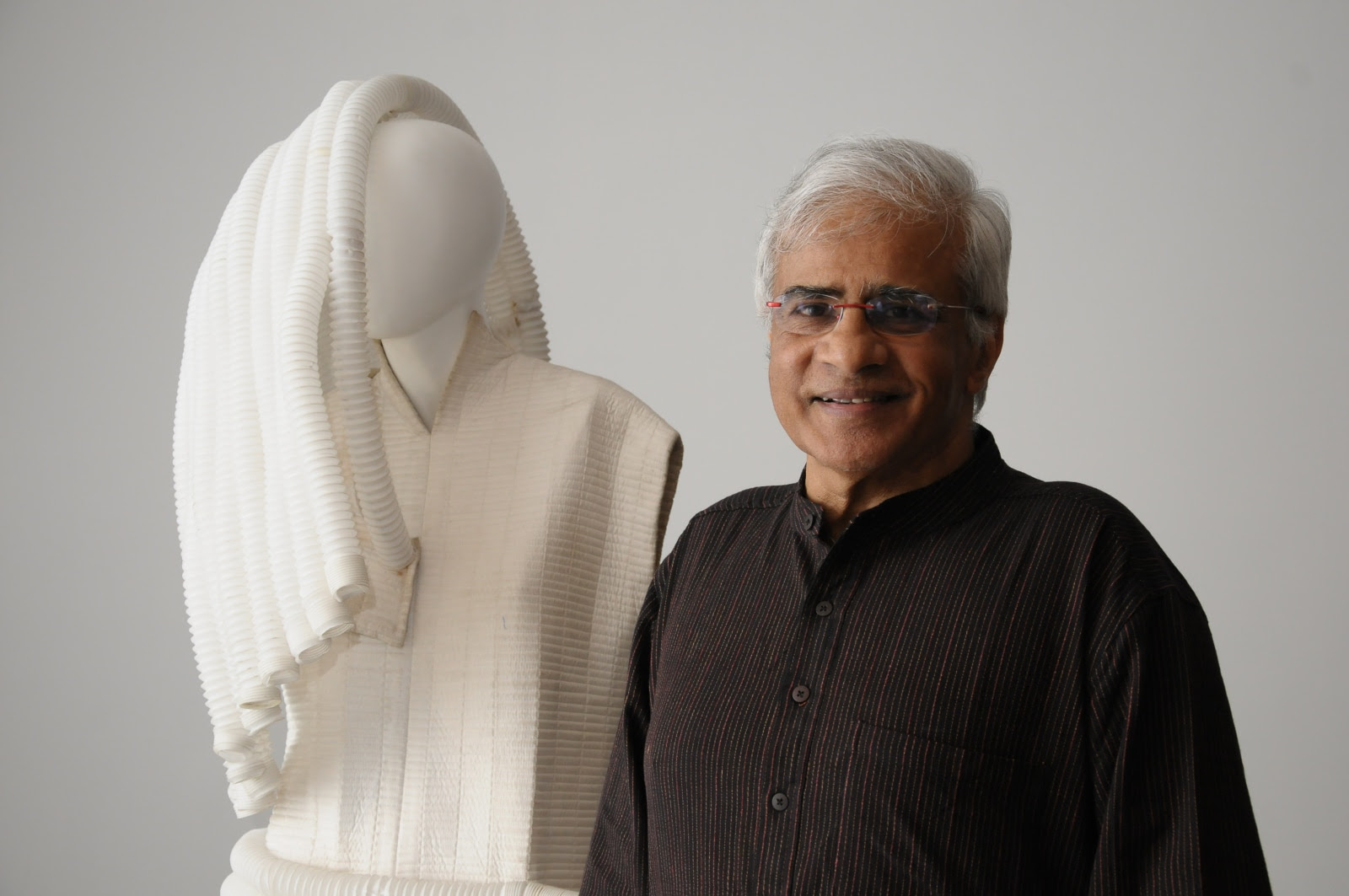 A leading artist of the post-1968 generation in India who merged the political and the poetic in his works, Vivan Sundaram died on March 29 in New Delhi at the age of 79.
Throughout his artistic life, Sundaram responded to major societal events in his artworks, including the destruction of the Babri Masjid in Ayodhya and its aftermath of communal violence (1992–93) with the installation Memorial (1993–2014). The installation was a tomb for the unknown people killed in the unrest and was derived from an image of a victim lying in the street, taken by the photojournalist Hoshi Lal. After its original exhibition in 1993, he expanded the work into to multiple, room-filling pieces over the ensuring two decades, culminating in a 2014 version at the Kiran Nadar Museum of Art in New Delhi.
Sundaram was born into an artistic family in 1943 in Shimla, in the northern state of Himachal Pradesh. His grandfather Umrao Singh Sher-Gil (1870–1954) was an early photographer in India at the beginning of the 20th century. One of the most influential artists of the pre-Independence era was his aunt, the painter Amrita Sher-Gil (1913–1941). Sundaram studied painting at the Faculty of Fine Arts at Maharaja Sayajirao University of Baroda (MSU Baroda) under KG Subramanyan (1924–2016) in the early 1960s and then attended the Slade School of Art in London from 1966 to 1968 as a commonwealth scholar. There he was taught by the artist RB Kitaj, who worked in a figurative style exploring his diasporic Jewish identity, with Pop Art influences. Sundaram was witness to the May 1968 protests and encountered experimental cinema and other avant-garde movements of the time.
After returning to India, Sundaram was active primarily in India for the next two decades, holding exhibitions of his narrative figurative paintings and drawings at MSU Baroda, Gallery Chemould and Jehangir Art Gallery in Mumbai, and Jawaharalal Nehru University in New Delhi, among other leading venues of the era. He was known for his activism, working with the Student Federation of India beginning in 1971 and the All India Kisan Sabha, the farmers' wing of the Communist Party of India. He founded the Kasauli Art Centre in a hill town in North India; it ran from 1976 to 1991, hosting workshops, residencies, and outdoor sculpture exhibitions. He later was an original member of the editorial advisory team at the Journal of Arts & Ideas (1981–99). He was also a founding member of SAHMAT (Safdar Hashmi Memorial Trust), a collective that advocated against communalism that was founded after the 1989 murder of Hashmi, a political activist and street-theater director.
Around the time of the United States-led first Gulf War in Iraq in 1991, Sundaram began to work with oil in his drawings, which led to mixed-media sculpture, installations, and video works. The same year, he was featured in the fourth Havana Biennale, beginning a decade of international participation that included the second Asia-Pacific Triennial in 1996 at the Queensland Art Gallery in Brisbane, the Gwangju Biennale in 1997, and the second Johannesburg Biennale, in 1997, organized by Okwui Enwezor. Sundaram's works were featured in numerous group exhibitions of Indian art in the ensuing decade, such as "Out of India: Contemporary Art of the South Asian Diaspora," curated by Jane Farver at the Queens Museum, New York, in 1997.
Beginning in the 1990s, Sundaram also embarked on a focused exploration of his family's artistic legacy, leading to a series of digital photomontages, "Re-take of Amrita" (2001–05), that features photographs of his aunt and grandfather combined with images from their paintings and photographs, respectively. He subsequently edited a two-volume set, "Amrita Sher-Gil: A Self Portrait in Letters & Writings" (2010), which culminated his efforts since a 1972 exhibition and publication in Marg journal to portray his aunt's life, work, and Indian-Hungarian identity.

Sundaram tackled urgent social issues throughout his life. After witnessing the rapid changes in daily life in India in the 1990s, he embarked on a series of multimedia projects including his installations, "Great Indian Bazaar" (1997) that featured a pile of red-framed photographs showing plastic consumer objects for sale at the Sunday market near the Red Fort in Delhi. His digital compositions in a series called "Barricade" show huge piles of soda cans, metal debris, and plastic detritus, echoing the urban trash crisis that emerged in the 1990s. In a solemn reminder of continuing poverty and neglect among urban communities, and following a visit with waste pickers, he created the installation 12 Bed Ward (2005) with metal cots strung with lattices of old shoe soles replacing wire mattresses in a starkly illuminated room of bare hanging bulbs. This and other works from the 1990s echoed a 1989 visit to Auschwitz-Birkenau concentration camp in Poland. His later projects toured India and the United States in a series of exhibitions of digital montages and installations called "Trash" (2008–09), in which Sundaram looked at the unfolding ecological crisis prompted by the proliferation of plastic commodities.

In 2018, Sundaram was the subject of two major surveys: at the Kiran Nadar Museum of Art in New Delhi, "Step Inside and You Are No Longer a Stranger," curated by Roobina Karode; and "Disjunctures" at the Haus der Kunst in Munich, Germany, in 2018, organized by Deepak Anath when the late curator Okwui Enwezor was the museum's director. His drawings from 1972, Heights of Macchu Pichu (1972), are currently on view in the Kochi-Muziris Biennale, and his photographic print series of sutured bodies, Six Stations of a Life Pursued (2022), are showing at the Sharjah Biennial 15. He is survived by his wife, the art historian and critic Geeta Kapur, who was an influential curator of his own work in group exhibitions and a collaborator on numerous of his artistic projects.
HG Masters is deputy editor and deputy publisher of ArtAsiaPacific.
Subscribe to ArtAsiaPacific's free weekly newsletter with all the latest news, reviews, and perspectives, directly to your inbox each Monday.