Total Return: Art Basel Hong Kong Releases Exhibitor List for 2024
By Alex Yiu
*updated November 23, 2023.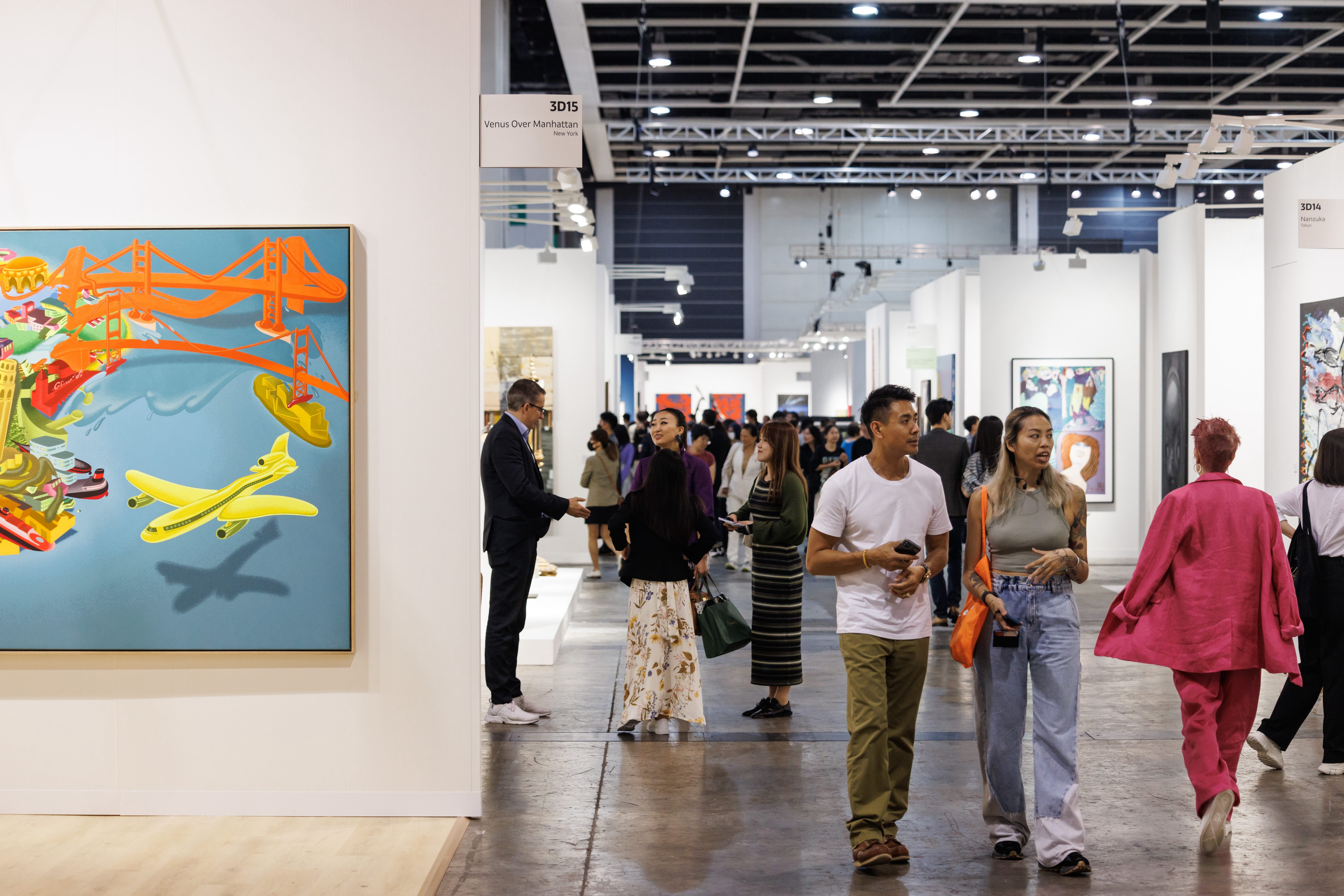 On November 21, Art Basel Hong Kong (ABHK) announced the exhibitor list for its 2024 edition, which will run from March 28 to 30, 2024, at the Hong Kong Convention and Exhibition Centre (HKCEC). With 242 participating galleries spanning 40 countries and territories—including 25 newcomers, such as Station from Australia, Almeida e Dale Galeria de Arte from São Paulo, Fitzpatrick Gallery of Paris, and Tokyo's Waitingroom—ABHK is set to return to its pre-pandemic scale.
The fair is divided into three main sections, with the Galleries sector featuring 200 prime galleries worldwide. One of the major highlights this year will be the presence of diverse textile art: while The London's Alison Jacques will present Sheila Hicks' fabrics and thread works, BANK from Shanghai will bring influential avant-garde textile works from the '60s and '70s by Bulgarian artist Maryn Varbanov, the husband of legendary Chinese artist-socialite Song Huai-Kuei (the subject of an M+ exhibition, "Madame Song: Pioneering Art and Fashion"). The other focus in this section will be the continuous presence of digital art. Tokyo gallery Taro Masu will present works by musician-artist Ryoji Ikeda, famous for his electronic music and audiovisual installations. The Viennese art gallery, Galerie nächst St. Stephan Rosemarie Schwarzwälder, will exhibit a video by artist Miao Ying, a nominee for the Sigg Prize 2023, whose work was created using artificial intelligence. Meanwhile, Liang Gallery from Taipei will pay tribute to the late abstract painter Hsiao Chin (1935–2023).
The Discoveries sector of the exhibition will feature 22 galleries that will showcase solo presentations by emerging artists. The artworks will center around the impact of urban development and how the public sphere is constantly changing. Sameer Kulavoor, an artist from Mumbai, will present his art at Tarq (Mumbai), inspired by urbanization and its effects on his hometown. Yona Lee will offer a sculpture project at Fine Arts, Sydney, to explore how artificial structures change public space. Other highlights from the sector include Mumbai's Jhaveri Contemporary, which will present Fiza Khatri's installation consisting of paintings, drawings, and sculptural garlands serving as decorative devices. The first-timer Fitzpatrick Gallery from Paris will unveil Anh Tran's new triptych painting in Western abstraction, while Tabula Rasa Gallery (Beijing, London) will showcase Lee Kai Chung's multichannel video and photographic installation exploring Hong Kong's role as a center for information exchange and intelligence operations during the Cold War.
Last but certainly not least, the Insights sector will feature 20 galleries dedicated to artists from Asia and the Pacific from a historical perspective. The newcomer √K Contemporary from Tokyo will present avant-garde calligraphy of the pioneer Nankoku Hidai. Another first-timer, PTT Space from Taipei, will bring emotional portraiture by the late master De-Jinn Shiy from the '50s to '70s, laying the cornerstone of queer art in East Asia. Beijing's HdM Gallery will showcase Paris-based artist Haywen T'ang's works on paper from the mid-20th century, drawing influences from minimalism, Gutai, and lyrical abstraction.
Despite the roaming echoes of economic recession and political turmoil worldwide, the notion of "back to normal" has circulated Hong Kong since China's re-opening, albeit a year behind the rest of the world. Yet, the lockdowns' tremendous effect on China's economy has triggered chain reactions, stagnating the future growth of production and confidence in Chinese consumers, as well as collectors' cash flow. How ABHK is able to maneuver such economic hardships will reflect the art market's status in the region.
For the full list of 2024 exhibitors, please visit: artbasel.com/hong-kong/exhibitors
Alex Yiu is associate editor at ArtAsiaPacific.
Subscribe to ArtAsiaPacific's free weekly newsletter with all the latest news, reviews, and perspectives, directly to your inbox each Monday.