Tehran MOCA Director Fired After Acrobatic Mishap with Oil Pool Sculpture
By HG Masters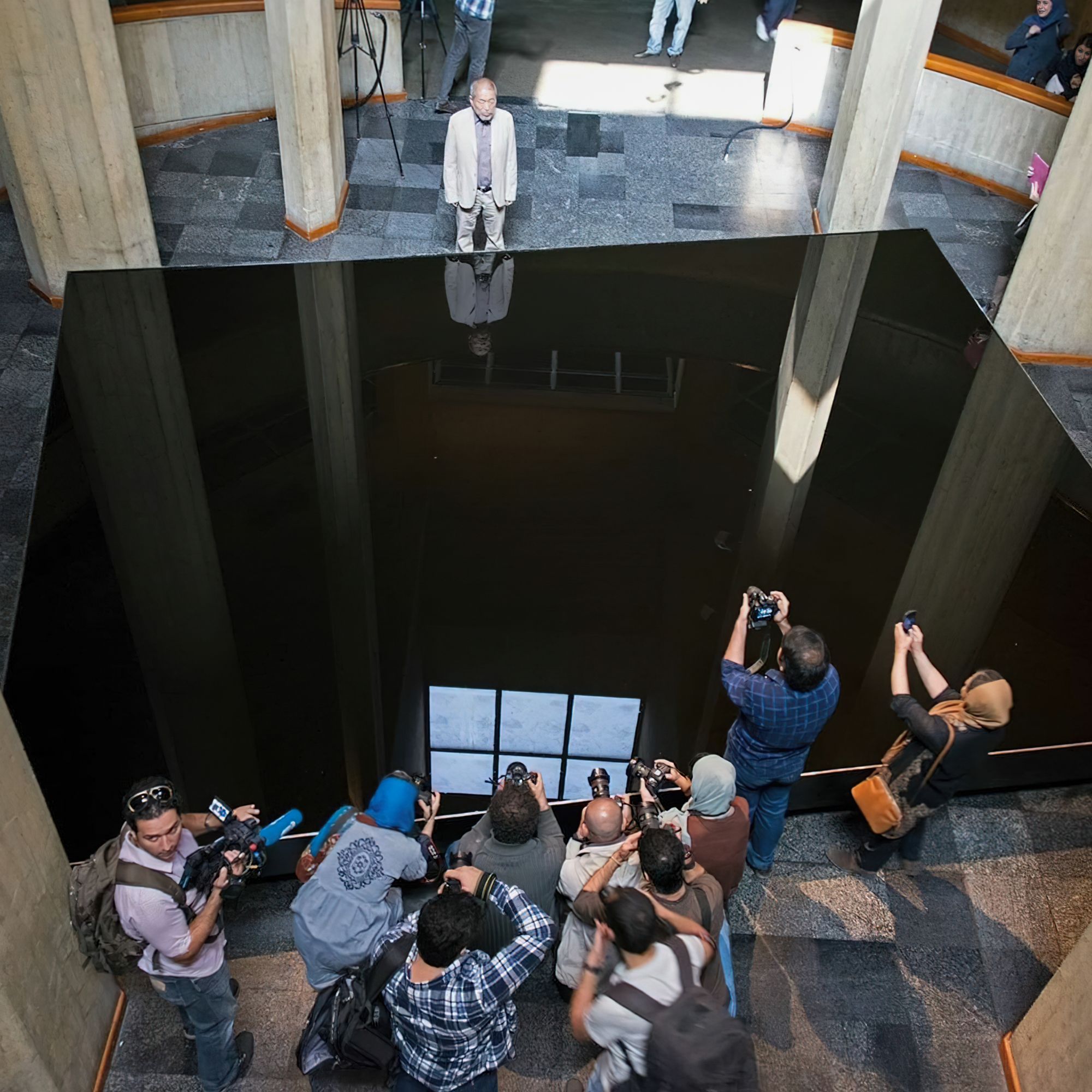 On March 12, an aerial choreography above the atrium in the Tehran Museum of Contemporary Art (MOCA) turned into a spectacular disaster when its performer in a harness splashed into the giant pool of waste oil in the museum's rotunda, sending inky liquid from the famed installation Matter and Mind (1977) by Noriyuki Haraguchi onto the floor. Two days later, the deputy minister of arts, Mahmoud Salari, named Ebadorreza Eslami-Kulai as the new director of Tehran MOCA, replacing Ehsan Aqai, without reference to the incident. The museum subsequently issued a statement saying it regretted the incident and will repair the artwork by replacing the lost oil.
The aerial performance by Yaser Khaseb was titled Cat of the Silk Road (2022) and was part of the opening program for an exhibition, "Panj Ganj," commemorating the 12th-century Iranian poet Nizami Ganjavi. In videos that Khaseb has subsequently posted to his Instagram account, he can be seen suspending himself upside down from a rope attached to the ceiling, his hands and body right above the surface of the artwork. At one moment, after a collaborator standing on the edge of the pool swings him backward, his upper body, head, and arms splash into the surface of the 1,190 gallons of oil. He is then lifted upwards while groaning but continues to spin himself around as if attempting to continue the performance. He is eventually lowered to the ground as a stunned audience looks on and even offers him a hesitant round of applause. Bubbles can clearly be seen in the formerly pristine mirror-like surface of the artwork, and Khaseb continues to wipe the oil from his body and touch the pool while inviting more rounds of applause for his stunt gone wrong.
Khaseb runs a theater troupe called Crazy Body that has staged aerial performances in the past including Sky Wall (2021), which featured Khaseb "running" on the exterior of the 45-meter-tall marble-clad Azadi Tower in central Tehran.
On his Instagram account, Khaseb acknowledged it was an error in the performance and that he was grateful to have escaped serious injury, though he said he wasn't sure whether to feel happy or sad about this incident because of the added symbolism given to his performance. In later Instagram posts, he attempted to justify his actions by saying that the artwork is alive and well, and that focusing too much on preservation prevented us from seeing the dynamism of new artworks.
Haraguchi died in 2020, but when the Mono-ha artist visited Tehran in 2017 on the 40th anniversary of its installation to supervise restoration efforts, he told the media that he was astonished to find his work still preserved. The artist noted that of the 20 oil pools he created in sites around the world, including one for Documenta 6 in 1971, the one at Tehran MOCA was the only one that had remained intact.