Taro Shinoda (1964–2022)
By Pamela Wong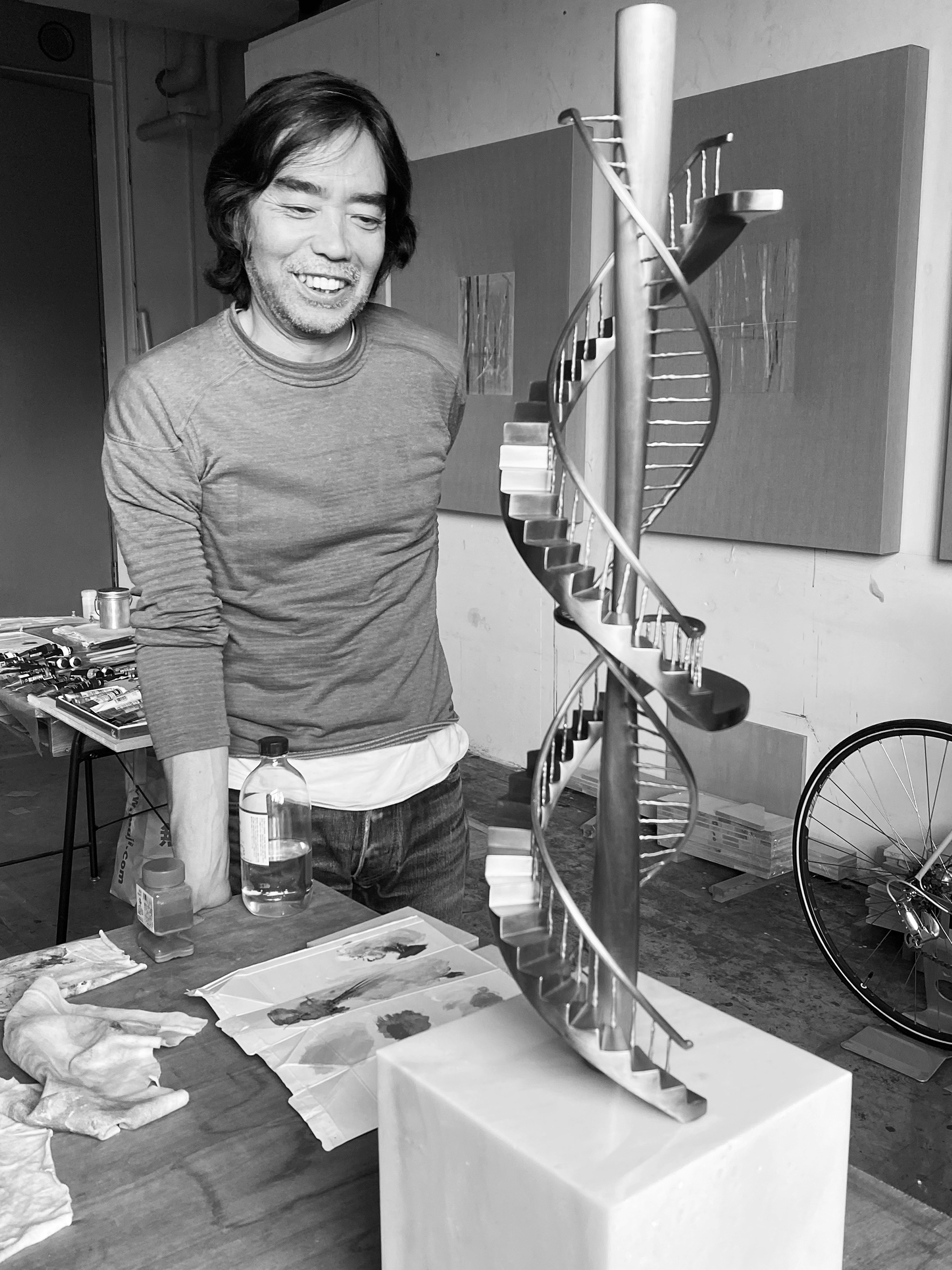 On August 13, Japanese artist Taro Shinoda died of an accident while creating a new artwork at his studio in Ibaraki prefecture. He was 57 years old. The news was announced on August 29 in an obituary published by the artist's family in Japanese news media.
Shinoda is known for his watercolor drawings, videos, and large-scale installations that delve into the coexistence of humans with nature, and the intersection between art and science, often through incorporating elements from traditional Japanese garden design.
Born in Tokyo in 1964, Shinoda aspired to be a gardener when he was a child. He graduated with a professional certificate from a specialized school for training in landscape design. During his twenties, however, Japan was experiencing a bubbling economy and it was difficult for a gardener to make a living. Referred by his friend, he started working at a factory. There, every day after work, he accumulated industrial waste and began joining scrap wood. Eventually, he built a more solid installation and showed the result to his friend, who considered it an artwork. Shinoda sent it to the Hara Museum of Contemporary Art. The work, titled MILK (1995), was eventually shown at an exhibition in 1995 at the museum's Gunma branch, the Hara Museum Arc. Inspired by the rock garden of the Ryoan Temple, which embodies a sense of movement through stillness, the installation comprises tubes of light moving along metal tracks around a rectangular pool filled with a milky, reflective liquid. He debuted as an artist at that show, but Shinoda confessed that when he was creating the "thing" at the factory he had not considered this a professional path.
Shinoda's practice was largely dependent on self-training, and he insisted on building artworks by himself, to avoid mistakes and to realize his concept in its fullest form. As he explained about his work at the 2001 Yokohama Triennale: "At first, I didn't really understand what I was thinking and simply started building on instinct alone; then in the course of building, it became clear to me what I was trying to do. Without this cycle of thinking, designing, making, thinking, designing, making, my concepts wouldn't develop."
Entering the 2000s, his approach became more industrial and technological, embodying his perception of the cosmos. For example, for the video and performance Lunar Reflexion Transmission Technique (2017), he collected moving images of the moon recorded in nearly a dozen countries beginning from 2007, using a telescopic camera made of recycled objects. This resulted in a 65-minute film that shows the moon's slow orbital movement. The work, commissioned by the Sharjah Art Foundation, was first performed in the Mleiha Desert in the United Arab Emirates, with musician Uriel Barthélémi's collaborative, on-site performance. When explaining his approach, Shinoda said: "I feel that only a higher existence which transcends us is capable of objectifying our civilization and our culture. How poor and inefficient our civilization must seem when considered from a higher existence . . . The astronomical body observes us with perfect objectification."
His knowledge of gardening and his understanding of the beauty of traditional Japanese landscape architecture are prominent in other installations, which are often based on his years-long research. Presented at the Sharjah Biennial 2015, for example, his installation Karesansui (2015) is a 3.6-meter-deep, 17-meter-long wooden platform filled with white sand that played with the concept of karesansui, the Japanese rock garden. While traditionally a rock is used as a symbol of a mountain in the garden, Shinoda dug two inverted cones in the white-sand pool. His later installation When I See You in Your Mirror (2019) echoed the large marble rocks found in the most famous Japanese gardens designed by masters. Inspired by Gropius Bau's architectural history, he photographed the visible side of large stones and had them replicated, on only one side, by a Kyoto stonemason with marble blocks from Italy. The viewers could compare the rocks in the installation with the photos of the original stones at the exhibition.
Throughout the years, his works were featured at international art festivals, including most recently Art Sightama 2020, the 20th Biennale of Sydney in 2016, the 2011 Asian Art Biennial in Taipei, the Istanbul Biennial in 2007, and the Busan Biennale in 2006. Since 2017, he also served as associate professor at the Tokyo University of the Arts.
According to Misa Shin Gallery, his representative gallery in Japan, there will be a memorial gathering for Shinoda, with details yet to be announced.