Student Eats Cattelan's Banana in Seoul
By Tong Tung Yeng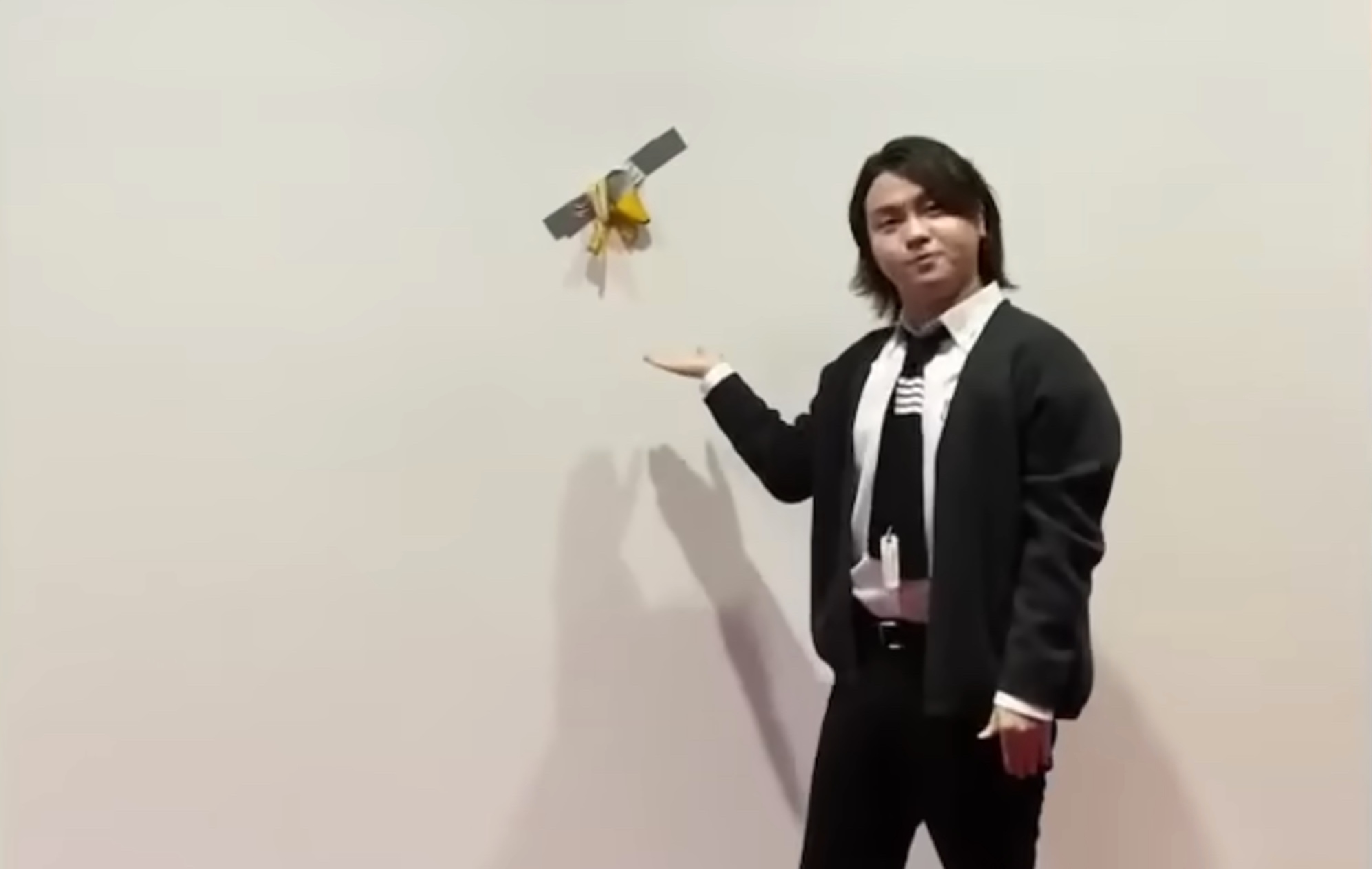 You art what you eat. A self-described "hungry" South Korean student consumed the banana taped to a wall—an artwork by Maurizio Cattelan—at the Leeum Museum of Art in Seoul. The fruit in the highly controversial yet coveted artwork Comedian (2019), which caused a hoo-ha when it debuted Perrotin gallery's booth at Art Basel Miami Beach three years ago, had recently been replaced and was ripe for the picking.
Art imitates life, imitates art. Noh Hyun-soo, an aesthetics and religion major at Seoul National University, boldly approached Cattelan's artwork around noon on April 27. He freed the banana from its duct-tape sling before proceeding to finish off the ripe fruit. In what he declared an artistic act, he then re-affixed the banana peel onto the wall with same piece of tape. The incident lasted just over a minute and was recorded on video by Noh's friend. While exclamations of "excuse me" could be heard initially, neither the museum staff on duty nor onlookers stepped forward to stop Noh.
Going bananas. The video quickly went viral on the internet and was picked up by local and international media outlets. In an interview with the Korean Broadcasting System (KBS), Noh said he had skipped breakfast that morning, and resorted to eating Cattelan's work to satiate his craving for just over 100 calories and a healthy dose of potassium. While his uncontrollable appetite was his first excuse, the philosophically inclined student proposed that "[damaging] an artwork could also be seen as an artwork . . . Isn't it taped there to be eaten?"
It's bananas. By the artist's stipulation, the fruit that stars in Comedian is to be replaced every two to three days during its display—so that it remains yellow and fresh-looking. The Leeum Museum of Art will not be take any legal actions against Noh for consuming part of the artwork, and museum staff swiftly replaced the banana after it was eaten on Thursday. As for the artist's reaction, he said it was "[no] problem at all," upon hearing of the incident from BBC News. Given the prankish-nature of Cattelan's own practice, one imagines he might even relish the continued attention surrounding his artwork.
The banana doesn't fall far from the tree. This was not even the first time the work has been eaten before by a audience-member who was thinking with his stomach. The Georgian-American performance artist David Datuna in 2019 did the same at Art Basel Miami Beach—in an action that further elevated the work's visibility. Whether Noh's action will inspire others to ape his performance remains to be seen, as Maurizio Cattelan's first solo exhibition in South Korea, "WE," is on view at the Leeum Museum of Art in Seoul until July 16, 2023.
ArtAsiaPacific does not condone the eating of any artworks, including Comedian, no matter how low your blood-sugar level is.
Subscribe to ArtAsiaPacific's free weekly newsletter with all the latest fruit discourse, reviews, and perspectives, directly to your inbox each Monday.