Rising Wind: Weekly News Roundup
By The Editors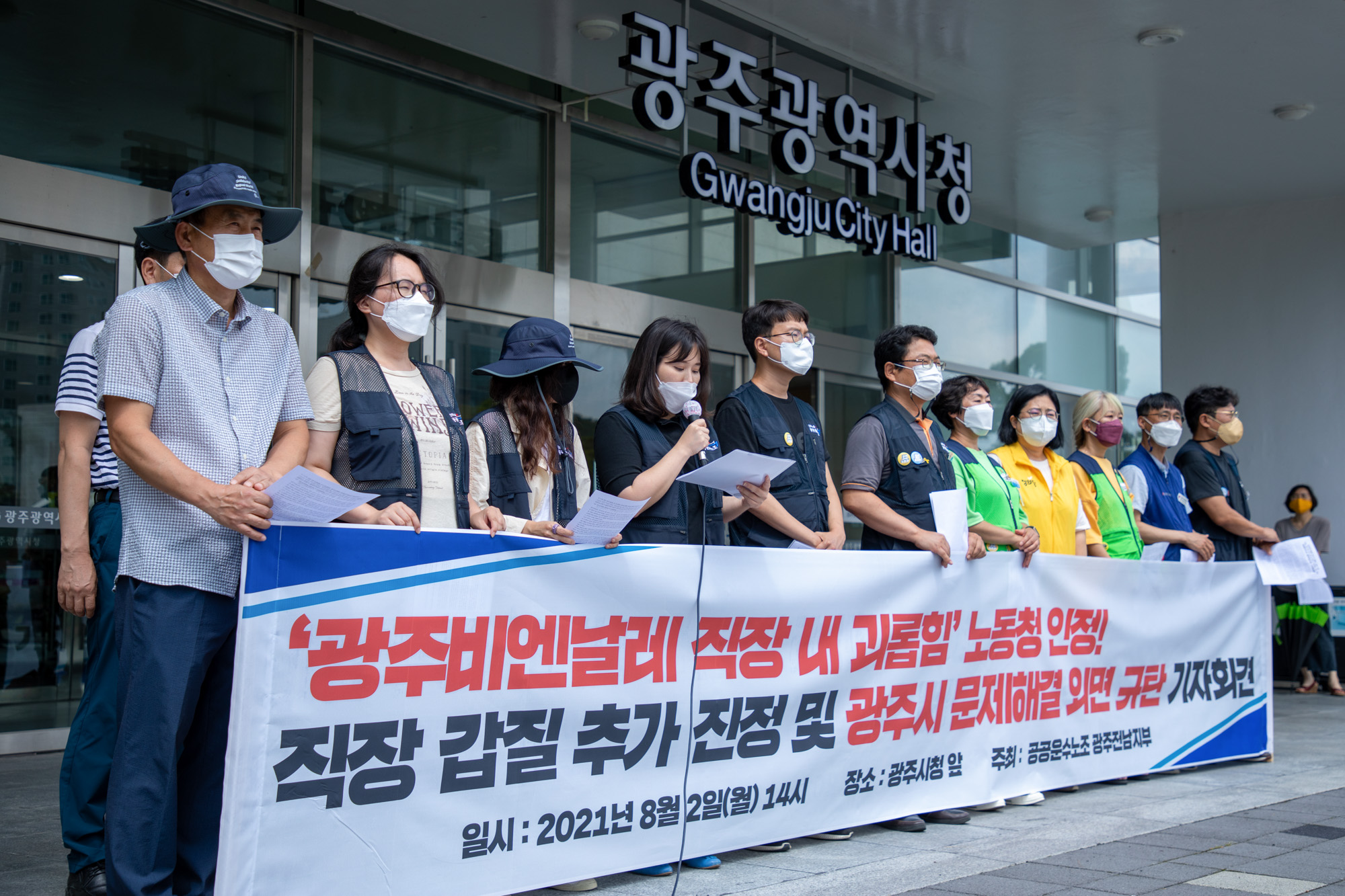 Korea's Labor Ministry Confirms Gapjil in Gwangju Biennale Foundation
An official investigation by the Ministry of Employment and Labor has upheld allegations of unfair dismissal, harassment, and gapjil (a Korean term for abuse of power in the workplace) against Sunjung Kim, former CEO of the Gwangju Biennale Foundation (GBF). The findings were shared on July 27 with the Gwangju and Jeonnam Branch of the Korean Public Service and Transport Workers' Union (KPTU), who announced them at a press conference outside Gwangju City Hall on August 2. The report confirmed that Kim "abused power beyond her authority," unfairly dismissed staff, forced employees to complete personal tasks, and harassed the staff physically and mentally to the point of "workplace endangerment." KPTU added at the conference that the publicized acts "are only the tip of the iceberg," and referred to another unnamed superior still employed at the GBF who was complicit in Kim's alleged abuse and continues to bully the staff. The Labor Ministry's conclusion conflicts with that of a joint investigation conducted from June 30 to July 9 by Gwangju's city government and the Korean Ministry of Culture, Sports and Tourism, which found no evidence of wrongdoing. The KPTU claimed that the officials in charge of this earlier investigation did not reach out to "alleged victims or relevant staff," and accused the city government of inaction. The KPTU has since filed another complaint and urged the City of Gwangju to take action against the perpetrators, reinstate those unfairly dismissed, and normalize operations of the Gwangju Biennale.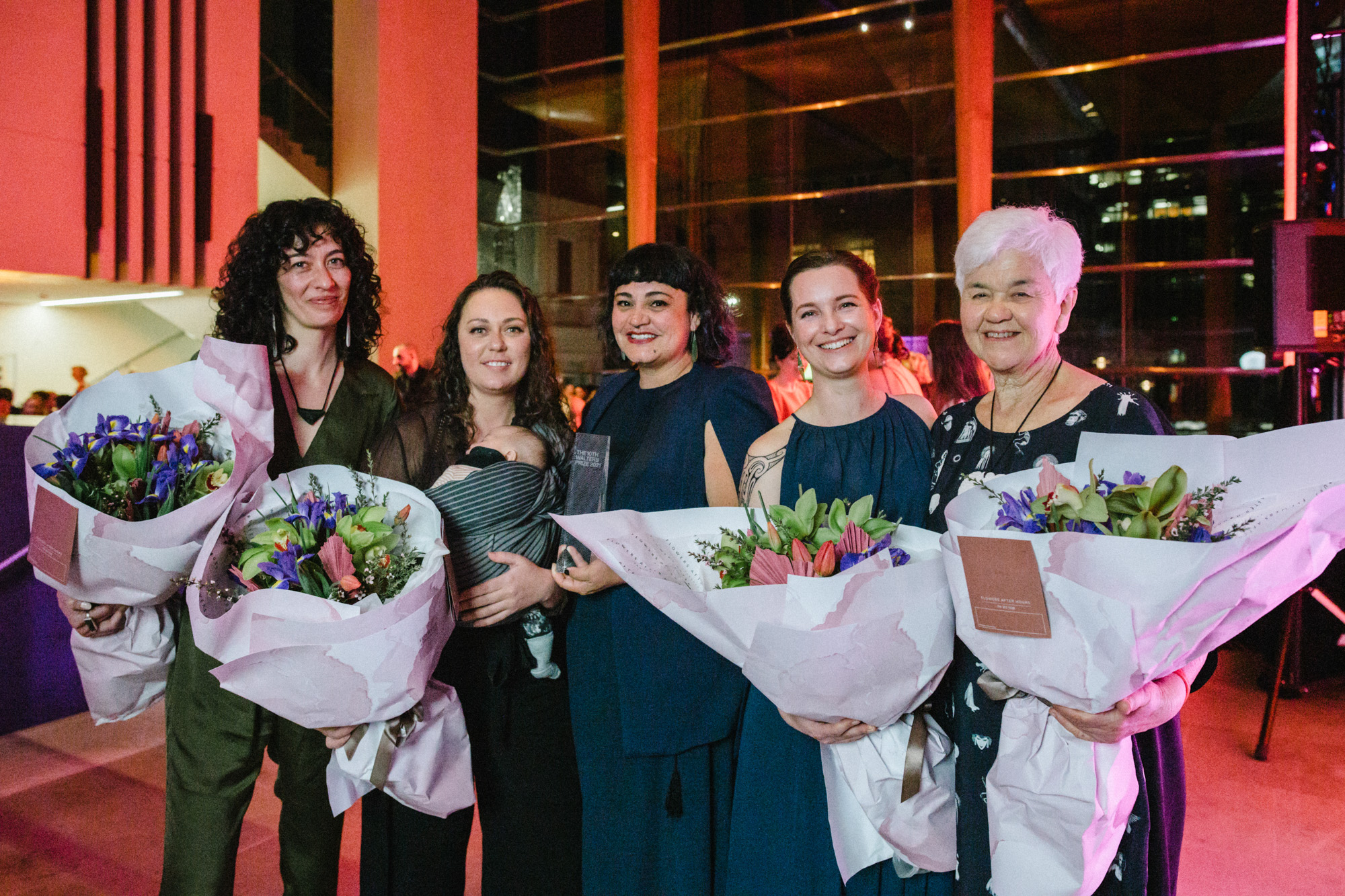 Textile Installation by Māori Collective Nabs Walters Prize
New Zealand's 2021 Walters Prize went to Māori artists Maureen Lander and Mata Aho Collective (Erena Baker, Sarah Hudson, Bridget Reweti, and Terri Te Tau) for their collaborative textile work Atapō (2020). Consisting of layered insect mesh, wool, cotton, and muka (flax fiber), the nine-meter-tall installation engages in an interplay of light and darkness, with reference to the Māori legend of Hine-nui-te-pō, Goddess of Night and Death. This is the first time that the biennial Prize has been awarded to a collective since it was established in 2002. According to judge Kate Fowle, the decision celebrates "the inspiration they bring through their sustained collective practices, as well as for the potential futures they offer in their collaborative thinking and generative processes." Lander and the Collective will split their NZD 50,000 (USD 35,160) winnings. Atapō is currently on view in the Walters Prize finalists' exhibition at Auckland Art Gallery Toi o Tāmaki until September 5.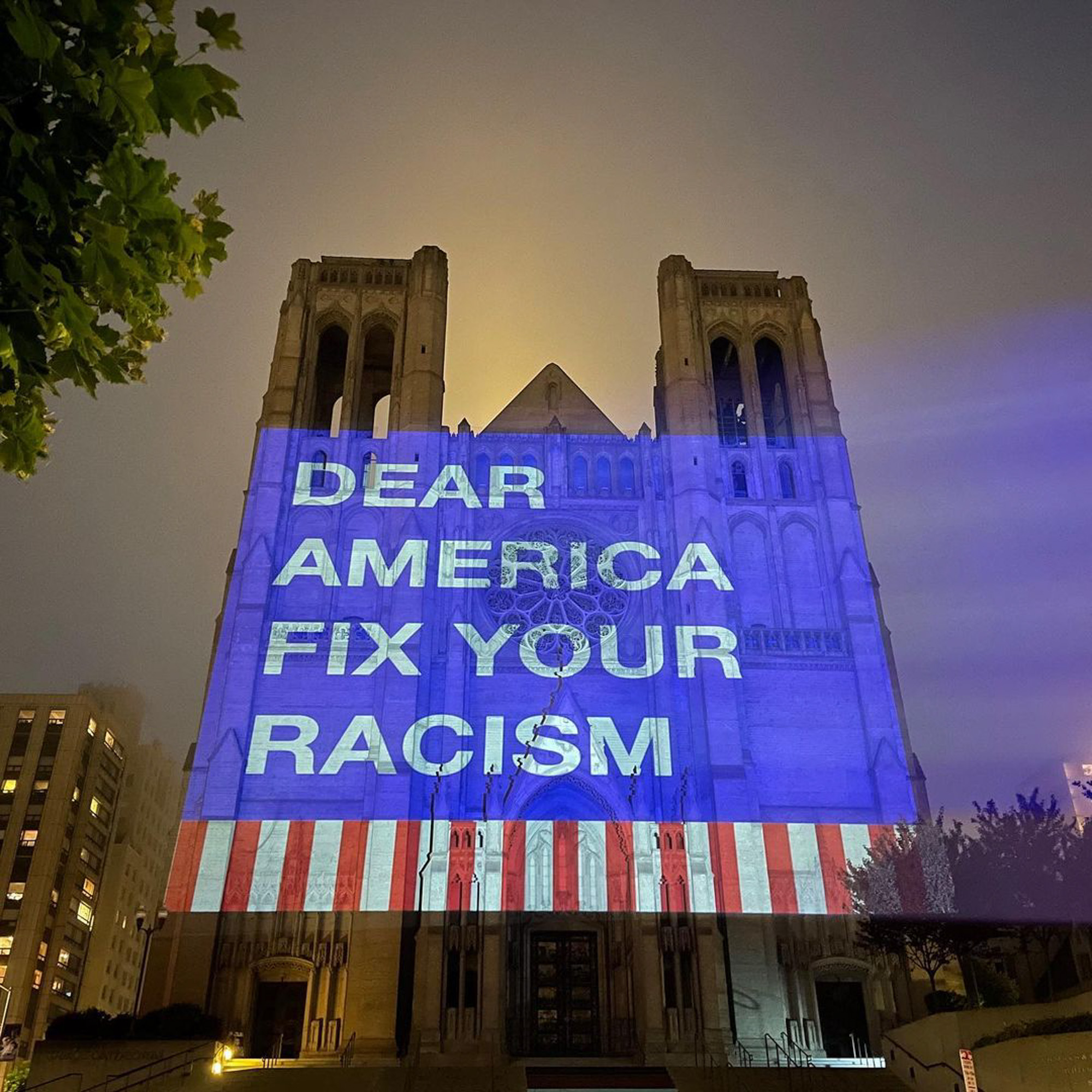 Asian American Artists Fight Anti-Asian Hate with Guerilla Projections
Interdisciplinary artist Christy Chan initiated the projection series Dear America in June, after the Atlanta spa shootings on March 16 that left eight people dead, six of whom were Asian American women. The series includes projected images of artworks and words of resilience in English and eight Asian languages by Asian American artists, including Cathy Lu, Christine Wong Yap, Mel Chin, and others onto high-rise buildings around the Bay Area. As Chan and her collaborators wanted to respond quickly to the mounting anti-Asian hate crimes in the United States, the group did not seek permission for most of the projections. The series is scheduled to end on August 12 with a special event at San Francisco's Montalvo Art Center.
Australia's Longest-Running Indigenous Art Award Names 2021 Winner
On August 6, Pitjantjatjaran painter Timo Hogan took home the AUD 50,000 (USD 36,800) top prize at the National Aboriginal and Torres Strait Islander Art Awards (NATSIAA). The painter was recognized for his nearly three-meter-wide canvas Lake Baker (2020), depicting a creation story involving two lizard-men, a black-nosed monitor lizard, a sand goanna man, and a wanampi (a serpent man and guardian of the rock hole Kanpalkanya). He is the first awardee from the Spinifex Lands in Western Australia in the NATSIAA's 38-year history. The 65 shortlisted works are on display at the Museum and Art Gallery of the Northern Territory in Darwin until February 6, 2022.
Singapore Art Museum Adopts "Diffuse" Strategy
While the Singapore Art Museum (SAM)'s original venue remains closed for renovation, the institution will run a program of roving virtual and physical exhibitions and performances as part of their newly launched Museum in Action (MIA) campaign. According to a press release dated August 11, the initiative aims to "infuse art into the everyday by presenting in unexpected spaces around Singapore." Among the first MIA commissions is Sam Lo's text-based installation OUR FUTURE IS INCLUSIVE, to be shown on the museum's hoarding at Queen Street. SAM will offer limited-edition stickers that audiences can paste onto the letters "C," "O," and "N" on the work to create "a message of hope and inclusivity." The MIA program is a lead-up to the 2022 opening of SAM's repurposed two-story warehouse space at Tanjong Pagar Distripark (TPD). Art-rock band The Observatory will inaugurate the new venue with an exhibition featuring a performative installation and archival display.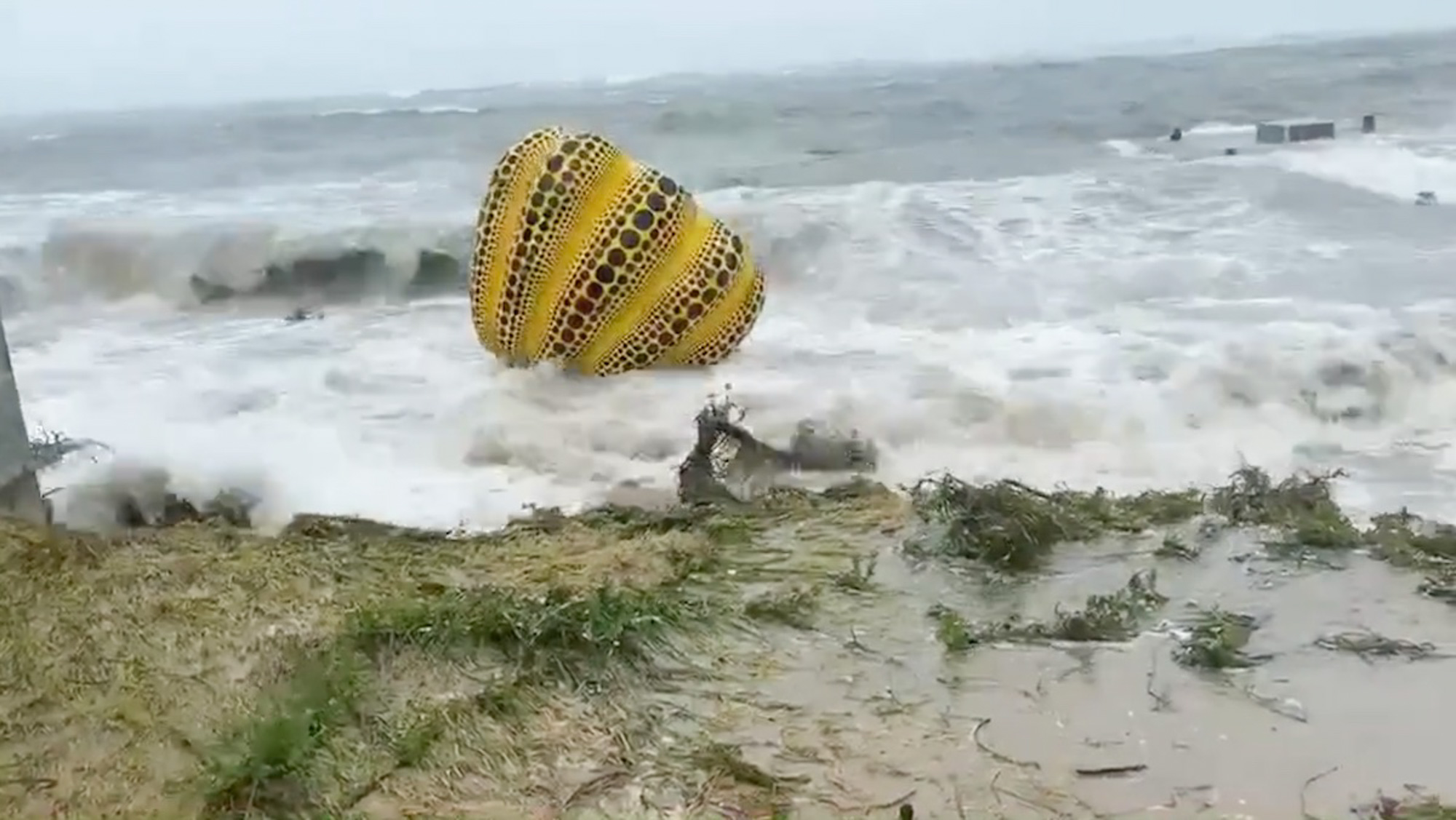 Yellow Gourd Destroyed by Typhoon Lupit
Strong winds and rushing waves caused by Typhoon Lupit swamped an abandoned pier on Naoshima Island on August 9, dislodging Yayoi Kusama's site-specific yellow Pumpkin. The sculpture had been installed there and managed by the private museum Benesse Art Site since 1994. The work has since been retrieved by museum staff, who have arranged for its restoration. In past typhoon seasons, the museum staff transported Pumpkin to a safer location, but the sudden severity of Typhoon Lupit prevented staff from acting on time.