Obituary: Okwui Enwezor (1963–2019)
By HG Masters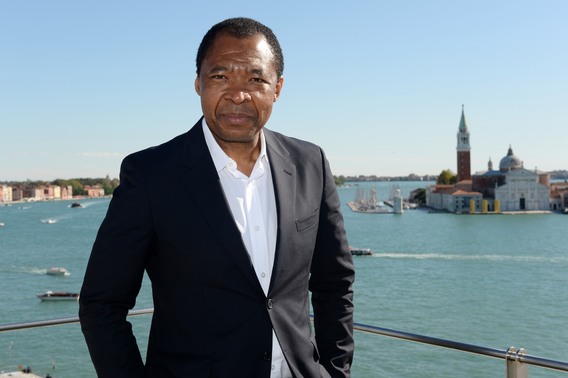 One of most influential figures in contemporary art of the 21st century as a curator, art historian, writer, and educator, Okwui Enwezor died on March 15 at the age of 55, after several years of battling with cancer.
Known for his global vision and interest in the entire world of contemporary art-making at a time when most European and American institutions gave only minor, if any, consideration to art from Africa, Asia, the Middle East, the Caribbean, and Latin America, Enwezor positioned postcolonial discourse and the brutal legacies of colonial histories squarely at the heart of his curatorial and critical practice. His edition of Documenta 11 spanned multiple years, four continents, and five exhibition platforms including the culmination in Kassel, expanding the exhibition format in both temporal and geographical terms, with its perspective on postcolonial art practices, in ways that were groundbreaking at the time.

Enwezor was the cofounder of Nka Journal of Contemporary African Art and held his first major exhibition of African art, "In/Sight," at the Guggenheim Museum, in New York, in 1996. He went on to direct the second edition of the Johannesburg Biennale "Trade Routes," working with a team of curators including Kellie Jones, Gerardo Mosquera, Octavia Zaya, Hou Hanru, Colin Richards, and Yu Yeon Kim. Following Documenta 11, where he also worked with a team of co-curators, he went on to direct biennials in Seville (2006) and Gwangju (2008); Meeting Points 6 festival in Beirut (2011); and the Triennale of Paris (2012). In 2015, Enwezor curated the 56th edition of the Venice Biennale, titled "All the World's Futures," which put Karl Marx's 1867 text Das Kapital at the heart of the exhibition and featured many works addressing the legacy of capitalism, imperialism, and colonialization, and their aftermath in contemporary societies. Aside from Swiss curator Harald Szeeman, Enwezor was the only person to have curated both documenta and the Venice Biennale, and the first person from Africa to hold either of these positions.

In 1998, the Art Institute of Chicago invited Enwezor to be adjunct curator of contemporary art, a position he held for two years while directing Documenta 11. From 2005 to 2009, he was dean of academic affairs at San Francisco Art Institute and served as a visiting professor in art history at several universities, including Columbia University in New York. He curated and co-curated numerous exhibitions at museums around the world, including the "Global Conceptualism" exhibition at the Queens Museum in 1999. Additionally, his exhibition "Archive Fever: Uses of the Document in Contemporary Art," held in 2008 at the International Center for Photography in New York, with artists including Walid Raad, Vivan Sundaram, Harun Farocki and Andrei Ujica, and Hans-Peter Feldmann, established a critical frame in which to view the practice of many artists interested in the ramifications of historical events at a time when research-based practices were just coming to the fore.

Since 2011, Enwezor had been artistic director of Haus der Kunst in Munich, where he organized what was planned to be the first in a trilogy of exhibitions rewriting the history of 20th century art from a global perspective, titled "Post: Art Between the Pacific and Atlantic, 1945–1965." Enwezor had resigned from his post as the director of Munich's Haus der Kunst in June 2018 due to his poor health.
HG Masters is deputy editor & deputy publisher of ArtAsiaPacific.