Obituary: David Medalla (1942–2020)
By HG Masters
*updated on January 5, 2021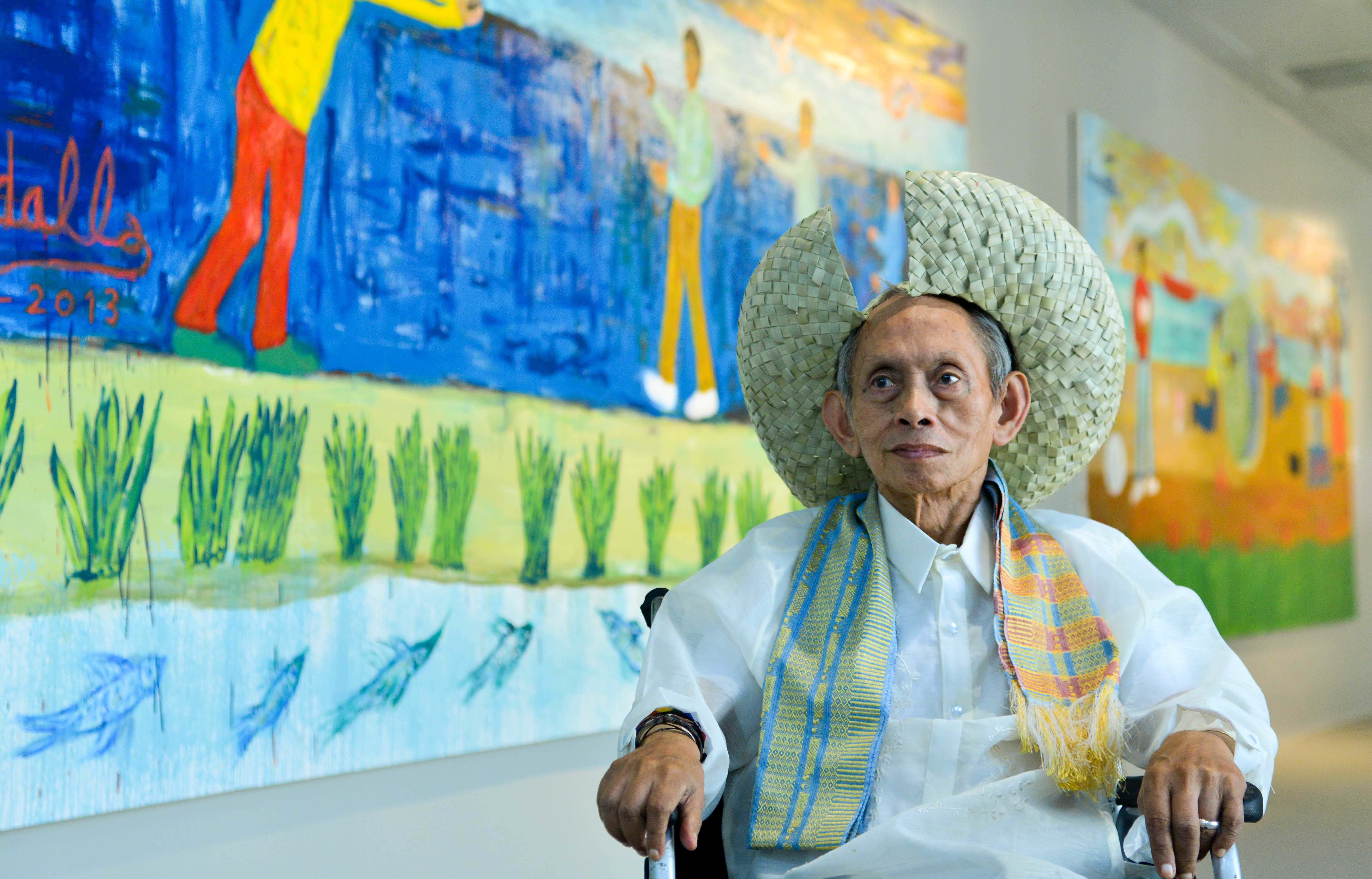 Artist, poet, and co-founder of an influential London art gallery in the mid-1960s, David Medalla died on Monday in Manila, at the age of 82. Best known for his bubble-foam Cloud Canyon sculptures (1963–2011), created with clear tubes that overflowed with amorphous soapy forms, Medalla was a legendary inventor of kinetic and participatory art projects whose cultural influence spanned the Philippines and the many cities where he lived including Paris, London, New York, and, later, Berlin. His partner and collaborator Adam Nankervis announced the artist's passing in a Facebook post, writing: "His curiosity, joy, his immense curiosity, his alchemical spirit knew no bounds."

Born in Manila in 1938 (according to his passport, and not in 1942, as many sources claim), David Cortez de Medalla, Jr., led a life of storied adventures. During his first year of high school, he claimed he fell asleep while reading on a ship docked at the Manila port and when he awoke it had already departed for Hong Kong; the incident was reported in a local newspaper. In 1954, after participating in a summer camp in the United States, the poet Mark van Doren recommended him as a special student at Columbia University in New York, where he studied literature and philosophy. Acquainted with many famous cultural figures throughout his life, Medalla, while studying in the US, met Philippine poet and artist José Garcia Villa, who encouraged his interest in painting. After his return to Manila, he began creating artworks under the patronage of Catalan poet Jaime Gil de Biedma and the painter Fernando M. Zóbel.

In 1960, Medalla moved to London, where he embarked on the next phase of his artistic career, with his "auto-creative" artworks—formed by aleatoric or automated processes, like using a compressor to generate masses of soap bubbles. He displayed early versions of the foam sculptures to philosopher Gaston Bachelard and artists Man Ray and Marcel Duchamp in Paris. In later versions, Medalla would gave shape to the foam by using Perspex tubes of different heights. Other works with mechanical elements from that time include Sand Machine Bahag – Hari Trance #1 (1963/2014), which consists of a rotating birch-tree branch adorned with a strand of beads that traced patterns into a bed of sand. Medalla said in a 2011 interview with Nankervis in Mousse magazine that the work was inspired by "memories of the rice terraces of the mountain provinces of the Philippines, where I spent one year of my boyhood as a student at St. Mary's School in Sagada."

Medalla was one of the co-founders of Signals Gallery in 1964, along with artists Gustav Metzger and Marcello Salvadori, and critic Guy Brett and curator Paul Keeler. Initially launched as the Center for Advanced Creative Study in Keeler and Medalla's flat, the gallery ran for two years on Wigmore Street in the West End of London and was an important destination for experimental works by international artists, including the Greek-born artist Takis (from whose antenna-like sculptural series the name "Signals" was borrowed), Jesús Rafael Soto, from Venezuela, and Brazilian artists Lygia Clark, Mira Schendel, and Hélio Oiticica. Medalla also edited the gallery's interdisciplinary magazine, Signals Newsbulletin, which contained political discussions, critical essays, poems, and artworks.

Medalla's works were featured in many notable exhibitions throughout his lifetime, from "Structures Vivantes: Mobiles / Images" at London's Redfern Gallery in 1964, to curator Harald Szeemann's "Art and Movement" in 1966 at the Kunsthalle Bern, and later the influential exhibition, "When Attitudes Become Form." In 1967, he showed along with Schendel, Clark, and Li Yuan-Chia, at Lisson Gallery, and in curator Willoughby Sharp's exhibition "Air Art," at the Art Museum of the University of California Berkley, Berkley. In the beginning of his next artistic phase, he founded the "dance-drama" group and commune Exploding Galaxy and launched his participatory art project, A Stitch in Time (1968– ), in which he invited viewers to add swatches of fabric and notes to a large piece of cloth, at cultural happenings like the "Art Meeting Place," at Covent Garden. Documenta 5, in 1972, also curated by Szeemann, featured many participatory artworks including Medalla's Cloud Gates, foam sculptures adorned with a Maoist red star, in the outdoor People's Pavilion.

During the 1970s and '80s Medalla played leading roles in many artist groups including Artists for Democracy (co-founded with John Dugger, Cecilia Vicuña, and Guy Brett), which organized events in support of international liberation movements; Octetto Ironico; the Baroque Buddha Brotherhood; the Synoptic Realists, and the Mondrian Fan Club, which he founded in New York with Nankervis in the early 1990s. While participating in the 2nd Johannesburg Biennale, in 1997, curated by Okwui Enwezor (who had expanded it to venues in Cape Town), Medalla, on a boat to Robben Island, conceived of the London Biennale, as an open platform for the world's "marginal artists," and he and Nankervis ran the event in various forms and locations beginning in 2000.

Throughout the 1960s, Medalla retained his cultural connections with the Philippines. The Art Association of the Philippines board selected him to represent the Philippines at the 1966 Venice Biennale with Roberto Chabet, Lee Aguinaldo, and Jerry Elizalde Navarro—however, the pavilion was never realized. On September 8, 1969, at the inauguration of the Cultural Centre of the Philippines (CCP), a grandiose modernist project of the authoritarian Marcos regime (1965–86), Medalla, with artist Marciano Galang and poet Jun Lansang, unfurled protest banners at the arrival of Ferdinand and Imelda Marcos to the CCP. Medalla's read: "Abas la mystification, down with the philistines!" After the protest, he did not return to the Philippines until 1980.

All through Medalla's life, his works were seen through different cultural and political perspectives. He was one of 24 artists included in artist Rasheed Araeen's exhibition "The Other Story: Afro-Asian Artists in Post-War Britain," held at the Hayward Gallery, London, in 1989, which foregrounded non-White artists who were still marginal names in London's art establishment. A few years later, October journal editors Rosalind Krauss and Yves Alan-Bois featured Medalla's foam sculptures in their exhibition "Formless: A User's Guide" at the Centre Pompidou, Paris, in 1996. Beginning in 2000, there was a resurgence of interest Medalla's works after he was included in art-historical surveys of the 1960s at the Hayward Gallery and Whitechapel Gallery. Guy Brett curated a retrospective for Medalla, "Anywhere in the World," in 2005 at the Institute of Contemporary Arts. In recent years his work has been featured at the 8th Asian Pacific Triennale, in Brisbane, in 2015, and the 57th Venice Biennale in 2017, as well as survey exhibitions such as "How Art Became Active: 1960 to Now" at Tate Modern in 2016.

Works by Medalla are held in the permanent collections of the National Museum of the Philippines; the Ateneo Art Gallery, Manila; the Auckland Art Gallery, New Zealand; the Museum Nacional Centro de Arte Reina Sofia of Madrid, Spain; the Queensland Art Gallery of Brisbane, Australia; the National Gallery Singapore; and Tate Modern, London, England.
The 2020 edition of the London Biennale, titled "Masks, Mirages, and Morphic Mirror," was inspired by a 1892 poem by Walt Whitman from Leaves of Grass. Though Medalla and Nankervis selected this theme in 2019 before the global pandemic gave masks a new "absurd prophetic" meaning, they nevertheless attracted a global community of submissions.
HG Masters is ArtAsiaPacific's deputy editor and deputy publisher.
To read more of ArtAsiaPacific's articles, visit our Digital Library.