National Security Officials to Decide Whether Artworks at M+ Are Illegal
By Pamela Wong, HG Masters
*updated Tuesday March 30, 2021.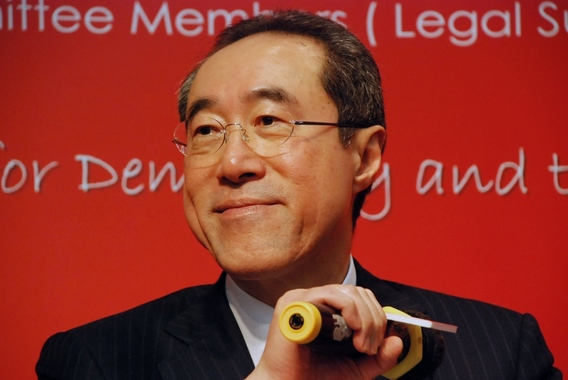 Security officials will be the ones to decide whether artworks displayed at Hong Kong's M+ museum violate the National Security Law, according to Henry Tang Ying-yen, chief of the West Kowloon Cultural District (WKCD) where the yet-to-be-opened museum is located, on March 29.
Tang invited the Office for Safeguarding National Security of the Central People's Government to "browse all of our collections online, and if they think any work illegal, they [can] approach us, and we will cooperate with them on how to deal with the illegal work." Additionally, the museum, said Tang, has not yet made its final decision regarding whether it can show an artwork by dissident artist Ai Weiwei depicting him raising his middle finger at Beijing's Tiananmen Square, but said that curators were not planning to include Ai's Study of Perspective (1995–2003) series in the opening exhibitions.
Tang made the remarks inviting official scrutiny of the museum's collection at a press conference today, following recent questions raised by the media and local politicians about M+'s collection of artworks by Ai and others from the museum's Sigg Collection, which includes works that are critical of historical events in China such as the 1989 military crackdown on student protesters in Beijing. Tang emphasized that there are more than 8,000 works in the museum's collection, and they "wouldn't be able to display every single piece of work," as the museum is not a "grocery stall."
The newly established security office launched in July 2020 is led by Chinese Communist Party official Zheng Yanxiong, who is an artist, urban planning enthusiast, and a traditional Chinese medicine practitioner. He has published art criticism on calligraphy, paintings, and films under the pseudonym Zheng Jingshan.
Earlier this month, Hong Kong chief executive Carrie Lam said that the government would be on "full alert" for artworks that endangered national security, after a nationalist lawmaker pressed her about artworks that might "incite hatred" against China. Less than one week ago, Tang stated that the "M+ curatorial team will strictly abide by the law and conduct the curatorial work in a professional, objective and balanced manner."
During the press conference, Tang also mentioned that when he was the chief secretary for administration, he had met Uli Sigg, and the Swiss art collector disclosed his original intentions of moving his collection to mainland China where Shanghai was interested in building a museum for him, but eventually Sigg chose M+. Sigg's choice of Hong Kong reflected his desire to ensure that the more than 1,500 works by Chinese artists in the collection could be shown freely without censorship.
ArtAsiaPacific contacted M+ for a response to Tang's latest comments. In a statement, the museum said it would comply with the laws of Hong Kong while maintaining standards of professional integrity.
Pamela Wong is ArtAsiaPacific's assistant editor; HG Masters is deputy editor and deputy publisher.
To read more of ArtAsiaPacific's articles, visit our Digital Library.