Masked Portraits by Lebanese Artist Pulled From Christie's London Sale
By Sharon Lee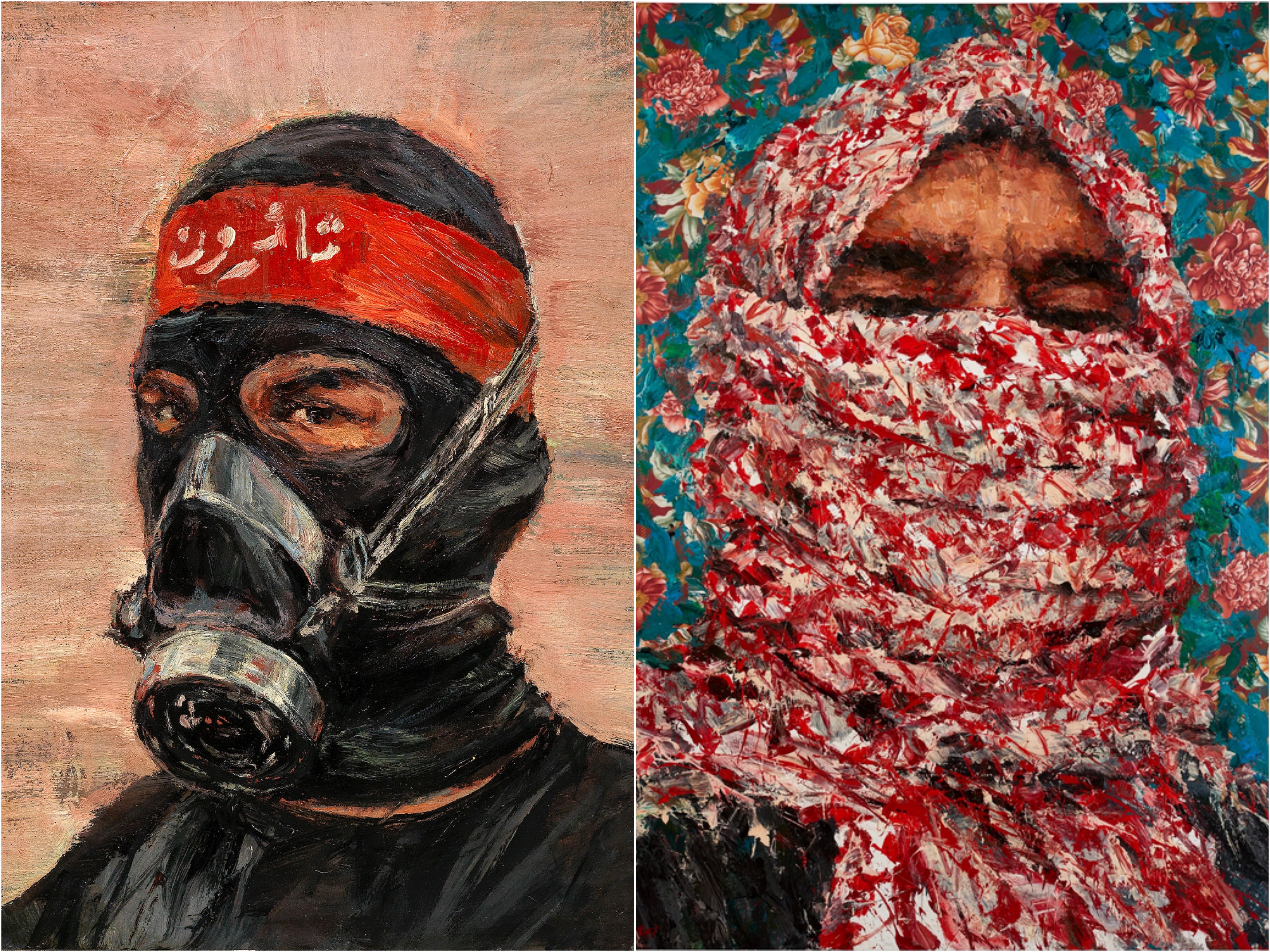 Global auction house Christie's removed two paintings by prominent Lebanese artist Ayman Baalbaki from its November 9 sale, allegedly due to complaints about the depictions of masked figures wearing a keffiyeh and a gas mask. Originally set to be auctioned at the Modern and Contemporary Middle Eastern Art sales at Christie's London, two of Baalbaki's paintings are no longer listed in catalogue, while a third depicting a burning flag remains up for bidding.
Artnet reported the complaints were sent to Christie's management in New York. The consignor of the two works, who comes from the region, anonymously commented to Artnet that he was dismayed at Christie's decision to "ban and censor" the paintings. The consignor believes Christie's removed them over a misunderstanding that the figures represent "Islamic extremism" amid Israel's war on Gaza following the October 7 attack by Hamas militants.
One of the paintings, titled Al Moulatham (2012), depicts a man wrapped in a white-and-red checkered keffiyeh, a fabric worn as protection in the region's arid climates but also used as a symbol for Palestinian resistance in recent decades. Baalbaki explained in a phone interview with Artnet that the Lebanese Civil War (1970–90) was on his mind when he painted the work, having personally lived through its many stages including the Israeli occupation of southern Lebanon. The painting was estimated at USD 98,000 to USD 150,000.
Anonymous (2011–18) was the second work to be pulled from the sale. It features a man wearing a gas mask over a black balaclava, with a red bandana on his head that reads "We revolt" in Arabic. Baalbaki was reportedly inspired by the uprisings in Egypt against then-president Hosni Mubarak during the Arab Spring in 2011. Responding to Christie's decision to remove the works from sale, Baalbaki quipped to The National newspaper in the United Arab Emirates: "Not everything written in Arabic on a masked face is rooted in political Islam." The consignor added that Christie's referred him to the private sales department but he refused, as the artworks now have "a bigger sentimental value."
When asked by The National if he found the removals of his works problematic, Baalbaki called the decision a "censorship of an image, of culture" and that the reasons behind removing the paintings were "ambiguous" to him, adding that it was up to Christie's to clarify the specifics.
The news comes amid a slew of controversies within the art world regarding the ongoing violence in Israel and Palestine, including the Frick Pittsburgh museum's recent delay of an exhibition on Islamic art and antiquities, reportedly to avoid becoming "a source of unintended insensitivity or offense."
Sharon Lee is an editorial intern at ArtAsiaPacific.
Subscribe to ArtAsiaPacific's free weekly newsletter with all the latest news, reviews, and perspectives, directly to your inbox each Monday.